When Ashley from Food Pampering Yourself invited me to dine on some Spanish Churros with a few other bloggers, I was more than thrilled and excited. I love fresh Spanish churros. So nothing could stop me on my way to meet them.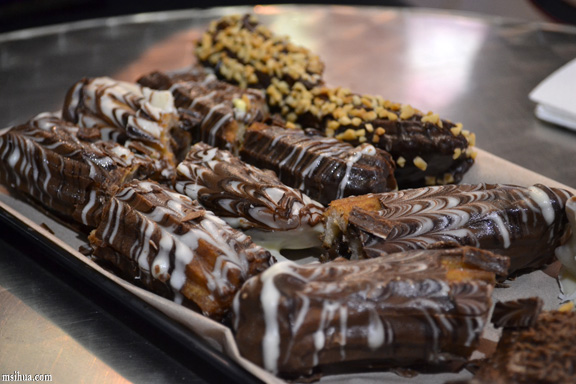 So on we went, the 4 of us to Elizabeth Street and nearly walked past the shop. If you blink, you might miss it. It's not a big sit-down dessert eatery. Rather, it's a tiny outlet in the CBD that sells churros on the go. With the city's hustle and bustle, and crowds moving in a quick pace, it makes perfect sense to cater churros on the go.
Spanish Doughnuts specialises in stuffed churros. They have around 20 different churros and fillings, and we ate about 10 flavours which ranged from the Triple Chocolate Gourmet Bombon filled with Chocolate (we were assured that this was their best seller) to the Coconut Gourmet Bombon filled with Strawberry.
Truth be told, by the 4th churro, I was getting all my flavours mixed up. However, one did stand out clearly, which was the Nuts Gourmet Bombon filled with Peanut Butter, which was my favourite of the lot.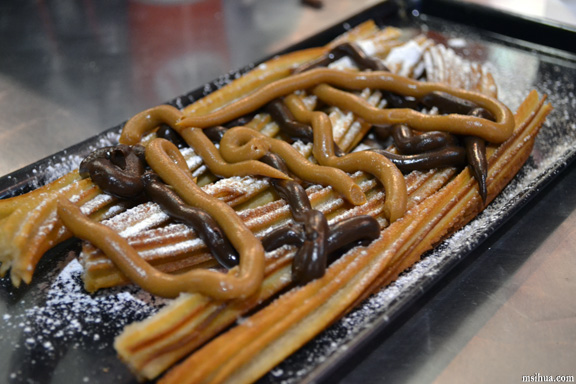 To top the night off, we had MORE sugar filled churros. This time, crispy fresh classic churros 🙂
This post was to garner interest for the Spanish Doughnuts sponsored event of The World Churro Eating Competition (Unfortunately, registrations closed at 11.00am yesterday).
HOWEVER, I may have saved you from imminent weight gain and a certain gluttony future. LOL! But if you do want to look at the registration page, you can do so here at Spanish Doughnuts and their Facebook Page.
So give your support at The World Churro Eating Competition, to ogle and admire those who dare commit to the challenge, all you need are the details below 🙂
Where: The Contest will be limited to 10 participants and will be held at Federation Square
When: August 20th, 2011
Who: The participants will be randomly selected from all online and in-store registration submissions.
How: They will be drawn at the Westfield Doncaster Spanish Doughnuts store on Saturday 13th of August, at 11am and will be notified by email.
The Aim: To eat the most churro in a 2 minute time frame.
Prize: On arrival, the contestants will receive a cap and a t-shirt to wear during the competition which they can take from the event. The winner will receive a total prize of $1000 (one thousand dollars).
For other recaps, please visit:
Iron Chef Shellie
Sweet Cherrie Pie
The Learner Chef
[I would like to take this opportunity to thank Food Pampering and Spanish Doughnuts for the sugar-filled dining experience]
Address:
9 Elizabeth Street
Melbourne VIC 3000
Tel: (03) 9654 5577
Website: http://www.spanishdoughnuts.com.au/
Spanish Doughnuts (Elizabeth Street Store) is open
Everyday from 7am to 10pm
How to get there: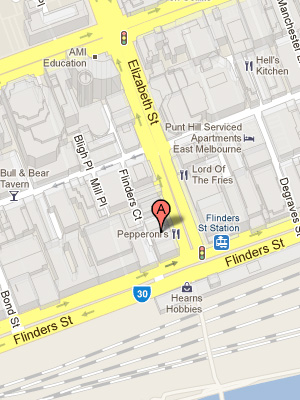 Other Stores:
Flinders Street Station Store (Shop 2, Flinders Street Station, Cnr Flinders and Swanston Sts, Melbourne VIC 3000); Open 7 Days a Week, 24 Hours
Westfield Doncaster Store (Fresh Food Area, Ground Floor (G218), Westfield Doncaster, 619 Doncaster Road (Cnr Williamsons Rd), Doncaster VIC 3108); Check Shopping Centre website for opening hours