Imagine, being responsible for introducing a specific crop of plant to the western hemisphere. Imagine, being responsible for the one crop that would eventually be the life and soul of many generations to come.
Just imagine.
Luckily for us, we won't have to imagine too much. Gabriel de Clieu, whom this little cafe in Fitzroy is named after, is touted to be the man who brought Arabica coffee beans to the French colonies. He transported a coffee plant from Jardin des Plantes, which is the main botanical garden in France to the little island of Martinique. What was the most interesting part of this story (to me) was that he actually shared part of his water ration with the seedlings he was transporting. If he had not done so, the seedlings may have very well withered and died.

So it wasn't too much of a surprise that when Mark Dundan and Bridget Amor decided to join forces to open up a swanky new coffee joint in Fitzroy, they would use the famous de Clieu name. It continues the story from Seven Seeds and Brother Baba Budan.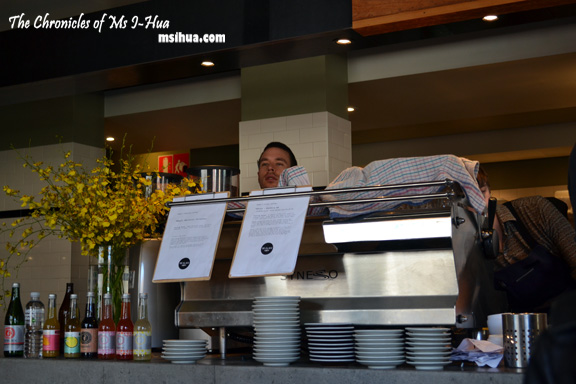 When we arrived there, it was pretty much the same story as all the other popular coffee joints and breakfast/brunch cafes, there was a queue and we had to wait. However, we didn't have to wait long as the queue was for people buying take away coffee. There were heaps of space to stand at the side awaiting further instructions.
What I really liked about the interior of de Clieu was that the main door was an automatic sliding door. It is such a brilliant idea as I could see what a gift it was to the wait staff. No struggling with awkward opening doors, no worries about avoiding people coming straight at you trying to knock plates and cups off you. It was fantastic! Aesthetically pleasing to the eye, there were wide windows on one side of the wall, which could be opened up to connect with the people sitting on the window benches outside.
Interestingly enough, some items on the menu reflected an Asian twist and we were curious to see how this translated when it came to the tasting component.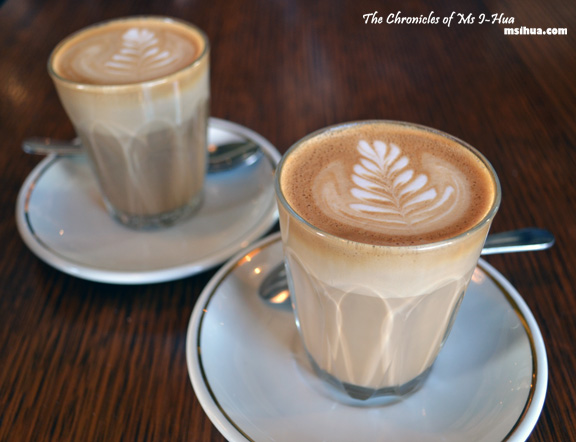 Firstly of course, we had to have coffee. Just look at that crema and froth. MmMmmm. Needless to say, the coffee beans used here are from Seven Seeds. We decided to start with lattes made with the bean of the day, Brazil Ambiental Fortaleza which had huge chocolate tones and berry sweetness. I could definitely taste the sweetness of the beans.
The Boy however, who is new to this whole coffee drinking business decided he needed two whole spoonfuls of sugar in his *sigh*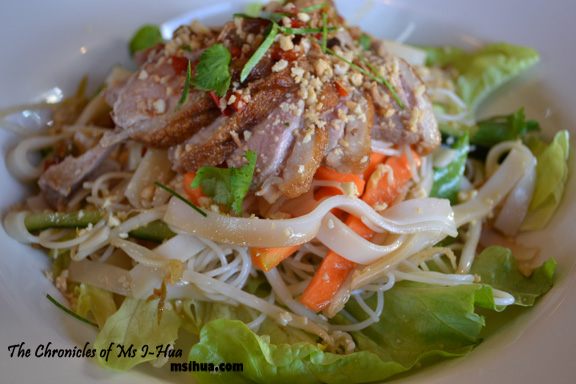 We didn't have long to wait before our food was served. My infamous duck salad. Infamous because I was so excited in having been served this that I hurriedly took a picture and Instagram-ed it only to fail to see that my iPhone had auto-corrrected my duck salad to read F**k salad, much to the amusement of my readers and followers 😛
The proper name for the dish is Crispy Masterstock Duck with Vietnamese noodle salad, shallots, coriander & Nuoc Cham dressing $15.50. It was delicious, fresh and everything I needed to have on that day. The duck was beautifully seasoned and cooked, tender, succulent and delightfully crispy 🙂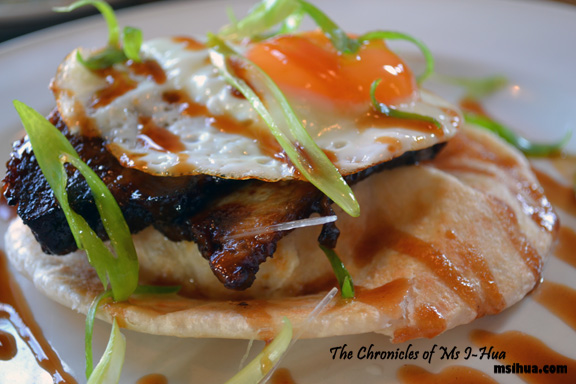 The Boy had the Pork Neck Roti $15.50 which is essentially de Clieu's version of Char Siu (Barbecue Pork) (and without the red dye), spring onion roti, free range fried egg and barbecue sauce. He liked it and only gave me a tiny bit of the pork to try, but I was too happy and delirious with my tasty duck that I didn't mind 🙂
What did I think of the coffee? Pretty much on par with BBB. Good quality coffee 🙂 I had a piccolo to take away as well, and was on a happy caffeine hit for the rest of the day.
The food? Remarkably tasty and creative and not what I was expecting from a Mark Dundan cafe. Sure, great coffee is a given, but delicious and tasty hot food? Double win, I say 🙂
*Disclaimer: All food ratings are purely based on my own experiences and how I feel about the service, food and quality at the time of visit
Food/ Cuisine: Breakfast/Brunch
Dining Style: Cafe
Overall Food Rating (Based on the Dining style): 7.25/10 (As for coffee, 8/10)
Restaurant ambiance: 7.5/10 (Big, airy and spacious. The windows all open to more bench seats outside)
Service/ Attitude: 7.5/10
Value for money: 7.25/10
Address:
187 Gertrude Street
Fitzroy VIC 3065
Tel: (03) 9416 4661
De Clieu is open
Monday to Saturday from 7am to 5pm
Sunday from 8am to 5pm 
How to get there: