According to the Malay Annals (Sejarah Melayu), during the 15th Century, the kingdom of China sent one of their beloved princesses, Hang Li Poh (汉丽宝) to be given as a wife to the Sultan of Malacca for his tribute. 500 noblemen, who were sons of ministers and their servants accompanied the princess on her journey to Malacca. The Sultan built the princess and her attendants a palace on top of a hill overlooking Malacca. That hill is known as Bukit Cina (Chinese Hill) now acts as a cemetery for the local Chinese people.
What is disputed these days is the authenticity of Hang Li Poh and her royal lineage. Some say she was indeed a princess, and others argue that she may just have been a noble picked to play the part of a princess.
However, what we do know is that the descendants from that settlement and union sparked a whole new culture known as the peranakans.
As with every culture, food plays a central part in it. And with the peranakan culture, the Nyonya (also commonly known as Nonya) cuisine was born. Influenced by the local Malay cuisines and spices, the Nyonya cuisine incorporates both Malay and Chinese recipes to create an array of delightful dishes and desserts.
So one can truly say that the Nyonya style of food is uniquely Malaysian.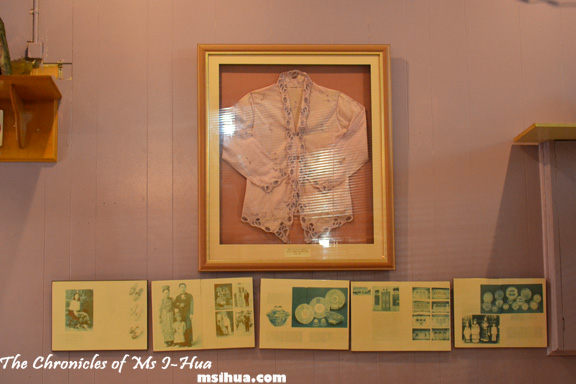 Spices and herbs used in the cuisine are usually hard to come by, especially if you are situated outside of South East Asia.
Armed with the camera and the Boy in hand, I decided to drop in to Lim's Nyonya Hut for some taste testing and feasting!
Whenever I used to dine at this establishment, I always feel as if I should be able to ask for a discount, as I share the same famous surname. Alas, it is a pretty common Chinese surname and really, I'm not quite that thick-skinned.
We ordered a couple of mains that night but were pretty much bouncing up and down in excitement for the desserts, as Lim's is one of the only few places that make traditional Nyonya kuihs (cakes and pastries), and thus, we were really excited.
But first, to the entrée!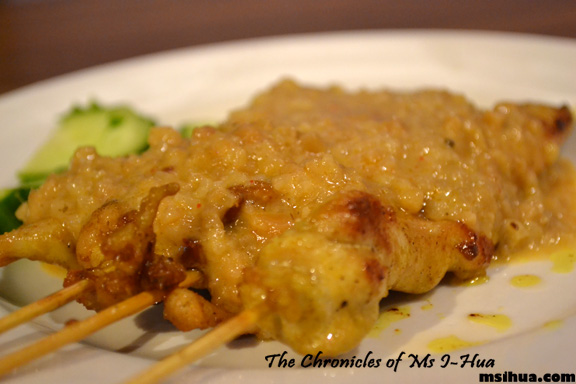 We obviously needed to order the Satay Chicken [4 sticks] ($7.00) – marinated chicken on skewers topped with peanut sauce, as we have done for the last three MK review. I still have to say, the Satay at Chilipadi Melbourne Central was the hands down winner! Nonetheless, this wasn't too bad.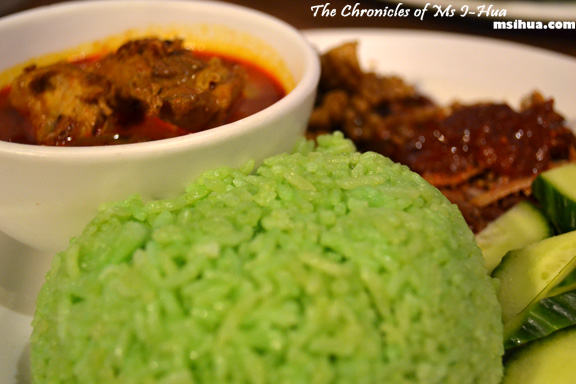 Pandan Nasi Lemak with Curry Chicken ($12.80 – Dinner price). This was my second favourite course of the night, not only was it packed with flavour, it also brought back many a memory from eating Nyonya Nasi Lemak in Malaysia. The squid curry that came with it was probably the only let down, as it wasn't as spicy or tasty as I'd like it to be, but man, that rice! That rice was just AMAZING! The curry chicken was also great in terms of flavour and tenderness.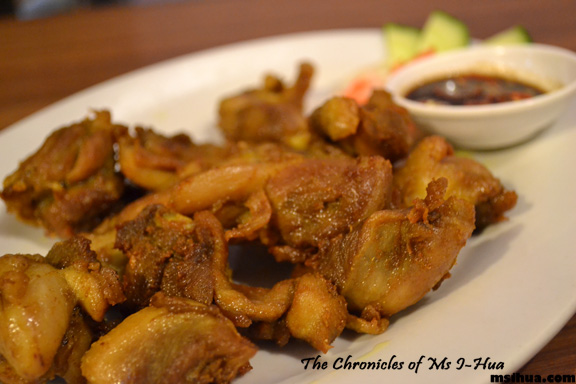 Inche Kabin ($15.80). We also very obviously (to me) had to order the famous Penang Nyonya-styled fried chicken marinated with a special sauce. The dipping that came with it was Worcestershire sauce and cut red chillies. In terms of the taste of this, it was a slight let-down as the chicken wasn't crispy enough and the meat was a tad too dry for my liking.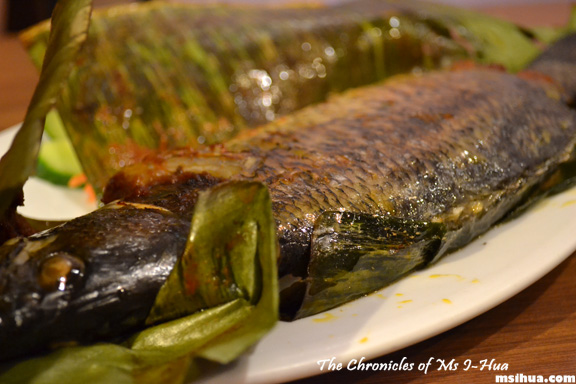 Next up is the Nyonya Baked Fish ($25.00) – fresh fish filled with a mixture of herbs and spices. The fish was indeed quite tasty, but the only let down for me was that the scales were still on the fish skin, which made it quite an unpleasant eating experience. Spices used complement the fish and the banana leaf gives that authentic Ikan Bakar-like look.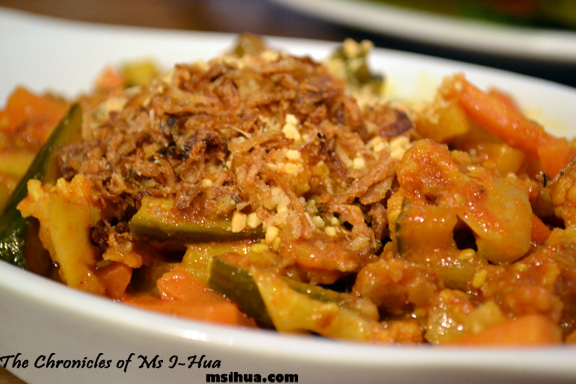 The Boy insisted that we had to order the Achar ($14.80) – Malaysian pickled salad with mixed vegetables topped with peanuts and fried shallots. Now, as I was doing my hardest to dissuade him as the dish was pretty pricey, he then reminded me of that disastrous time when he tried making Achar. We were but poor uni students living in a very tiny apartment at the time, and he spent hours slicing, and drying the vegetables. And at the end of it all, the Achar didn't work out. He pulls that one memory on me every single time!
Sigh, so I had to let him order this. It's his favourite Nyonya dish after all. And boy was I lucky that we did, as this was our favourite dish of the night!!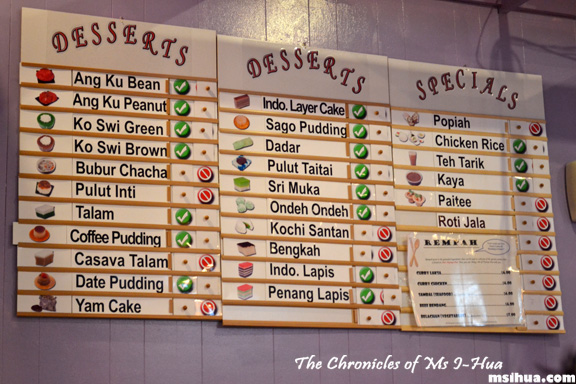 As I mentioned, I was quite excited to have dessert, but was too full to eat more than I already had. Depending on your luck and availability, you may not have the chance to try all the kuihs showcased on the menu board.
Knowing that Lim's Nyonya Hut is especially famous for serving up these delicious sweets, we ordered 10 variety of kuihs from the menu board to enjoy as snacks at home!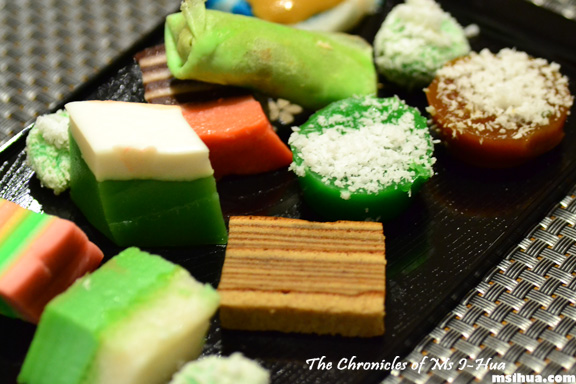 The Nyonyas are probably most famous for their kuih. They are colourful, beautiful and can be eaten at any time of the day, usually during morning or afternoon teas. Kuihs are usually sweet in nature and pairs well with a cup of local Asian coffee.
Good kuihs are hard to come by as the process of making them are usually quite cumbersome and time consuming (take note the layered cakes).
Kuih Ko Swi (Green is Pandan flavoured & Brown is Palm Sugar flavoured) and Pulut Tai Tai (glutinous rice topped with Kaya). The Pulut Tai Tai looks as though blue colouring was used instead of the natural indigo blue dye from the butterfly pea flowers (bunga telang), but that's pretty understandable, as they are hard to come by here 🙂
Kuih Talam (coconut milk base for the white layer and Pandan base for the green layer) and Seri Muka (glutinous rice at the bottom and Pandan base on the top)
Indonesian Layer Cake and Ondeh Ondeh (glutinous balls filled with Gula Melaka). The ondeh-ondeh wasn't as spectacular as I remembered and just didn't have enough Gula Melaka for me.
Penang Kuih Lapis and Kuih Dadar (Pandan crepe with coconut filling) and Kuih Indo Lapis (below Kuih Dadar)
Just look at those layer cakes. It takes an amazing amount of time, skill and dedication to make them and luckily for you and I, we don't have to waste any of these! We can just drop by and buy them 🙂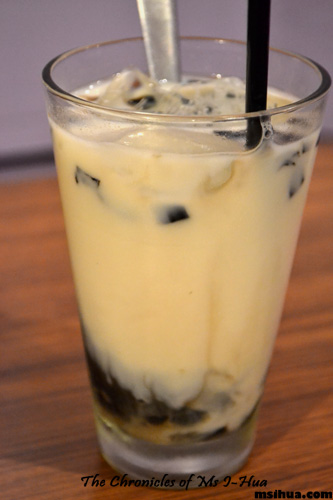 For drinks, I ordered the Soya Cincau (Soya Bean Milk with Grass Jelly cubes) whilst the Boy had Chinese tea 🙂
Would I go back? I used to visit quite a bit during my uni days, but as I moved further away from the suburbs, and with more restaurants popping up, I kind of drifted away and stopped.
This visit has rekindled quite a few good memories of home and of my childhood days. So, yes, I will be making a point to drop by more often, if only for the Achar!!
So my dear readers, do you know of any legends that spark a whole new culture and cuisine? History is just so interesting, isn't it?
Most importantly, if you enjoyed reading this post, please remember to VOTE for me by clicking "like" on my posts (if you haven't voted on the last three reviews, don't worry, you can still do so!). Don't forget to vote as this is the final week and I need your support in this competition.
Voting Period (Week 4 – Finale)
Friday, 26th August, 2011 (15:00 AEST) through until Wednesday, 31st August, 2011 (16:00 AEST)
[I would like to take this opportunity to thank Malaysia Kitchen (MK Insiders) and Ogilvy Public Relations for the chance to be part of this fun and tummy filling competition]
*Disclaimer: All food ratings are purely based on my own experiences and how I feel about the service, food and quality at the time of visit
Food/ Cuisine: Malaysian
Dining Style: Restaurant
Overall Food Rating (Based on the Dining style): 7.25/10
Restaurant ambiance: 6.5/10 (It always reminds me of an old coffee house with bright purple walls and newspaper cuttings framed neatly on the wall)
Service/ Attitude: 7/10
Value for money: 7/10
Address:
240 Blackburn Road
Glen Waverley VIC 3150
Tel: (03) 9802 3763
Lim's Nyonya Hut opening hours are
LUNCH: Tuesday to Friday, 11:30am to 3:00pm; Saturday & Sunday, 12:00pm to 3:00pm
DINNER: Tuesday to Thursday, 5:30pm to 9:00pm; Friday & Saturday, 5:30pm to 10:00pm; Sunday, 5:30pm to 9:00pm
Closed Mondays
How to get there: