When I think of meals that involve hearty roasts and grilled meats, I always think of carrots as a side dish. Carrots, potatoes and pumpkins. Great flavour, texture and colour.
So if you recall in my earlier post of the Minted Peas dish which I cooked up for the bloggers Christmas in July feast, I had another dish which I had to bring along to the party.
Carrots. Not the most exciting root vegetable to grab our attention, but lovely anyway. If I can bring your attention to a little 'research' I did a while back when I wrote a post on Prahran Market, I mentioned the history of the humble carrot.
So to pay tribute to the carrot, we decided we had to make them more interesting than the usual roasting/grilling/steaming/boiling by themselves.
So we went on a hunt and found in the same video that taught us how to make minted peas (Marco's way), how to cook Carrots in a White Parsley Sauce.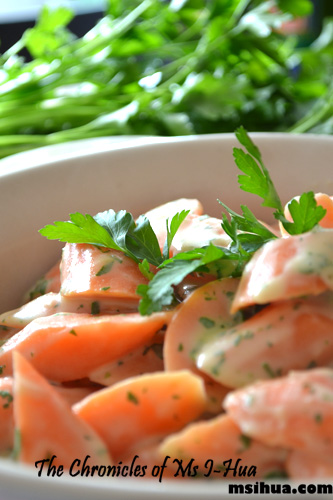 Ingredients
(Recipe adapted from Marco Pierre White for Knorr Recipes)
1 kg of Carrots (roughly cut up in chunks, or you could use baby carrots, which is more ideal)
2 x Continental Stock Pot
Finely chopped flat leaf Parsley
For the Roux
25 grams of butter (1 ounce)
25 grams of flour (1 ounce)
Cold Milk
Cream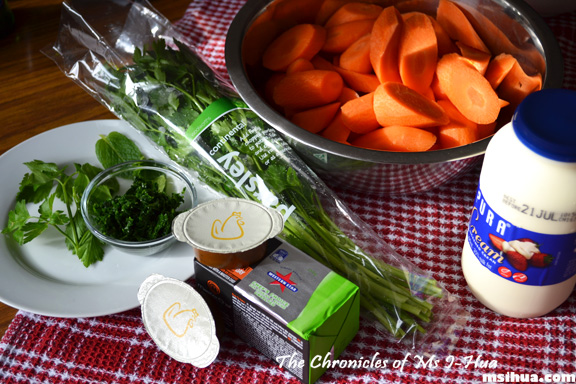 Begin by boiling the carrots in water, with one whole Continental Stock Pot. Once the carrots are cooked (nice and firm, not too mushy), you can retain the liquid as stock for future dishes.
To make the white sauce, start by heating up the butter and the flour (1:1) in a saucepan. According to Marco, the secret to making a good white sauce is by incorporating lots of air into the roux. Do this by continuously mixing the roux with either a rubber spatula or ladle.
Marco mentions that the classic ratio to making a white roux is usually double the amount he has suggested, but that makes it a tad too thick, and this recipe needs the white sauce to be light and silky and not too heavy.
Once the roux starts changing colour, add the cold milk to the hot roux in small amounts, beating it as you go to ensure that you incorporate as much air into the roux as possible.
Once the milk is incorporated into the roux and starts taking on a silky white texture, start whisking by hand and add in one whole Continental Stock Pot.
Add in the chopped parsley and continue whisking. Pour in a tiny amount of cream.
Bring the mixture to the boil and toss the cooked carrots into the sauce pan (we did it the other way around due to the size of our saucepan) 🙂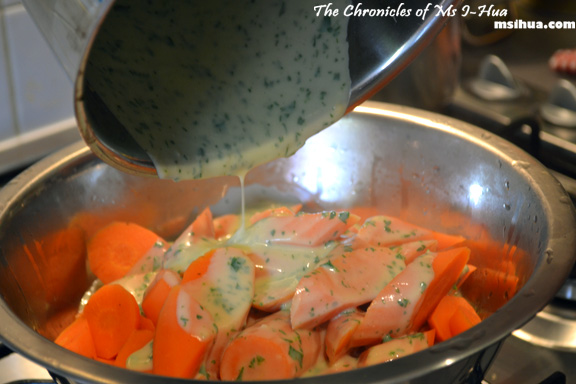 Make sure you coat all carrots with the white sauce.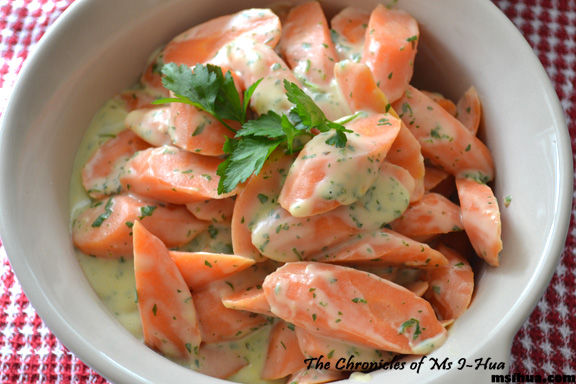 Set aside and serve whilst hot 🙂
Another easy recipe to go forth and conquer in your kitchen. The only difficult part was getting the roux right, but I think we did a pretty good job with it.
What are your favourite ways of serving carrots?