Hello and welcome!
Today, I shall share with you a recipe from one of my favourite chefs, Marco Pierre White (well, after the Masterchef episode and him repeatedly asking for 8 quails, I've started to like him a whole lot more!)
In the month of July, a few of us food bloggers decided to get together and celebrate Christmas in July. We needed a big cheer to get us through the horrid winter we have been experiencing this year.
Kat and (Agnes) our lovely hostesses for that weekend decided that the theme for this Christmas in July would be a British affair.
Kat suggested that I bring peas and carrots.
Now, everyone that knows me, knows that I have an intense dislike with peas.
So it was with great trepidation, I looked up recipes with a British flair associated with peas.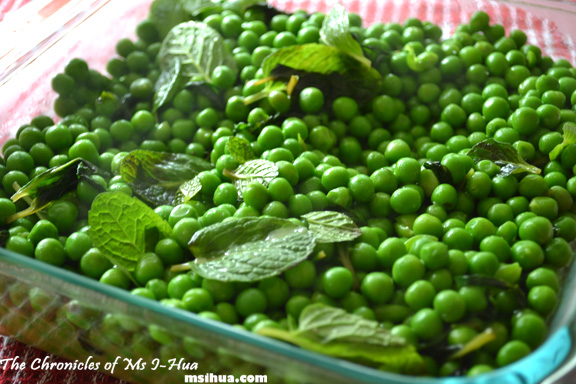 Interestingly enough, the Boy found a YouTube video of Marco using the Continental Stock Pot (a.k.a. Knorr Stock Pot) to cook both peas and carrots. WIN!
Surprisingly simple, these minted peas were cooked up within 10 minutes (I do tend to potter around the kitchen a bit 🙂 ), and it turned out to be quite delicious, if I must say so myself. (Agnes will now put in that she still *hates* peas, no matter what you do with them)
Ingredients
(Recipe adapted from Marco Pierre White for Knorr Recipes)
1 kg frozen Peas
4 stalks of fresh Mint leaves
1 Continental Stock Pot
60 grams of Butter
A bit of water
We pretty much propped our iPad on the kitchen bench and followed the video instructions from Marco all the way through. No stress and a very painless process 🙂
Firstly, heat up a frying pan on high heat with a little bit of water. Add in the butter and season the mixture with the stock until it is all dissolved.
According to Marco, because frozen peas are used, there is no need to boil them beforehand. Rather, the emulsification of the butter, stock and water will coat each and every pea when you pop them in and intensify the flavour of the peas.
Hence, once the mixture has emulsified, throw in the peas and make sure that each pea is perfectly coated by lightly tossing them in the pan. Add in half the mint leaves and let cook for just under 2 minutes.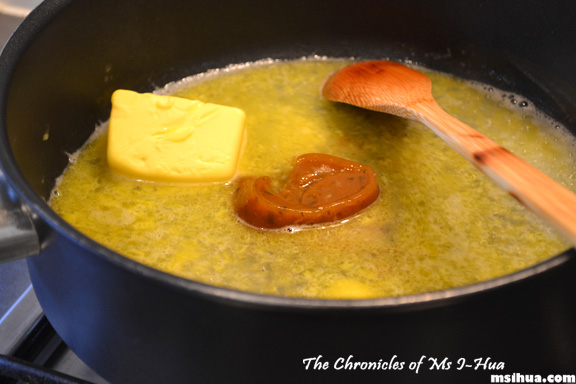 Because the cooking process involved emulsification, the flavours and nutrients from the peas are reabsorbed into the peas under the high heat and is not lost during the cooking process.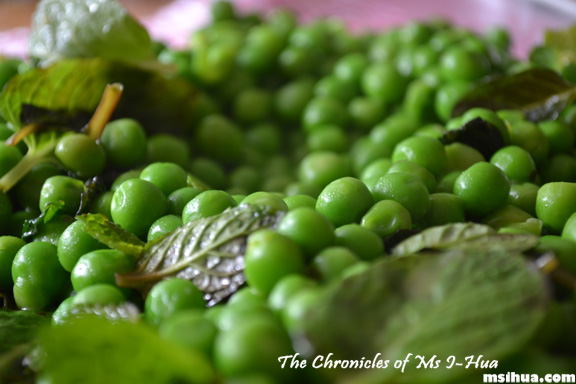 Once cooked, serve and garnish with more mint leaves if desired.
Fact: I ate the peas.
Fact: I still dislike peas, but if they were served with a large amount of butter and mint, I would eat them.
So tell me dear readers, what have you cooked which you disliked but knew others would enjoy them?