When I was young, I spent a lot of my formative years in a Buddhist temple. Madam Mummy, Big Sis and I would spend most of our weekends there socialising within the big supportive environment and helping out within that community.
I spent a lot of my time trying to figure out the meaning of life and trying to achieve contentment in life.
One of the people who shaped my life and the way I would come to view the world and people's actions was a resident monk from that temple. I would trail him like a shadow and he would throw tests and challenges my way. It must have been his way of showing me patience and resilience. I would be cheeky, rude and unruly (I was quite an angry child) and he would always bring me back to my place. Never harshly, but rather via stories and lessons.
What I ended up learning from him is that although things in life happens for a reason be it good or bad, one should not be shackled by the truths that others throw at you. Do not blindly believe what others tell you, rather test the boundaries and make your own truths. Do not accept defeat just because you have lost and do not blame others for your misfortune.
I can't say I've been very good in practising what I have learnt throughout the years, as they say, "easier said than done".
However, this story is a brilliant segue to introduce you to another monk I met during the weekend 😉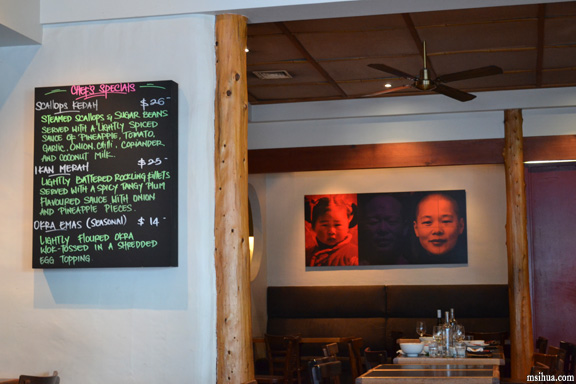 For my next Malaysia Kitchen Blogger Summit post, the Boy and I decided to dine at Monk & Me. The Boy had returned from a trip to Malaysia around 2am the previous night, and after picking him up from the airport and unpacking and settling back in, we woke up pretty late the next day. By the time we got out of the house in search of food, it was close to 1pm. So off we rushed to Camberwell as Monk & Me were to close at 2.30pm.
Thankfully as we arrived, there were still scores of people dining at this local favourite.
I was quite surprised when we were seated to see that there were only 2 wait staff working an almost full floor! Despite that, everyone was being served in a pleasant and efficient way.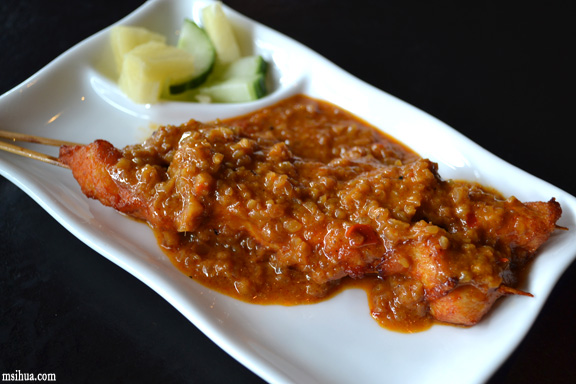 We started off with the Satay Chicken (2 sticks per serve) ($6.00). Marinated chicken on skewers topped with a spicy peanut sauce. I know, I know. I can't help it. I love satay. I do think that it is such an ingrained part of Malaysian culture with every hawker storefront and roadside restaurant serving up this tasty grilled meat-on-a-stick dish.
In terms of the Satay we had at Monk & Me, it was really tasty and good. It wasn't as authentic as I'd like it to be where you would usually get some charred bits as the result of using a charcoal grill. However the peanut sauce that came with it was full of flavour and packed a punch.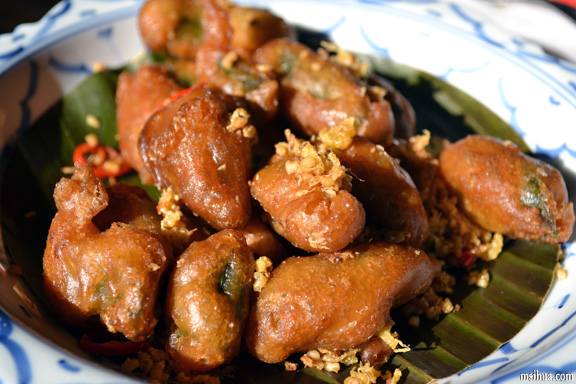 We thought we'd be adventurous and ordered the Chef's Special: Okra Emas ($14.00). The okra or as some people know it as lady fingers, came lightly battered with shredded egg toppings. This, I must admit does not look that fantastic in the shot above, but man did I love this dish! I seriously think that this could be my favourite dish from the meal.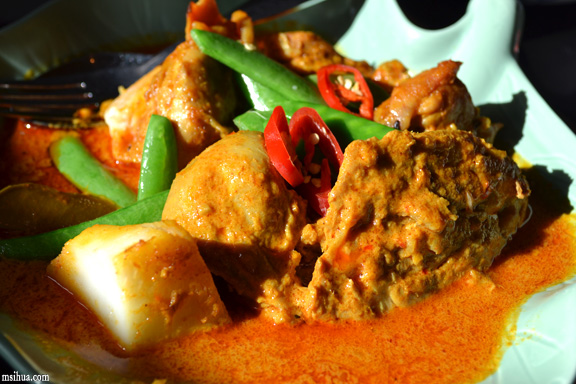 We also ordered the Ayam Kapitan ($23.00), chicken and potatoes in a spice-laden tomato based sauce of turmeric, garlic, kaffir lime, ginger and coconut milk garnished with sliced chillies and sugar snap peas. I thought this was quite authentic in terms of flavour. The colours certainly stood out to take my breath away 🙂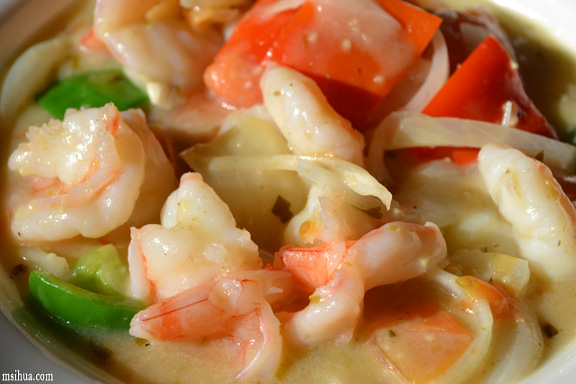 Next was the Udang Ria ($25.00) dish. Peeled King prawns with onions, capsicums and tomatoes in a light coconut milk base gravy with coriander and lemon juice. The Boy and I thought this was pretty much a thicker version of a Thai Green Curry. Not a stand out dish, and I would probably not order this again.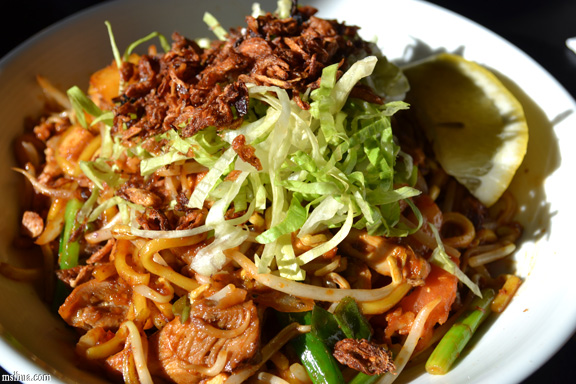 Instead of eating all the above with rice as we would normally do, the Boy and I decided to have it with Mee Goreng – Indian Style ($14.50).
Monk & Me's version of the Indian style mee goreng consists of noodles wok-tossed with a mix blend of spices, beancurd, potatoes, tomatoes, chicken, prawns, eggs, spring onions, onions, bean sprouts and garnished with fried shallots and sliced lettuce.
This was another stand-out dish for me as it really captured the flavours and authenticity. So much so the Boy and I were reminiscing about eating by the roadside stalls in Kuala Lumpur upon tasting the Mee Goreng.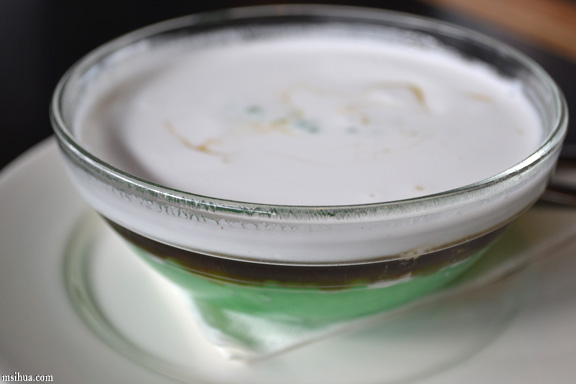 For dessert, I had to have the Sago Pudding ($7.50) when I spotted it hiding amidst the drinks menu. The sago was really well done and came with a rich serve of coconut milk and dark palm sugar/brown sugar.
To be honest, we very nearly didn't get to try the dessert out as the restaurant was closing and the waitress that was serving us mysteriously disappeared and forgot about us. However, rather than kick up a fuss, I walked over to the bar and gently enquired with the other waitress regarding our missing dessert, and she apologised profusely before rushing to bring it to us. I felt quite bad 🙁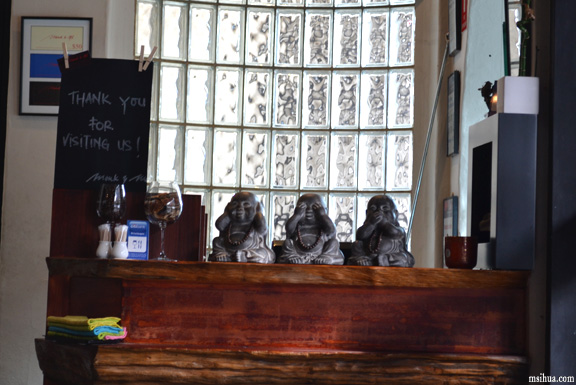 What did I think about it all? Monk & Me serves up some classic and modern Malaysian dishes whilst staying true to the flavours and spices used. There were some hits and misses, but nobody is perfect. As I said in the beginning, rather than focus on the negatives, I would highlight the positives from my visit. The okra, I personally feel, is a must have, and if it shows up again on the Specials board, be adventurous and order it.
Once again, if you like this post, please remember to VOTE FOR ME by clicking here and scrolling down to the end of my post (on the website) and click the Facebook "Like" button.
Voting Period (Week 2)
Friday, 12th August, 2011 (15:00 AEST) through until Wednesday, 31st August, 2011 (16:00 AEST)
[I would like to take this opportunity to thank Malaysia Kitchen (MK Insiders) and Ogilvy Public Relations for the chance to be part of this fun and tummy filling competition]
*Disclaimer: All food ratings are purely based on my own experiences and how I feel about the service, food and quality at the time of visit
Food/ Cuisine: Malaysian
Dining Style: Restaurant
Overall Food Rating (Based on the Dining style): 7.5/10
Restaurant ambiance: 7.5/10
Service/ Attitude: 7/10 (This would be higher if the waiting time wasn't that long, however as mentioned, the two people who were on the floor did a superb job serving everybody their food and drinks as well as taking orders and bills – they did everything apart from cooking!)
Value for money: 7.25/10 (Please note that they do not accept EFTPOS, but they do accept Credit Card payments)
Address:
9 Evans Place
Hawthorn East VIC 3123
Tel: (03) 9813 3261
How to get there: