I must say, writing this blog can be quite rewarding. I have met many people and have made many new friends. I have learnt new things and I have passed my knowledge on to others as well.
One of the best things about writing this blog is that I am doing something that I really love and am passionate about. As I have mentioned on countless occasions, I am on a constant see-food diet 🙂
The fact that anyone reads this is pretty much a bonus!
I always say that as a true blue Malaysian, I can't help but talk about food all the time. I love it. Eating is such a big part of my upbringing. My entire life revolves around food.
This August, there will be an extra special focus in featuring Malaysian restaurants. Why?
I've been chosen as one of 13 lucky food bloggers around Australia to review a Malaysian restaurant once a week. The prize? The three bloggers with the highest number of votes will win a trip to Malaysia for the ultimate food tour!
So please visit the Malaysia Kitchen Group Summit and cast your vote for me by clicking "like" on my post 🙂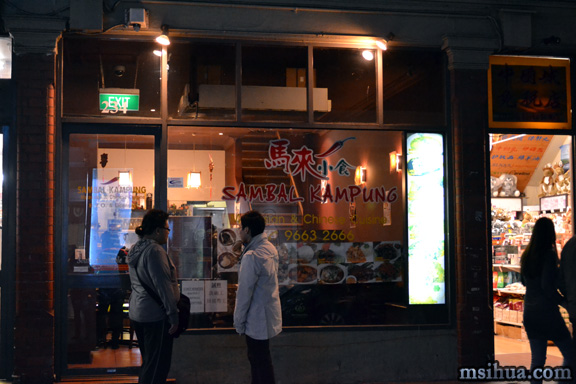 For this first post, I thought I would actually invite some of my work colleagues to join me for dinner at a Malaysian restaurant based in the CBD area. But due to heavy workloads and family commitments, only Sconnie could make it.
And that was perfect. I've been educating her on all things Malaysian and have actually managed to convince her to have her honeymoon in Malaysia!! She'll be visiting Kuala Lumpur, Langkawi and Sabah come October and by hook or by crook, I'll have her comfortably knowledgeable when it comes to dining out in Malaysia!
So, what better way to start her on her holiday training than by feeding her Malaysian food? The restaurant I chose was aptly named Sambal Kampung. Apt because nearly every dish had sambal in it. Poor Sconnie was going to be in for a fun night! She's not very comfortable with chilli at all. However, she loves wasabi!
To start, I ordered us Teh Tarik and mentioned that this was Malaysia's official national drink.The Teh Tarik (pulled tea; $3) which we had arrived beautifully frothy and upon sipping it, we discovered that it was quite sweet. Not as sweet as I've had in some mamak stalls, but sweet all the same.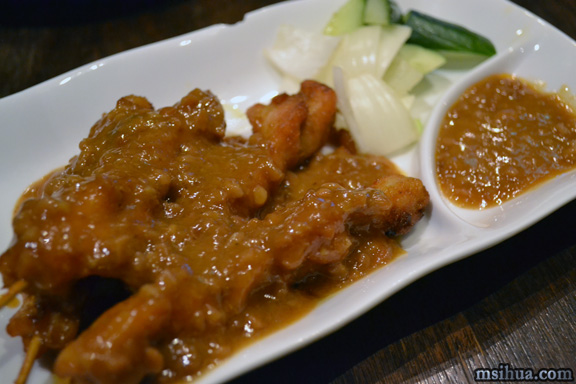 For our entrée, we ordered the Satay Ayam (Chicken Satay; $6.50) which arrived drenched in a beautiful peanut sauce. The chicken was really tender but I felt that the kuah (sauce) could have been a little spicier. I was a tad disappointed that the ketupat (compressed rice cakes) were missing from this dish to complete the whole satay experience. That being said, the satay was our highlight dish of the night. So good!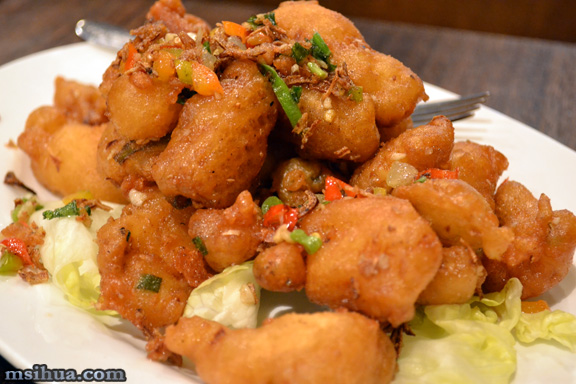 I thought I'd give Sconnie a chance to taste a variety of dishes and show her the different options she could have when she goes to Malaysia.
So I ordered a couple of dishes to have with rice. We had the Deep Fried Salt and Pepper Calamari ($21.00), which we both quite enjoyed but felt that the batter could have been lighter and crispier.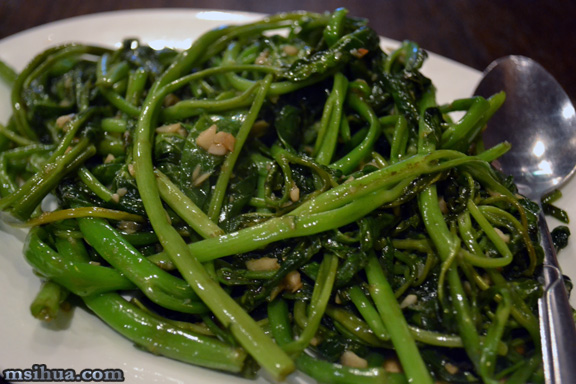 Next, we had the Stir Fried Kang Kong (water convolvulus) with Garlic ($19.00). If I were dining on my own, I would usually order the Sambal version of this dish. However aware that my guest couldn't handle the heat, I ordered the garlic version of this. I just loved how crunchy and delicious the kang kong was.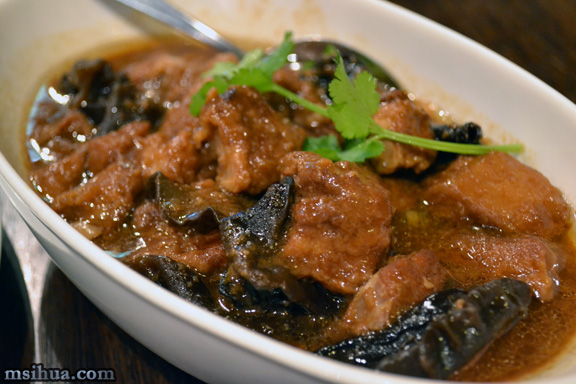 We also ordered the Hakka Pork (Kiu Nyuk) ($19.00) dish to try. I was really keen to try this dish as not many places have Hakka dishes. Originating from the southern province of China, there was a large influx of Hakka people to Malaysia during the 19th century where they settled down to work at the tin mines. Now, they happen to be the second largest Chinese sub-ethnic group in Malaysia.
This braised pork belly dish is usually accompanied by yam and mustard greens. The Sambal Kampung version had cloud ear fungus instead, which I quite like as well. Upon first tasting it, Sconnie thought that it was quite rich and heavy. But as time went on and she tried the other dishes, she kept coming back to this braised pork belly dish for more.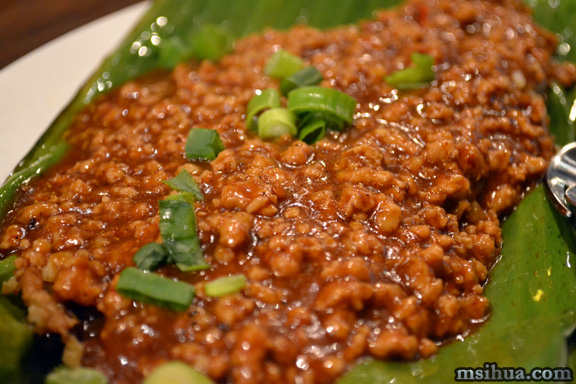 To finish our epic feast off, we ordered the Spicy Rockling with Belachan and Minced Pork ($22.00). I wasn't quite expecting this dish to turn up entirely covered by minced pork. It somehow overpowered the freshness of the fish beneath it.
What did I think of the overall meal? I thought it was pretty decent. Not everything was a 100%, but it did have its shining moments with its Satay and the Hakka Pork which were pretty authentic and delicious.
Would I return? Yes, I will. I'm making my next visit a fun-filled chilli experience with every dish having sambal in it. But the Boy might just collapse (pssst… he's not a fan of spicy food either)!
Bonus points: Because we had so much leftover food, we took it back to the office for our lunch the next day. Sconnie and I dined in glee surrounded by the constant "Ooohs" and "Aaahs" from jealous work colleagues 🙂 WIN!
Remember! If you like this post, please VOTE for Ms I-Hua 🙂
Voting Period
Friday, 5th August, 2011 (15:00 AEST) through until Wednesday, 31st August, 2011 (16:00 AEST)
[I would like to take this opportunity to thank Malaysia Kitchen (MK Insiders) and Ogilvy Public Relations for the chance to be part of this fun and tummy filling competition]
*Disclaimer: All food ratings are purely based on my own experiences and how I feel about the service, food and quality at the time of visit
Food/ Cuisine: Malaysian
Dining Style: Restaurant
Overall Food Rating (Based on the Dining style): 7.25/10
Restaurant ambiance: 7/10
Service/ Attitude: 7.5/10 (The staff serving us were very accommodating and helpful. We needed to switch tables halfway through our meals and they did it with no fuss 🙂 )
Value for money: 7/10
Address:
234 Little Bourke Street
Melbourne VIC 3000
Tel: (03) 9663 2666
How to get there: