Blame Agnes. It was all her fault.
I'd always said that I couldn't bake.
I kill everything in the oven.
But when I went over to Agnes's place one evening for dinner, and tasted the cake she brought out, I knew I had to master the recipe.
GASP! Sweet mother of holiness… I was going to bake!
It was an insane desire, totally misguided but I couldn't be budged to changed my mind on this. I had to make this cake and I had to make it soon!
So I harassed Agnes to part with her recipe, which she kindly sent me a photo of the recipe. You will have to ask her which book/magazine it came from 😉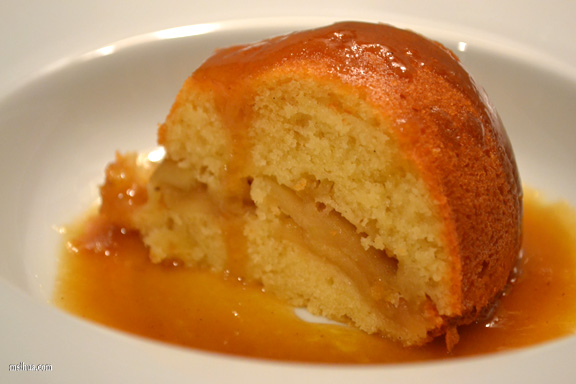 Ladies and gentlemen, boys and girls, I bring you…
Spiced Caramelised Apple Butter Cake with Apple Caramel Sauce
(Preparation Time: 20 minutes; Cooking Time: 1 hour; Serves 10)
Ingredients:
2 medium Granny Smith apples (400 grams)
80 grams Butter
165 grams firmly packed Brown Sugar
125 grams Butter, softened (extra)
150 grams Caster Sugar
2 Eggs
1 teaspoon Vanilla extract
150 grams self-raising Flour
100 grams plain Flour
1/2 teaspoon Bicarbonate Soda
250 ml Buttermilk
180 ml Cream
Nutmeg and Cinnamon powder (1/2 teaspoon each)
Procedure:
Preheat oven to 180 degrees Celsius (or 160 degrees Celsius fan forced). Grease a 20cm Bundt pan well.
TIP: I usually put vegetable oil/butter on the pan and roll up a bit of Glad Wrap Cling-film and use that to brush the pan. In this instance, I used an oil spray (so handy!)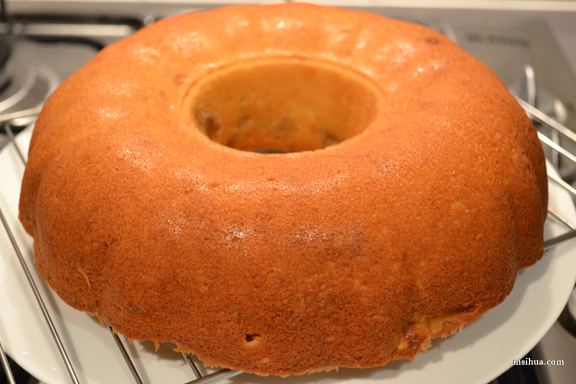 Method for the Apple Sauce:
Peel, core and quarter apples. Once done, slice them thinly. In a large frying pan, melt 80 grams of butter and cook the apples for around 5 minutes or until it has browned lightly.
Add brown sugar, nutmeg, cinnamon, and continue stirring for another 5 minutes or until mixture slightly thickens.
Strain apples over a medium bowl and reserve liquid for the apple sauce.
Once the cake is out of the oven, return the reserved apple liquid to the large frying pan. Add the cream and bring to the boil.
Reduce heat and simmer uncovered, about 15 minutes or until sauce thickens.
Method for the Apple Cake:
Beat the extra butter, caster sugar and vanilla extract in a medium-sized bowl with an electric mixer until light and fluffy. It is critical that the butter is soften, otherwise, you will end up with a clumpy white mess (this happened to me 🙁 )
Once you have a light mixture, beat in the eggs, one at a time. Transfer the mixture into a large bowl and stir in sifted dry ingredients. Stir in the buttermilk in two batches.
Spread two-thirds of the mixture into the prepared pan. Place the apples (cooked apples from earlier step) in a nice even layer, leaving a 2cm border around the edge, and cover with the remaining mixture.
Bake for 50 minutes. Let the cake stand in the pan for 5 minutes, then turn, top-side up, onto a wire rack to cool.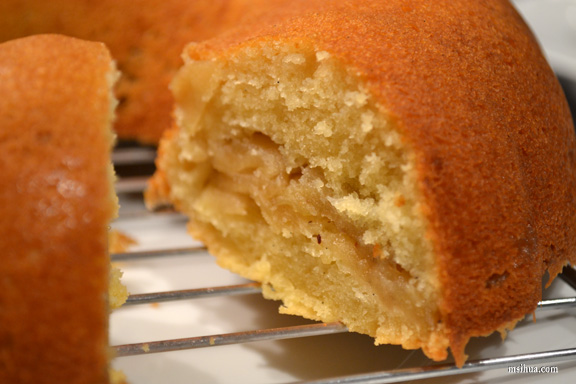 To serve, simply cut up wedges of the cake and drizzle with the warm apple caramel sauce.
The result? I was utterly amazed and beyond relief that it turned out so well.
The most amazing thing? I made this cake twice! Once for the work colleagues and another time for a bunch of food bloggers (Agnes included!)
Verdict: Food bloggers and everyone else approved 🙂
*pats myself on the back*