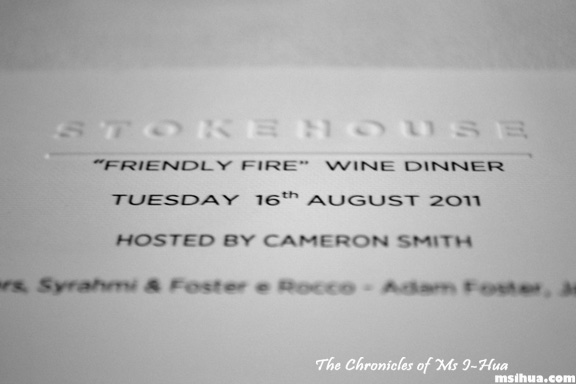 Ever since 2010's Taste of Melbourne event, I have wanted to pay Stokehouse a visit. I mean, all the food which I tasted and the drinks which I had during their showcase at the Taste of Melbourne show was just absolutely delightful!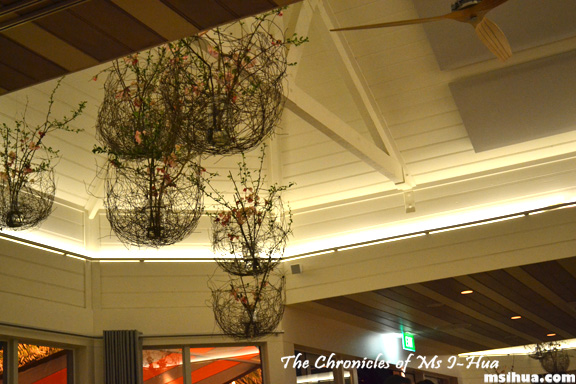 On one chilly evening, the Boy and I excitedly and quite literally bounded up the stairs to Stokehouse to attend the "Friendly Fire" Wine Dinner put together by Head Sommelier Lincoln Riley and hosted by Cameron Smith.
Why "Friendly Fire" you ask? Well, it's because the families behind the labels of Garagiste, Syrahmi, Foster e Rocco, and Jamsheed wines banter and poke fun at each other like a bunch of old married couples, all in good fun of course.
It was quite a hilarious night and the boys did a really good job.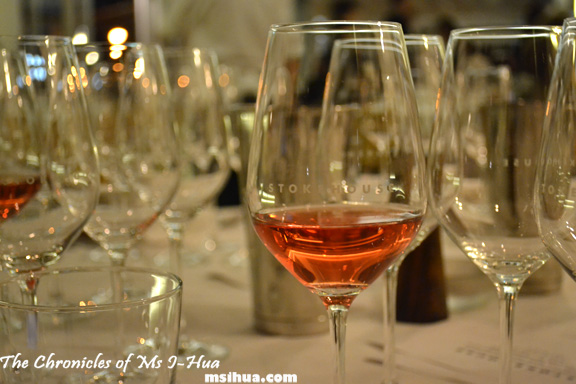 To start us all in the mood, we were each given the Foster e Rocco Rosè (2011 Heathcote, Vic). I have to admit that this was one of my favourite wines of the night. Even more astonishingly for me, was that this wine was only bottled 10 days before the event. So it was extremely fresh.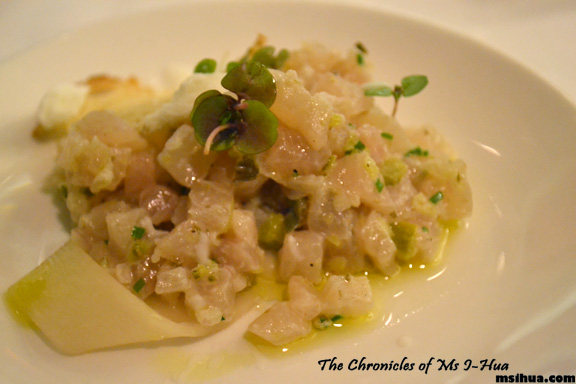 The First Course of Kingfish Tartare, Kohl Rabi, Horseradish was paired excellently with the Rosè.  I would have liked more of the kingfish as it was just so light and delicate.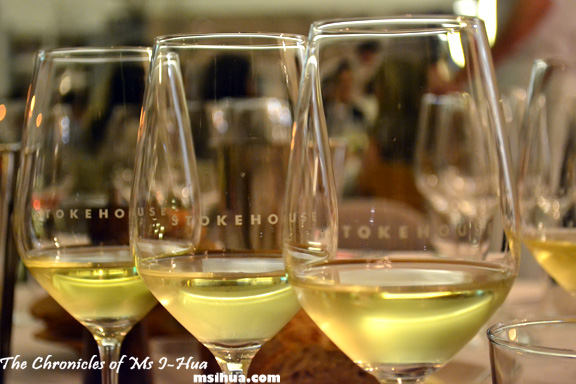 [Jamsheed 'Westgate' Riesling (2010 Great Western, Vic); Garagiste Chardonnay (2010 Mornington Peninsula, Vic); Garagiste Chardonnay (2008 Mornington Peninsula, Vic)]
With the start of the second course, the playful and often boisterous interaction went into full throttle.
So, from the left, we have the fruity and almost oak-like taste of the 2010 Jamsheed Riesling. In the middle was the 2010 Garagiste Chardonnay and in the front was the 2008 Garagiste Chardonnay. From my poor wine palate, I could sense that the younger Chardonnay was more perfumed, whereas the 2008 vintage had a high natural acidity to it.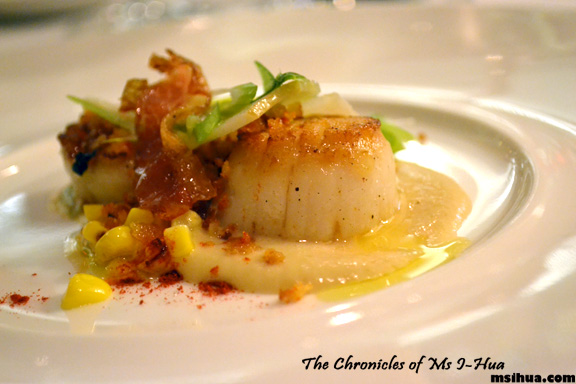 The wines were paired with the Second Course of Seared Atlantic scallops, Jerusalem artichoke veloute, sweetcorn, pangrattato, guanciale. Not only was the scallop cooked perfectly, the pangrattato complimented the dish with the interplay of texture. Soft, smooth and tender scallops to crispy crumbs.
The Boy liked it so much, Penny couldn't help but comment and ask if he wanted to lick the plate, to which he nodded enthusiastically. Thankfully for me, he didn't.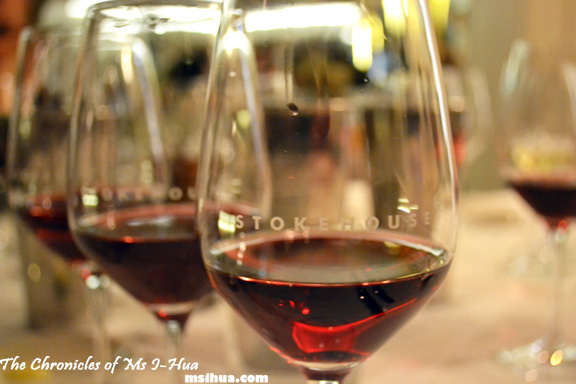 [Garagiste Pinot Noir (2010 Mornington Peninsula, Vic); Jamsheed 'Mon Petite Francine' Cabernet Franc (2011 Yarra Valley, Vic); Foster e Rocco 'Nuovo' Sangiovese (2011 Heathcote, Vic]
When the whites had been cleared away (we reused the glasses throughout the nights – hence very sustainable 🙂 ), the dreaded reds were poured.
Dreaded, as I am not a huge red wine drinker. However, I soldiered on and found that I did quite like the taste of some of them.
Both the Garagiste Pinot Noir and the Jamsheed Cabernet Franc are great for game based dishes. What we found, was that the Foster e Rocco Sangiovese tasted great on its own, but wasn't as nice when matched to the food. Interestingly enough, we were told that the Sangiovese was bottled the same time as the Rosè we had at the beginning.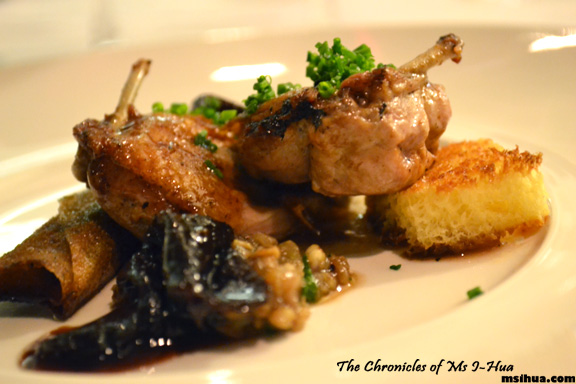 For me, the best wine of the three when paired with the Third Course of Quail leg and foie gras cigar, sherry glazed supreme, brioche, buckwheat and prunes, was definitely the Garagiste Pinot Noir. The Boy preferred the Jamsheed Cabernet Franc.
The quail itself was a beautiful dish and was possibly the best dish of the night for me.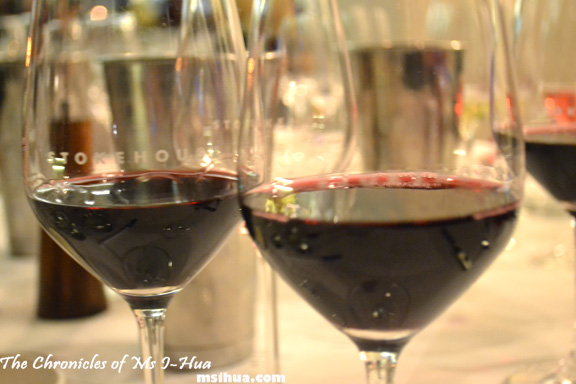 [Jamsheed 'Silvan' Syrah (2010 Yarra Valley, Vic); Syrahmi 'Climat' Shiraz (2009 Heathcote, Vic)]
At this point, Gary Mills from Jamsheed Wines stood up to present his Syrah. He explained that these wines were made from whole bunches of grapes rather than removed from the stem. What this means, is that there is less tampering with the wine making process and gives a more natural full-bodied end result. He had to bat off banter from the rest about naming his wine Syrah which was pretty much the original name of this grape but is more commonly known as Shiraz in Australia.
Adam Foster from Syrahmi and Foster e Rocco mentioned that their version of Shiraz is made from a combination of 60% of whole bunch grapes to 40% of stemless grapes.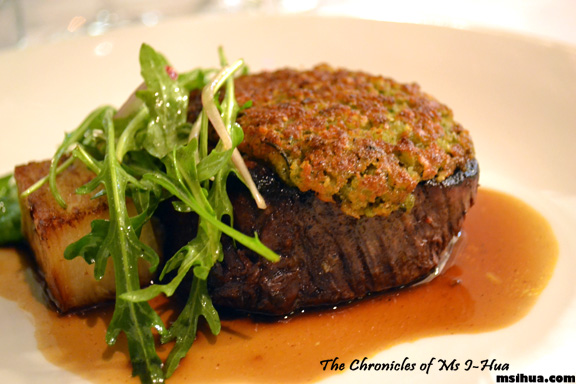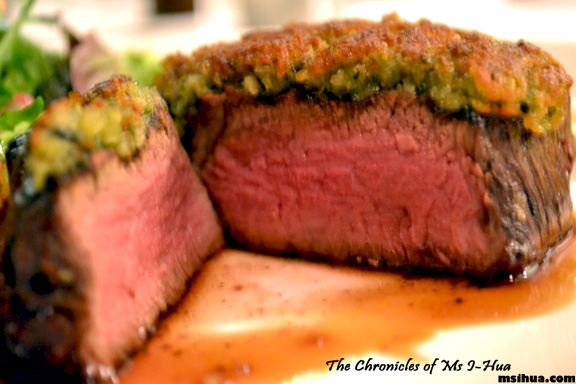 Fourth Course: O'Connor (Vic) 180gm pasture fed Angus beef tenderloin, herb gruyere and peppercorn crust.
This was a delicious dish to have, I was told. Hot mustard was offered to go together with the steak and whilst the Boy declined it, Penny and Ed decided to try some. The look on their faces when they tried it was hilarious as they mentioned that it was akin to eating hot wasabi. Hilarious!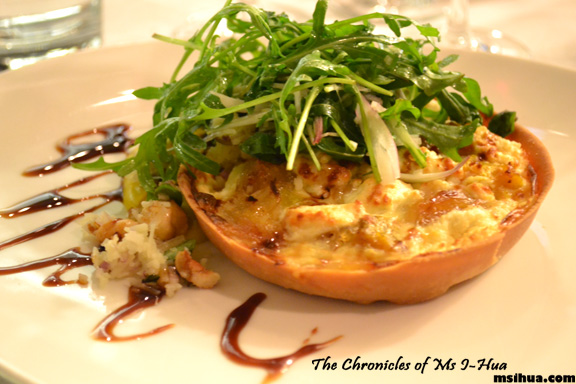 As you know, due to my non-beef eating ways, I had a different Fourth Course (Vegetarian): Pumpkin Tart with Goats Cheese.
My, oh, my. This had to be the best vegetarian tart I have had the luck to try in a long time. The sweetness of the tart and the richness of the goats cheese paired so well. Topped off with the balsamic glaze, this was heavenly to eat. Being very much a meat person, I was quite amazed at how much I enjoyed this vegetarian option.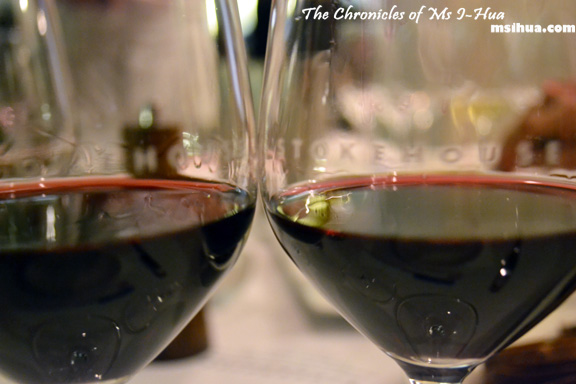 [Syrahmi 'Maelstrom' Shiraz (2008 Heathcote, Vic); Jamsheed 'Garden Gully' Syrah (2008 Great Western, Vic)]
To finish off the night, we were provided with two more varieties of Shiraz. By this stage, I must admit my ability to eat or drink was at its limit.
To Finish: Selection of cheeses, date puree, walnut bread.
We did discover that the Syrahmi Shiraz pairs excellently with the blue cheese.
All in all, it was an entertaining night. We learnt more about wines and discovered for ourselves that the Stokehouse was definitely worth a visit.
Of course, one has to remember that this night was a night for the Battle Between 3 Victorian Wineries and as such, we in attendance had to vote.
Through much hulla-balloo, it was the Foster e Rocco and Syrahmi wines which won the hearts of majority that night.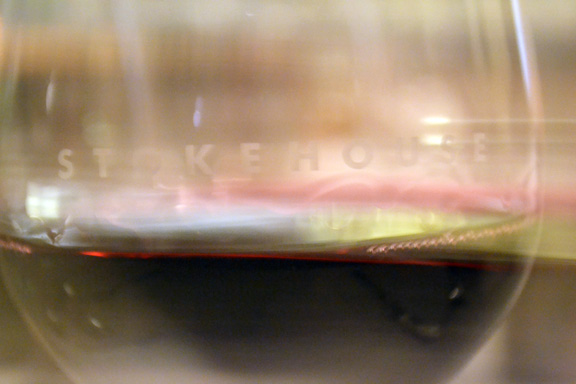 Thank you to all the great staff, witticism, and Lincoln Riley who as Head Sommelier of Stokehouse and partner of Foster e Rocco wines made sure that every wine glass was topped up and filled in correct order. An amazing feat when you think about the number of people who attended the night. In total, I think it was around 1400 glasses of wine.
If this has intrigued your interest with Stokehouse, don't forget to taste the food they have on offer in this year's Taste of Melbourne 2011 and read about it at the Stokehouse Events Page.
The 2nd Wine Dinner organised by Lincoln Riley and Stokehouse is entitled "Master and Apprentice" which takes place on 3rd October 2011. If you are interested, tickets are now available, so check their website for bookings and information.
[Ms I-Hua dined as a guest of Nuffnang Australia and The Stokehouse Restaurant]
*Disclaimer: All food ratings are purely based on my own experiences and how I feel about the service, food and quality at the time of visit.
Address:
30 Jacka Boulevard
St Kilda VIC 3182
Tel: (03) 9525 5555
Website: http://www.stokehouse.com.au/
Stokehouse Restaurant (Upstairs) is open
7 days a week for Lunch & Dinner
How to get there: