Salted duck eggs have been around for a very long time.
The brining process of making these eggs have been dated as far back as the 6th century A.D., according to ancient agricultural text.
Salted duck eggs are a popular Chinese food item and is usually eaten with congee or cooked together with other ingredients as it has a rich flavour. A favourite home cooked dish of mine which involves salted duck eggs is steamed minced pork and salted duck egg. Winston recently posted a recipe similar to what I'm used to 🙂
One of the most popular usages of salted duck eggs is the addition to traditional Chinese Mooncakes for the Mooncake Festival otherwise known as the Mid-Autumn Festival.
You can view Bryan's crazy foray to this mooncake bonanza he started in Part I, Part II and Part III.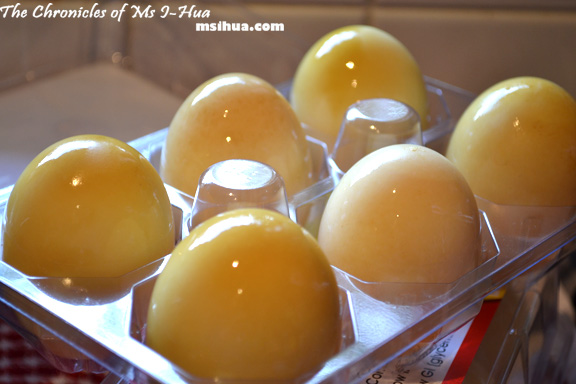 I have grown up eating salted duck eggs and always loved the salty flavour and rich yolk taste.
As it is quite difficult to source good quality salted egg yolks here in Melbourne, I thought I would venture and try to make my own!
Getting the fresh duck eggs weren't too hard. I bought a dozen (or two) at the Good, Food and Wine show earlier this year from the Luv' a Duck stand for a bargain (only $10!!)
After searching the web for fool proof recipes on how to bring the salted duck eggs, I chanced upon Christine's Recipes and pounced on her instructions.
Brining your own salted duck eggs is a really simple process. The only inconvenient thing is that it takes 30 days for your eggs to complete the brining process. So, have patience my pretties, for the end result is worth the wait!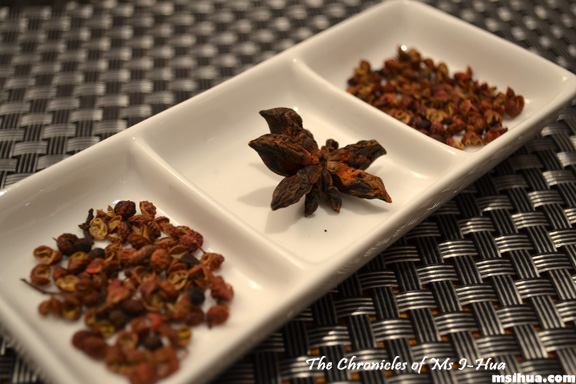 Ingredients
(Adapted from Christine's Recipes)
12 duck eggs
1 cup of rock salt
4 cups of water
1 tablespoon of Shao Xing wine
1 star anise
2 teaspoons of Szechuan peppercorns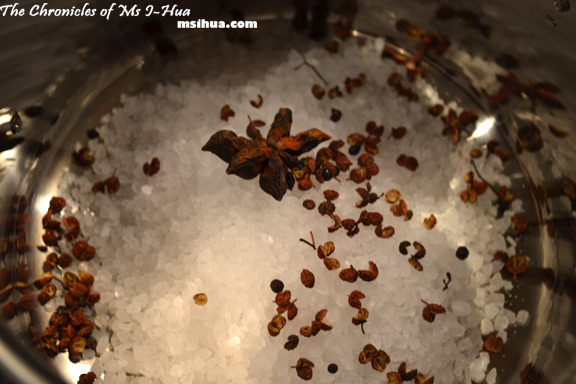 Method
Wash and clean the eggs as much as you can. Set aside to dry.
In a saucepan, place the water, salt,  star anise and peppercorns and boil on high heat. Once the salt completely dissolves, switch off the heat and allow the liquid to cool completely.
Once the liquid is completely cooled, add in the Shao Xing wine and stir well. You have just made your brine!
Place each of the duck eggs carefully into a medium sized container. Pour the brine slowly into the container to completely cover the eggs.
At this point, you may notice that some of the eggs will float to the top. You will need to make sure that all the eggs are completely submerged in the brine. What I did, was fill a sandwich bag with water and place it at the top of the container, making sure that I didn't lose any of the brine in the process.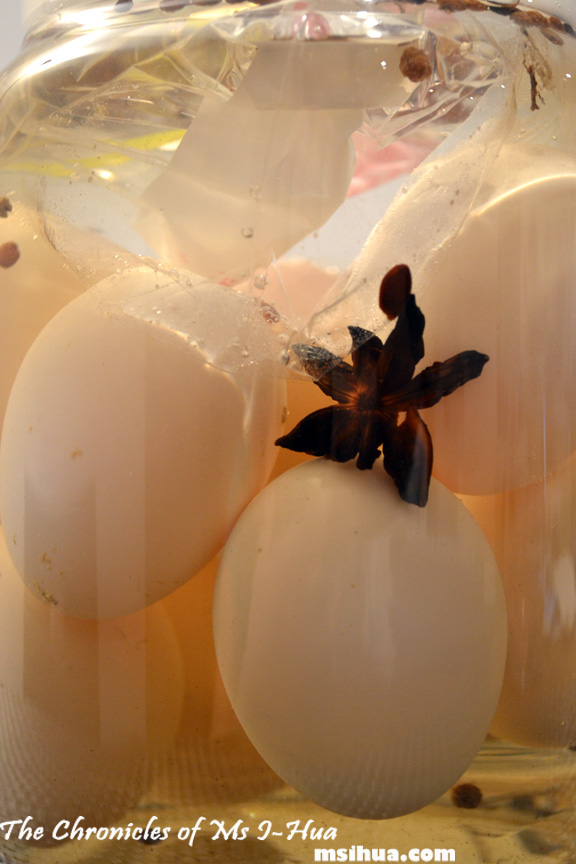 Remember to label the container as you don't want to forget about your eggs!
After 30 days, you will have beautifully salted duck eggs.
Make sure you clean and wash the eggs and store them in a cool dry spot. Alternatively, you can also keep them in the fridge for a couple of weeks.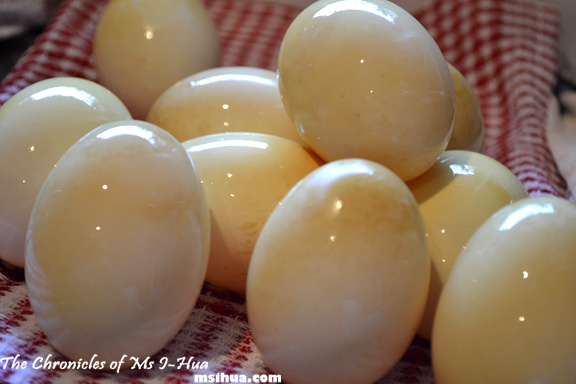 Voilà! An easy and fail safe recipe which will keep you happy for days to come. I think the ones I made were extra tasty as I made them on my own!
Points to be aware off
Do check that the eggs are in good condition and free from cracks.
If you do not have any Szechuan peppercorns or star anise, you could try using tea leaves instead. Depending on the type of leaves used, the flavour of the eggs would be subtly different.
You can use sea salt in place of rock salt (but it's more expensive, and really, there isn't much difference)
You can also replace duck eggs with chicken eggs but the rich taste of the yolk won't be as robust as if you were to use duck eggs.
I like to cook my salted duck eggs when I cook my rice. I usually put two whole salted duck eggs into the rice cooker, and let the rice and egg cook simultaneously. You can also either boil it or steam it.
I think with this success, I would like to try making century eggs next. It's a lot harder and a lot longer to make, but I think the end result would be worth it (Plus, I would know what went into the preparation of making this!)