I am sure that like me, you have been made aware of the current food crisis in East Africa.
Every day on the news and in the papers, we see images of hungry and starving children with their mothers.
East Africa is slowly dying and there's nothing we can do about it. Right?
WRONG!
There is always something we can do. Hunger and starvation are man-made epidemics and no matter how far and wide we live away from these starving nations, we can help.
If you are thinking, "I have no money to afford a donation", that is fine.
Help spread the word.
Pass this message on to your friends, family, colleagues, and acquaintances.
However, if you decide that you are eating out this weekend, you can lend a helping hand by dining at participating restaurants around NSW, VIC, SA, WA, QLD and TAS in the "Shout the Horn" campaign organised by Oxfam Australia in conjunction with World Food Day which falls on Sunday, 16 October 2011.
EAT LOCAL TO FEED GLOBAL.
Oxfam Australia's "Shout the Horn" – in response to the Horn of Africa Food Crisis
3 Things You Can Do To Make A Difference:
1) Dine at a "Shout the Horn" restaurant on World Food Day (Sunday, 16 October 2011). Participating restaurants can be found at https://www.oxfam.org.au/act/events/shout-the-horn/participating-restaurants
2) Host your own meal at home by inviting friends and family to raise awareness of this issue and have them voluntarily donate to Oxfam what they would usually spend on a meal. Visit Gather to GROW for further information.
3) Make a Donation on the Oxfam Website at https://www.oxfam.org.au/donate/current-appeals/shout-the-horn . Until 30 November 2011, any donations to the "Shout the Horn" appeal will be matched by the Australian Government.
So here it is, my dear readers, are you up for a challenge to save Africa and the world?
Lend a helping hand this World Food Day and make a difference 🙂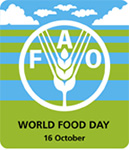 Disclaimers:
*"Shout the Horn" banner sourced from: www.oxfam.org.au
**World Food Day logo sourced from: http://www.fao.org/