I am the type of person that would most likely be categorised under one or two of the banners in the Seven Deadly Sins.
Could you hazard a guess? If you mention Gluttony  and  Sloth you would have been spot on.
I have been known to take a short nap and waking up 15 hours later.
I have also been known to go through the buffet table 4 times in one visit (there were oysters involved, what can I say?).
The Boy constantly tells me that he has never met anyone in his life that could sleep or eat as much as I.
What can I say? It's a talent and I'm a master at it 😛
I love sinful foods and I love being lazy in my approach to sinful foods.
In this day and age, when mostly everyone is keen to stay on the healthy path, avoid fatty foods, avoid high cholesterol intakes, reduce their sugar levels, and it goes on and on, it kind of takes the fun out of cooking and experimenting.
But when your kitchen only consists of prawns and butter, you make an exception.
A sinful exception 🙂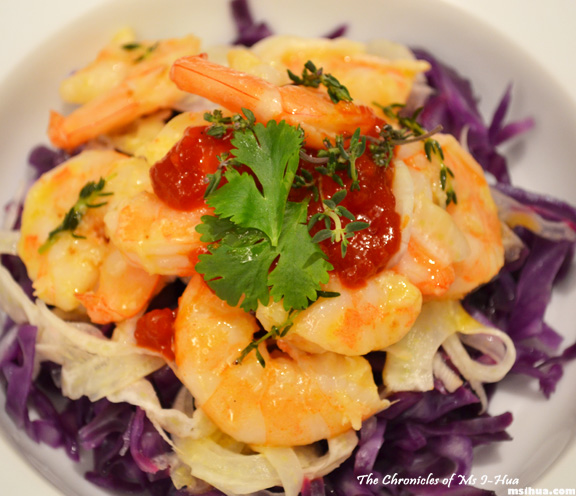 Butter Poached Crystal Bay Prawns with Fennel & Purple Cabbage
Ingredients:
8-10 Crystal Bay Prawns (peeled, cleaned and deveined)
225g of Salted Butter (cut into cubes)
1/4 of a Fennel bulb (shaved)
1/8 of a Purple Cabbage (sliced thinly)
Few sprigs of fresh Thyme
1 Tbsp of Lemon juice
2 Tbsps of Water
Optional: 1 Tbsp of Chilli Jam (we used our homemade Chilli Jam.)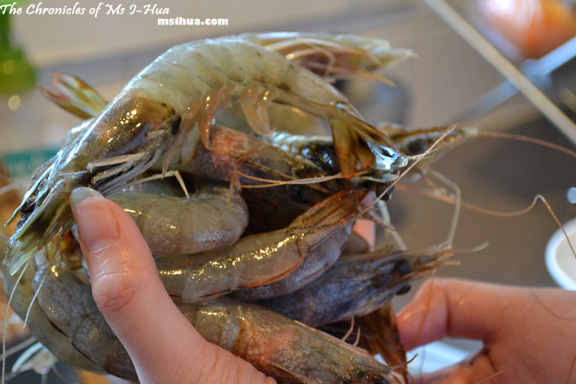 Procedure:
The first step is to create an emulsion to "poach" our prawns. Heat 2 tablespoons of water in a saucepan until boiling point. Turn the heat down to the lowest, add a cube of butter and start whisking. Slowly add the rest of the cubes (slowly, one at a time) while whisking. Keep whisking until you get a pale yellow sauce-like consistency. Careful not to "boil" your mixture or else it'll split.
Add the prawns and sprigs of thyme into the saucepan and cook gently over low heat. Keep stirring and coating the prawns with the butter sauce until they are cooked (roughly 4-6 minutes, depending on size of prawn). Take saucepan off the heat.
Place sliced purple cabbages at the bottom of the plate. Add lemon juice with shaved fennel and place them above the purple cabbages.
Transfer prawns onto the plate (above shaved fennel). Pour a generous amount of butter sauce over prawns and add a dollop of good ol' homemade chilli jam on top (the chilli jam is optional but we thought that the dish was missing something). Garnish with thyme (from sauce) and parsley.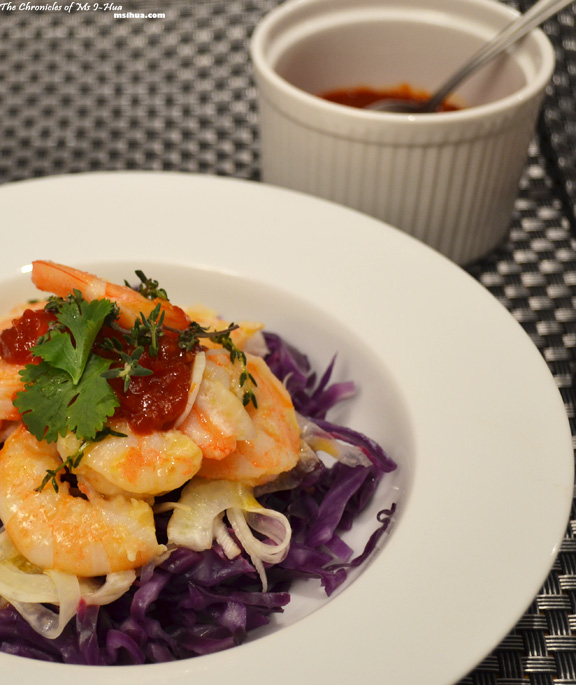 So what do you think? Was this worth the splurge down the path of cholesterol and buttery goodness?
I thought it was!
What would your most sinful eating pleasures consists of?