Coeliac disease is slowly getting more and more widespread in today's society, with 1 in 100 Australians suffering from this gluten intolerant anomaly.
I never knew what it was and certainly never knew it was spelled the way it is spelled as it is pronounced as "silly-ack" (to me anyway).
Regrettably, I also never bothered to find out how annoying it is for those who suffered with these disease. Ever since one of my work colleague was diagnosed with coeliac, I've taken a conscious effort to pay attention to things that he can or cannot eat.
There is not much, as nearly everything has gluten in it. Even soy sauce.
A-n-n-o-y-i-n-g!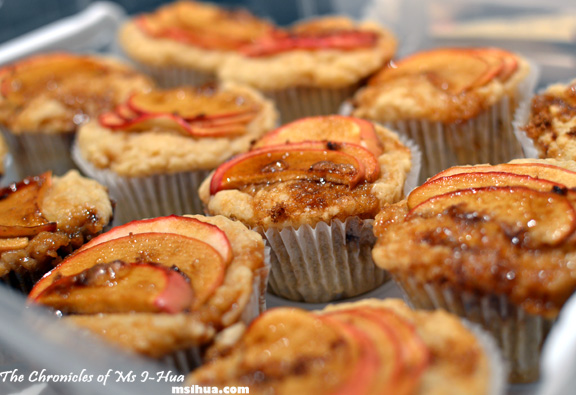 I really wanted to let Sir Win (he will get this 😛 ) have a break and be able to eat some of the cakes during morning tea.
It's easy to order in some gluten-free cakes, but it almost always contains chocolate or oranges (not that they are bad things), just not much variety in them. Plus, where's the personal touch in that?
So as part of my 500th Blog Post and together with baking my banana muffins, I really wanted Sir Win to enjoy some gluten-free cupcakes during morning tea.
So I made him some Gluten Free Apple Muffins with Pink Lady apples (still in theme with Breast Cancer Awareness) and brought them in.
Gluten-Free Apple Muffins
(Recipe adapted from Taste.com.au/Super Food Ideas Nov '09)
Ingredients:
2 1/2 cups of Gluten-free Self-raising Flour (available in most supermarkets. We purchased the Orgran brand)
3 Pink Lady Apples
2 tsp of Ground Cinnamon
3/4 cup of firmly packed Brown Sugar
1/2 cup of Vegetable Oil
1 cup of Milk
1 Egg (lightly beaten)
Procedure:
Ready the oven by preheating to 190 degrees Celsius. Grease a 12-hole muffin pan or use muffin/cupcake cups.
Peel and grate 2 Pink Lady apples and put aside. Take the other apple, core and quarter it. Then, thinly slice them. Put the sliced apples into a bowl filled with water and some lemon juice/cider vinegar to avoid the apples from oxidising/browning (I didn't have any citrus lying around handy, so I used some sugar and salt instead).
Combine self-raising flour, 2/3 cup of brown sugar and ground cinnamon into a mixing bowl. Mix together and make a well in the centre. Then, add your milk, vegetable oil and beaten egg.
With a wooden spoon, stir the mixture until combined. Try not to over-mix or you might end up with tough muffins. Add the grated apples and fold into the muffin mixture. Once again, do not over-mix it.
Spoon the mixture into your muffin pan or cups. Place 2-3 apple slices on top of each muffin and sprinkle the remaining brown sugar on top of them.
Put the muffins into the preheated oven and bake for approximately 20 to 25 minutes or until cooked through. Use a cake tester to check on your muffins. Let muffins stand for 5 minutes before transferring onto a wire rack to cool.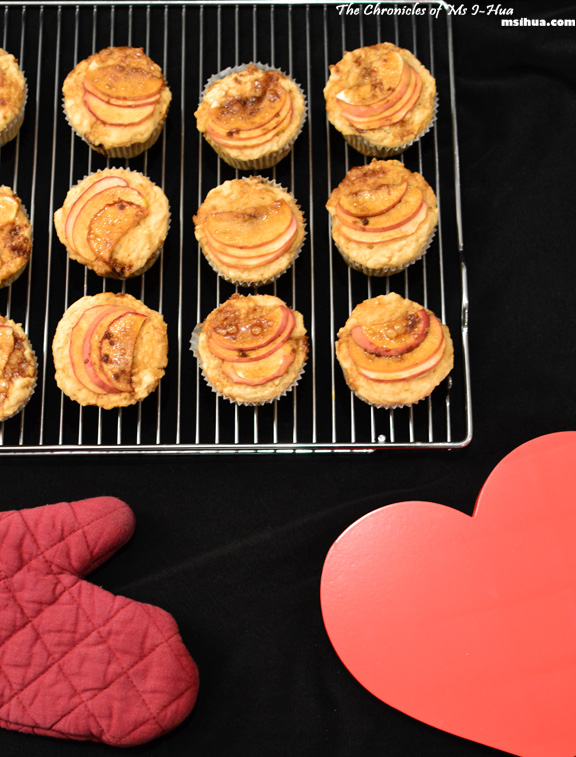 I very nearly threw a hissy fit as the muffins didn't brown as much as I'd like.
At first, I thought they were a bit undercooked and left them in the oven a little while longer than recommended. And…
Nothing happened. I wasn't sure what I did wrong and felt really bad about bringing them into work the next day for Sir Win.
However, when he ate them (whilst I stared anxiously at him), he said that they were pretty good. I mentioned about them not being brown enough, and he laughed.
Don't you just love boys? *sigh* Apparently, gluten-free things do NOT toast. So they don't brown. They crumble.
Luckily for me, the grated apples added a nice dimension of moistness to the cupcakes, so it was quite pleasant.
I'm not sure if I'll be brave enough or emotionally strong to try another gluten-free baking recipe.
But I guess, I will. The smiles on the faces of my colleagues is more than enough incentive to keep trying harder 🙂