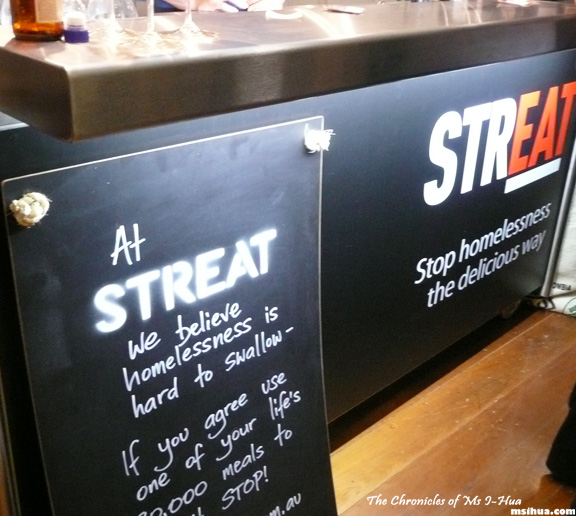 Now we all love a good party every now and again.
What better reason to party than for a worthy cause? Remember the fun Twestival Melbourne featuring STREAT Melbourne, party I attended in April?
Well this time, it's a dinner party with a twist!
This coming Tuesday, 29th November 2011, the good folks at Smudge Publishing and STREAT are organising a STREAT Party in Melbourne's iconic laneways and rooftops.
They're calling it the largest simultaneous dinner party ever hosted in Melbourne.
All proceeds will go to STREAT Melbourne, a social enterprise for helping get homeless kids off the streets by providing them with a 6 month hospitality program.
The fun part and the twist to the party?
Well, the location of the dinner as well as the after party is a secret! The venue will be revealed after introductory cocktails at the meeting point.
What you'll get:
Cocktail/pre-dinner drink* at a laneway or rooftop bar
3-course dinner at an iconic Melbourne restaurant
Selection of local Victorian wines
Autographed copy of Melbourne's Laneways & Rooftops book (valued at $70)
Ticket to the after-party at a Melbourne night club
*Guests will be greeted with a glass of Prosecco NV from Brown Brothers or a Bulmers cider at their meeting point and can enjoy a selection of regional Victorian wines on the night, donated by wineries from the Mornington Peninsula, Geelong and the Yarra Valley
What you'll have to do:
Simply visit the STREAT Party website to purchase your ticket or simply click here.
Tickets are limited and cost $150 per person.
Booking deadline: 24th November 2011
On that day (Tuesday, 29th November 2011, 7pm – Late):
You will meet in a designated laneway or rooftop bar in the Melbourne CBD for a cocktail before your dinner.
You will then be directed to a secret restaurant and served a 3-course dinner with a variety of Victorian wines.
You will receive a signed "Melbourne's Laneway & Rooftop" book and a ticket to the after-party at a Melbourne Night Club.
You are encouraged to place your booking together if you want to be seated together…. tables up to 10 can be catered for.
Note that many exciting restaurants will be showcased in this exciting venture, and it will be "pot luck" where you end up. You can be guaranteed, however, a wonderful evening with the best 3-course meal you have eaten in a long time!