Situated in an idyllic corner of Kerferd Road and Montague Street lies an innocent monsieur. He's a little quiet and a little shy, but don't let that fool you.
Once you enter into his quaint humble abode, you'll be surprised.
So it was that one Saturday morning, I decided that we would pay Truman a visit. I asked a few of my friends if they wanted to join me and gave them the time and date along with the address.
Surprisingly, all three said yes and showed up! So began the inaugural meeting of the Fake Photographic Society.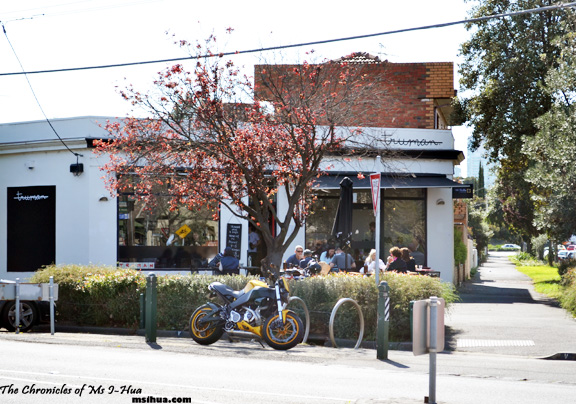 Together with my co-founders, Ashley, Allan and Bryan, we ordered enough food to feed a little village.
The fun part about dining with other food bloggers is that one never feels shy about the constant clicking and whirring of camera lenses or the array of phones and DSLR cameras on display on the table ready to be grabbed for a quick snap as well as live tweeting and updates on instagram.
Being a food blogger is indeed hard work, but it's also really fun and more so when you are dining with like-minded individuals who will allow and forestall their salivation without any fuss, so long as the picture of the food turns out fabulously.
Apparently, I am quite the bossy coordinator of events 😛 One has to be if one is scheduling an outing with a group of people whose diaries have been fully booked with events all through to 2020 😛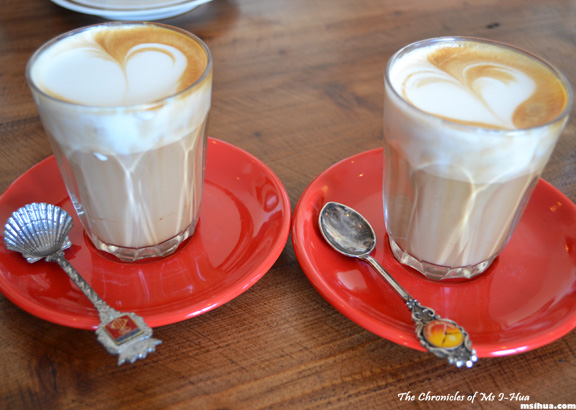 Once we were seated and all pictures of our surroundings and menu were well and duly taken, our cheerful waitress came by to take our order. She even said that if we must take her picture, be sure to take the good side and promptly posed for us. Love it!
Seeing that they were using Di Bella beans didn't particularly excite me, but the coffee didn't turn out too bad.
It was a decent cup of latte if I recall. Bryan's memory is way better and he mentions about hints of dark chocolate and copper (Woah!)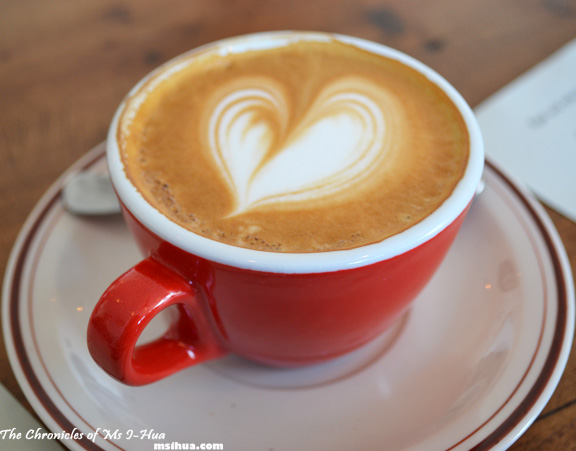 Flat White $3.20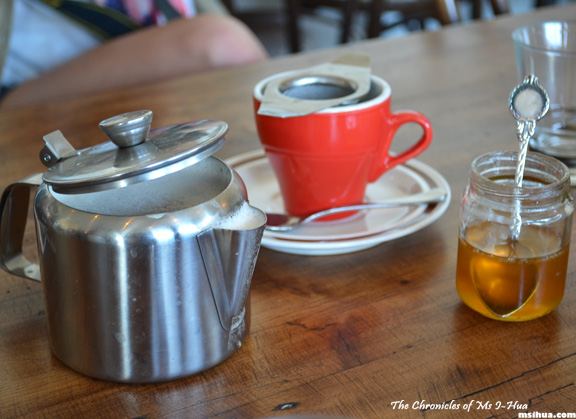 Whilst Bryan and I were pre-occupied with outdoing each other in tasting hidden notes in our coffee, Ashley ordered the rather lovely Chai Latte $4.5o with Bon Soy 🙂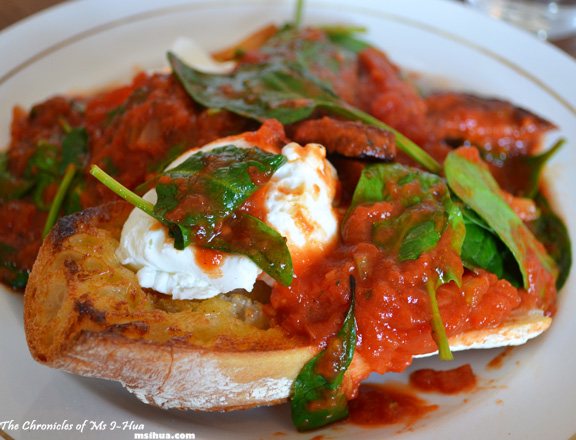 And later, came the mains. Connie's Eggs – poached eggs in napoli sauce with chorizo and spinach on toasted baguette ($15.50), which is what both the Boy and Ashley ordered.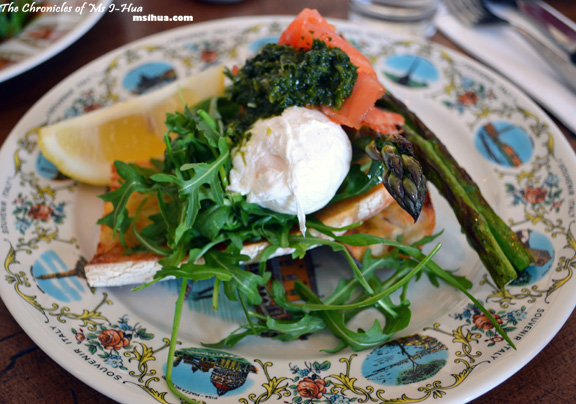 Bryan was being a bit different and went with the Smoked Salmon & Asparagus on toast with poached egg and salsa verde ($15.50)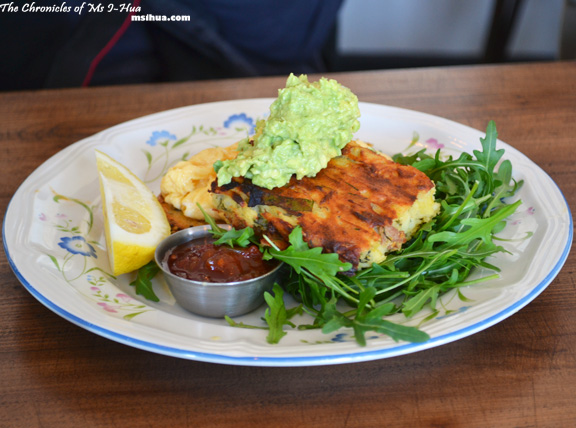 Whilst Allan and I were of similar minds and ordered The Truman – scrambled eggs, housemade potato & leek hash served with avocado and relish ($15.50). When dining in Truman, one has to order the house named dish!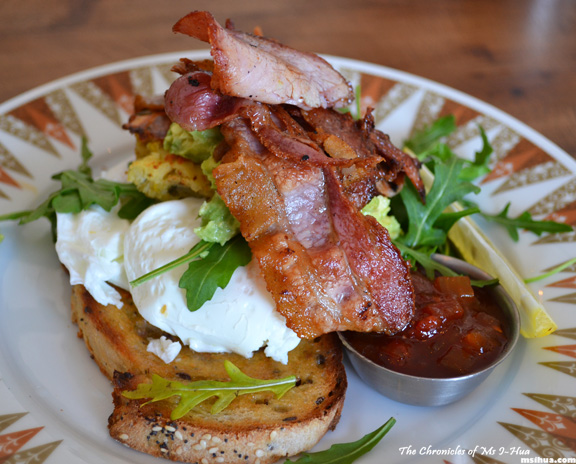 Although The Truman I ordered was slightly *ahem* modified and came with poached eggs (instead of scrambled) and added bacon. I can't help it. I need my bacon!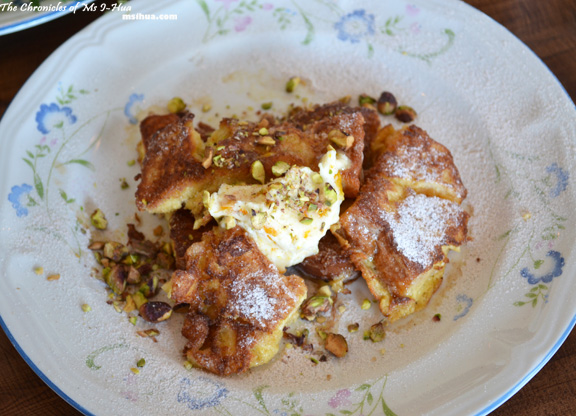 For one reason or another, Allan thought that we hadn't ordered enough food, and proceeded to persuade us to order a serve of French Toast. Honestly, we didn't require much pushing and soon put in our order for the Brioche French Toast with spiced mandarin marscapone and sugared pistachios ($13.50).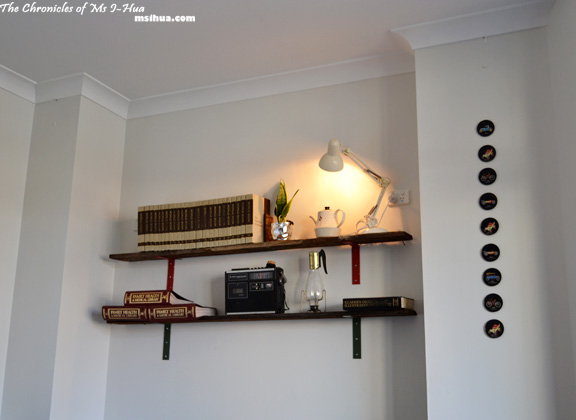 And so we feasted, and drank, and laughed.
But that wasn't the end.
No, of course not. Why would we stop at just ordering a mountain of food?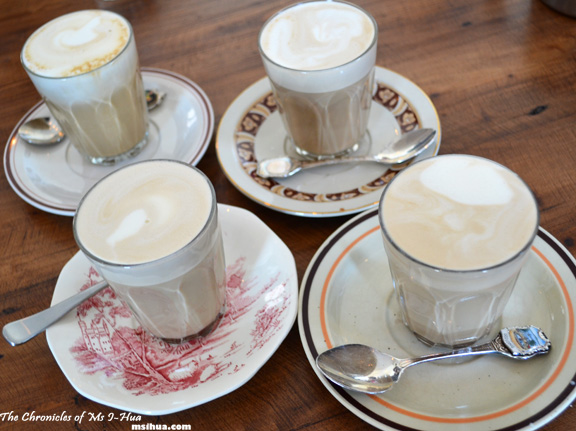 We continued our Truman story with a few more addictive drinks.
Curiously curious, Bryan and I convinced the table to order a few LSDs and Caros.
If you're wondering whether or not this was legal, the answer is yes 🙂
LSD – Latte Soy Dandelion ($3.70) and Soy Caro ($3.70)
We were told that these were decaf options for people who do not consume caffeine (weirdos, what? *points over there*). We found that although interesting, we definitely weren't into it.
Interesting, and although I couldn't stop sipping both the options, I much prefer real coffee.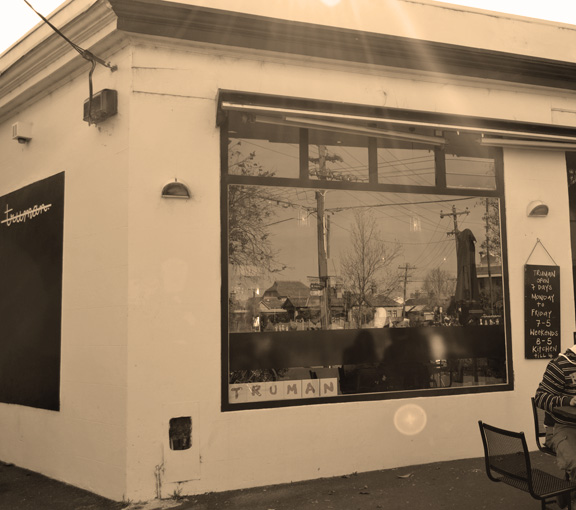 All in all, I had a great time and I can't wait to head back to visit this interesting chap in Albert Park 🙂
Fellow "partners in crime":
Let's Get Fat Together
I'm So Hungree
Almost Always Ravenous
*Disclaimer: All food ratings are purely based on my own experiences and how I feel about the service, food and quality at the time of visit
Food/ Cuisine: Breakfast/Lunch & Coffee
Dining Style: Cafe
Overall Food Rating (Based on the Dining style): 7/10
Restaurant ambiance: 7.25/10
Service/ Attitude: 7.25/10
Value for money: 7/10
Opening Hours:
Monday to Friday, 7am – 5pm
Saturday to Sunday, 8am – 5pm
Address:
381 Montague Street
Albert Park VIC 3206
Tel: (03) 9077 1372
Website: http://www.facebook.com/pages/Truman-Cafe/179962718735189
How to get there: