Howdy my fair and delightful readers!
Or as I would like to imagine Wooster saying to his wise butler Jeeves, "What'ho Jeeves?!"
Christmas is right around the corner, or so I've been led to believe.
Christmas carols are being played on a loop in retail shops. Christmas trees and decorations are everywhere. Heck, there's tinkle and glitter everywhere you look!
This year, I thought I'd get in early and get it quick with my Christmas recipe ideas.
I started out with the delicious Chocolate Shortbread Cookies, as I thought they would make delicious treats and really cool gifts!
But we also come to the critical part of Christmas.
The ROASTS!
This year, the Boy and I would like to share a simple recipe which we've tried out gleefully to our happy bellies.
We do hope you enjoy making and eating this as much as we do, and not stress out too much in the kitchen and spoil your loved ones with all things beautiful, kind and delicious!
One quick tip before I leave you with the recipe:
Leave your chicken to air dry in the refrigerator overnight as this will lead to a crispier skin after roasting 🙂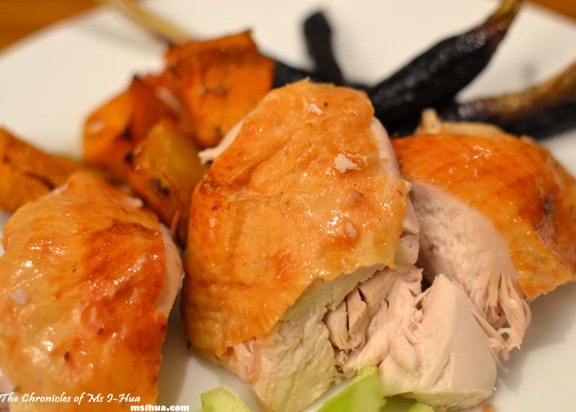 Roasted Chicken with Roasted Purple Carrots & Pumpkin Recipe
(A modified Whole Roasted Chicken Recipe from Thomas Keller's Ad Hoc at Home Cookbook)
Ingredients:
1 x whole Chicken (let stand at room temperature for 1 1/2 hours)
3 slices of middle-rasher Bacon
6 x Garlic cloves (smashed with skin still on)
4 Tbsp of Butter
6 sprigs of Thyme
1 tsp of dried Thyme leaves
12 x Purple Carrots
Quarter of a Pumpkin
2 Tbsp of Honey
60ml of Canola oil
Kitchen twine (to truss chicken)
Kosher Salt
Grounded Black Pepper
Procedure:
Preheat oven at 250 degrees Celsius.
Peel and de-seed pumpkin. Cut them into chunks.
Clean and peel the carrots (Well, I guess peeling is optional as some prefer the skin on).
Combine 40ml of canola oil, 2 Tbsp of honey, 1 sprig of thyme and 3 cloves of garlic and mix thoroughly. Separate mixture into half.
Toss pumpkin chunks with one half of the mixture and purple carrots with the other half.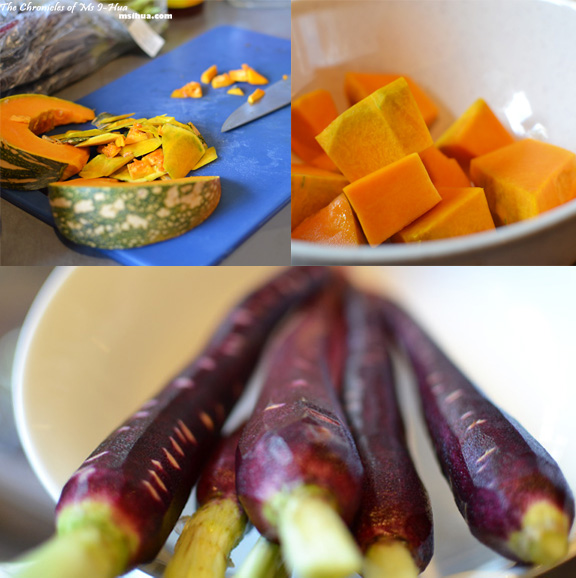 Place marinated pumpkin and purple carrots at the bottom of the roasting pan. We placed the purple carrots on a separate aluminium foil to prevent it from colouring the pumpkins when they start cooking and releasing its juices.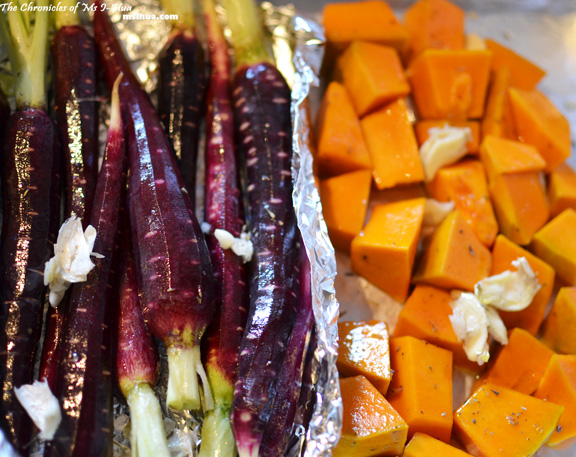 Using a paring knife, cut out the wishbone from your chicken to ease carving later.
Season the cavity of the chicken with salt and pepper. Add the remaining garlic cloves, middle rasher bacon slices and 5 sprigs of thyme into the cavity.
Truss your chicken (there are a few helpful videos on YouTube) with a kitchen twine.
Combine the remaining canola oil with the dried thyme leaves. Rub all over chicken. Generously season chicken with salt and pepper.
Place chicken on the roasting pan tray (breast side up).
Cut butter into a few thin slices and place all over the chicken breast.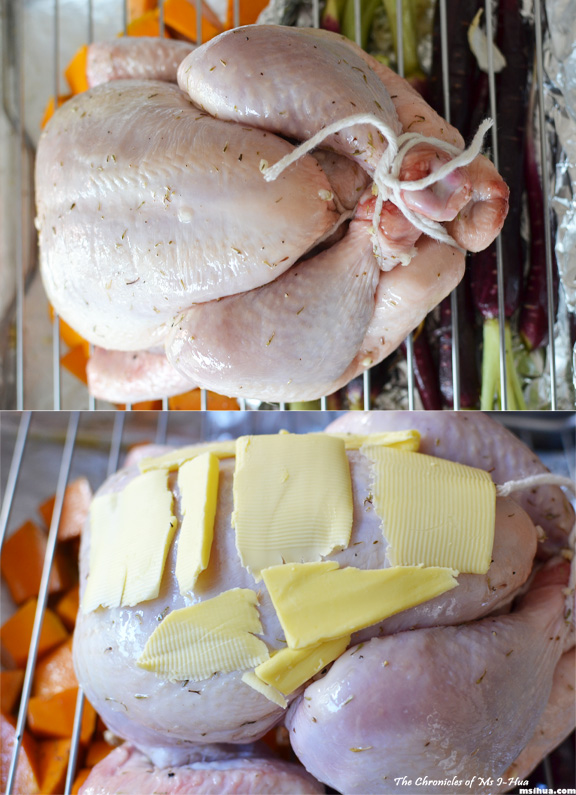 Put roasting pan with chicken and vegetables into the oven for 25 minutes. Reduce the heat to 200 degrees Celsius and roast for another 45 minutes.
Check the chicken by skewering it under the breast (where the thigh meets the breast). If the juices that flow out is clear, then your chicken is cooked.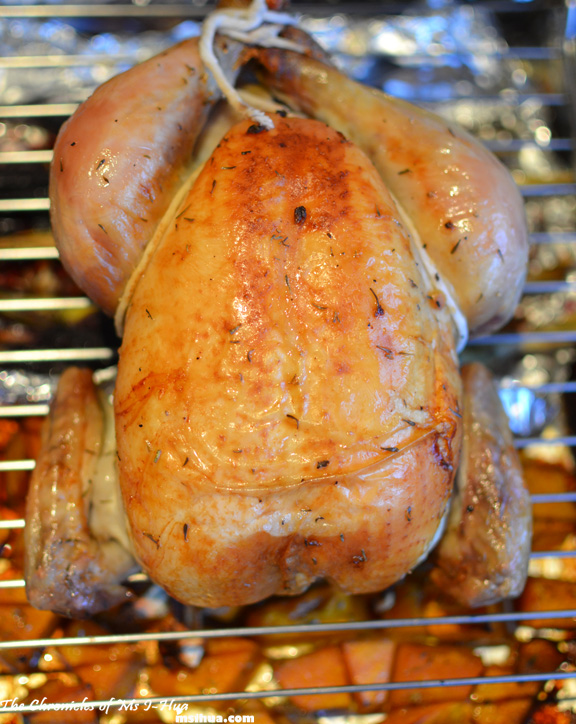 Take roasting pan out and let chicken rest for 15-20 minutes.
Remove vegetables and cover them with an aluminium foil to keep warm.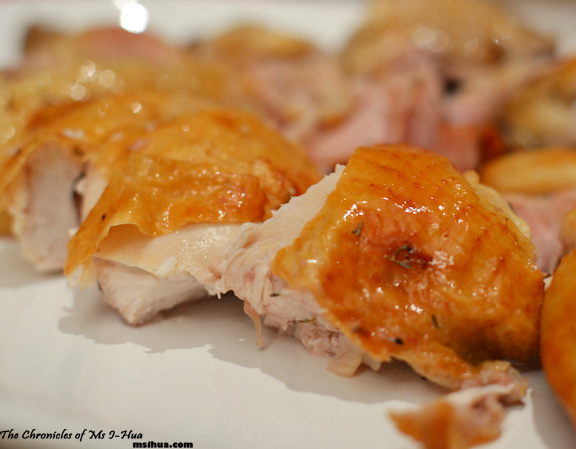 Remove kitchen twine and discard contents from the cavity. Carve chicken into desired number of pieces.
Just before serving, you can reheat the vegetables on a pan with its juices.
Plate both chicken and vegetables and serve.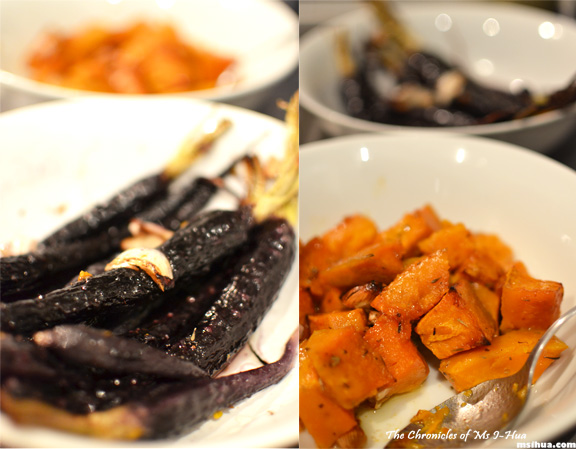 What type of roasts do you normally serve during Christmas time? I would love to hear about it 🙂