Have you ever been inclined to wonder what happens in a cafe that caters to hungry hoards for breakfast, brunch and lunch does during the evening?
Do little gnomes or pixies come out at night and clean the store up whilst singing?
Do they throw fairy parties and eat Pop Biscuits and Google Buns (If you know where this came from, you rock!)?
Well, a couple of months ago, I managed to find out what one such cafe does at night instead, and it doesn't involve any magical activity (*awwww…*), unless if you're like me and consider eating really good food as magical!
These days, cafes don't just open up for business in the day time. These days, they throw open their doors and serve contemporary dishes during dinner time.
Penny Farthing Espresso is one such cafe.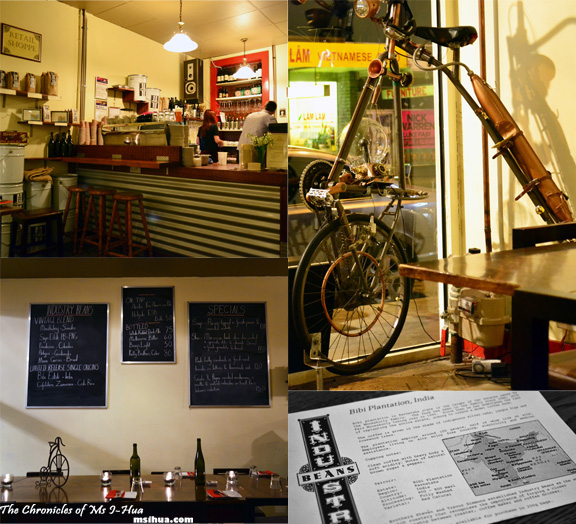 The Boy, cousin A and I ventured out to Northcote one wintery evening to the allure of warmth and good food in Penny Farthing.
We were the first guests to arrive that night into the warm inviting decor.
There, smiling at us from the window, was a classic penny farthing in its glory.
On the tables, were miniature penny farthings which caused an uncontrollable urge within me to keep wanting to place it in my bag discretely 😛
The menu is tapas styled (preferably shared) and we chose quite a few to share amongst the three of us.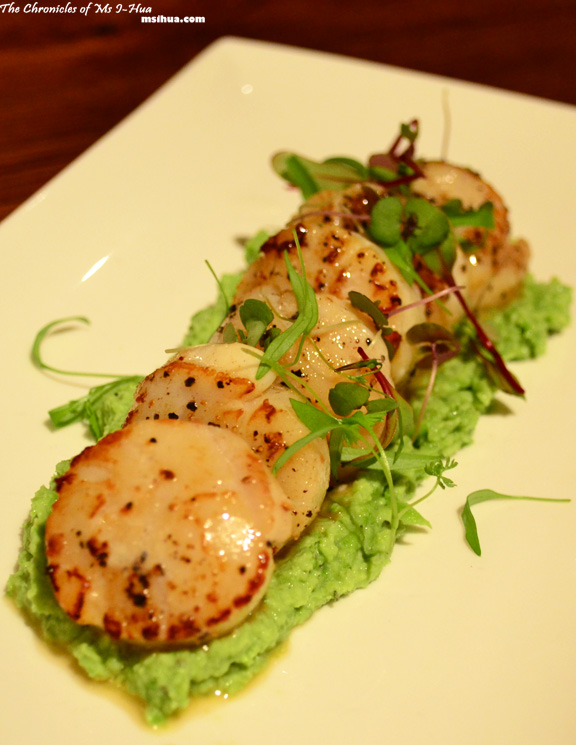 We started with a beautiful plate of Seared Scallops served on a pea & sage puree topped with red garnet & chervil ($17/$10). The scallops were perfectly done and lightly seasoned. So perfect that I nearly forgave them for the pea puree 🙂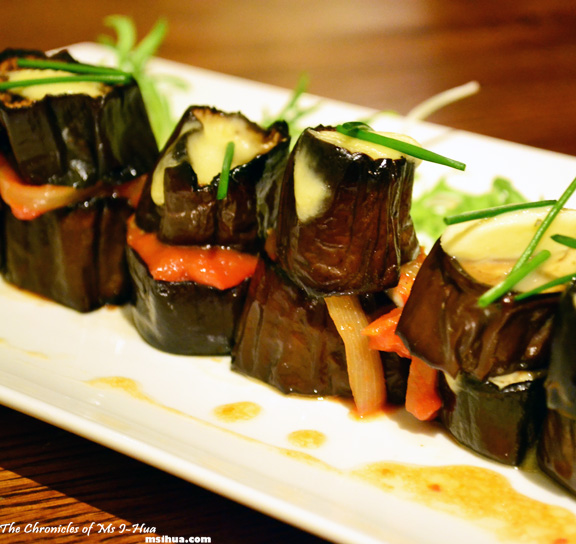 We followed that up with Eggplant Stacks – Oven roasted Lebanese eggplant layered with bocconcini & housemade peperonata, served with frize lettuce ($16/$12).
In my head, it kind of looked like a mini moussaka but what came out was completely different.
Thick slabs of eggplant sandwiched with cheese and dripping with peperonata and served all at once proved a delightful torment to me.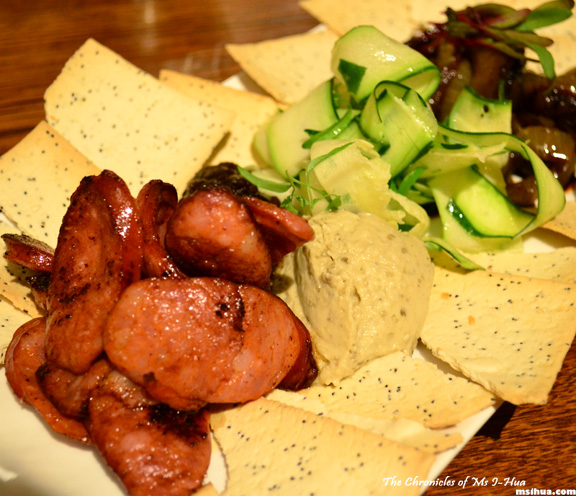 We also ordered a Chorizo Plate ($16) to share. It was pretty much a plate topped with panfried chorizo, balsamic shallots, pickled zucchini, eggplant puree, pear chutney and crisps. Basically, you chose whatever you would like to pile on your tiny crisps and eat it.
It was fun, a little messy but oh so delicious!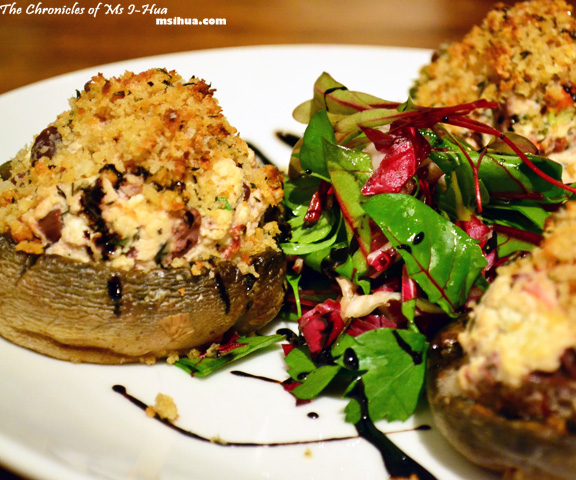 Our waitress suggested that we try the Ricotta baked Mushrooms ($17/$10) to help fill us up as our first few dishes were rather light.
The mushrooms were field mushrooms and stuffed with ricotta, thyme, oregano, olives & sundried tomatoes, crumbed and baked before being served with a mix of beetroot leaves, chervil & mint.
She was right about it being very rich and filling and as much as I liked mushrooms, I found it a tad heavy.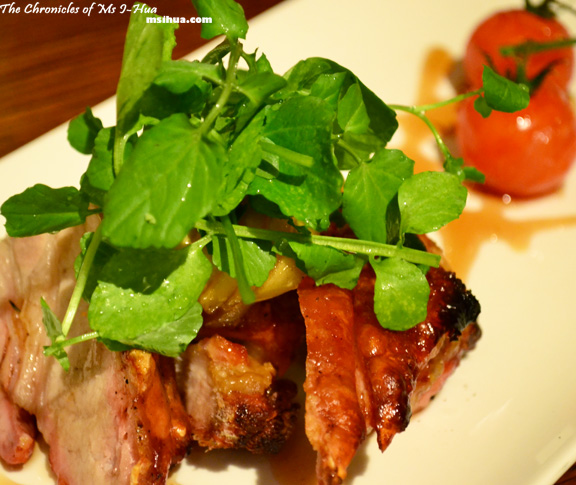 For mains, it was obvious that when I saw the words pork belly, that I would order the Slow cooked Pork Belly served with caramelised apples & seared vine ripened tomatoes and finished off with a star anise reduction & watercress ($21/$14).
It wasn't the best pork belly I've had, but it wasn't too bad either. It was a decent attempt at pork belly and I couldn't get enough of the caramelised apples!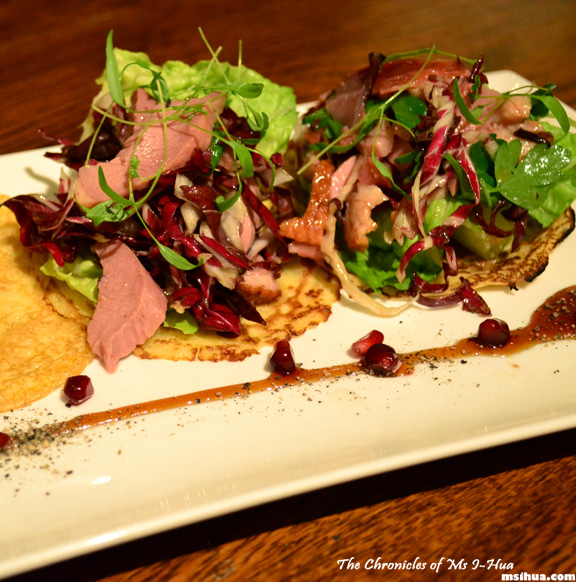 For our last savoury dish, (yes, I did say we ordered quite a bit!) we decided to finish up with some Smoked Duck Crepes ($20/$13) which again in my imagination resembled peking duck, but was a more westernised version. This time, I was right. Wafer thin crepes topped with butter lettuce, smoked duck, prosciutto & radicchio and finished with a pomegranate reduction, this had to be the winning dish for me!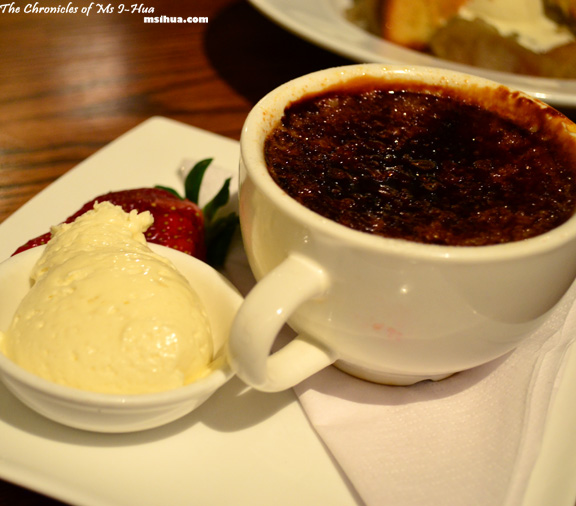 For desserts, I had to have the Coffee Creme Brulee which was amazing (but the Boy found it too rich). I can't remember how much the desserts were as they weren't on the menu, and we were introduced to them after our meal.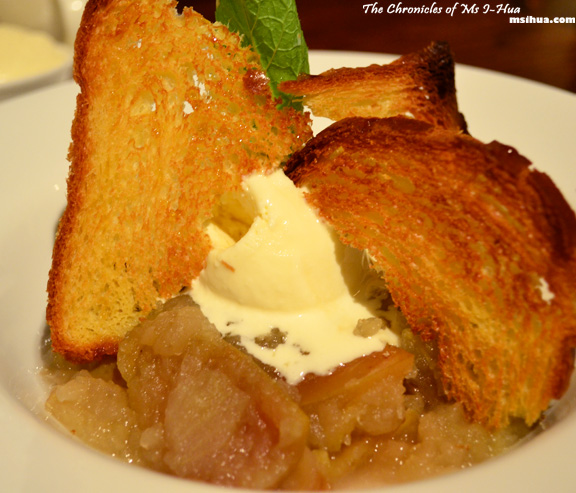 The Boy and Cousin A decided to have a version of Poached Apple Bread Pudding with Ice-Cream, which I thought was pretty clever as it didn't have soggy bread! WIN!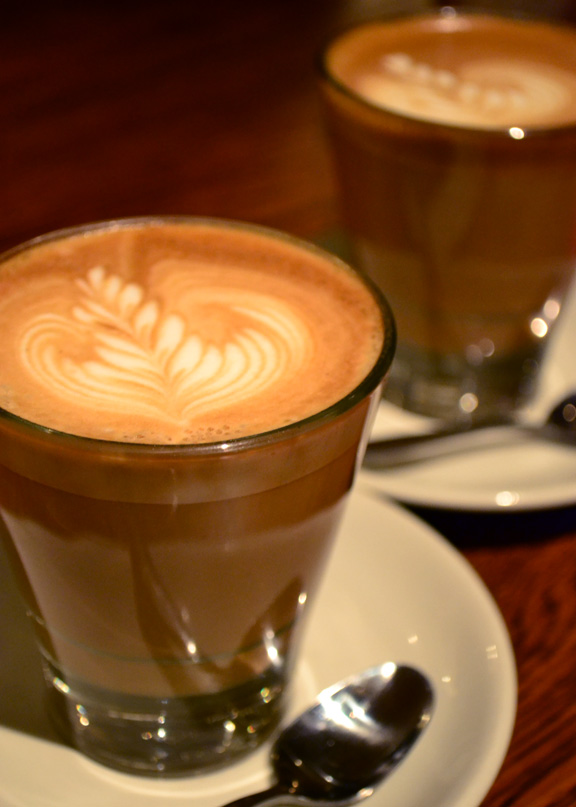 Of course, being a cafe, we just had to finish up our fantastic meal with a cup of Single Origin caffe latte from Bibi Estate – India. I was glad that I did have it in a latte as it was very very strong!
*Disclaimer: All food ratings & review are purely based on my own experiences and how I feel about the service, food and quality at the time of visit
Food/ Cuisine: Modern Australian
Dining Style: Cafe
Overall Food Rating (Based on the Dining style): 7.25/10
Restaurant ambiance: 7.5/10
Service/ Attitude: 7.5/10
Value for money: 7.5/10 (I liked that the dishes had a choice of entree or main sizes and prices to match)
Opening Hours: 
Monday – 7.30am – 5.00pm
Tuesday – Friday – 7.30am – Late
Saturday & Sunday – 8.30am – Late
They are a fully licensed cafe and take bookings!
Address:
206 High Street
Northcote VIC 3070
Tel: (03) 9482 2246
Website: http://pennyfarthingespresso.com
Twitter: @PFEnorthcote
How to get there: