I'm getting quite good in arranging these so called blog meet-ups. Arranging Fake Photography Society (FPS) meetings is relatively easy.
I pick a place, set a date and the gang turns up. So happens that the place I chose this time round had nods of approval from the FPS team (Allan, Ashley, Bryan and the Boy) and so we went.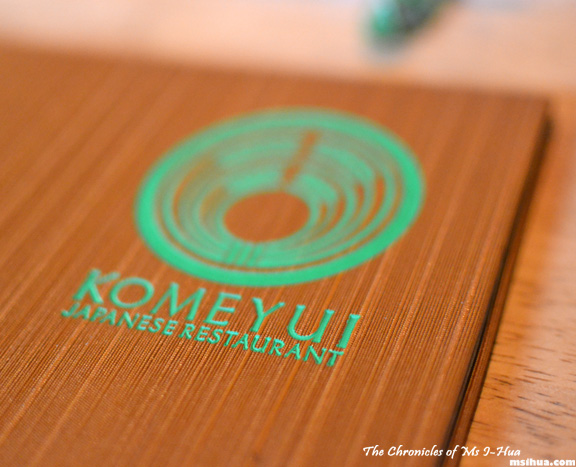 Komeyui (Kome means rice and Yui means knot) symbolises the union of food with friends and family, a sense of togetherness. I really like the concept behind the name, it's perfect really for a restaurant, don't you think?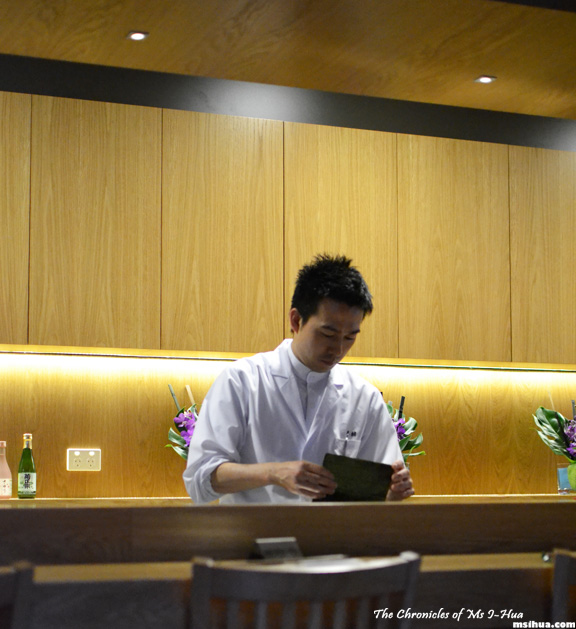 Komeyui is owned by Motomu Kumano (Bear-san! Kuma means bear in Japanese and I used to watch way too much Japanese Anime. KUMA SAN!)
He casts a lonesome figure behind the sushi bar, standing there the whole night, his presence is in nearly every dish that we ate.
Originally from a small Japanese fishing town in Hokkaido, Japan, he moved to Melbourne in 2005 to work in Kenzan. It wasn't until the middle of this year that he decided to move on and do something on his own which is where Komeyui begins.
We decided to go with intuition and feel of the menu rather than with the Omakase set (6-course $68; 10-course $100) and I left the ordering to both Ashley and Bryan.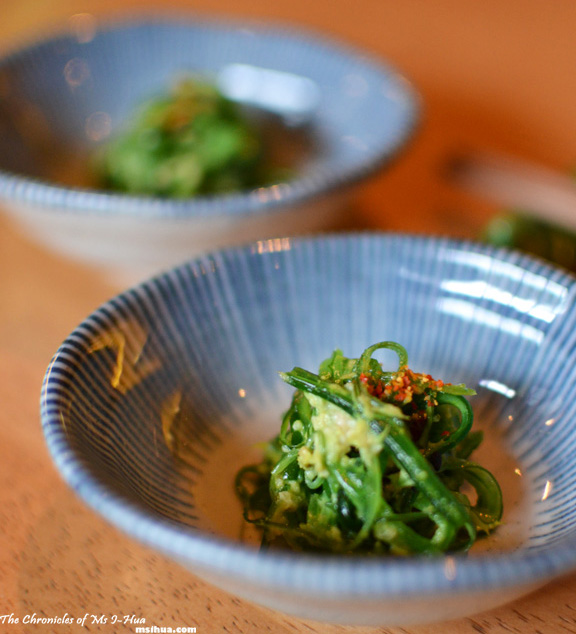 We were each given an Amuse Bouche: Seaweed salad to start. I love seaweed salad and this was delightful for me.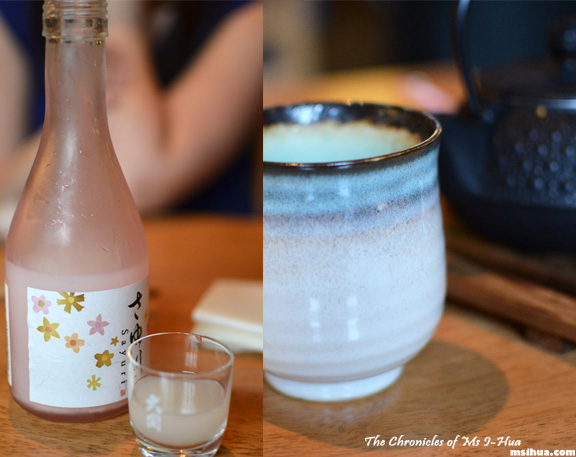 Sake: Sayuri (Nigori Unfiltered Sake) ($24.00). Apparently this is very popular with girls (much to Allan's amusement) and the sweet aftertaste was extremely pleasant.
The Boy and I also had some rich Green Tea: Genmai-cha ($3.80), as you do.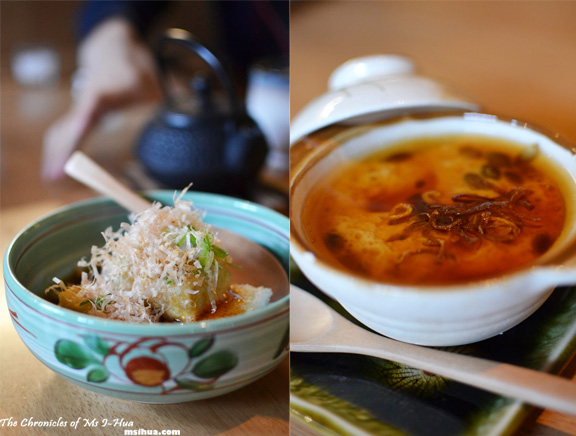 We started with the Agedashi Tofu Classic ($15.00) – Deep fried tofu served in hot dashi broth with bonito flakes. I always like watching bonito flakes dance when it's served with hot food. The tofu was good as well.
We also had the Chawan Mushi ($10.00) – Japanese steamed egg custard with prawn, chicken and gingko nut.
I would just like to put it out there that I am not a big fan when it comes to chawan mushis, but the one at Komeyui is just spectacular. Gentle and soft, light in texture but rich and heavy in flavour, it was a beautiful symphony of taste and texture for me.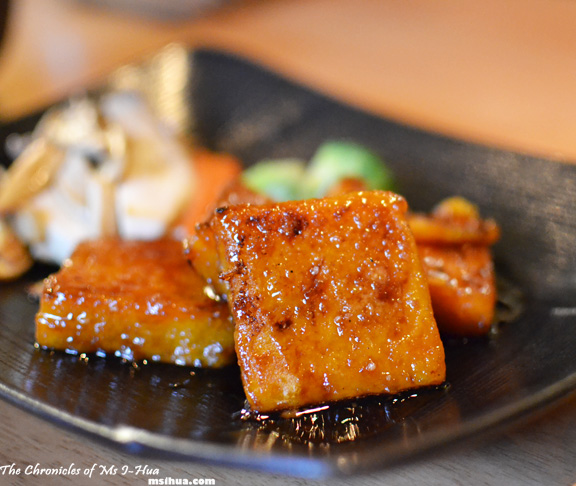 I really really liked the Pumpkin Mochi Steak ($18.00) – A traditional Japanese country sweet dish with sides of vegetables and mushroom. It was just so moorish that I had to control myself and be wary to not eat everyone else's portion! If you're into sweet savoury dishes, this one's for you.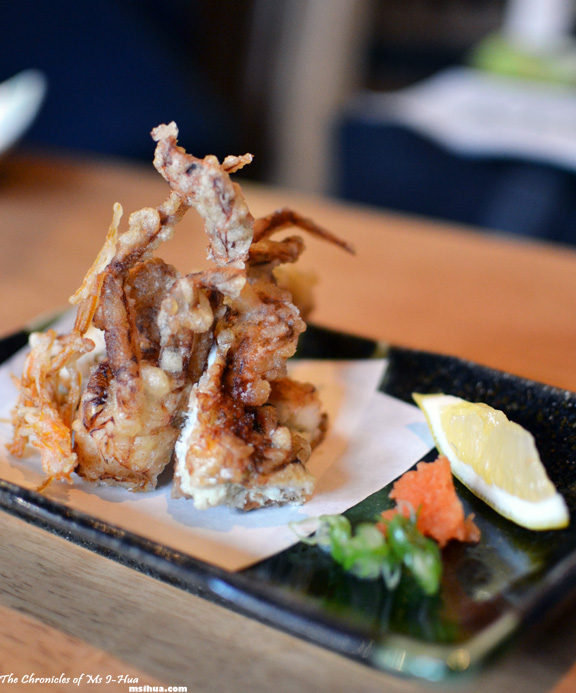 Of course when one is dining at a Japanese establishment, one has to order a serve of Soft Shell Crab (Deep Fried) ($17.00) – Crispy fried soft shell crab. The crab was very good and crispy, not a hint of sogginess at all.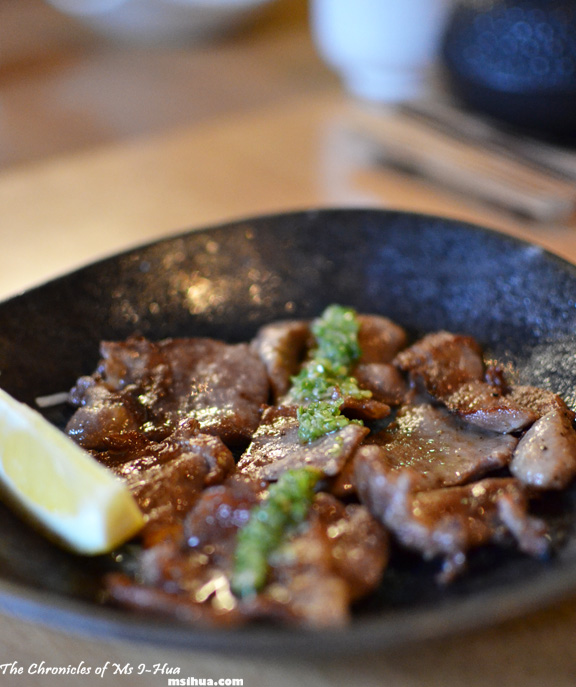 The other members of FPS devoured the Ox Tongue with Spring Onion ($18.00) – Sliced ox tongue lightly salted and grilled topped with spring onion. I couldn't get anything out of them for the next 10 minutes as they fought with chopsticks for the tasty morsels.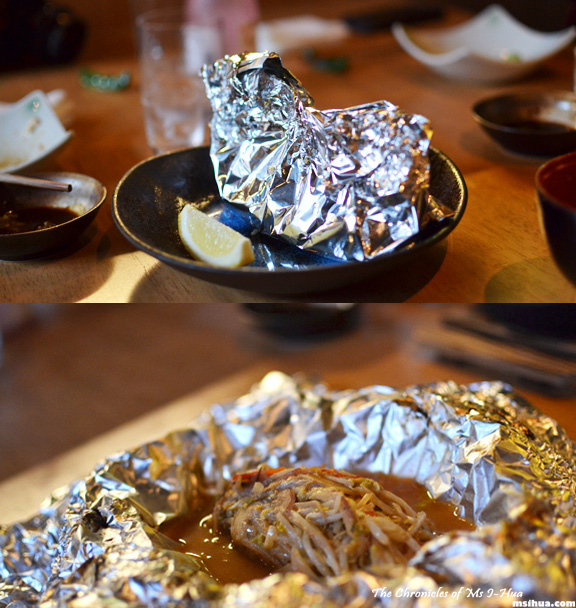 I really wanted to order the Chan-Chan ($18.00) because it had such a super kawaii (cute) name. It's a Hokkaido specialty dish. Foil wrapped grilled salmon with miso butter sauce and vegetables.
Yes, I am that sort of person that judges everything by their cover (when it comes to food), and I have to say, the broth that came with this dish was very rich and buttery, which partnered well with the salmon.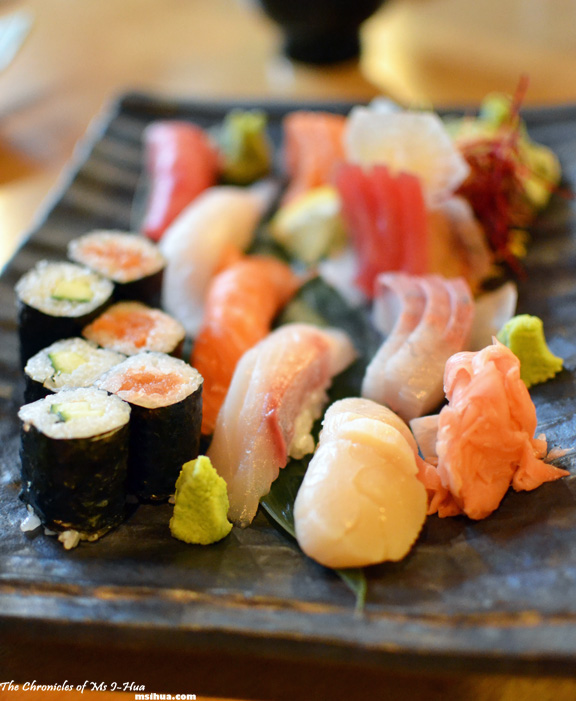 Of course it would have been sinful if we had not ordered any sashimi or sushi given Kumano-san's background as a sushi chef.
We ordered two serves of the Assorted Sushi & Sashimi (Main – $35.00) served with Miso Soup.
On it were 9 pieces of Sashimi (salmon, tuna, and kingfish), 5 pieces Nigiri Sushi (scallop, salmon, tuna, kingfish and octopus), 6 pieces Maki Sushi (cucumber & salmon).
So good and so fresh. Literally, not much had to be done with the sushi and sashimi other than a quick dip in soy sauce, wasabe and pickled ginger.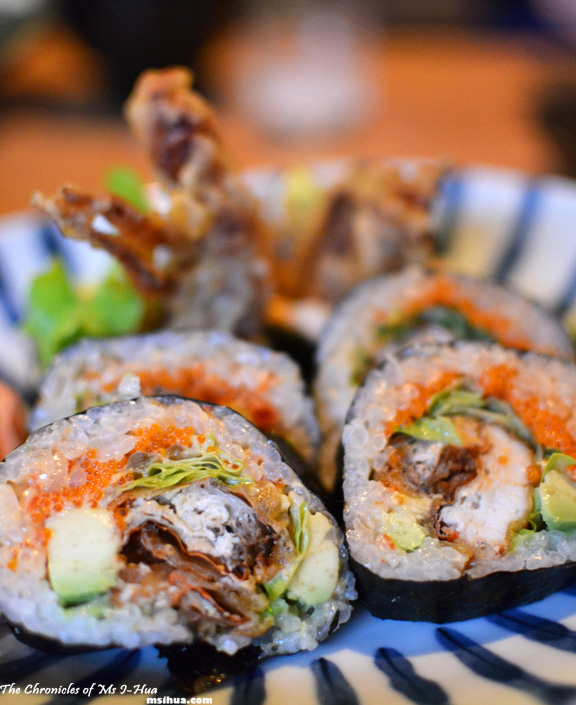 Because the first serving of soft shell crab was so good, we put in another order of the Soft Shell Crab Roll (Maki Sushi – Middle Roll) ($15.00) – Fried soft shell crab with avocado, ginger, mayonnaise and fish roe.
The fish roe really made the roll for me, it was piquant and brought everything together.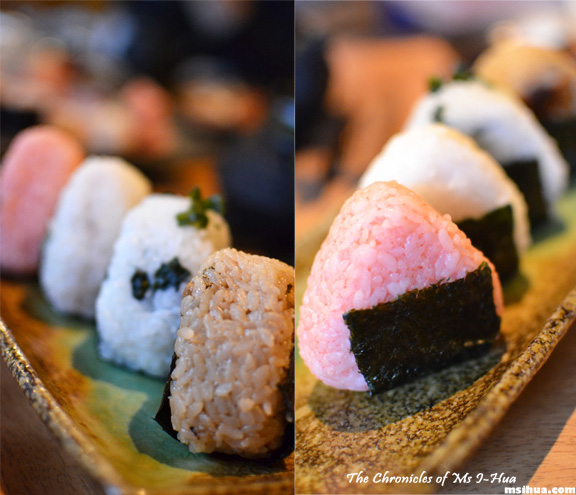 We also had the very cute onigiri or omusubi, yes they mean the same thing. What they are, are cute little balls of compressed rice often with filling and a piece of dried seaweed.
We did what any greedy person would do, order a mix of Assorted Omusubi ($4 each) – Japanese traditional rice balls. We ordered Seasoned Cod Roe (pink), Japanese Plum Bonito, Eel & Seaweed.
Hands down, our favourite had to be the Eel and the Japanese Plum Bonito. Unfortunately, I couldn't taste any cod roe in the pink omusubi and it fell quite flat for me despite being the most vibrant coloured out of the lot.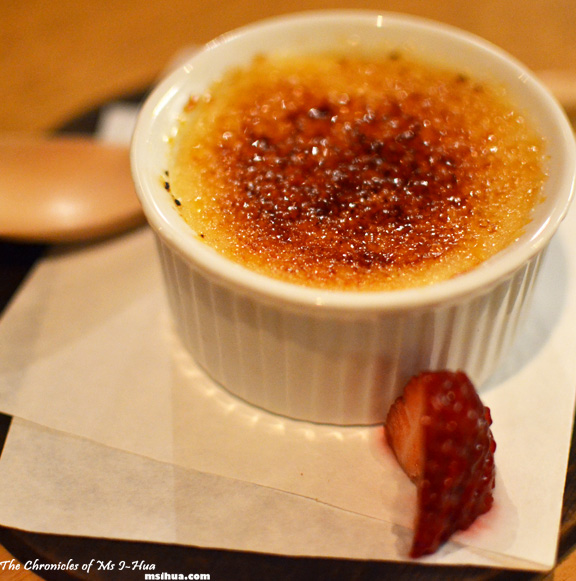 All things must come to an end, but not before dessert!
Ashley and Allan had the rather watery Sake Brulee ($12.00) – Sake infused creme brulee.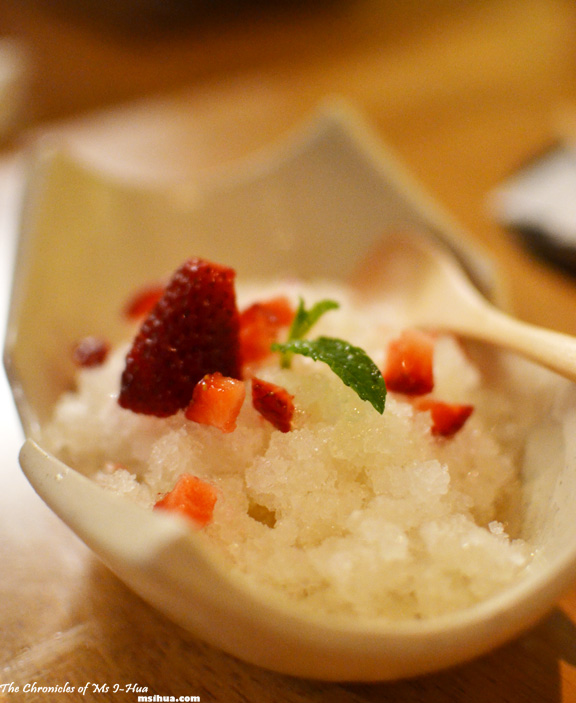 Bryan had the refreshing Fruits Compote with Sherbet of Japanese Basil ($16.00) – Seasonal fruits cooked with rice wine and served with sherbet.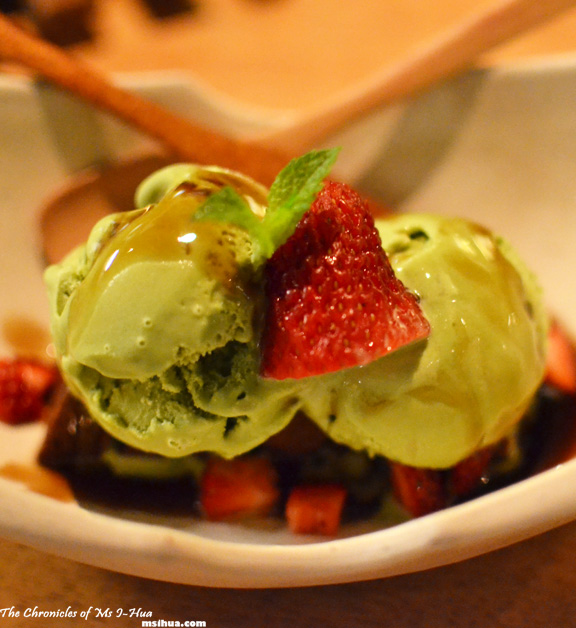 The Boy had the rich Green Tea Ice Cream with Castella ($12.00) – Japanese sponge cake served with ice cream.
I did. I skipped dessert.
The fact that I had been eating throughout the day (had a really long express lunch at Vue de Monde which didn't end until 4.00pm, and this dinner started at 6.30pm), I was still very impressed with the quality of the dishes that came out to us.
I shouldn't be surprised really, with 6 years of experience in Kenzan (which I like) one has to be rather good when branching out on your own!
*Disclaimer: All food ratings & review are purely based on my own experiences and how I feel about the service, food and quality at the time of visit
Food/ Cuisine: Japanese
Dining Style: Restaurant
Overall Food Rating (Based on the Dining style): 8/10
Restaurant ambiance: 7/10
Service/ Attitude: 7.5/10
Value for money: 7/10
Opening Hours:
Tuesday to Saturday, Lunch: 12pm – 3pm, Dinner: 6pm – 10pm
Address:
396 Bay Street
Port Melbourne VIC 3207
Tel: (03) 9646 2296
Website: http://www.komeyui.com.au/
Twitter: @Komeyui_Melb
How to get there: