When I first heard from Ed on Instagram that the acclaimed Vue de Monde (VdM) was doing an express 1-hour lunch special for $60, my jaw dropped.
I hadn't realised that places such as VdM would partake in express lunches. It is however not as cheap as I would like to pay for my lunch usually, but it was VdM for crying out loud!
So when Azza asked if I would liked to join Maz and her for a lunch rendezvous at VdM on a Friday afternoon, I immediately said yes.
What I hadn't bargained for was taking 3 hours out of my work day for an express 1 hour lunch.
When I got back to the office, I kept apologising to everyone in attendance and mentioned to my manager that I felt like I was having an affair at work.
The pleasurable experience of the amazing dining experience and great food at Vue de Monde partnered with the great guilt of taking an additional 2 hours out of my hectic work week, was quite akin to committing adultery!
As a result of that, I worked extra hours morning and night and I think I'd put in an additional 10 hours to make up for that 2 hours *sigh* Such is life 😛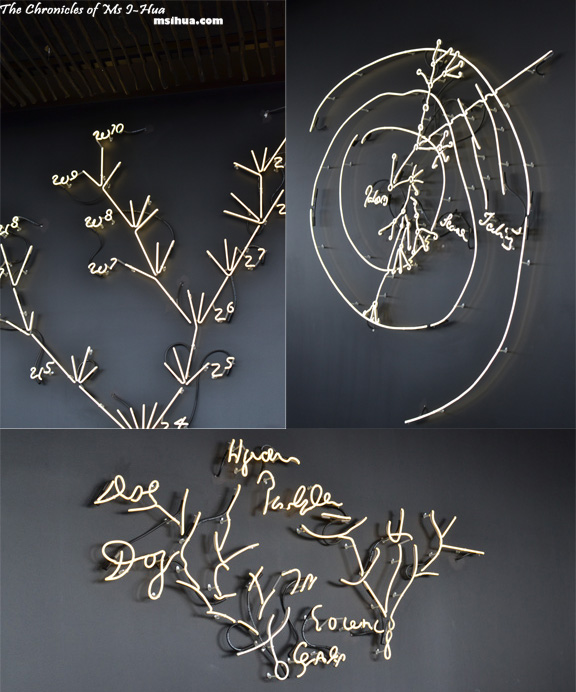 As we arrived at the relatively new location of VdM, the Rialto Towers, we were ushered up the rather disco fitout lift (black panels with blue lights) up to the 55th floor. Stepping out of the lifts, we were professionally greeted by a waitress who offered to take our jackets, and ushered us to the rather comfy Victorian looking seats overlooking Port Phillip Bay.
We were apparently a little early for our booking (we had arrived 10 minutes prior to our 1.15pm reservation) and were asked if we'd mind waiting at the funky looking Lui Bar whilst having a drink.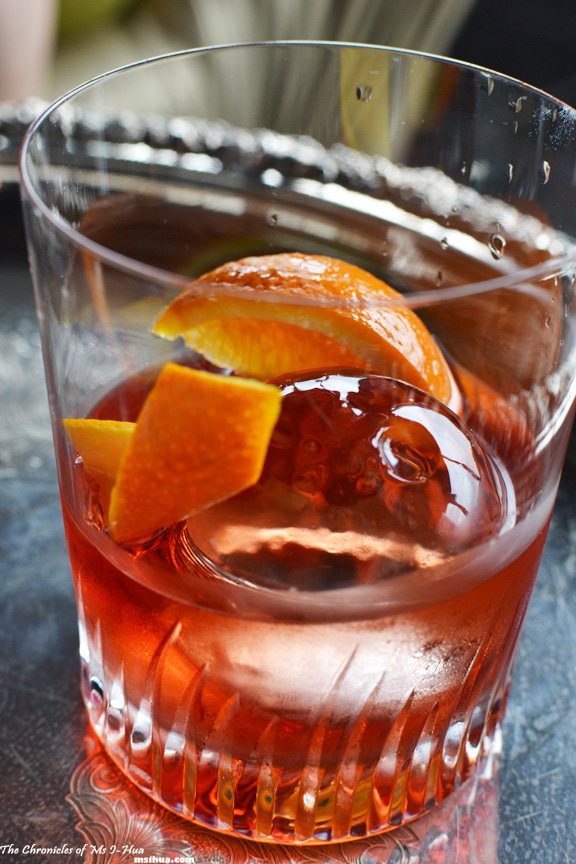 Heady with excitement, Azza and I figured it was not too early for a glass of Negroni each!
Look at that beautiful perfect spherical ice block in the glass! Maz opted for a glass of red instead.
As we sipped on our drinks and admired the view outside, we wondered how long we'd have to wait before the patrons before us would vacate our table.
30 minutes later, we were finally approached and brought to our table at the restaurant.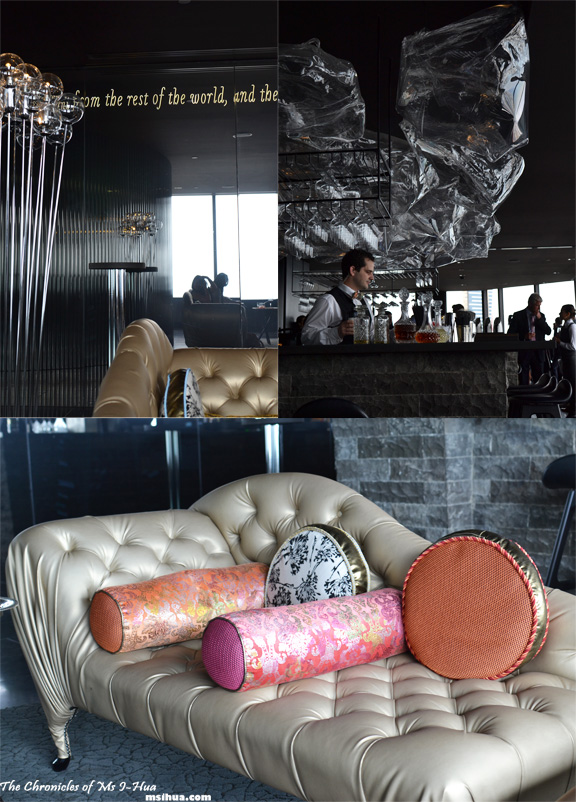 I was starting to panic ever so slightly. I was going to be running a little late back to the office. Little did I know how late I'd be! (Oops!)
As we were ushered into what Azza and I dubbed was the man cave (fully decked out with twigs, stones, kangaroo leather lined tables and fur covered chairs), we couldn't help but stare out at the wide open windows overlooking the Port Phillip Bay.
The twigs and stones displayed as centrepieces would all have a part to play in the great theatre show of VdM dining.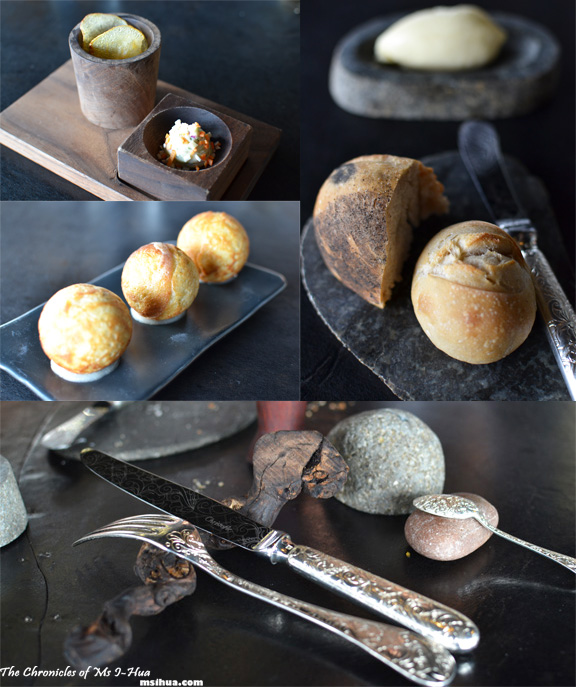 Prior to perusing the menu to our 2 course meal, we were given a serve of translucent crispy light and freaking-tastically good chips with a dipping sauce. Need I say more?
When the menu was presented to us, being me, I couldn't help but asked the waiter if it was possible to select all 3 choices (entree, main and dessert), to which we were told, most definitely!
The price difference? Only $15 extra to add in a third course. Of course, when we heard that we could, all three of us immediately began planning our options and discovered that between us three, we'd be able to try every single course offered (2 options in each category).
Could you blame us? We were shameless! I blame it on the man cave effect!
We also received another complimentary course of Ham & Cheese donuts! These were rather fun and we scoffed them down as quickly as they had arrived on the table.
Next, bread was delivered to our table in a black leather bread bag complete with a hot stone to keep the bread warm. The butter itself was delivered to us via the butter man! Who kindly scooped us a large quenelle of soft unseasoned butter (from France).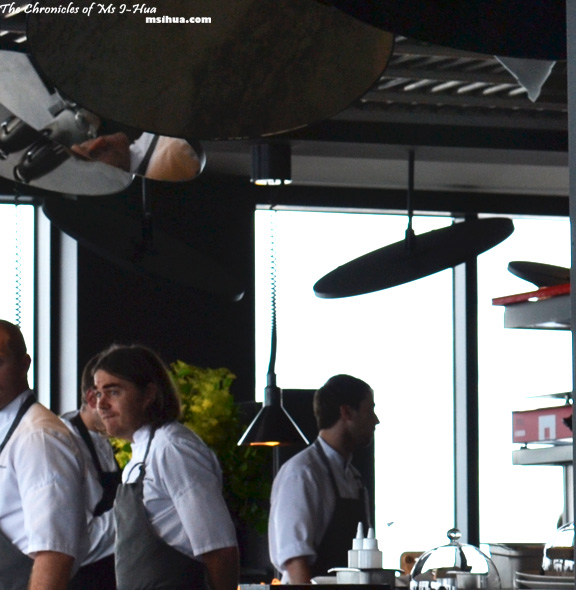 The man himself! Shannon Bennett was in the house that day and personally served us our entrees as well! I like that personal touch 🙂 You can see his hands below serving us our entrees before torching it at the table!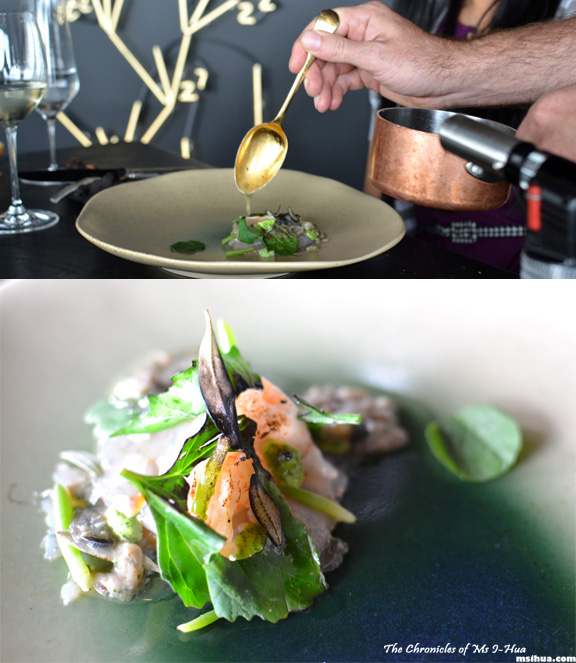 Both Azza and I had the rather tasty Entree: Shrimp on the Grill with fresh Oyster Sauce which Shannon kindly torched for us.
He also mentioned that the herbs are picked by his chefs once a day from Trentham.
I was so pleased with this dish that I started to forget that it was Friday lunch hour and I hadn't taken the day off.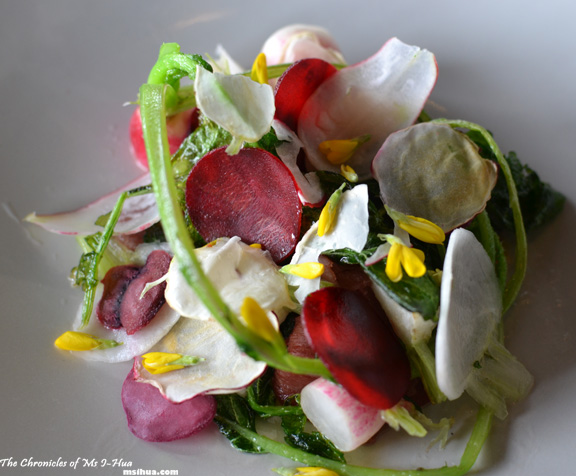 For her entree, Maz had the Ox Tongue Salad, Gascony Butter which Shannon explained was inspired from a very old recipe. Apart from the addition of dehydrated vegetables to provide a contrast in textures, Shannon told us that the recipe was true to its origin and nothing else was changed.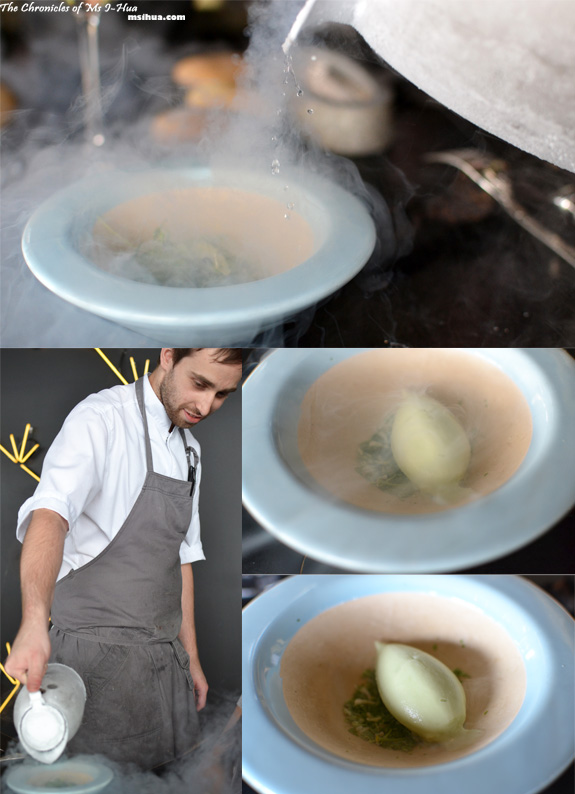 After our entrees were cleared away, we were each given a change of cutlery, a wooden pestle, as well as a bowl of fresh herbs and edible lime flowers.
It would seem that before we were to have our mains, we were going to have a diner participation activity!
A performance troop consisting of chefs, assistants and liquid nitrogen trotted out in a neat line from the kitchen. The liquid nitrogen was poured into each of our bowls and we were told to quickly pound the herbs and flowers with our pestle. Once we were done, a quenelle of beautiful cleansing cucumber sorbet was placed in our bowl.
I have to say, that that was the most fun I've ever had with a palate cleanser and it was utterly refreshing!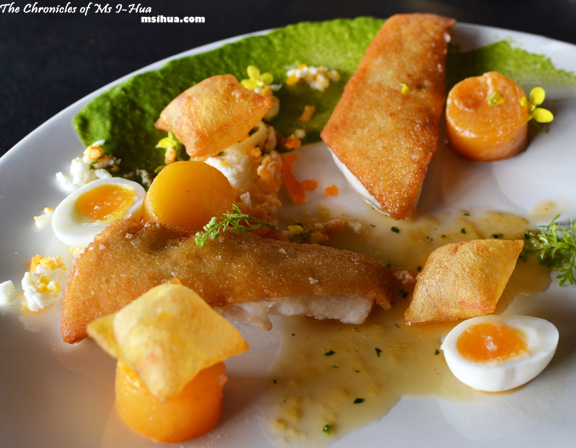 Onwards to the mains! As the two choices were either wagyu beef or fish, I had to choose Mark's Catch, Tarragon, Swede and I didn't regret the choice at all.
The fish was beautifully cooked, tender and juicy, whilst the skin was extremely crispy. Complimenting the fish were quail's egg, potato crisps, carrots and a pea puree.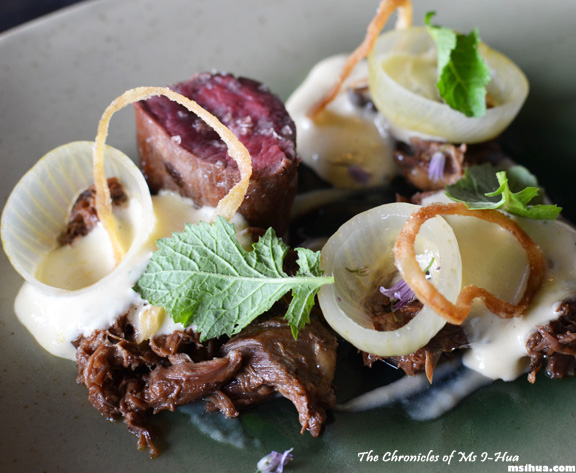 Both Azza and Maz rather enjoyed their selection of Wagyu Beef, Onion, Mustard. They kept oohing and aahing after every mouthful.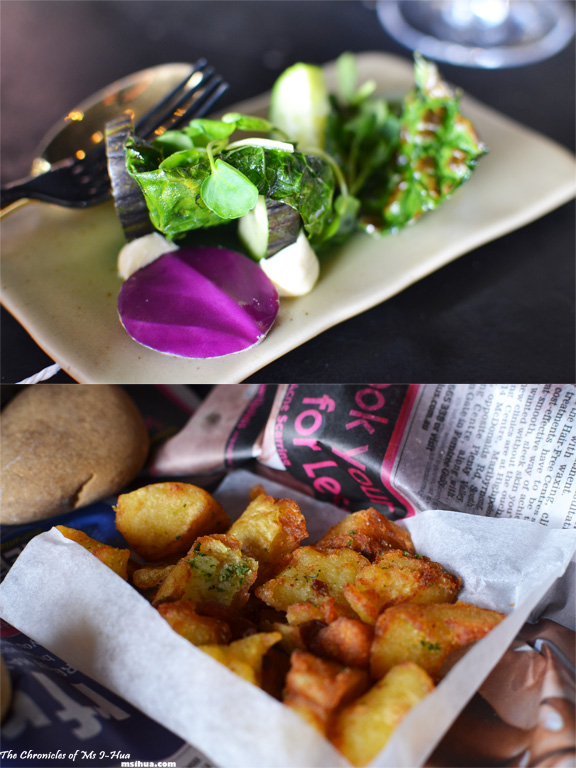 Served together with the mains were rather tasty sides.
A plate of smoked cheese, watercress, red cabbage cut into circles, cucumber and silver beet along with beautiful deep fried potatoes served warm in newspaper.
We had to laugh as the waiter brought out the potatoes, because as he opened it, the article on the newspaper encasing the potatoes was aptly titled, "Make light work of fat!"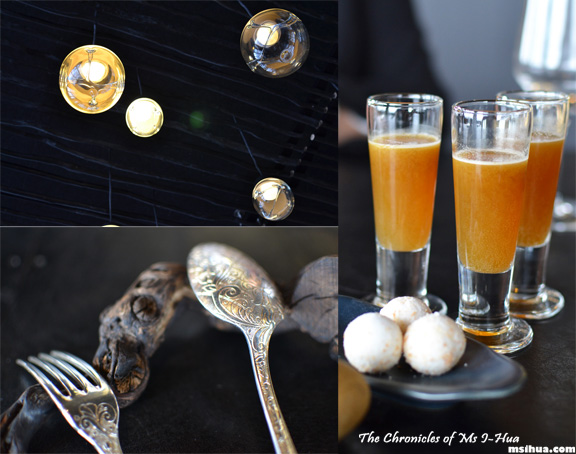 As we rubbed our bellies after our mains, we wondered, "What next?"
Everything we'd had so far was amazing, surprising and just delicious.
Another palate cleanser arrived. This time it was to be a shot of Passionfruit Licorice Ice Beer served with frozen Coconut Balls.
We weren't fans of the sweet fizzy beer, but the frozen coconut balls were good.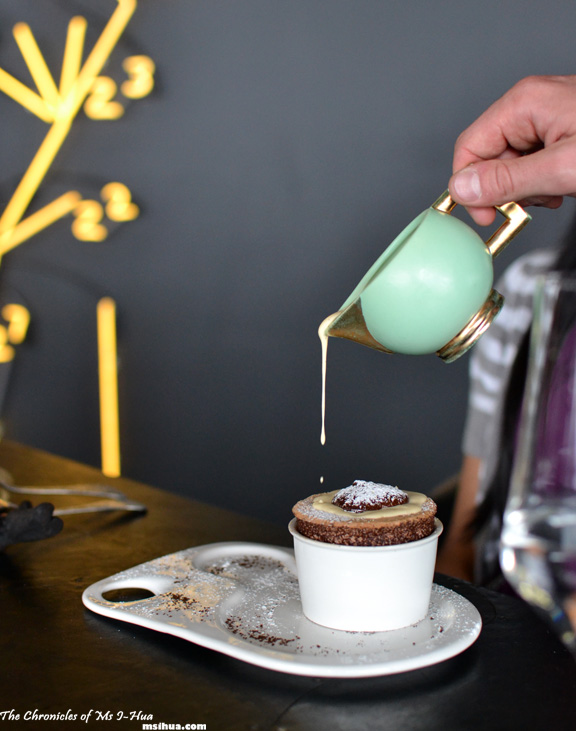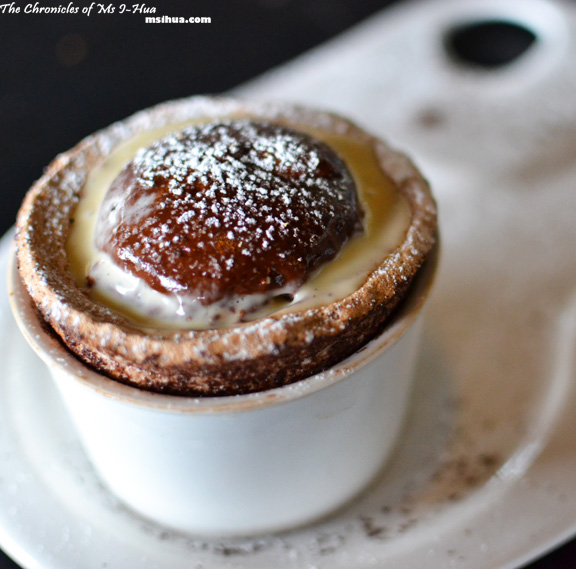 When I saw that Chocolate Souffle would be part of the dessert selection, I knew I had to order it. I make a point of ordering chocolate souffle whenever I get a chance (or anything similar) in restaurants. I've had about 3 this week in various lunches in the lead up to Christmas!
Despite being incredibly light and airy, I wasn't too impressed with this. I found it a bit too sweet and the vanilla anglaise which was poured onto it didn't lessen the sweetness of the souffle. I prefer mine dark, heavy and bitter with some sweetness to it.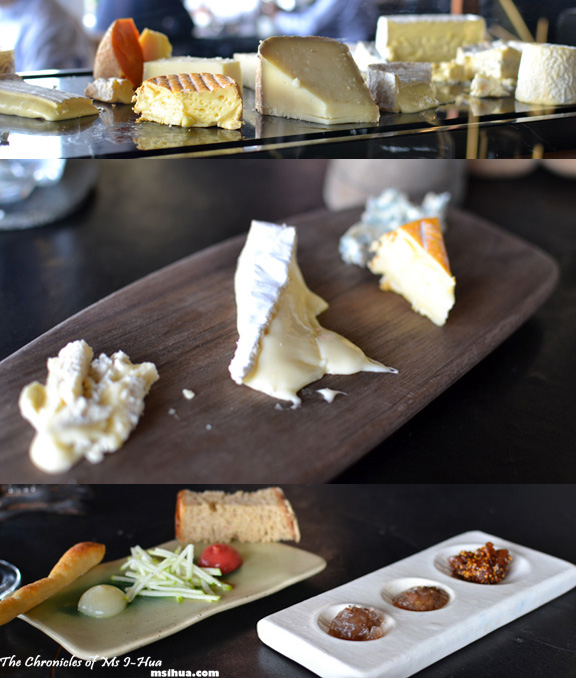 On the other hand, Maz couldn't resist when she saw the cheese cart display trolley and decided she would forego sweet chocolate for an Assortment of Cheeses, Bread, Jams.
The accompaniments to the cheese came out fairly quickly, probably around the same time Azza and I had our dessert, however the wait for the cheese cart took considerably longer. A whole 20 minutes longer.
When it did finally arrive, we were rather surprised with the generous portion of cheese. Together with the fig, strawberry, and onion jams, fresh rhubarb, apple and pear, as well as breads, we each helped ourselves to the final course.
Or what we believed to be the final course.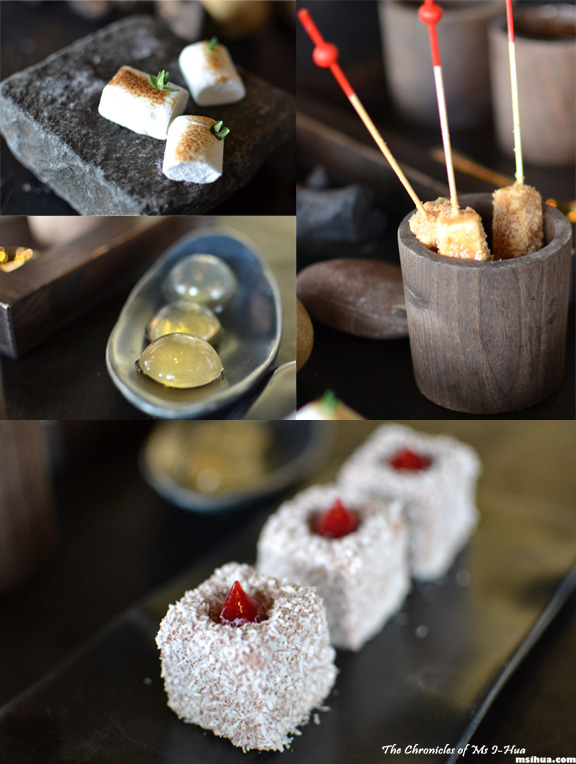 To end our rather long express lunch, we were given complimentary Petit Fours which were really cute!
We had Minted Marshmallows, Raspberry Lamingtons, Gin Jubes and a Golden Gaytime!!
My favourite was the Gaytime and the minted marshmallows!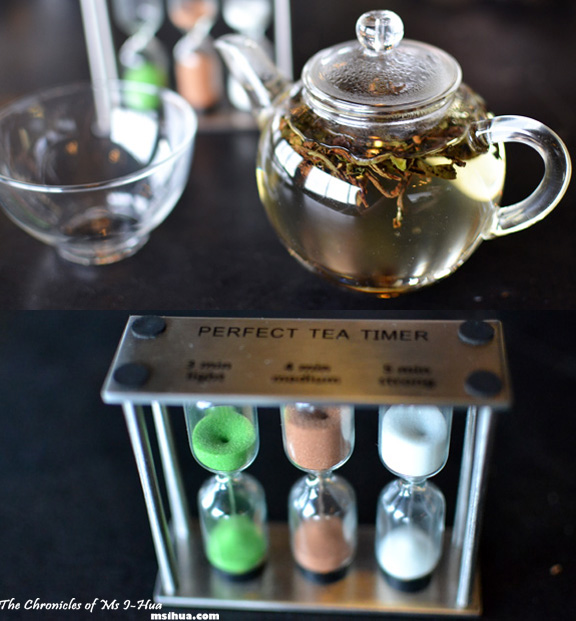 As we enjoyed our petit fours, we decided to end our amazingly luxurious dining experience at Vue de Monde with some tea and coffee.
Both Azza and Maz went with a Coffee ($10) each and I decided to have a tea.
I was told that Sarah Cowell, the official Vue de Monde Tea Sommelier would come by our table to help me with the tea selection.
Yes, you heard right. VdM has the one and only Tea Sommelier in Australia.
Sarah very kindly provided me with options and suggestions to what I would like (a white tea from Taiwan) and mentioned that she chose the perfect glass teapot and handmade teacup from Japan to compliment the lightness and delicate flavours of the tea.
A bit OTT? You bet, but it was all part and parcel of the entire theatrical Vue de Monde experience.
The damage? $25 for the tea, $75 for the 3 course meal, $20 for the negroni, and $15 for a glass of Riesling.
Would I return? Most definitely. I've been wanting to visit VdM for a long time and although disappointed I've missed out on dining at their old location at Normanby House, I will definitely return for the full $250 degustation menu.
I had always thought that $250 was a little too much to pay even for a 3 hatted restaurant, and I never realised the reason behind it.
I was glad that I was able to catch a glimpse into the amazing creations and food by Shannon and his team at VdM and will definitely be back for more with the Boy in tow. So despite that I was understandably annoyed at the so-called 60 minute lunch, the food, service and quality made up for that lapse.
*Note: The 2-course Express Lunch has ended for 2011, and may make a return in 2012. Please visit the Vue de Monde website for more details on other set courses.
For other recounts to this 2-course express lunch, visit:
Off the Spork
Tomato Melbourne
*Disclaimer: All food ratings & review are purely based on my own experiences and how I feel about the service, food and quality at the time of visit
Food/ Cuisine: Modern French / Contemporary
Dining Style: Fine Dining
Overall Food Rating (Based on the Dining style): 9/10
Restaurant ambiance: 8/10 (I think we were the rowdiest table there. Everyone else were suits)
Service/ Attitude: 8/10 (Very professional, and hard to get them to crack a smile)
Value for money: 8/10
Opening Hours: 
Lunch: Tuesday to Friday, and Sunday, reservations from 12pm – 2pm
Dinner: Monday to Saturday, reservations from 6pm – 9.15pm
(Bookings are essential)
Address:
Level 55, Rialto Towers
525 Collins Street
Melbourne VIC 3000
Tel: (03) 9691 3888
Twitter: @Vuedemonde
Website: http://www.vuedemonde.com.au/
How to get there: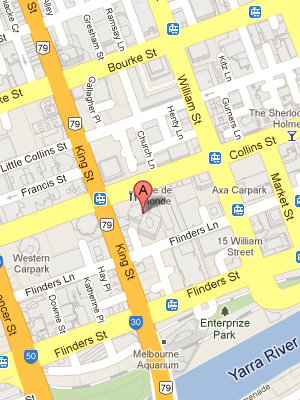 – Vue de Monde
 – Lui Bar