I love Thai food. Absolutely adore it. I love the freshness of the spices, the zing from the limes, the hit from the chillies.
Thai food is the ultimate balance of salty, sweet, sour, and spicy.
To me, if it doesn't have all 4 aforementioned elements, it simply isn't authentic. You may argue with me about that, but that's how I view Thai food in general.
Of course, I realise that they have other flavours in their cuisine, but these 4 flavours are what springs to mind whenever anyone mentions Thai food.
Finding good Thai food in Melbourne is akin to finding a needle in a haystack. The good ones are there, but they are very hard to find.
So when I read on both Libby's and Bryan's blog about Middle Fish and how good and authentic it was, I had to get in!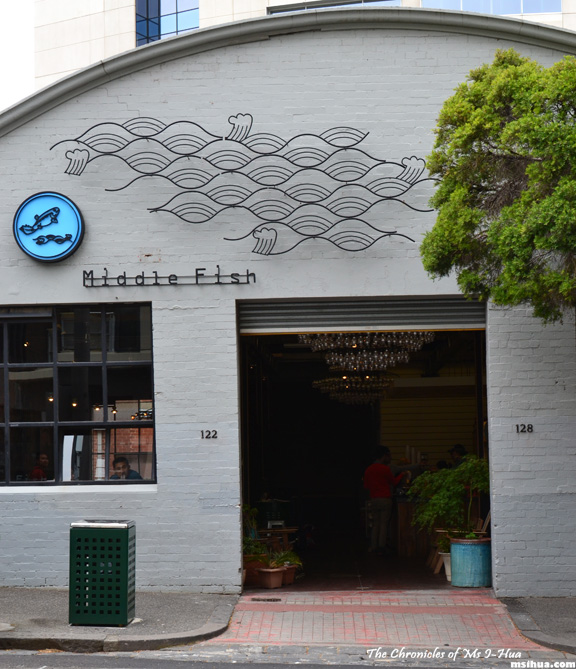 Pla Liamthong (Pla means fish in Thai) and her partner David Holtum have converted a warehouse two doors up from Seven Seeds serving wholesome Thai meals.
It's an interesting mix to have in a Thai Restaurant/ Thai Cafe.
One weekend, I was to have a reunion meal with a few old friends and decided to have breakfast at Middle Fish.
Both Miner Boy and I heard about Middle Fish and wanted to try it, so we dragged the others along 🙂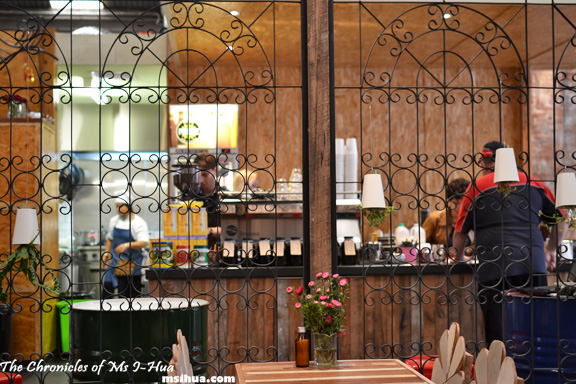 At 10am sharp, we arrived to the brilliant smell of fermented shrimp paste or gapi wafting through the entrance of the warehouse. It was such a welcoming scent!
Pla was on hand smiling her bright smile and had on such a lovely bright attitude, I was pumped up and excited about the place just by looking at her!
We ooh-ed and aah-ed as we poured over the menu and had problems deciding. In the end, we took a stab and placed 4 orders.
The boys ordered extra rice to go with the food we had! Amazing!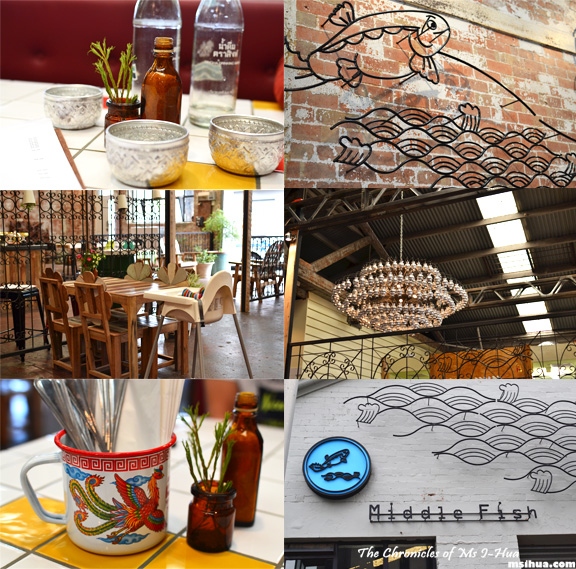 As I have previously mentioned, there are no set rules about dining when it comes to Asia. Rice for breakfast, lunch and dinner is so commonplace we don't even think twice about it!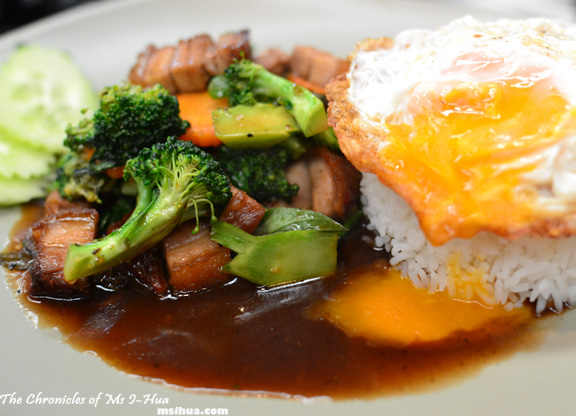 We had the Pad Gapao Moo Kob – Stir fried crispy pork belly with holy basil, broccoli, onion & capsicum with crispy fried egg on rice ($15.50).
We found this dish extremely salty even with rice. The salt content completely overpowered the dish, and I couldn't enjoy this at all.
On the other hand, the two other Thai Breakfast dishes we ordered were delicious!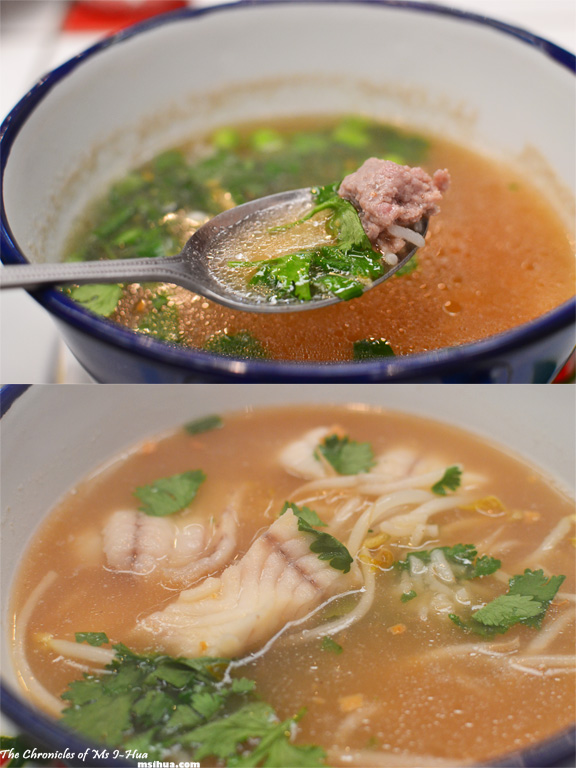 We had the Kao Tom Pla – Rice soup with rockling fish, accompanied with thai herbs, bean shoots, garlic, lemon and chilli ($13.50) and the Kao Tom Moo – Rice soup with pork, soft poached egg, coriander and spring onions ($13.50).
Whilst I really enjoyed the rice soup with fish, the 3 boys were attached to the rice soup with pork. It really reminded me of a version of congee. Light, yet filling and extremely tasty. A very homey dish.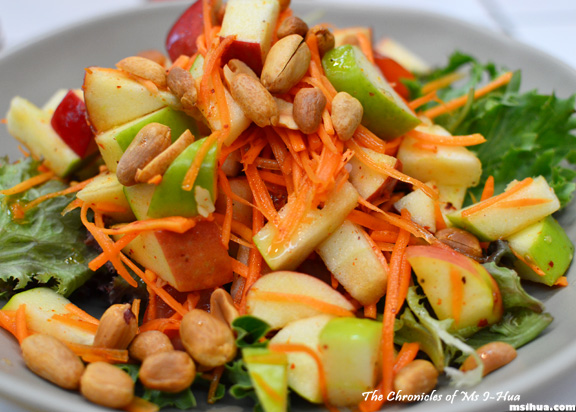 We ordered the Apple Som Tum – Thai style fruit salad, apple, pineapple & strawberries with roasted peanuts, carrots, sun-dried shrimp and thai salad dressing ($12.50) which had me a bit perplexed as som tum generally uses papaya. However, I guess it only means spicy salad and you can generally use any fruit available.
Perplexity aside, this was a pretty good dish. My only complaint? It wasn't spicy enough!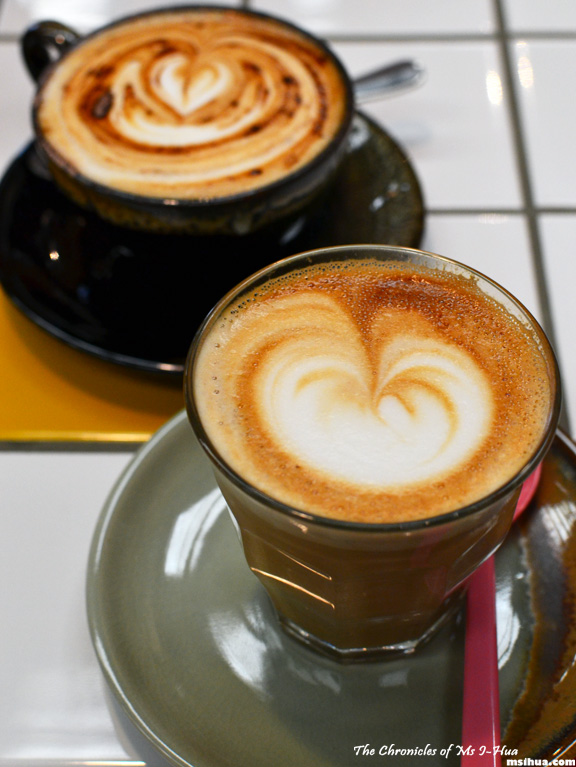 In terms of drinks, we enjoyed the Lattes, Cappuccinos, Carrot juice and Iced Thai Milk Tea.
Middle Fish uses beans from 5 Senses and serves up pretty decent coffees. They also have a Synesso coffee machine onsite. Expressing the love they have for coffees (Pla once worked for Salvatore Malatesta of St Ali during her student years).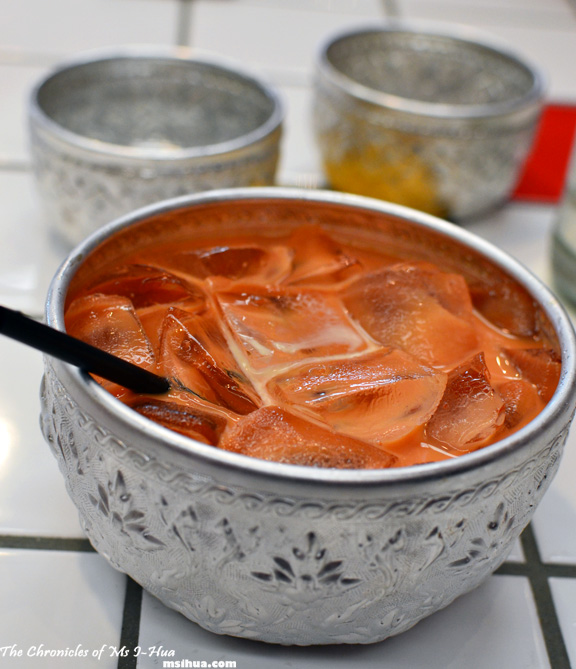 What did I think of it?
I can definitely see it working out as a concept in Melbourne. It's spot on with the art-deco refurbished warehouse and coffee clientele. It will always be able to cater to hungry hordes of cafe goers unable to wait for a seat at Seven Seeds, and I am sure that they will be able to garner their own following.
Taste wise? I think they may still need to work a little bit on the flavouring to get me to say that this would be really good Thai food (mainly on salt and chilli spice levels).
Other visitors to Middle Fish include:
Let's Get Fat Together
The Hungry Hungry Caterpillar
Melbourne Gastranome
Where's the Beef?
*Disclaimer: All food ratings & review are purely based on my own experiences and how I feel about the service, food and quality at the time of visit
Food/ Cuisine: Thai
Dining Style: Cafe/Restaurant
Overall Food Rating (Based on the Dining style): 7/10
Restaurant ambiance: 8.25/10
Service/ Attitude: 7.25/10
Value for money: 6.75/10
Opening Hours:
Monday to Friday: 7am – 5pm
Saturday & Sunday: 10am – 4pm
Address:
122-128 Berkeley Street
Carlton VIC 3053
How to get there: