Not too long ago, in November (last year), a newcomer by the name of Mr Mason arrived around the Collin Street law precinct.
Situated within the mocha coloured walls of 530 Collins Street, Mr Mason is a welcome addition to this lonely end of town.
Serving up French inspired cuisine, I was a bit surprised it wasn't named Monsieur Mason instead.
I was lucky enough to be invited to try out their lovely dinner menu (which changes weekly depending on the fresh produce sourced).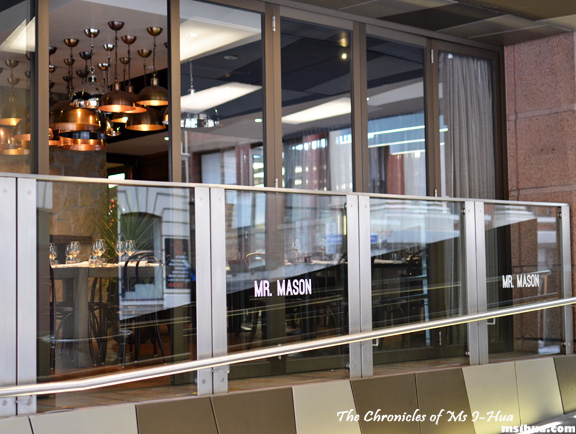 As we arrived, I couldn't help but excitedly run around the place taking in the sights and sounds of the restaurant and bar area.
One of my favourite decorations in Mr Mason were the feature ceiling with its multitude of brass shaded lights. The restaurant also features a lounge area and an outdoor terrace.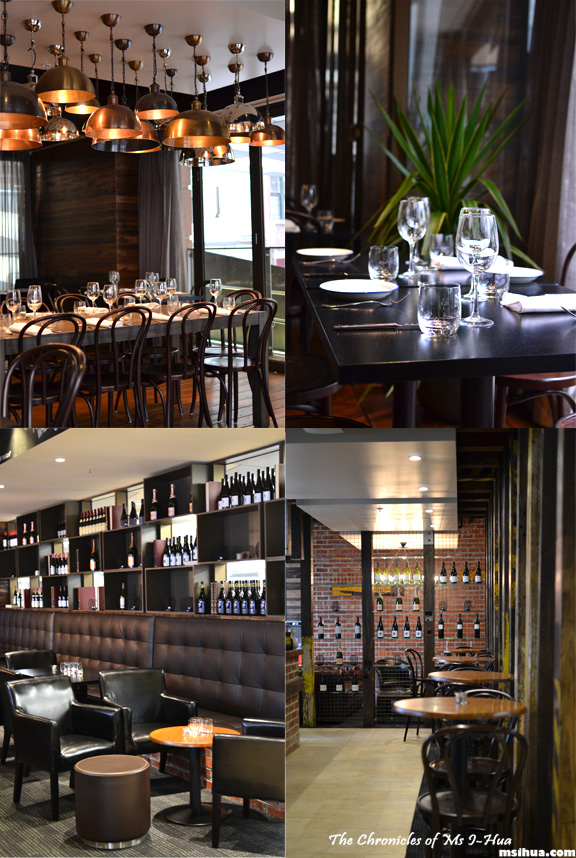 I was a bit surprised on how quiet it was for a Saturday night in Melbourne city and silently hoped that we would not be the only diners there that night.
Luckily as the night progressed, more patrons turned up.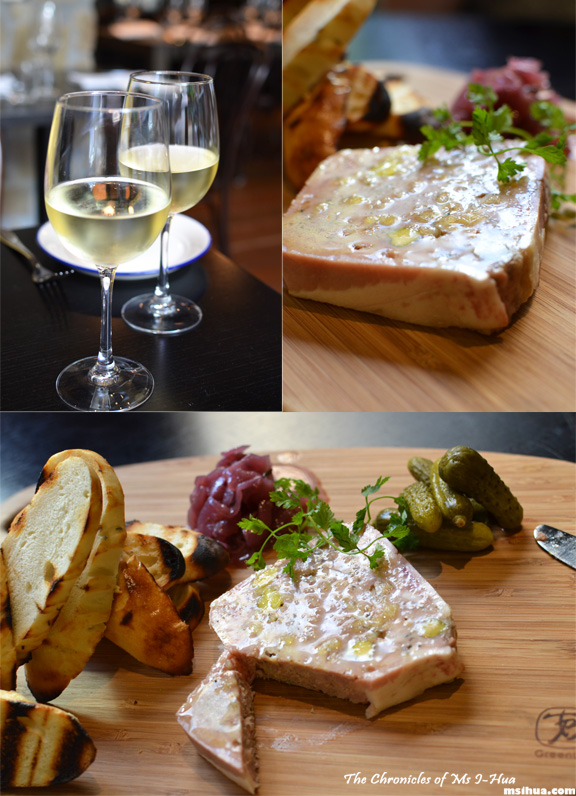 To start us off the night, the Boy and I were offered a delicious Rustic Terrine of Confit Duck, Veal & Pistachio, Red Onion Relish, Cornishons with Housemade Bread ($18.00).
Now as you all know, I don't eat beef at all, and upon finding out that the terrine had a bit of veal in it, made me slightly uncomfortable, but I soldiered on and tried some to ascertain the quality of the terrine.
I did quite enjoy the taste of the terrine (it was more duck than veal), but I left the Boy to finish the board entirely on his own 🙂
To go with the terrine, we were advised that the matched wines usually paired with this would be a red, but as we weren't big fans of red we were provided with a glass of Domaine Joseph Cattin Pinot Blanc 2009 from France and a Margaret River Vasse Felix Chardonnay 2010. I must say that I really enjoyed the Pinot Blanc as it had a rounded sweet finish.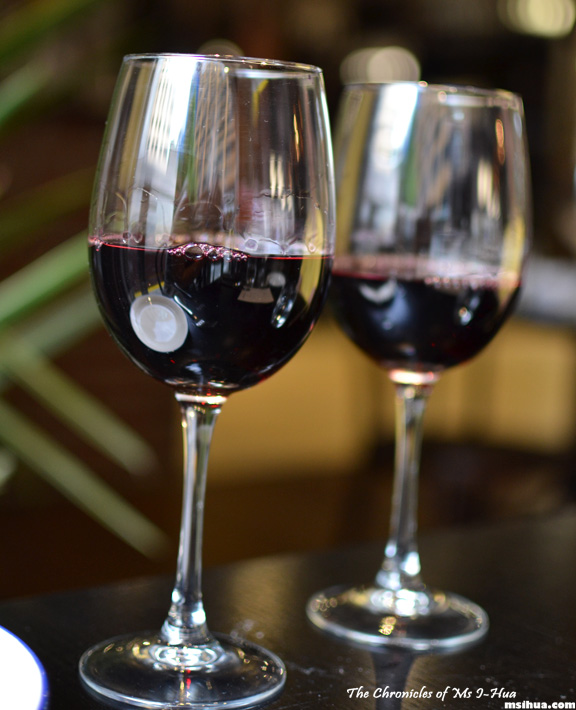 To start us off our mains, our waiter strongly advised us to pair them with reds, to which we reluctantly agreed, but I learnt to appreciate and enjoy as the meal progressed.
We were each given a glass of Louis Jadot Beaujolais Gamay 2009 from France which is made from the gamay grape, a versatile red wine variety.
As such, it was a lot easier for me to drink 🙂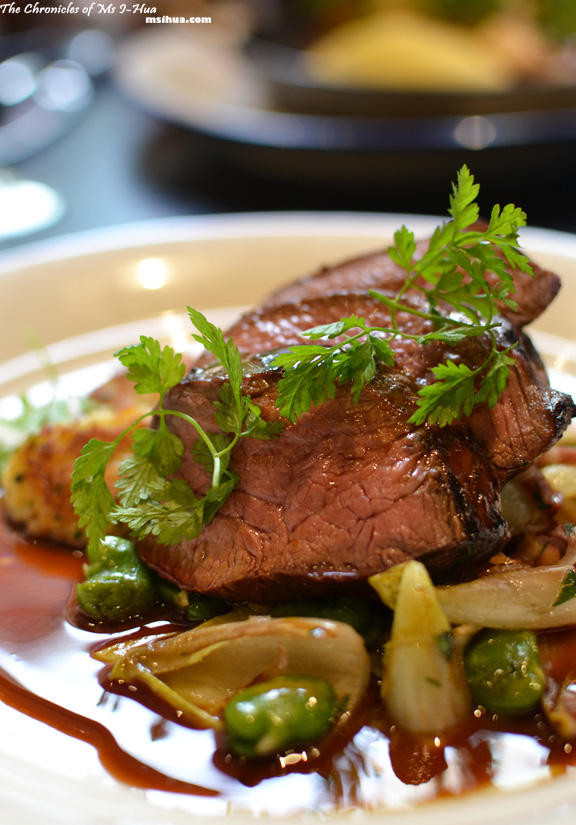 My main was definitely the winning dish of the night.
Roasted Lamb Rump, Bacon Lardons, Braised Lettuce, Broad Beans, Potato Dumplings ($32.00). The lamb was cooked to perfection (i.e. nicely medium rare and not too pink), the jus that accompanied it was rich and hearty. It was so good that the Boy couldn't resist stealing some of my lamb.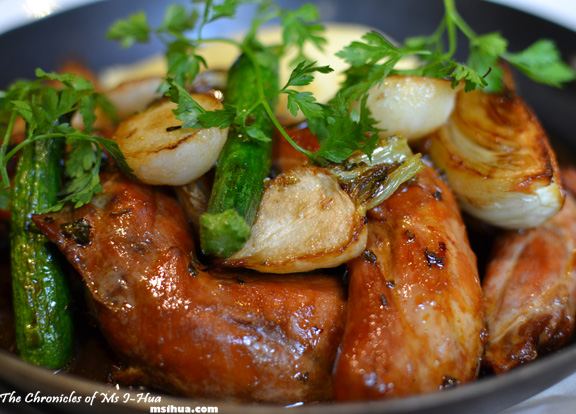 The Boy on the other hand had the Slow Cooked Rabbit, Baby Summer Vegetables, Thyme and Creamy Mash ($30.00) which I felt was a little too gamey and strong for me, and I didn't quite enjoy it as much as the lamb.
I don't usually mind rabbit, but I found this dish to be very heady and heavy. On the upper hand, the sweetness of the baby vegetables made perfect accompaniments to the dish and really brought it up.
The red too made a good pairing with both hearty dishes.
As our mains were cleared away, our wonderful waiter decided we needed another glass of wine to keep us entertained and returned with a glass of Rutherglen Muscat for each of us.
I think it was a reward for trusting him with the recommended red wine from earlier (something he said he normally would not have paired with red meats, but given we were not fans of red, he came up with that choice). And bravo to him for that.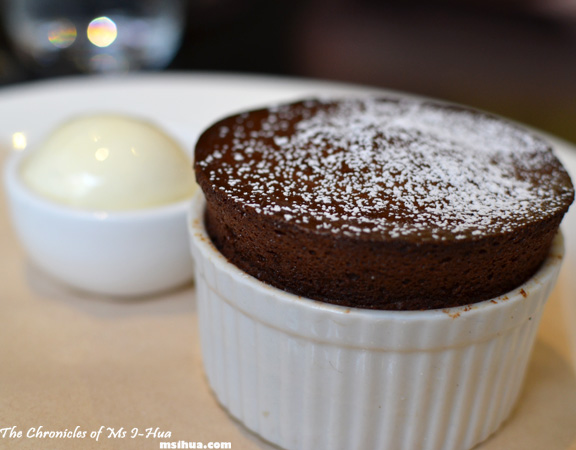 As we shared the amazingly rich Chocolate Soufflé with Vanilla Bean Ice-Cream ($14.00), I couldn't help but feel that this was a dessert to die for.
I'd almost given up hope with ever finding good chocolate soufflé's in Melbourne which was rich and not overpoweringly sweet (think VdM).
Mr Mason's version was utterly delectable and I have to remind myself to return for it soon!
I have to say, the staff were delightful, friendly, courteous and knowledgeable.
Despite this being a courtesy meal, I would most definitely return for their express lunch specials (which is an amazing steal for $15 or $20 (with wine), an absolute bargain at this end of town).
There were some hits such as the lamb and chocolate soufflé, both of which are my weaknesses that will keep me coming back for more.
[Ms I-Hua dined as a guest of Mr Mason and The Publican Group Australia]
*Disclaimer: All food ratings & review are purely based on my own experiences and how I feel about the service, food and quality at the time of visit
Food/ Cuisine: French
Dining Style: Restaurant

Opening Hours: 
Monday to Friday: Breakfast, Lunch & Dinner
Saturday & Sunday: available for private events (check website for more information)
Address:
Shop 10, 530 Collins Street
enter via Little Collins Street (near corner of King Street)
Melbourne VIC 3000
Tel: (03) 9614 4500
Website: http://www.mrmason.com.au
Twitter: @Mr_Mason530
How to get there: