When I first heard the words Campari House, my mind immediately went to , "It's an Alcoholic Hole!!!".
FYI, Campari is an alcoholic aperitif 🙂
Upon realising that it was a name of a restaurant and not a boozy den for alcoholics, I calmed down and made a mental note to pay it a visit one day.
The one day came soon enough in a form of an invite!! It's like my telepathy powers have grown stronger!
*letmewinonebilliononebilliononemillion* *onehundredthousand* *onethousand* *onehundred?*
Hmmm… I guess it only works with food 🙂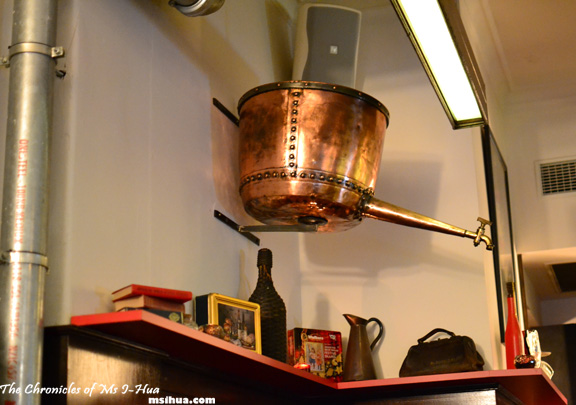 Hot on the Campari House is a 2 course meal with a matched wine for $45, which was the deal that we were invited to try out.
Together with Sporkette and Mr Spork (Not sure if he is a closet Trekkie, but oh well), and the Boy, the four of us paid a little visit to Campari House last Thursday.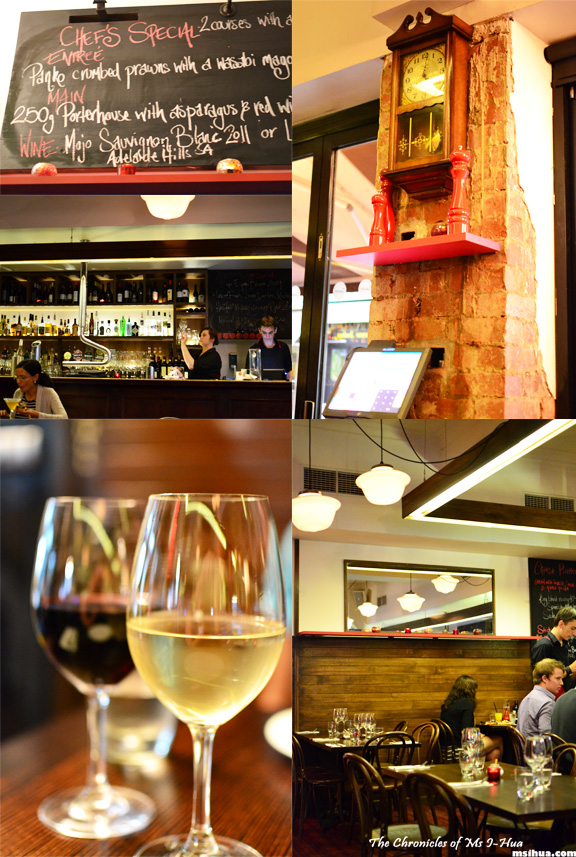 Whilst Sporkette went with a red wine, the three of us went with whites 🙂
Sporkette had the Chapel Hill Sangiovese 2009 (McLaren Vale, SA) and I had the Opawa Pinot Gris 2010 (Marlborough, NZ).
The boys had a Chardonnay (forgive me as I completely did not pay attention to their wines, and thus have no recollection of the region it came from 🙁 My bad!).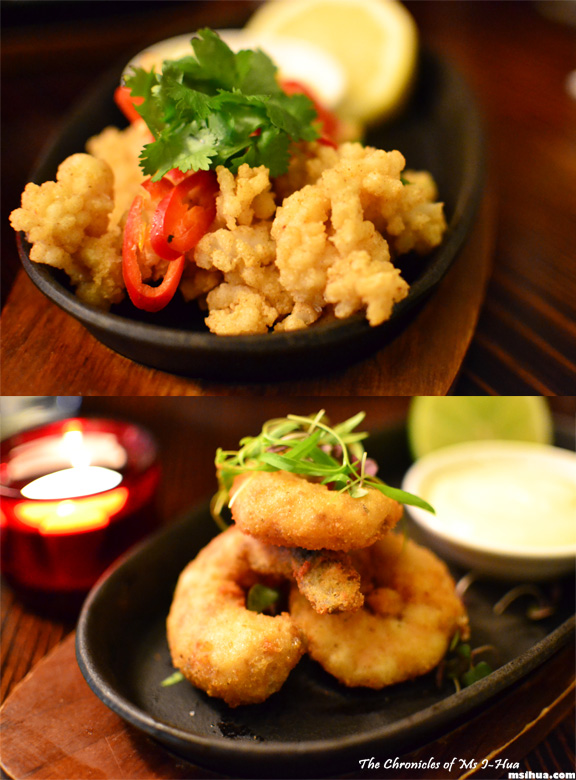 For starters, the Boy and I shared the Spiced Calamari, Mint, Citrus, Chilli & Aioli ($17.00) whilst the Spork Couple shared the Panko Crumbed Prawns with Wasabi Mayo Dressing (from the Chef's 2-course Special).
All four of us enjoyed our starters very much.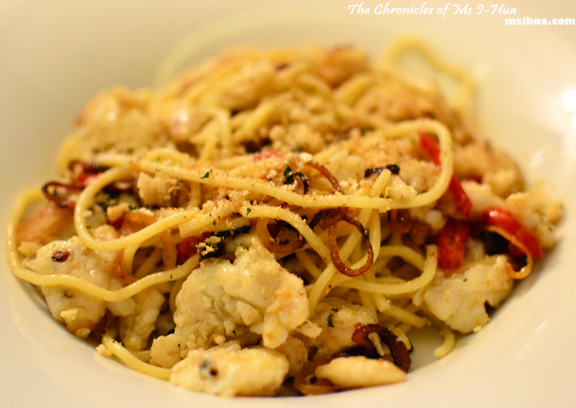 Upon Mr Spork's recommendation, I ordered the Blue Swimmer Crab, Spaghetti, Lemon, Chilli, Herbs ($26.00) and didn't regret it one bit. He's had it a few times before on different visits and rated it highly.
I couldn't help but agree. The crab was just lovely and light. Dish was overall flavourful. Definitely a dish I would go back for!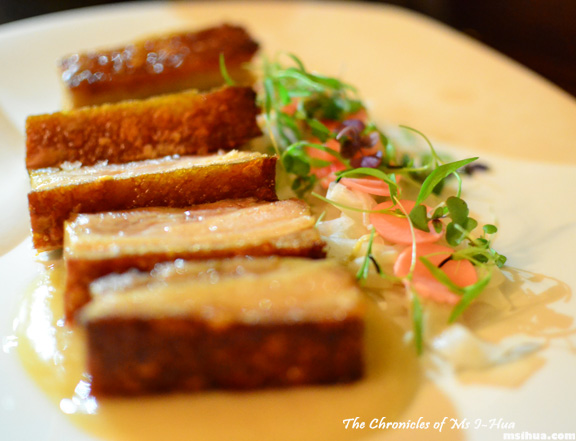 The Boy had a truly lovely Crispy Pork Belly, Sticky Cider, Caramelised Apple Puree, Radish, Mint Salad ($25.00). When it arrived, I had my doubts as the crackling didn't look all too exciting.
But when I stole a piece (or two :P), the crackling was just divine. It had crunch, it had texture, and it had taste!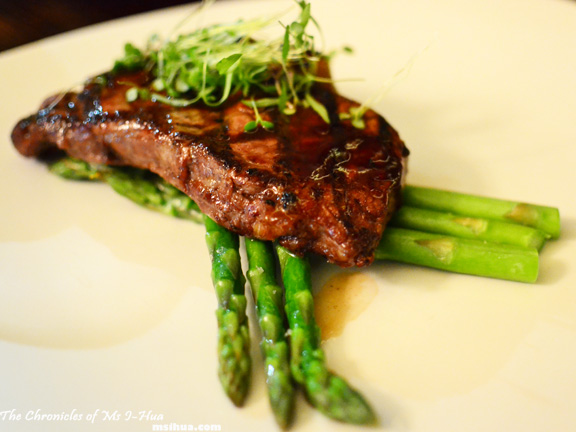 Unfortunately, Mr Spork wasn't having mutual feelings of love for his main. He had ordered the Chef's Special of 250g Porterhouse with Asparagus & Red Wine Jus.
He had asked for a medium rare, but what arrived instead was a bit on the well done side. Other than that, the dish definitely looked appetising.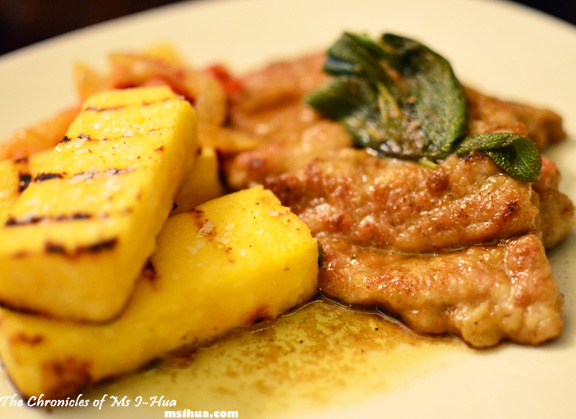 Sporkette had a delicious Veal Medallion, Grilled Polenta, Pepponata, Burnt Butter, Sage ($26.00) which she seemed to quite enjoy 🙂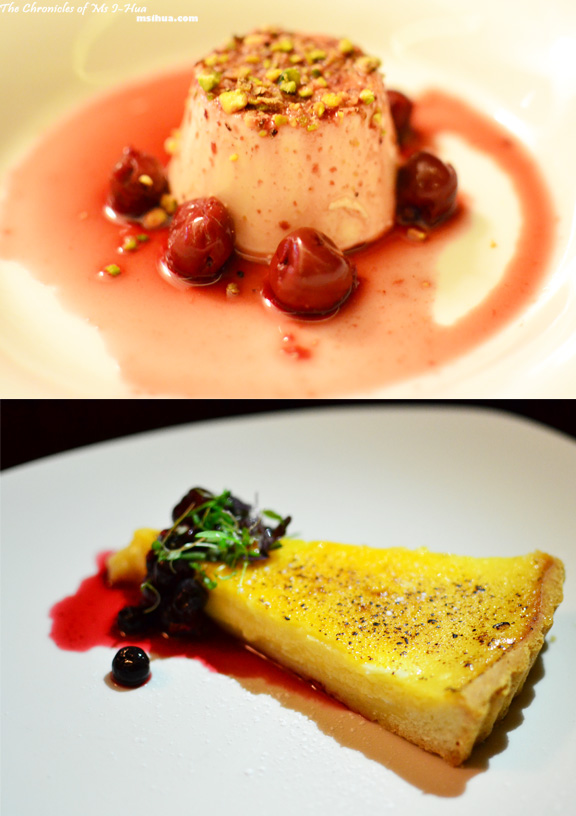 We were definitely filling up by this stage, and luckily had planned in advance to share our desserts. As we didn't want to end on too heavy a note, both Sporkette and I ordered quite light and refreshing desserts.
Vanilla Panacotta, Pistachio, Black Cherries ($12.00) and Candied Lemon Tart, Confit of Berries ($10.00)
Whilst I truly enjoyed my first dining experience at Campari House (I'd only been there for drinks previously), I probably can't say the same for Mr Spork and his overdone porterhouse 🙁
However, I do highly recommend the pork belly and the crab spaghetti dish!
[Ms I-Hua dined as a guest of Campari House and The Publican Group Australia]
*Disclaimer: All food ratings & review are purely based on my own experiences and how I feel about the service, food and quality at the time of visit
Food/ Cuisine: Italian
Dining Style: Restaurant

Opening Hours:
Monday to Friday, 8:00am – late
Saturday, 9:00am – late
Sunday, 9:00am – 2:00pm
Address:
23-25 Hardware Lane
Melbourne VIC 3000
Tel: (03) 9600 1574
Website: http://www.camparihouse.com.au/
How to get there: