Hello folks! I've returned to the land of 4 seasons!!! You may not have realised it, but for the last two weeks I've been partying, eating, holidaying and causing general mayhem during the Chinese New Year season in Malaysia and Thailand.
It's good to be home. I do wish we had more time. Truly our trip home was too short. It's so hard when you have to pack everyone in a limited timeframe and say goodbye to friends and family … heart wrenching.
Although our holiday was an amazing stress reliever (and tummy increaser), I had a tough time finding a good cup of freshly brewed cafe latte.
So to welcome myself back to the Melbourne scene, I shall continue mine and Evie E's (previously Aunty E and she didn't want that name to stick ;P) Mad Coffee Trail 🙂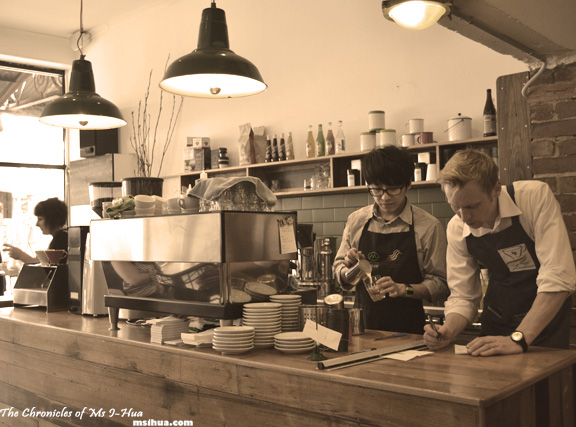 So right after our visit to Axil Coffee, and before we went mad at the Plantation we made a quick pit stop at The Premises in Kensington.
Here we were, two great friends, having just ditched the Boy (who decided he would much rather go home and play games on his PS3, wtf?!) singing on top of their voices (okay maybe, just me) and being turned away from Proud Mary's (as we only wanted coffee and we were told that we'd have to wait with all the other wonderful breakfast punters), catching up on the latest news on each other's lives.
Before we knew it, we were looking for a park at the very busy intersection where The Premises is located.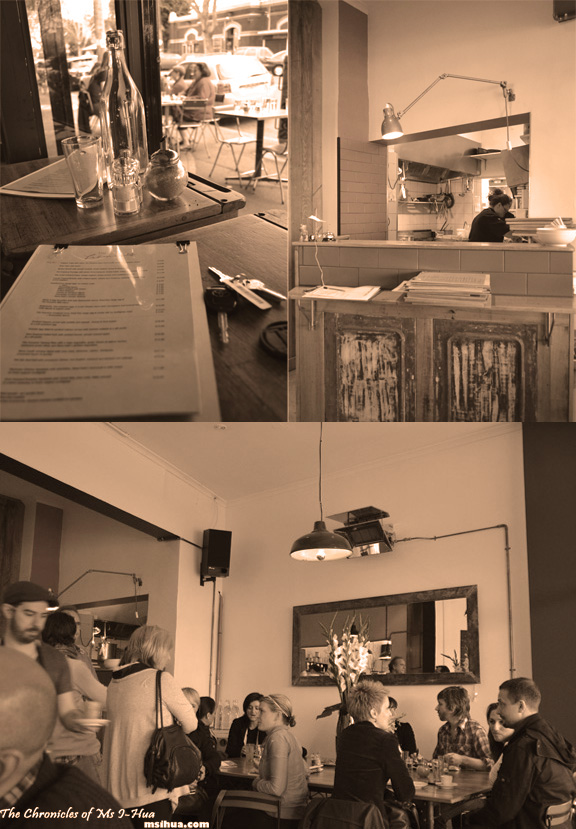 Despite it being very crowded, we managed to secure two spots located at the windows. Immediately I squealed and Evie E laughed at me. We were seated at what appeared to be recycled wooden school desks!!! HOW AWESOME IS THAT? Too bad I didn't see any scribbles or carved initials on them (probably polished and restored before being sold to Premises).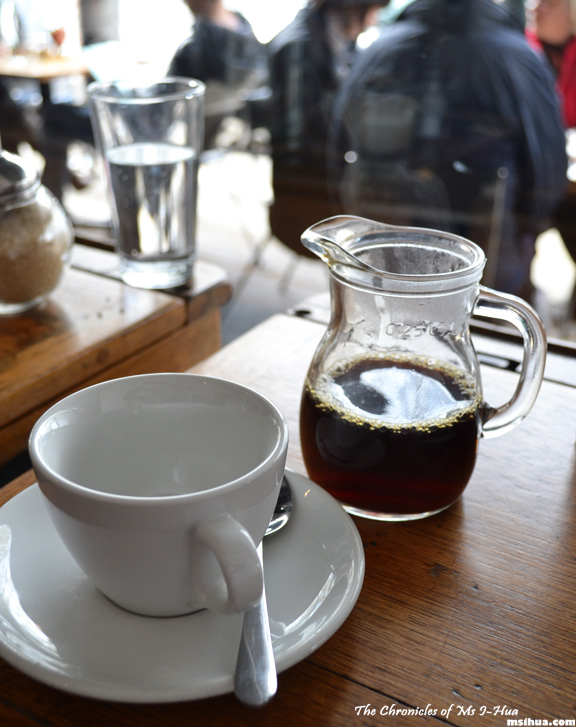 Having just had a rather heavy meal at Axil, Evie E and I decided we didn't want anything with milk in it and went with the two Pour Over coffees being served that day.
I had the Kenyan Kandara AA ($5.00) and Evie E had the Costa Rica 'La Candelilla' Geisha ($8.00).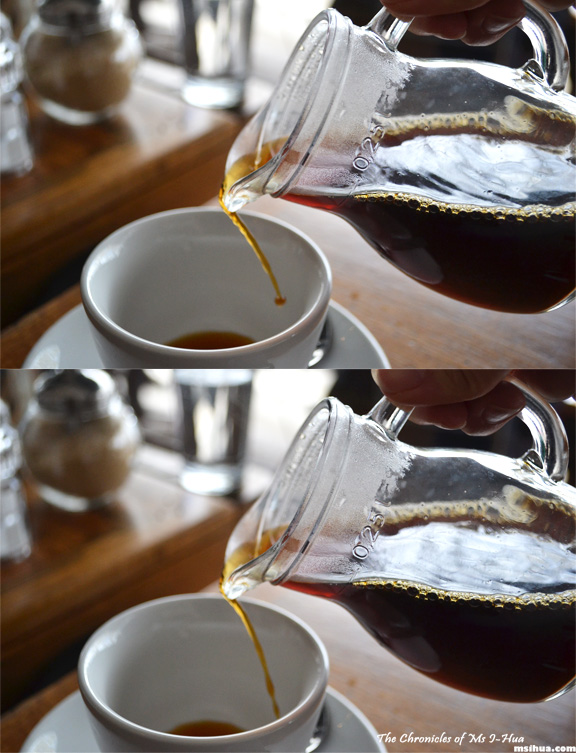 Whilst I was still trying to learn to identify the bitter notes of the dark and earthy Kenyan pour over, I swooned over Evie E's Geisha which was much lighter and floral.
Despite my attempts, I couldn't quite steal her glass from her, even when I pulled the good 'ol "Look there!"
I've been back since for a couple of quick take away lattes, but will have to come back for a proper breakfast review as Ms Sporkette, Mr FatBooo and Mr Food Rehab rave about them and their pulled pork sandwiches!!
Read also:
Part I of the Mad Coffee Trail – Axil Coffee Roasters
Part II of the Mad Coffee Trail – Plantation @ Melbourne Central
*Disclaimer: All food ratings & review are purely based on my own experiences and how I feel about the service, food and quality at the time of visit
Food/ Cuisine: Breakfast, Lunch & Coffee
Dining Style: Cafe
Overall Food Coffee Rating (Based on the Dining style): 7/10
Cafe Restaurant ambiance: 7.25/10
Service/ Attitude: 7.5/10 (they let us sit and enjoy our coffees despite it being rush hour for them!)
Value for money: 7/10
Opening Hours: 
Tuesday to Friday, 7am – 4.30pm
Saturday to Sunday, 8am – 4pm
Address:
202 Bellair St
Kensington VIC 3031
Tel: (03) 9376 7565
Twitter: @ThePremises
How to get there: