What do you do when you are desperately in need of food, you're running out of time and all the restaurants only open up for dining at 12pm?
That's the situation we found ourselves in last Sunday. The Boy and I had purchased our 12.40pm tickets to watch Star Wars (because we hadn't yet watched it in 3D) and had an hour and a half to kill.
After being turned away quite rudely by a restaurant staff in Crown, we decided to take a walk to the other side of the casino to see if the rumoured yum cha session at Spice Temple had begun.
We turned up 30 minutes to 12pm and were greeted by a smiling staff, who said, "We are having Yum Cha today!"
After checking with her, if we could be in and out in 40 minutes to get to our movie on time, to which she replied, "Of course, we'll look after you!", I couldn't help but compare at the differences in the level of service between the two establishments.
A Neil Perry establishment and a non-Neil Perry establishment.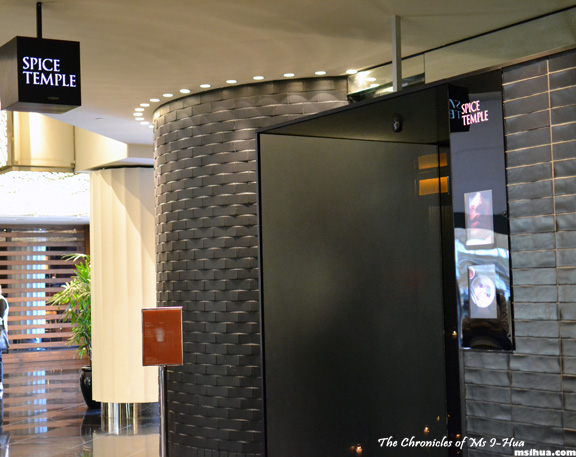 As we were assured that we would definitely be looked after and that they would have us in and out in time ready for our show, we relaxed a bit and strolled along the river, waiting for the clock to tick on by.
Sure enough, at 12.00pm sharp, we were ushered in through the entrance and down to the dining area.
As we were seated, our waiter calmly handed us the menu, checked that he had the right time to get us out and proceeded to explain the menu.
45 items and it was a yum cha.
Simple, quick and efficient.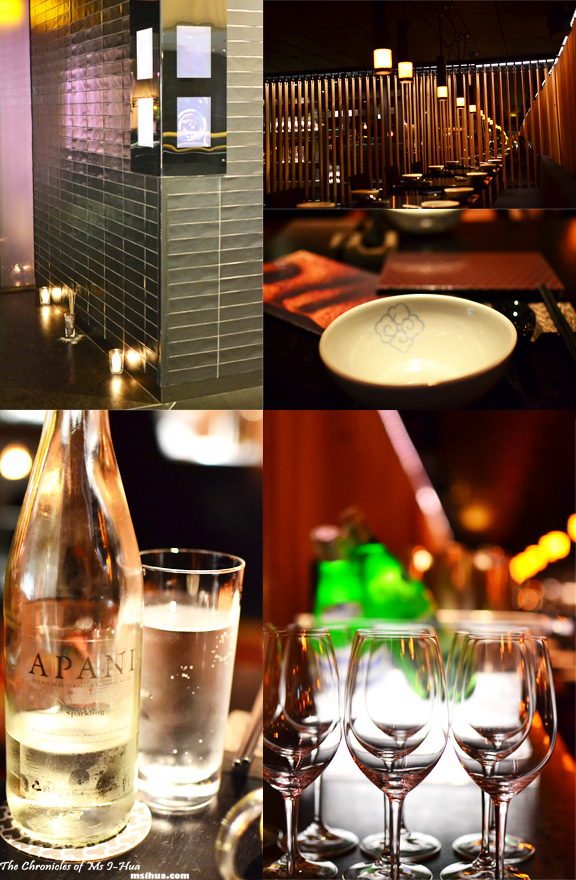 We were asked to choose between an Australian or an Italian sparkling water, and we decided upon the Apani Sparkling Mineral Water, Snowy Mountains ($9.50).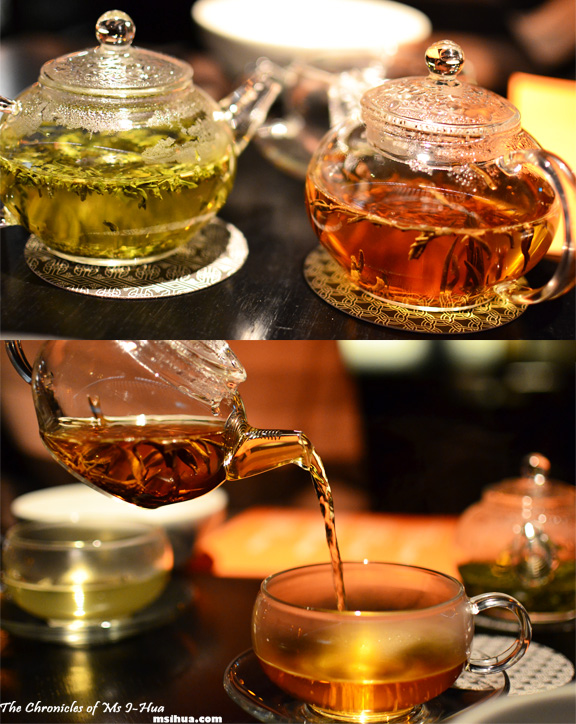 With 35 minutes to go, we placed an order for us to have teas as well. The Boy chose the Jade Sword Tea ($5.50) which was light and refreshing with a very clean taste. I, on the other hand, had the Yunan Gold Tea ($5.00) which was a strong and full-bodied black tea.
As I placed our order for our dim sum to arrive, our waiter started to panic a bit. At the second last dish I ordered, he pretty much said, "I think that's enough food for the both of you!"
Ahhh… innocent man.. how little does he know of my yum cha ways!
As I silently chuckled to myself, I glanced across the table to the Boy, who for some reason, had the same mild panicked expression as our waiter.
Maybe I did go slightly overboard?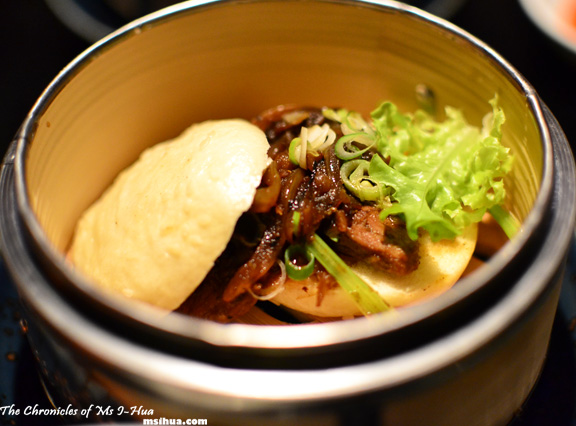 The first bamboo basket arrived to display, a Cumin Lamb Steamed Bun ($8.00) – 1 piece. This was delicious with the flavours balanced really well.
With Spice Temple's yum cha offer, one can expect slightly different dim sums to be served, as they would incorporate the cuisine Spice Temple emulates (Sichuan, Yunnan, Hunan, Jiangxi, Guangxi and Xinjiang).
Thus began, what I named SPEED YUM CHA DATING!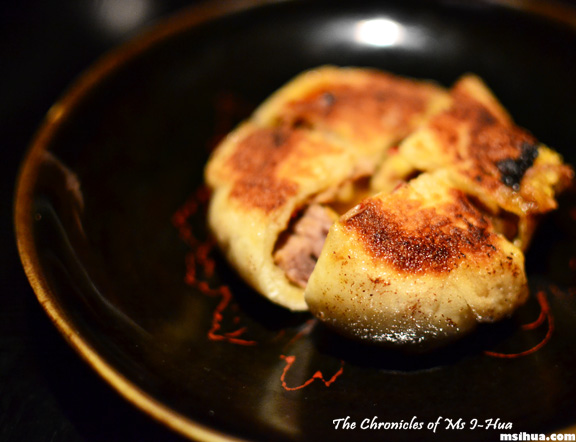 Northern Chinese Lamb Dumpling ($7.00) – 1 piece, followed on. This was definitely my favourite dish for the meal.
The tender pieces of lamb, was definitely a heavenly bite.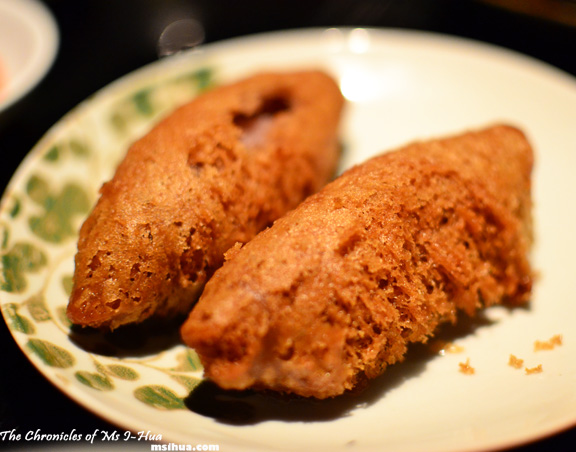 We tried the Wu Gok – Deep Fried Taro Dumplings ($8.00) – 2 pieces, but found it a little too oily.
Possibly in trying to rush the dishes out to us, the kitchen staff hadn't enough time to heat the oil up enough, and we ended up with crispy, yet soggy pieces of yam 🙁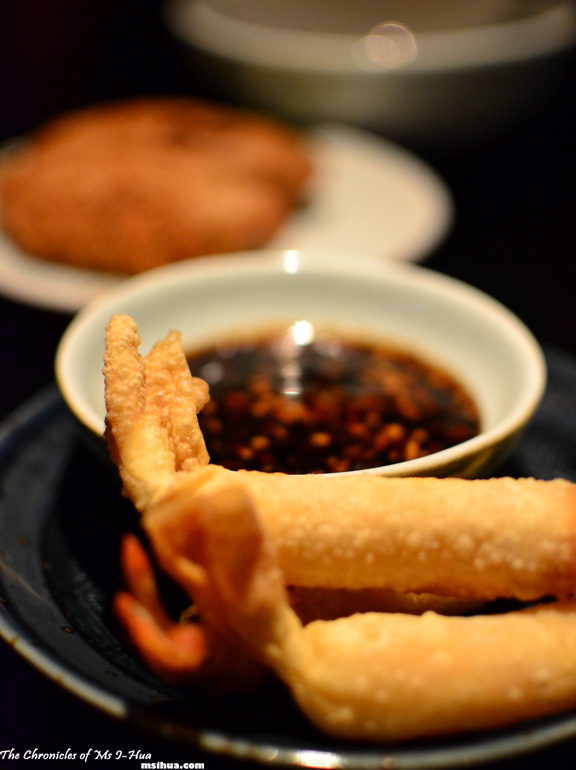 Luckily the Crispy Prawn Wontons with Hot & Numbing Sauce ($7.50) – 3 pieces, saved the day in the non-greasy, crispy deep fried section.
The sauce in itself didn't quite numb, nor was it that hot. I found it rather vinegary and sweet and couldn't get enough of it! It had such a nostalgic taste which reminded me of a similar sauce I had in my younger days.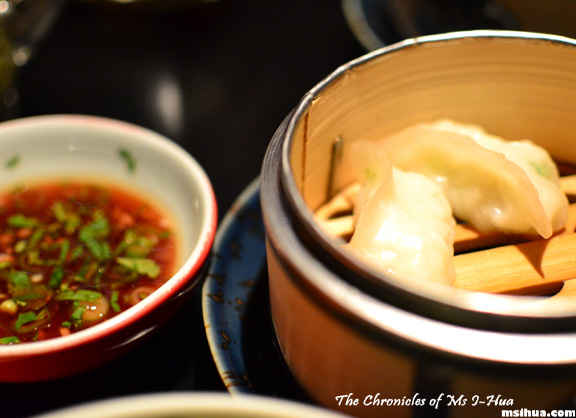 We also had the Steamed Scallop Dumplings ($8.00) – 2 pieces which was good as well.
The steamed dumplings were partnered together with a light chilli dressing that accentuated the flavours. Quite different from dipping them into soy sauce.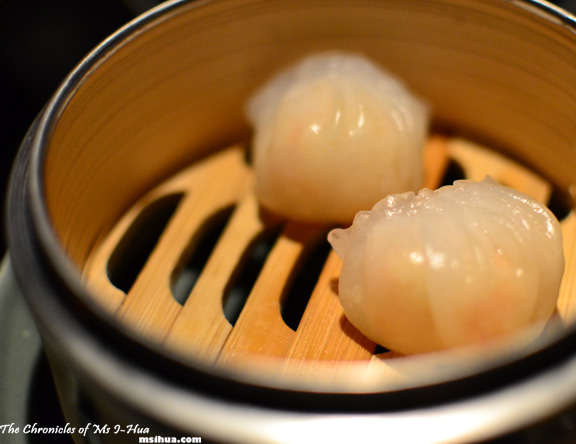 Next up was the Har Gow – Steamed Prawn Dumplings ($9.00) – 2 pieces. They were pretty decent as well.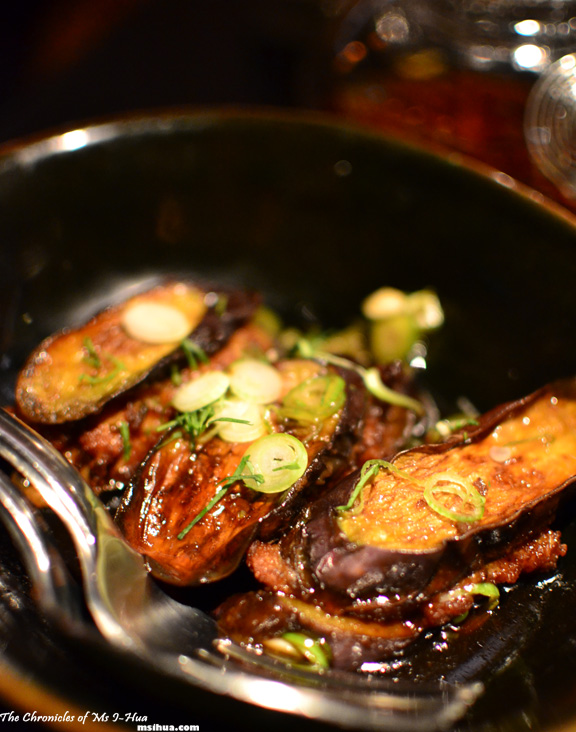 I am a great lover of Eggplant or what I grew up knowing as Brinjal and my English friends like correcting me by saying, "Aubergine, Dah-link! Aubergine!"
To me, as long as it taste as it should, I don't care what you call it 😛 Which was the case with the Eggplant Braised with Prawn & Flathead ($8.00) – 3 pieces.
So delicious, that the Boy ate two pieces and generously offered me the last piece on the dish 😛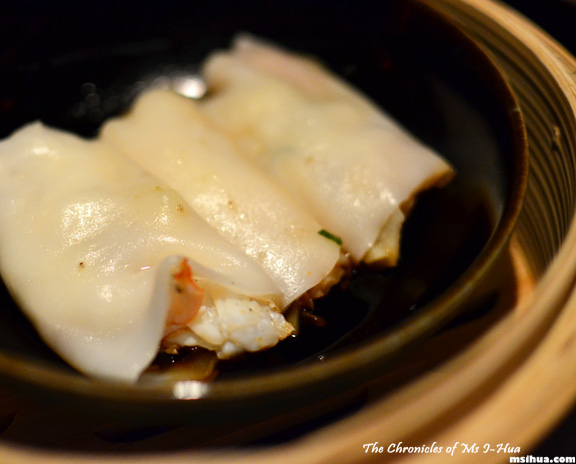 I also wanted to have a sample of the restaurant's take on Cheong Fun and ordered the Steamed Rice Noodle Roll with Prawn & Summer Bamboo ($11.00) – 3 pieces.
It was definitely different, but a welcomed change from the soy sauce, oil and chilli versions you would find in other yum cha establishments.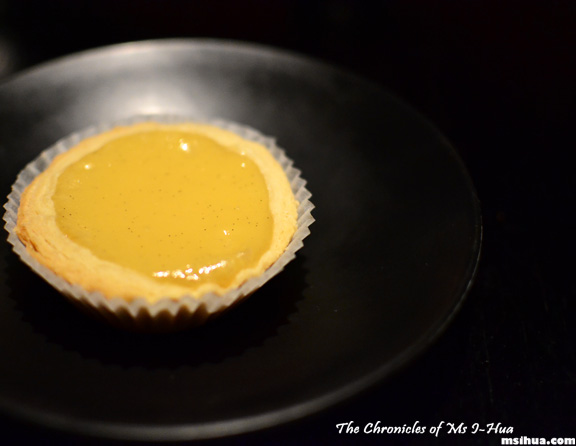 I convinced the Boy to share an Egg Tart ($4.00) – 1 piece as I never ever pass up an opportunity for dessert, especially in a Neil Perry establishment.
When it arrived, the creamy egg custard was speckled with vanilla beans, indicating that this would be full flavoured and rich.
As I took my first bite, I literally groaned with happiness. The vanilla definitely gave it an extra dimension.
It was a delicious sweet ending to a satisfying meal.
As we were finishing off our last bite, our waiter returned and tapped on his watch, asking us if we were ready and comfortable with everything.
I found it truly amazing that he was more concerned with watching the time than we were (a good thing really! And I was truly impressed).
After we had paid, and whilst we were walking back up the steps, each and every one of the staff who served us throughout our meal wished us farewell and hope we would enjoy our movie!
They promised and delivered, and I was utterly impressed with them. They got us in and out by 12.45pm (5 minutes was because I threw in the extra order of the egg tart at the end).
*Disclaimer: All food ratings & review are purely based on my own experiences and how I feel about the service, food and quality at the time of visit.
Food/ Cuisine: Chinese (Yum Cha Session)
Dining Style: Fine Dining
Overall Food Rating (Based on the Dining style): 7.5/10
Restaurant ambiance: 7/10 (I still find it too dark!)
Service/ Attitude: 8.5/10
Value for money: 7/10 (Keep in mind that it is yum cha in a fine dining-like establishment. So it will be pricier than normal yum cha establishments, but it's good quality tasting food and a little different from the rest)
Opening Hours:
Yum Cha Session Only – Monday to Sunday, 12:00pm – 3:00pm
Dinner – Monday to Sunday, from 6:00pm
Address:
Ground Floor
Crown Casino
8 Whiteman Street
Southbank VIC 3006
Tel: (03) 8679 1888
Website: http://www.spicetemplemelbourne.com/
How to get there: