About a month ago, a couple of us lucky bloggers, journalists, cafe owners, and the like were invited to attend the media launch of Phillippa's Bakery Easter special.
Considering that I work right in the heart of Melbourne, saying yes, to this event was a no brainer. I have been wanting to visit this little bakery/cafe at Howey Place ever since it opened its doors late last year.
The reason for this get together, was to celebrate the launch of Phillippa's Easter Special.
With Easter right around the corner, what better way to showcase to you the deliciously fresh tasty morsels than with my pictures?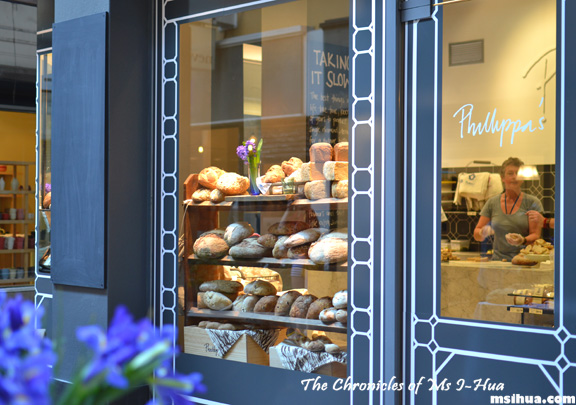 As we walked through the arcade of Howey Place, we were instantly greeted by two things.
A beautifully dressed table of breads and irises and the delightful smell of freshly baked breads coming out of the ovens.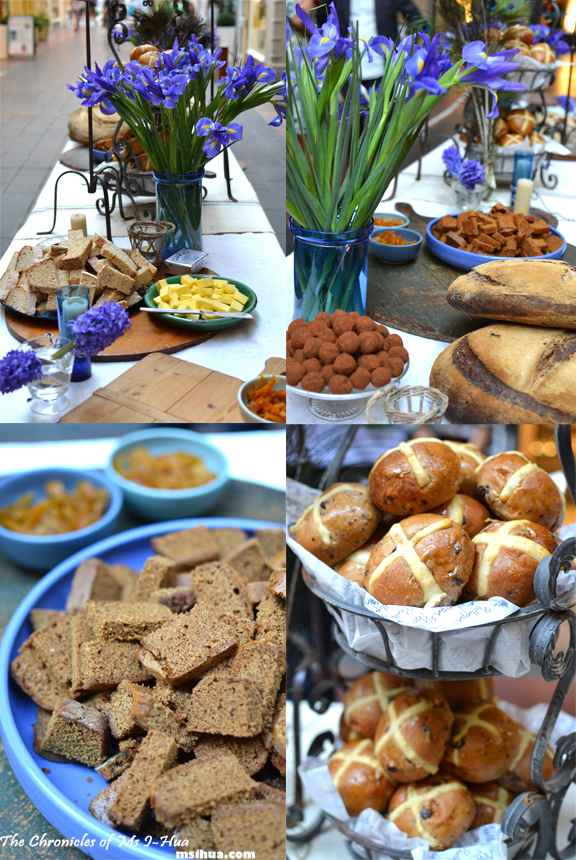 My tummy rumbled on cue! On the heavily laden table, we were presented with Phillippa's signature hot cross buns, rustic boule, Pain d'épices with gorgonzola and chestnut honey, Pane Toscano with Serrano ham as well as the locally produced Paris Creek butter all for the taking!
The pretty decor of irises, hyacinths, peacock feathers and beeswax candles added a little touch of glamour and homey-ness to the feel of the evening.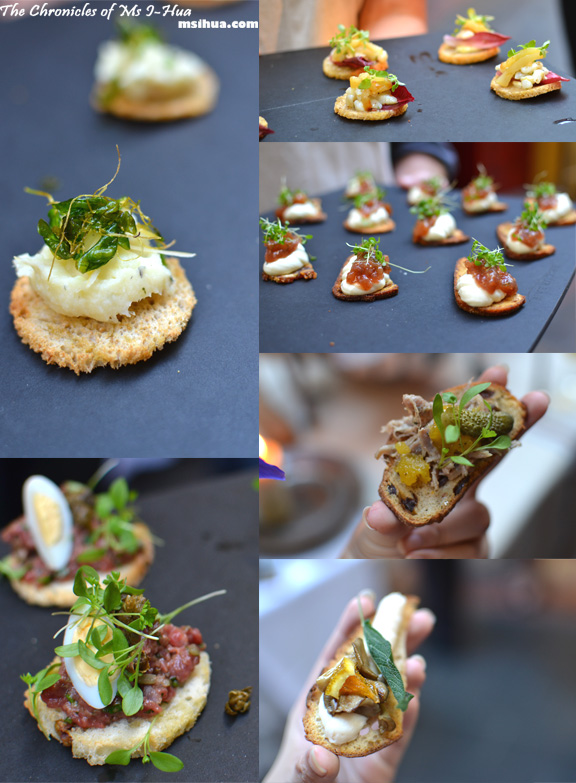 We were absolutely spoilt rotten that evening. Food kept coming out from the kitchen.
Provided to us was a wide selection of canapes, all incorporating Phillippa's bread with local produce. Try hard not to drool as I list them out for you 🙂
Vinefruit & Rosemary Bread (served with duck rillettes, cornichons & apple chutney), Olive Toscano Bread (served with steak tartare & fried baby capers), Organic Sourdough (Scallop ceviche, roast pear & red endive), Wheatmeal Bread (served with salt cod brandade, preserved lemon & fried basil), Fig & Anise Sourdough (served with whipped goat's fetta, fig, orange & mint), Pane Francese Naturale (served with truffled cannelloni beans, shimeji mushrooms & fried sage), Pane Francese Rye (served with crab spiced hummus, bacon crumbs & rock chives) and for dessert, Mini Phillippa's Hot Cross Bun Puddings.
I may or may not have had 3-4 portions of the duck rillettes and the goat's fetta and fig on sourdough as they were my favourite items that evening!
The Hot Cross Bun puddings (with plum fruit, candied orange, freshly ground spices) were also an instant hit with the crowd.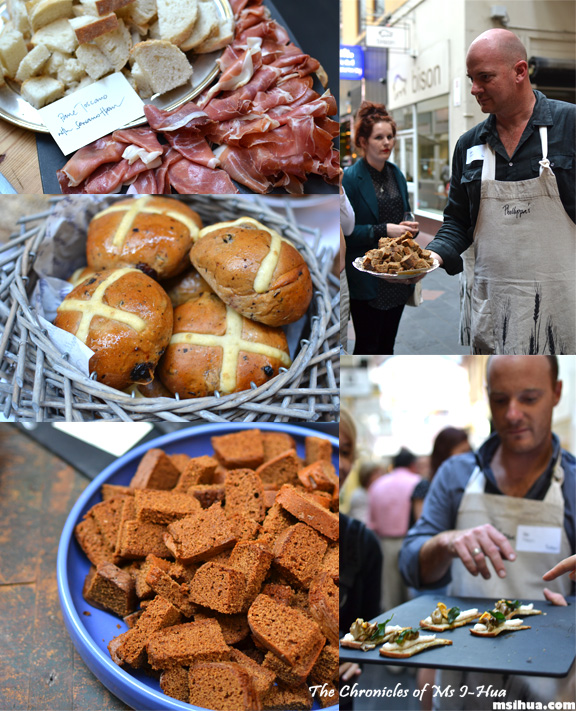 Also on the spread were Phillippa's house made candied peel, chocolate truffles and honey bunnies.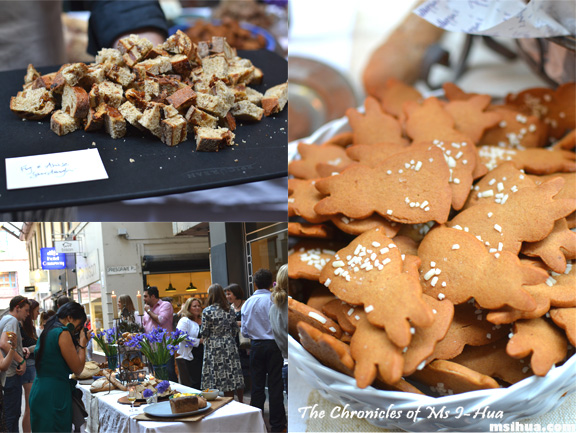 I couldn't get over how cute the Honey Bunnies were and reluctantly bit the head of mine 🙁
Look at them! Just lying there in a big basket, tempting me to take them all home!!!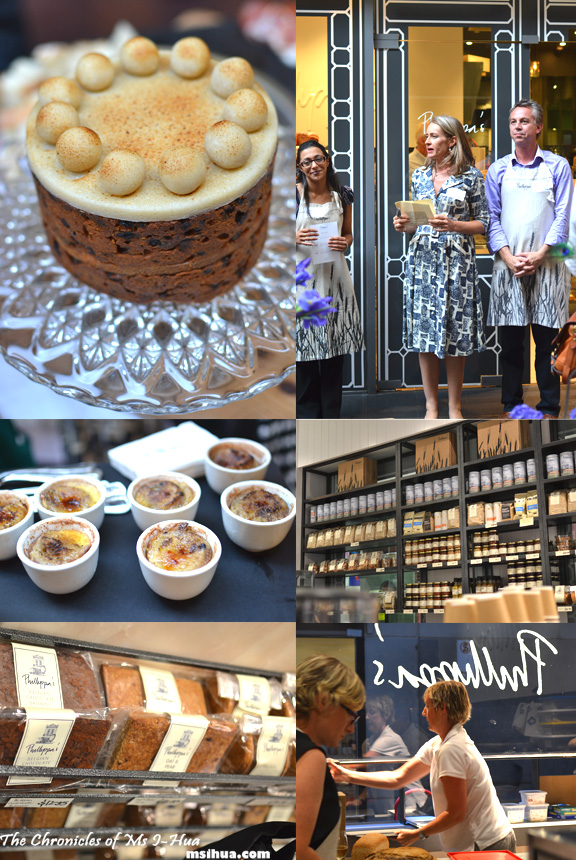 When Phillippa Grogan called for attention, the crowd gathered round to listen.
She told us the story of her passion about bread making, detailing her journey through Paris before settling down in London for nine years. She then spoke of returning to Melbourne and opening up her first bakery/cafe at Armadale. This woman is all about hard work and determination!
Her passion came through when she spoke about how committed the bakery is in creating breads from traditional baking practices and the fact that they do not add malt, ascorbic acid or extra yeast to the bread to ensure that the dough ripens in an unhurried and organic fashion.
Phillippa's uses rye, wheatmeal and organic and stone ground flours sourced from small and family owned mills as well as sourdough starters that date back to 1994.
For Easter, Phillippa's is offering a wide range of products listed below. Visit your nearest Phillippa's store to get them in time for Easter 🙂
Phillippa's signature Hot Cross Buns
Phillippa's Easter Gingerbread – Eggs and individual Bunny
Phillippa's crunchy Honey Bunnies
Phillippa's Pain d'épices
Phillippa's Simnel Cake (Exclusive to Phillippa's stores)
If chocolate during the Easter season is more of your thing, Phillippa's also offers a decadent chocolate menu:

Phillippa's Eleven Chocolate Truffles (Exclusive to Phillippa's stores) –> representing the eleven Good Apostles of Christian Easter tradition, this box of Easter truffles, made with dark Belgian couverture chocolate and pure Victorian cream are dipped in Callebaut couverture and Belgian Cocoa
Phillippa's Chocolate Fudge
Phillippa's Chocolate Chip and Hazelnut Cookies
Phillippa's Belgian Chocolate Brownie
Phillippa's Chocolate, Hazelnut and Orange Biscotti
For further product information and details, please visit Phillippa's website at www.phillippas.com.au
Wines and cider used on the night of Phillippa's Easter launch were supplied from Bress Wine, Cider and Produce (www.bress.com.au) which included the Bress Harcourt Valley Cider brut served in magnums as well as the 2010 Silver Chook Heathcote Bendigo La Gallina white and red wine.
[Ms I-Hua attended as a guest of Phillippa's and Media Moguls]
Phillippa's CBD Branch Address:
15 Howey Place
Melbourne VIC 3000
Tel: (03) 9671 4030
Website: http://www.phillippas.com.au/
How to get there: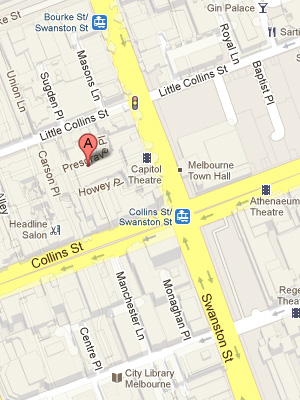 You can also find Phillippa's in Armadale, Brighton & Richmond