We often forget how lucky we are to have a roof over our heads, to be able to wake up early each day and go to work, socialise with our work mates, get paid and enjoy our employee benefits.
Instead, we sit and whinge about how much we hate Mondays (I for one do this every week), and how we can't afford to buy the latest technology gadget, or how we can't save enough to go for the holiday of our dreams.
I chastise myself on a daily basis every single time I think these thoughts and tell myself that there are people out there suffering worst fates than I. But as I'm only human, I do tend to fall down the selfish path every now and again, and think of "ME ME ME!"
Finding employment opportunities is hard enough in Australia with the current economic climate.
Finding employment is even harder, when you hardly speak the language and/or do not possess recognisable skills by the Australian Government in this country.
I've heard of foreign engineers with doctorate degrees who find it hard to even get by with any role as their qualifications aren't transferable to our shores.
But work they must, and they need to survive to feed their families.
Which is how AMES (Adult Multicultural Education Services) a centre that provides programs and services to people of various cultures and speak a different language (native) to English, comes into the picture.
They assist new migrants into our beautiful country by helping them find employment, go through training and learn English (whilst they are at it).
Their new social enterprise (as they call it) Fifty-Six Threads Cafe, opened in November 2011 serving fresh food for breakfast, lunch and snacks to all from Wednesday to Sunday.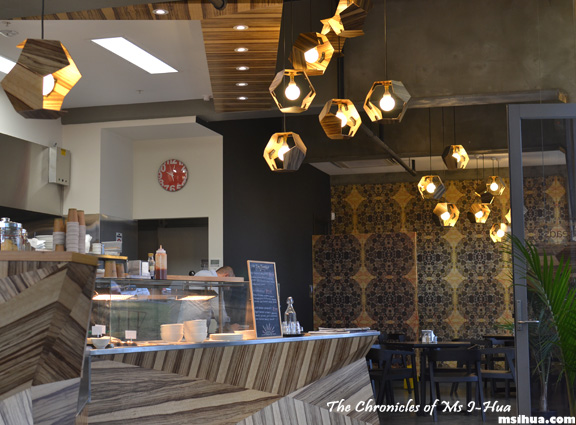 We finally found some time last weekend to visit this cute little cafe situated at the bottom of the high rise public housing units on Derby Street in Kensington.
When we arrived, there weren't any other patrons, but we did see many people drop by for takeaway coffees and snacks.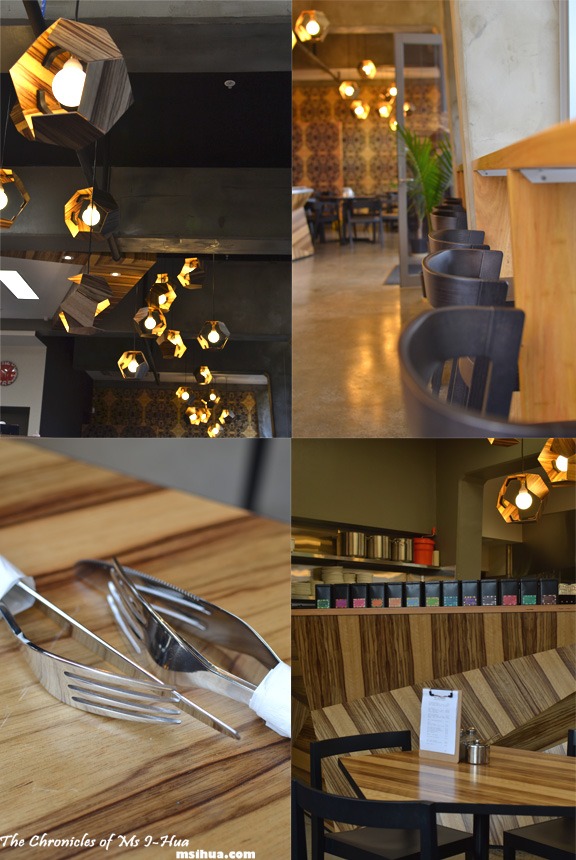 I particularly loved the striking design of the use of wood which was featured prominently throughout the cafe. From hexagonal shaped tables, to fancy lights, to wooden panelling at the bar and counter.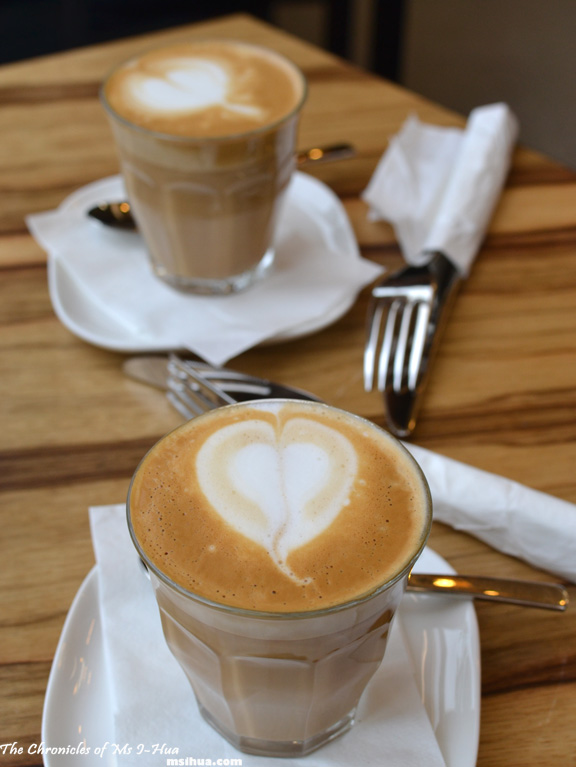 We had a pretty good serve of Latte ($3.20). I was excited to find out that they use beans from the Social Roasting Company.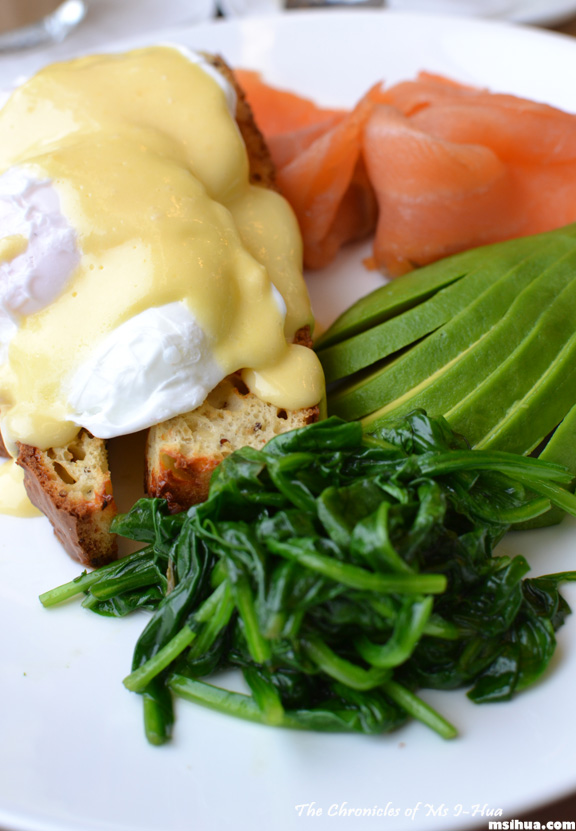 However, what was even more exciting was my breakfast!
I ordered the 56 Threads Breakfast ($14.00) – Smoked Salmon, Spinach, Avocado, Poached Eggs, Toasted Cheese Bread, Hollandaise Sauce, and I have to say, the poached eggs were pretty good.
I also loved the house-made cheese bread which was extremely fresh, and crumbly, almost like eating a brioche. It also contained mustard seeds, which I loved as it added a whole different dimension to plain ol' bread. What I found really cute about the bread was that it was cut up for you like soldiers 🙂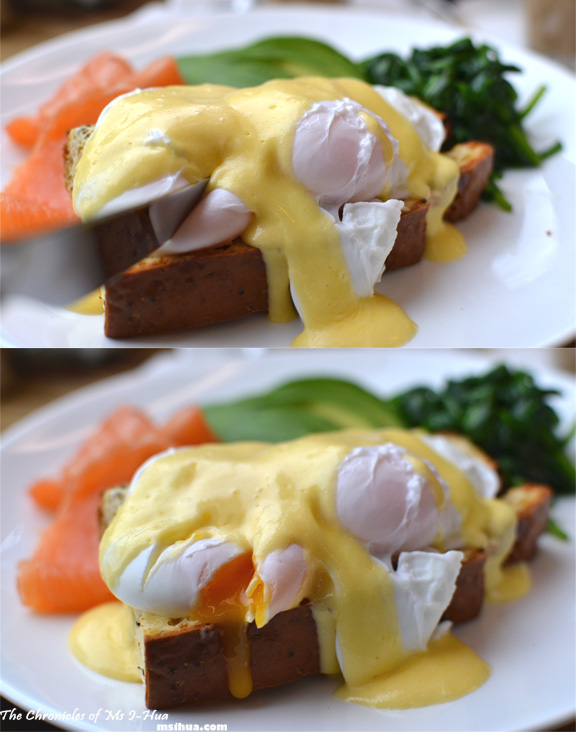 Won't you just look at that egg? Oozing with its golden syrupy goodness.
Egg heaven 🙂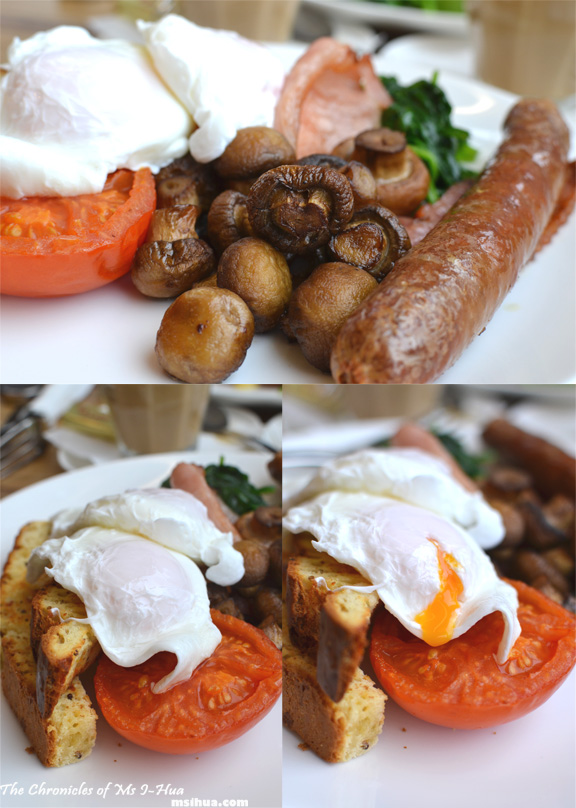 The Boy had a pretty standard Big Breakfast ($14.00) – Poached Eggs, Bacon, Sausage, Garlic Mushrooms, Tomato, Spinach & Toasted Cheese Bread, and unfortunately his poached eggs weren't as beautiful as mine, but was still decent.
The garlic mushrooms and sausage were the winners in his dish. We kept raving about them and wouldn't let me have any ;P
I love the idea and concept of this cafe, and with their main objective to employ and train new migrants to Melbourne, only good things can come out of it 🙂
Give it a try and don't let the location throw you off.
*Disclaimer: All food ratings & review are purely based on my own experiences and how I feel about the service, food and quality at the time of visit
Food/ Cuisine: Breakfast, Lunch, Coffee
Dining Style: Cafe
Overall Food Rating (Based on the Dining style): 7/10
Restaurant ambiance: 8/10
Service/ Attitude: 8/10
Value for money: 8.5/10
Opening Hours:
Wednesday to Sunday, Breakfast & Lunch (closes 3pm, depending on crowd)

Address:
56 Derby Street
Kensington VIC 3031
Tel: (03) 9376 6885
Website: http://www.fiftysixthreads.com.au/catering-at-ames
How to get there: