We first came to hear about Joost (pronounced as "Yoast") during season 3 of Masterchef (as you do), when the two teams had to cook using Greenhouse's philosophy, sustainability.
Who is Joost? Well you can read his brief bio here. What I did find interesting, is that he is a fifth generation tulip farmer!!!
For 20 days (2nd March – 21st March 2012), the Greenhouse will be serving up breakfast, lunch and dinner with seasonal ingredients in a menu constructed by Executive Chef Matt Stone.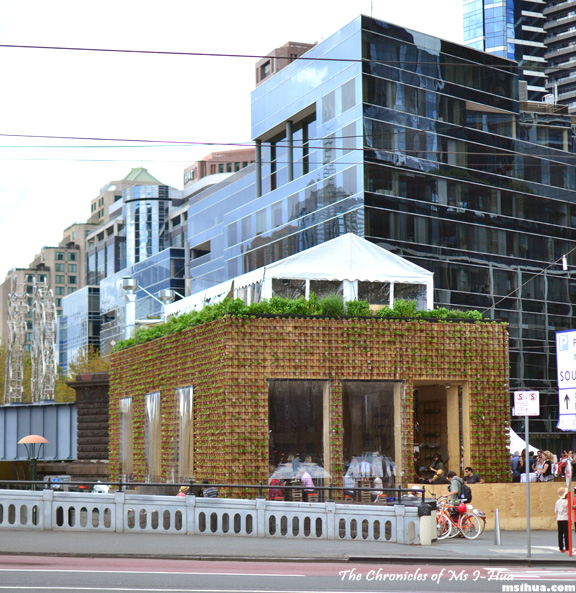 What is the Greenhouse?
It is aptly explained on their website, and I shan't bother rewording it, as I think it's perfect as it is.
"THE GREENHOUSE IS ABOUT DESIGNING AND OPERATING BETTER PLACES FOR PEOPLE. PLACES THAT LET US TOUCH NATURAL MATERIALS, UNDERSTAND WHERE EVERYDAY THINGS COME FROM AND TASTE FRESH FOOD STRAIGHT FROM THE GARDEN."
This is really what it is all about.
What you see, touch and feel, is what you get.
From the moment you walk through the wooden panelled walls, you are greeted with sights and sounds from all directions, screaming one thing.
SUSTAINABILITY!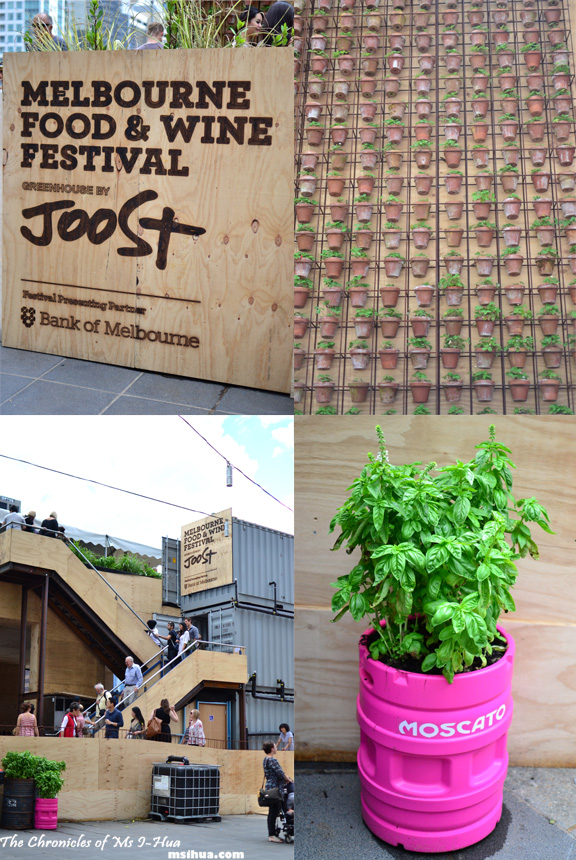 Most of their furniture is made from recycled materials. They have potted herb pots lining the external walls. Giant Basil plants grow in used wine casks and barrels.
Within the internal structure, logs of wood with mushrooms growing line the walls.
It is definitely a fun, quirky, hipster joint.
In terms of food, the menu is sharp, short and simple.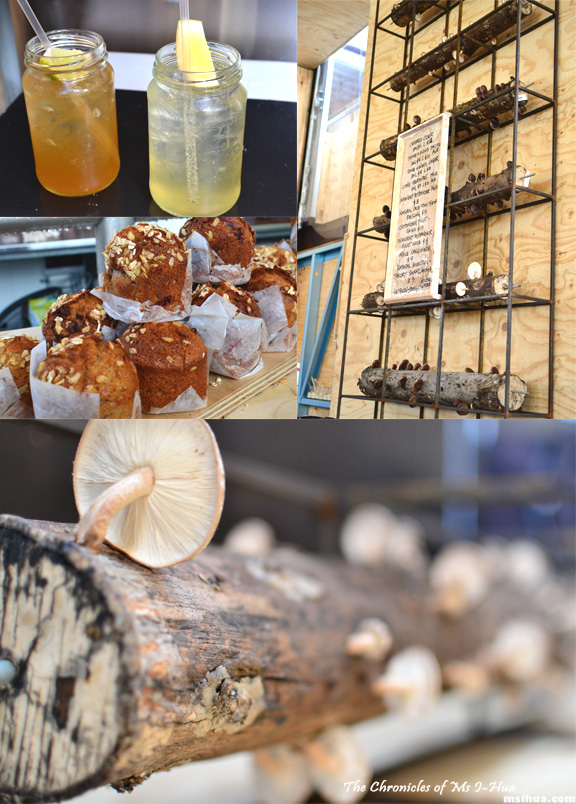 As we waited at the bar for our seats, we casually sipped on our house-made Ginger Ale and Lemonades, regaling in the hustle and bustle and movements in this busy restaurant and bar.
Once we were seated, our waitress informs us that there were some slight changes to the menu for the day. There were to be no desserts, pasta or pumpkin.
The former caused me to squeak in dismay, the latter, a mere "meh!"
We placed our order.
I ordered the Baby Squid, Fennel & Melon ($18.00).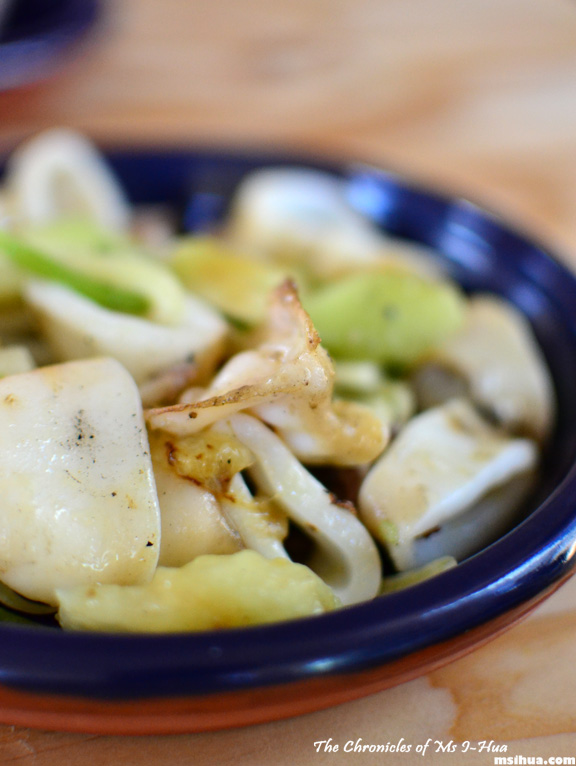 I can't say that I was charmed by the squid dish much at all. Sure the flavours were balanced and the melon was sweet. Perhaps, they were going with the trend of less is more. The, "Let's not mess with nature and serve everything just as is", philosophy.
The dish was tasty, but didn't "wow" me. However, that being said, the squid was cooked just the way I liked it (not overcooked or rubbery) but still retaining the springy yet tender texture associated with squid.
As we waited, and waited for the Boy's dish to arrive, we couldn't help but think that perhaps we had been forgotten. It had been 30 minutes since we placed our order (I'm an impatient city girl :P).
However, right on the 35 minute mark, his dish arrived, Spiced Chicken, Quinoa, Yoghurt ($25.00).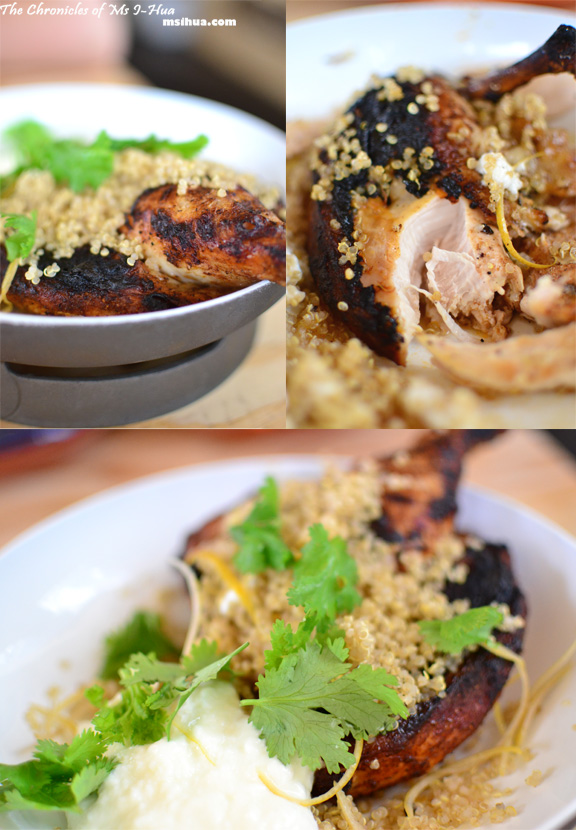 Upon his first mouthful, all I could hear from him was, "mumble, Mmm, mumble, it was worth the wait, mumble, Mmmm"
After getting him to repeat that, I stole a mouthful of chicken.
And then another.
He was right. That chicken was beautifully cooked. Tender, smokey and char grilled to crispy perfection. It had a wonderful balance of taste and aroma, balanced by the hint of acidity from the yoghurt. The pickled citrus rind added a wonderful sweet-tangy sensation with each mouthful.
We had a winning dish. I picked the bones, and licked my fingers cleaned.
What can I say?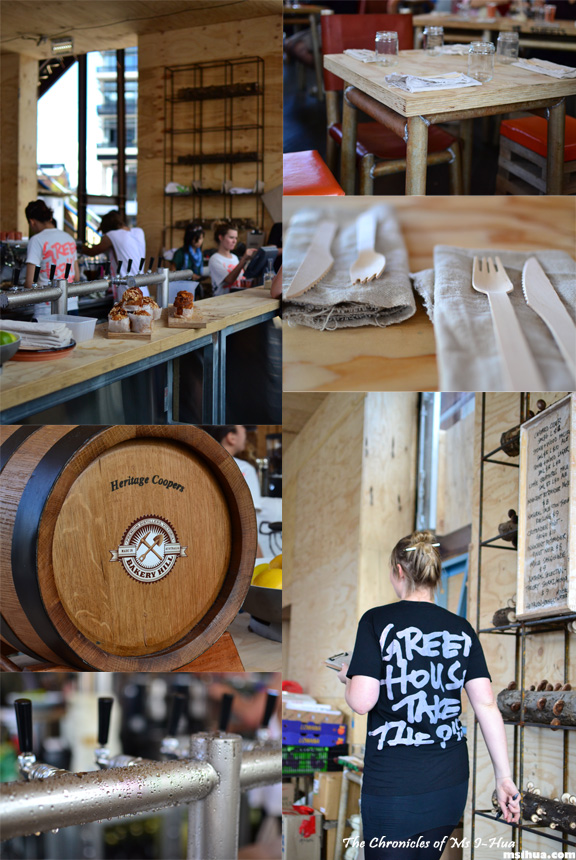 The food at Greenhouse was a mixed bag. The squid was good but not wow. The chicken was beyond wow and deserved a gold medal and a standing ovation.
Would I head back? I will try. The wait is long during peak times (average lunch hour wait on a weekday is 30-45 minutes for a table). I may head back on another weekend, but I'm hoping to get my hands on that chicken one more time!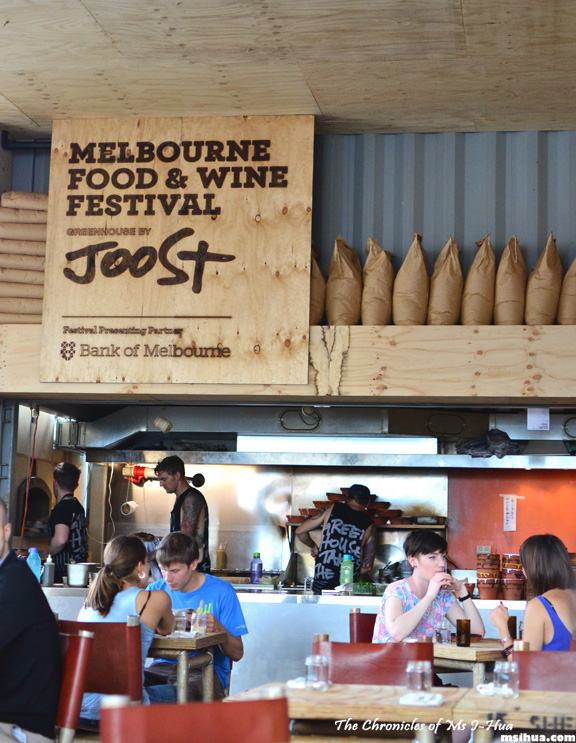 *Disclaimer: All food ratings & review are purely based on my own experiences and how I feel about the service, food and quality at the time of visit
Food/ Cuisine: Modern Australian
Dining Style: Casual Dining
Overall Food Rating (Based on the Dining style): 7.5/10
Restaurant ambiance: 8/10
Service/ Attitude: 7.5/10
Value for money: 7/10
Opening Hours:
2 – 21 March 2012 (as part of the Melbourne Food & Wine Festival 2012)
Daily from 8:00am – 10:00pm
Address:
Queensbridge Square
Southbank VIC 3006
How to get there: