This little piggy, went to the market,
This little piggy, stayed at home.
This little piggy, had roast beef,
This little piggy, had none.
This little piggy, cried "Wee Wee Wee" all the way home.
I always thought that the little piggy who went to the market was the luckiest of the 5 as he got to go to the market! The place of sights and smells!
The one who ate roast beef, always struck me as a psychopath (and it was a bit disturbing).
You may be asking yourself right now, "What is she blabbering on about, pigs and markets?"
AHAH!
As a brilliant segue, the Boy and I (both born in the year of the Pig) love visiting markets. One of our favourite markets is the Prahran Market.
Now I know it's the higher end market, with much fancier prices, but the quality of the produce there always speaks for itself.
How many other markets are there, that have a Mushroom seller with an Order of Australia?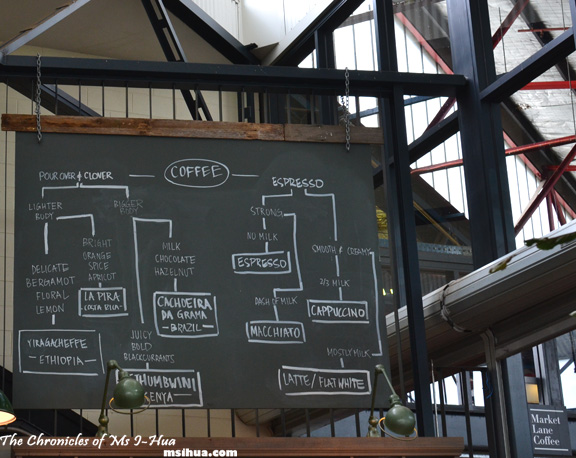 One of my favourite pit stops whilst shopping at Prahran Market is the famous Market Lane Coffee.
They have a simple mandate to their approach: Source, Roast, and Brew.
When I last paid them a visit, I went a bit mad in trying to choose a blend (or three) or single-origin coffee to try.
So I did the next best thing, I ordered a latte for the Boy with the blend I wanted, and went with the Coffee Tasting Flight on my own (approximately 6 cups of coffee!)
Wheeeeeeeee!!!!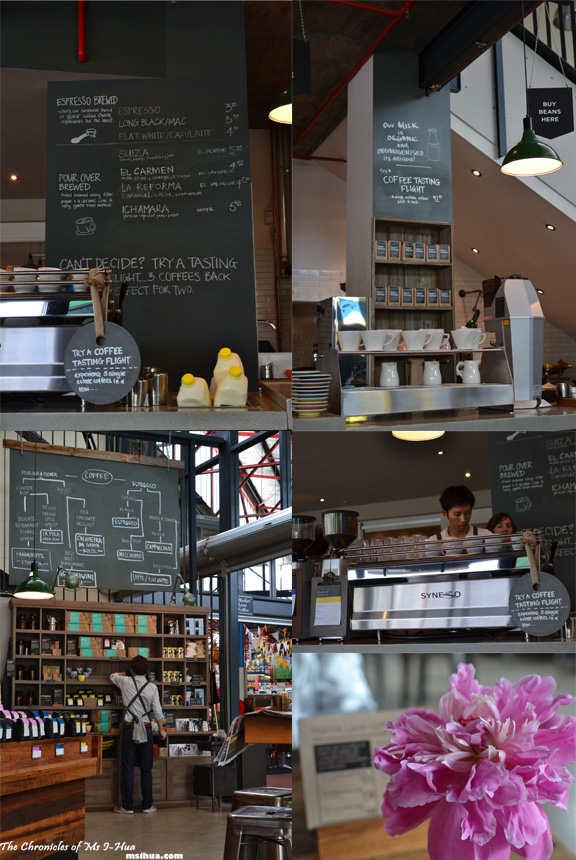 You can also subscribe to their Coffee Club Membership for freshly roasted coffee beans (250 grams) sent to your doorstep (delivery within Australia) every fortnight. Prices at the moment are: 3 month subscription (6 deliveries) for $125, 6 month subscription (12 deliveries) for $250 or 12 month subscription (25 deliveries) for $480.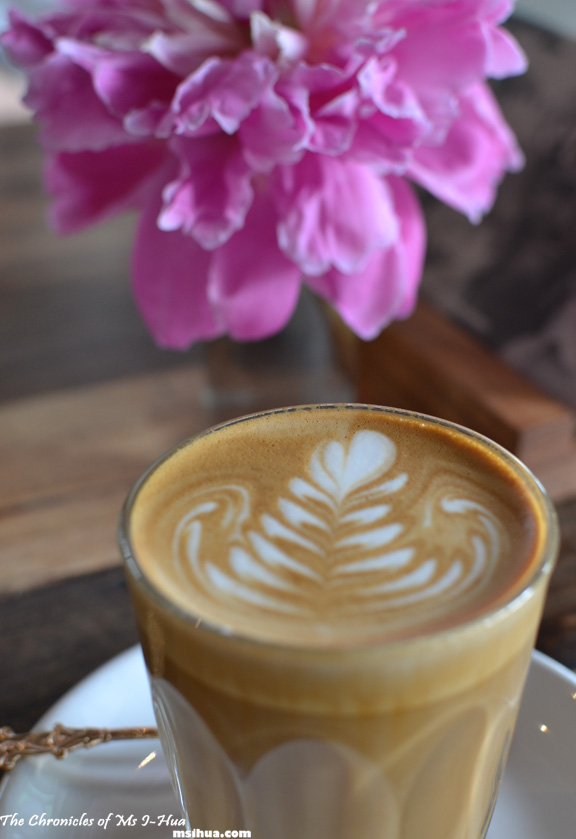 El Carmen Latte – El Salvador ($4.80) with notes of milk chocolate, orange, and brown sugar.
It was, what I would described as coffee fluffy floss. It was light and creamy.
Did I mention that they use Schultz milk? It's organic, unhomogenised, and taste like real milk!
MMmm… It really makes all the difference.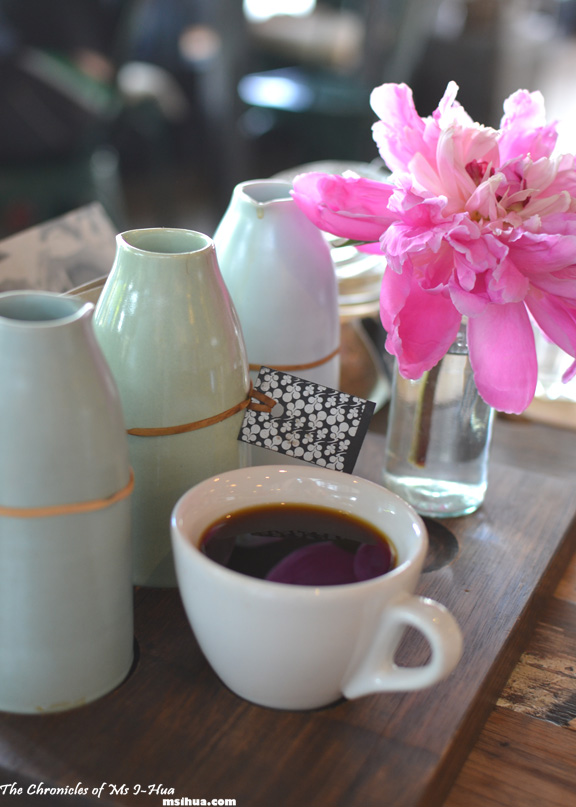 As mentioned, I had the Coffee Tasting Flight ($12.00) – Where one (or a few) get to experience 3 single estate coffees in a row. "Pour Over" Coffees for the day were: Ichamara, La Reforma and Finca Suiza.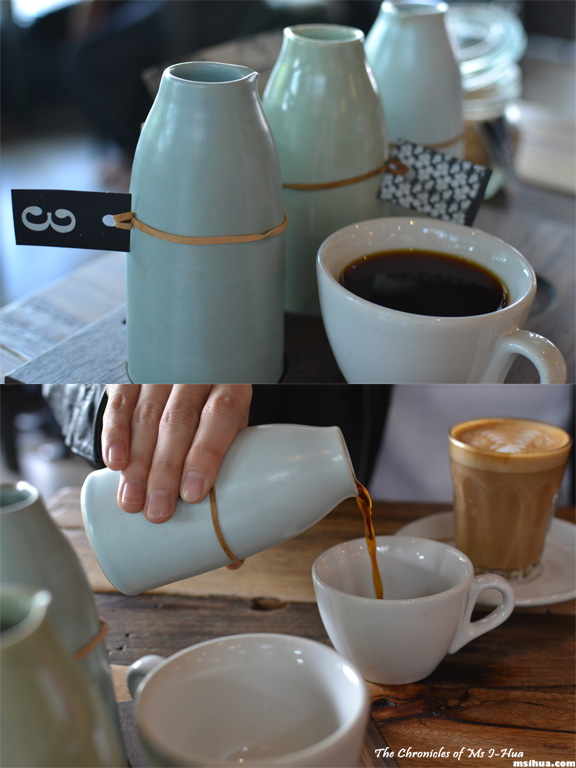 First Pour Over: Ichamara (Kenya). Peach, Apricot Jam, Butter.
Second Pour Over: La Reforma (El Salvador). Caramel, Cocoa, Cinnamon.
Third Pour Over: Finca Suiza (El Salvador). Honey, Hot Strawberry Jam.
I'm not going to pretend that my palate is that refined that I could distinguish each of the flavours that were meant to be in existence.
I can say though, that my favourite was the Ichamara as it was the sweetest of them all.
Notes are provided for you as you sip on your brew, and it makes for a fun, "Did you know?" session.
Market Lane Coffee also runs coffee classes for those interested in learning more about coffee brewing and roasting.
Coffee Classes:
Brew Classes – Learn the basics of several different brewing methods. Classes are $60 at time of publish.
Introduction to Sample Roasting – Learn the art of roasting coffee. Classes are $250 at time of publish.
Check their website for more information regarding bookings and dates.
*Disclaimer: All food ratings & review are purely based on my own experiences and how I feel about the service, food and quality at the time of visit
Food/ Cuisine: Speciality Coffee
Dining Style: Cafe
Overall Food Coffee Rating: 8.5/10
Restaurant ambiance: 8/10
Service/ Attitude: 7.75/10
Value for money: 7/10 (slightly more expensive than your average cuppa, but it's good quality coffee)
Opening Hours:
Tuesday to Saturday, 7:00am – 5:00pm
Sunday, 8:00am – 4:00pm
Address:
Shop 13, Prahran Market
163 Commercial Road (Entrance on Elizabeth Street)
South Yarra 3141
Tel: (03) 9804 7434
Website: http://www.marketlane.com.au
How to get there: