[This post is sponsored by Kellogg's and Nuffnang Australia]
So it's been 7 days since I started the Kellogg's All-Bran Challenge. You may remember my inventive use of the Kellogg's All-Bran Fibre Toppers Rice Paper Roll recipe, which is incidentally now up and featured on the All-Bran website 🙂
How do I feel? Am I brighter and shinier?
Do I feel, "All Bran New with the All-Bran Fibre Toppers"?
You can say that. I do feel a lot chirpier and *cough* *ahem* more *cough* regular *cough* in the errm… lavatory.
That's definitely due to the increase of the fibre intake.
In relation to everything else, I do eat a good amount of fish (tuna), seeds and so I would have to say, it's definitely a combination of things I have eaten this past week which have made me feel good.
I would say, if you get on this challenge, the one thing it does make you do is focus on your diet and what you plan to put on your plate.
I think a lot harder of what I would like to match the All-Bran Fibre Toppers with and if it will go well in the taste department.
I wouldn't recommend just eating this on its own, as it's all down to a balance and nutritious diet. I enjoy it as part of a healthy balanced diet and active lifestyle.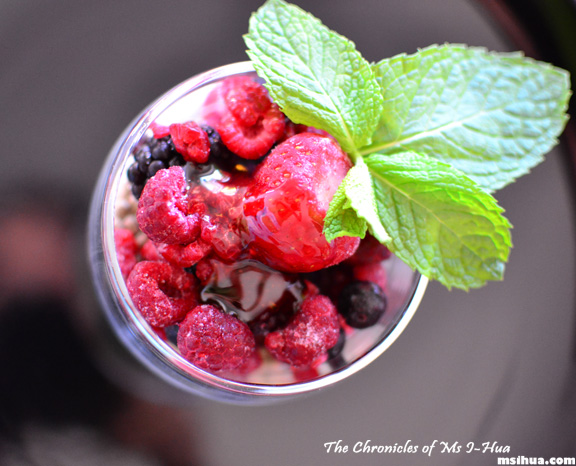 If you remember, I have mentioned that I'm not a big breakfast person on the weekdays, as I'm usually running out the door.
However, with this challenge, I've been pretty good and remembered to have at least one serve daily to boost my fibre intakes.
I bought some fruits and reduced, low or no fat yoghurt to store away at my work fridge. With the All-Bran Fibre Toppers box on my desk, it was hard to miss it!
Not only is it high in fibre and low in fat, it is also a source of B1, B2 and niacin, zinc, iron, magnesium and folate!
For most of my 7 day All-Bran Challenge, I had 1 serve of All-Bran Fibre Toppers, with a choice of fruits (usually berries or peaches) with low fat yoghurt.
Sometimes I tossed in some plain, unsalted nuts (pine nuts, pepitas, sunflower seeds, macadamias, hazelnuts, almonds, or cashews) for some added flavour.
I've also eaten it with a can of tuna in spring water or healthier oil (canola, olive, sunflower, soybean, etc) (it provides a nice tasty crunch, not that different to eating tuna with wholegrain rice crackers)!
However, as an added bonus, I've provided you with a simple, tasty and very beautiful recipe you can follow.
I give you the Berry-licious Honey Vanilla Yoghurt with All-Bran Fibre Toppers!!!!
Bon Appetit!
Berry-licious Honey Vanilla Yoghurt with All-Bran Fibre Toppers
Ingredients:
1 serve of All-Bran Fibre Toppers (approximately 25 grams)
1/4 cup of Mixed Berries (Strawberries, Blackberries, Blueberries and Raspberries)
1 tablespoon of Honey
1/2 cup (approximately 100 grams) of Low Fat Vanilla Yoghurt
1 sprig of mint leaves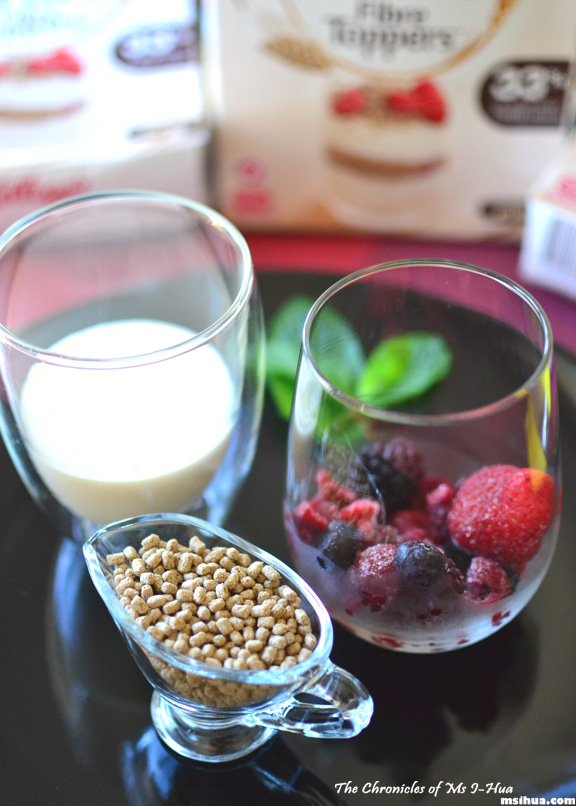 Procedure:
Simply assemble the ingredients in a clear glass.
Place the low fat yoghurt at the bottom of the glass to act as a base.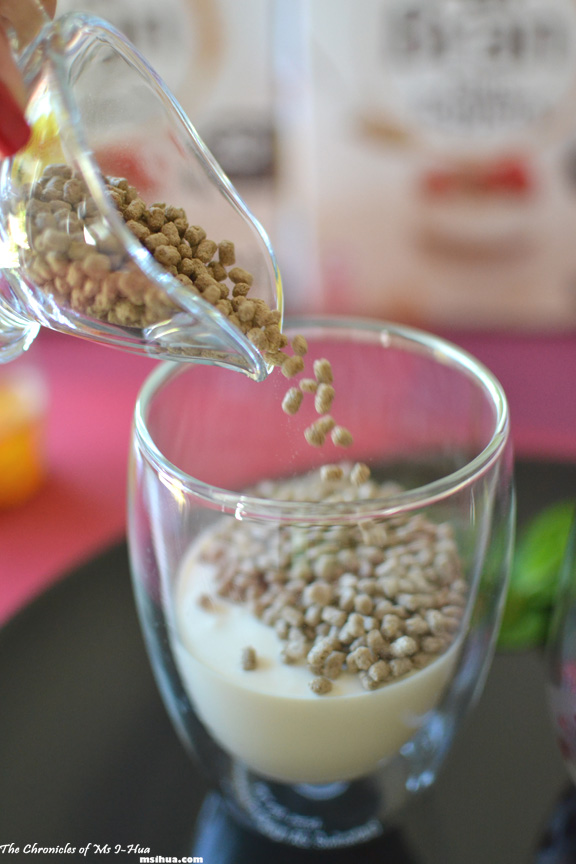 Sprinkle the All-Bran Fibre Toppers onto the low fat yoghurt and place the mixed berries on top.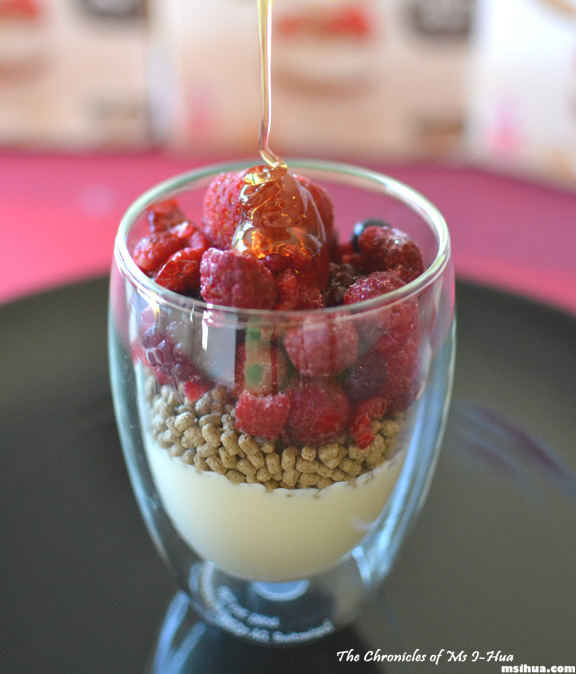 Drizzle with honey and garnish with the mint leaves.
Serve immediately to maintain the crunchiness of the All-Bran Fibre Toppers.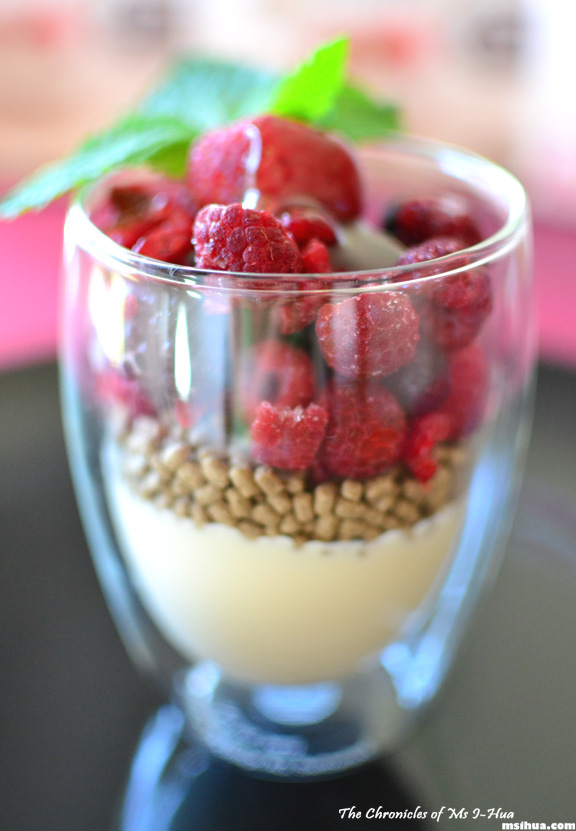 As a reminder, don't forget to read the key notes and facts with the Kellogg's All-Bran Fibre Toppers.
Key Messages:
All-Bran Fibre Toppers is a versatile way to add additional fibre to food you love. Enjoy one serving of All-Bran once a day for 7 days and see if you feel All-Bran new
1/2 cup provides you with 33% of your daily intake for fibre. The fibre from All-Bran Fibre Toppers comes from natural wheat bran, oat fibre and psyllium
All-Bran Fibre Toppers Nutritional Facts (quantity per serve):
 310 kJ (energy)
2.4 grams of Protein
0.4 grams of Fat
10.1 grams of Carbohydrate
4.9 grams of Sugars
10.0 grams of Fibre
Ingredients:
Wheat bran (52%), sugar, oat fibre (15%), psyllium (8%), maize flour, salt, colour (Caramel IV), rosemary extract, vitamins (vitamin E [soy], niacin, thiamin, riboflavin, folate) & minerals (iron, zinc oxide)
Contains gluten containing cereals and soy. May contain traces of tree nuts.
How much fibre do you take on a daily basis?