"I'm late, I'm late
For a very important date
No time to say ,"Hello, Goodbye!"
I'm late, I'm late, I'm late!"
(The White Rabbit, Alice in Wonderland, 1951)
Hey! Fancy seeing you down here! It's great in the rabbit warren isn't it?
That's how I felt as I trundled down the steps at the Rialto forecourt to meet Ashley.
Pretty bundles of twigs tied up and hung from the ceiling. Mysterious dark corners where I was expecting rabbits to pop out.
Bird cages, pots, water jugs on every nook and cranny.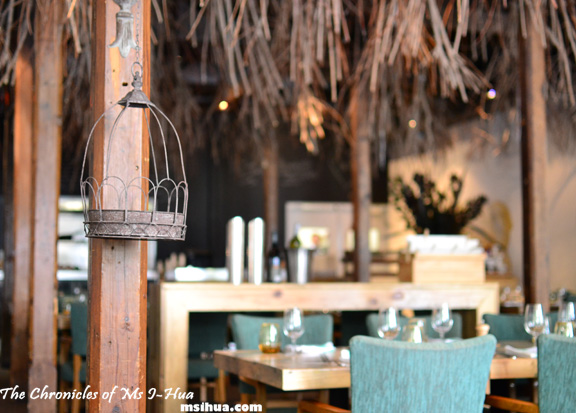 As we got to the table, Ashley and I immediately started taking pictures of the entire restaurant. Everything was just so damn pretty in here! We loved it!
I had always wanted to visit Hare and Grace (as with a lot of other restaurants) and never had the opportunity until the fateful day I received a text from Ashley asking me to, "please don't kill me!" for pulling out of our Maha rendezvous with the FPS (Fake Photography Society) gang.
Instead of killing her, I said, "Let's catch up the day before instead and try somewhere else!"
And that's just what we did.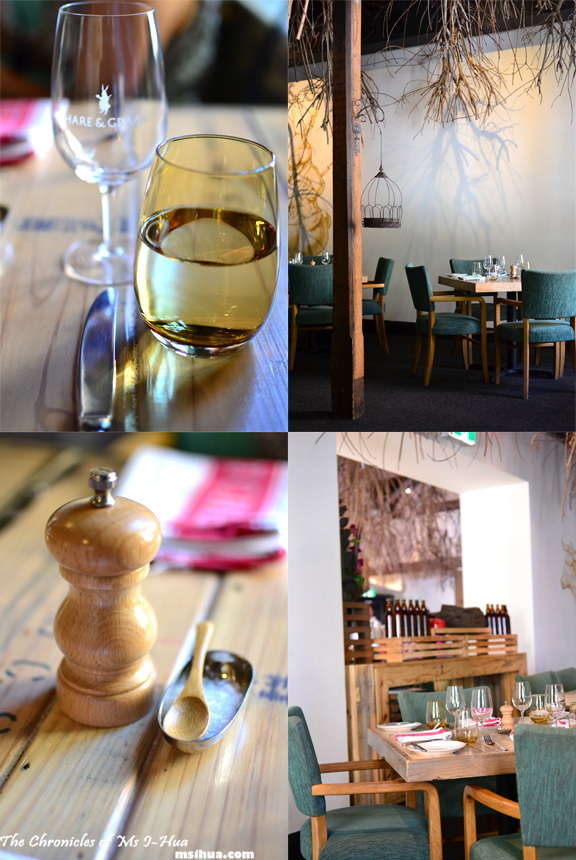 Since there were only two of us, and most options on the menu provided only had two items, we decided to go with everything on the menu and opt for the 3 course meal (for an additional $15 for the extra course).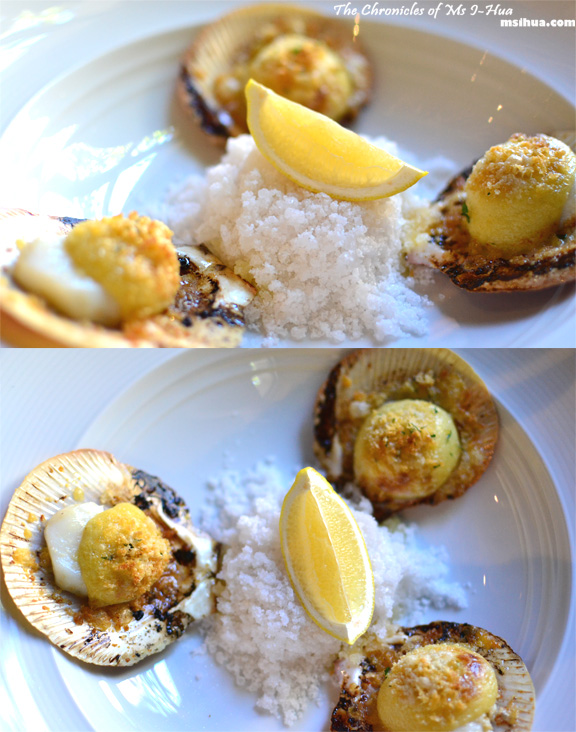 Composites – Entree (Option 1): 1/2 Shell Scallops, Garlic Aioli, Herb Breadcrumbs
This was my winning dish of the day. The scallops were juicy and sweet, and the garlic aioli was light, without being too overpowering as to kill off the freshness of the scallops.
So so so good!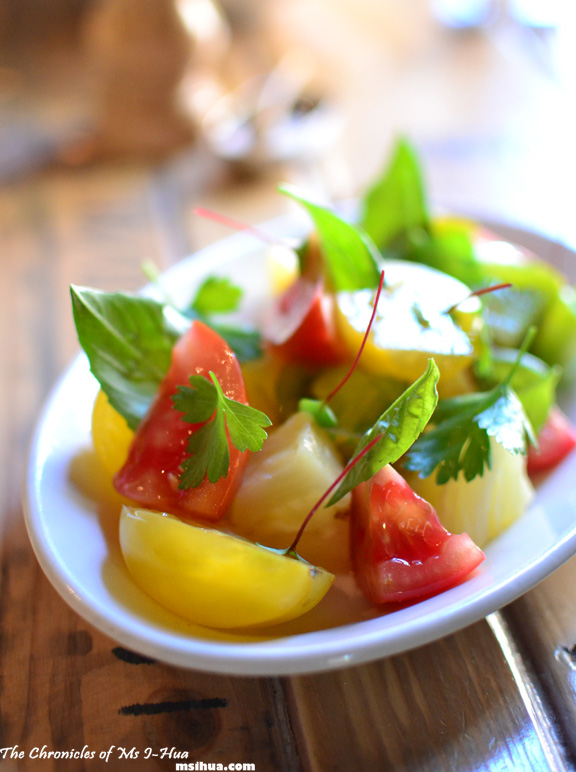 Composites – Entree (Option 2): Heirloom Tomatoes, Pineapple, Herbs, Chilli
Normally offered as a side at Hare & Grace, these tomatoes were an entree choice. We did love the sweet tartness of these juicy tomatoes.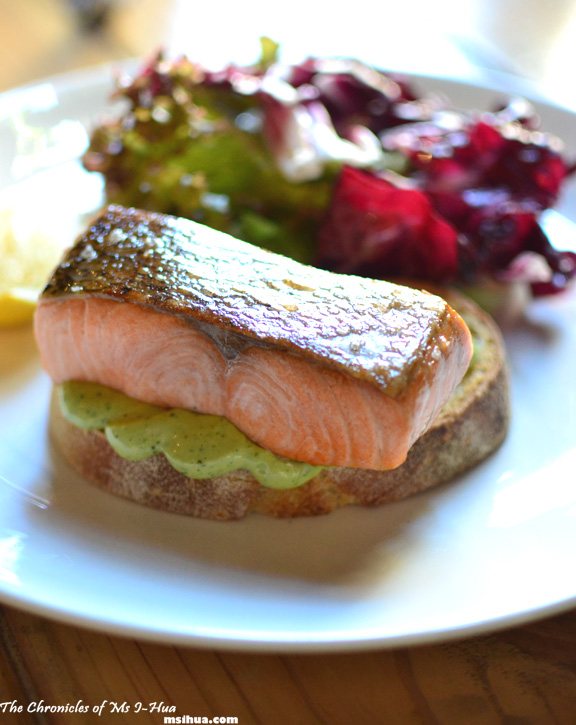 Principals – Main (Option 1): Fish of the Day (Salmon) on Toast
I had the rather lacklustre fish on toast. The salmon was again very fresh and cooked beautifully, but it was a dish I could have easily done at home. Upon further research, I also discovered that this dish isn't part of their normal menu and was only a special for the Express Lunch options.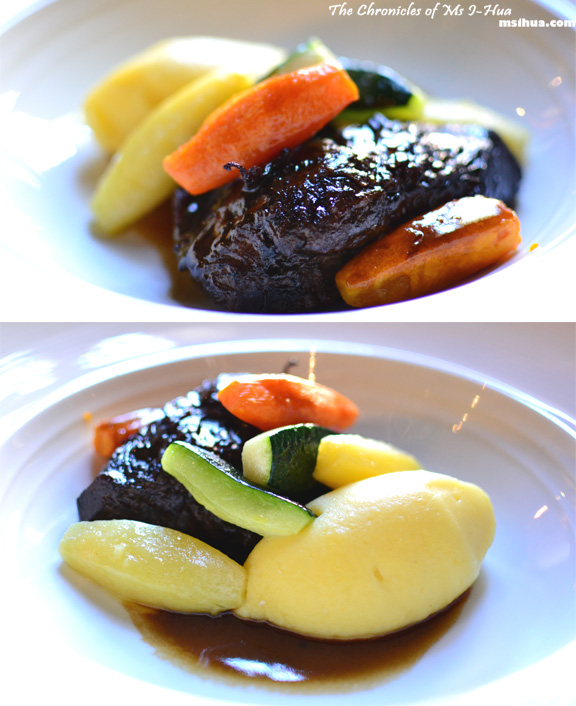 Principals – Main (Option 2): Beef Fondant, Seasonal Vegetables, Mash
Ashley had the beef, and enjoyed it. However, she did mention that it needed something more in the gravy. There was an element missing somewhere which she couldn't pinpoint.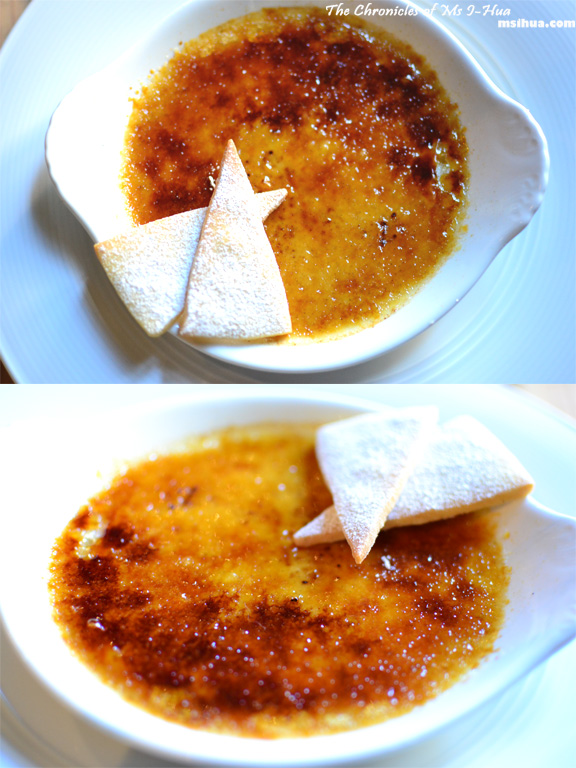 Sweet, Guilty, Vanity – Dessert (Option 1): Vanilla Creme Brulee, Sable
For desserts, we shared both of our options. My creme brulee was so good. With a beautiful and resounding crack, the vanilla creme underneath oozed perfection. The little shortbread biscuits that accompanied it was crumbly and melted in my mouth.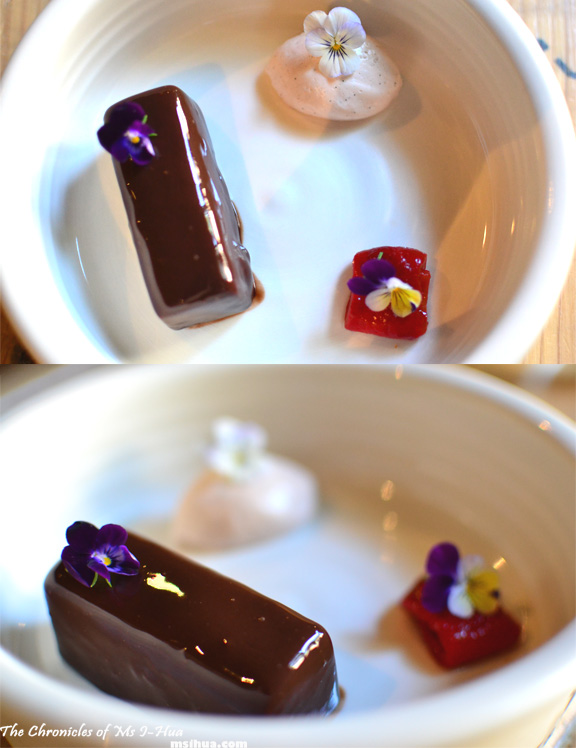 Sweet, Guilty, Vanity – Dessert (Option 2): Chocolate Bar, Sugared Peppers, Raspberry Chantilly
Ashley had the winning dessert of us two however. It took us a while to calm down and enjoy it though, as we were too caught up with the cuteness and prettiness of its presentation!
The sugared peppers were more smoky than sweet, which I liked and the raspberry chantilly was smooth and inviting.
The chocolate bar was a winner all on its own! Dark, heavy, rich and smooth… *dreamy*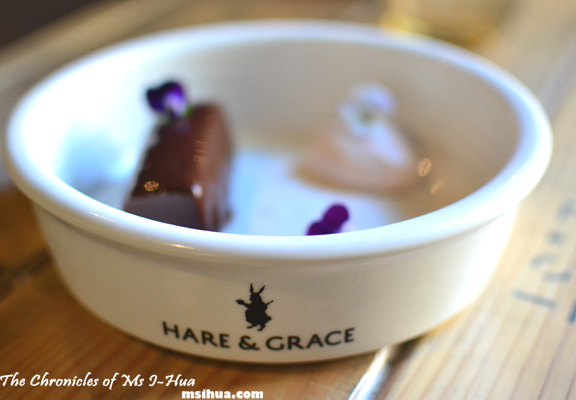 Despite the minor setback with our mains, I think we both did really enjoy the atmosphere, food and overall service. We were well looked after, water constantly refilled and were offered separate plates to use when they saw us sharing our food 🙂
I would love to come back and try their "real" menu so that I can get a better understanding behind the feel of Hare & Grace. If the scallop and the chocolate were anything to go by, I know I would be swooning for more 🙂
Please note: The Melbourne Food & Wine Festival Express Lunch (Choice of 2 courses, a glass of Victorian wine, and tea/coffee for $35 per person) has ended for 2012 and will return in 2013.
*Disclaimer: All food ratings & review are purely based on my own experiences and how I feel about the service, food and quality at the time of visit
Food/ Cuisine: Modern Australian
Dining Style: Casual Dining (Eatery & Minibar)

Opening Hours:
Lunch: Monday to Friday, 11:30am – 3:30pm
Dinner: Monday to Friday, 6:00pm – late
Address:
525 Collins Street
Melbourne VIC 3000
Tel: (03) 9629 6755
Website: http://www.hareandgrace.com/
Twitter: @HareandGrace
How to get there: