Firstly, I would like to thank Greg Malouf for bringing wonder and joy to Melbourne's palate. 12 long years! I take my hat off to you, *bow* and wish you all the best in your next journey over in the UK.
For everyone else, I can honestly say that this would be a great loss to the Melbourne dining scene.
So it was, that we arrived at MoMo at their penultimate dinner service at 6pm sharp as per our reservation.
We were greeted by the stoic Maître d' and his companions.
Although service was impeccable, and we were well looked after, we couldn't help but sense a little sadness from the waiters and waitresses on duty that night. They were smiling on the outside, but we could feel them crying on the inside.
I know. I can be a little melodramatic at times, so I checked with the Boy if he sensed the mood and he agreed with me, and said that he could sense it too 🙁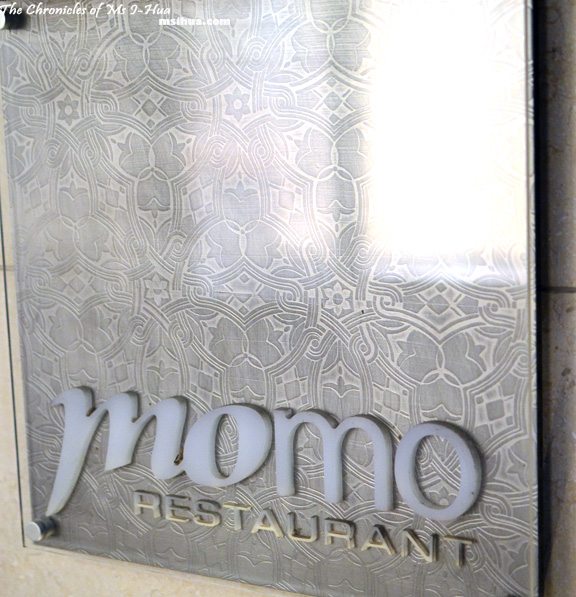 As we were escorted to our table, I couldn't help but admire the opulence and splendour that was the decor of MoMo.
The crystal lighting overhead, the chain mail-like purple curtain, the flowery wallpaper, and the cute little lamp adorning each table. Everything just screamed OTT, but it was true to the high standards and fine dining style of glamour that one would associate with Middle Eastern cuisine.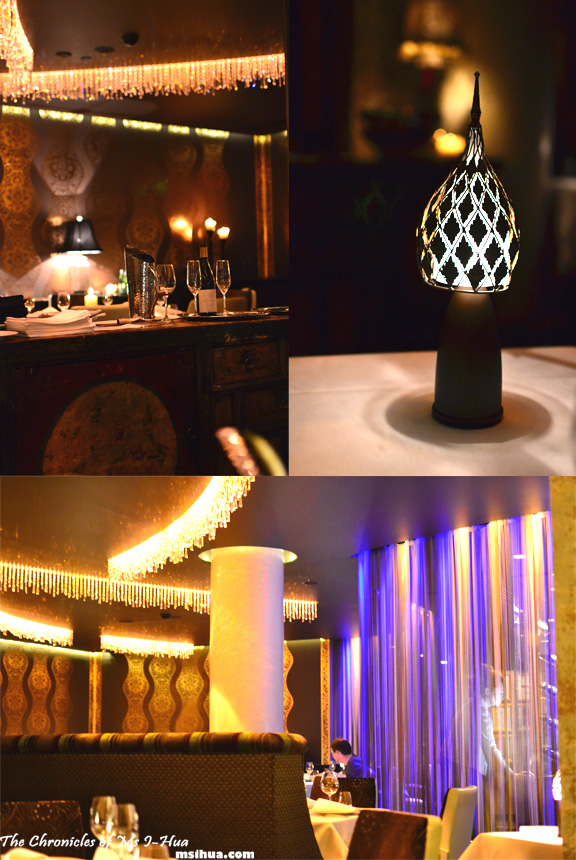 However, not letting that distract us, we promptly studied the menu and readied ourselves for our order as we were notified (when we made the reservation) that we would need to vacate our table by 7.30pm.
As we placed our orders, we worried that we may not have ordered enough, as our original plan was to go with the tasting menu (but due to time constraints, we thought better of it).
However, that worry dissipated after our entrees, as the food was all very rich and bountiful.
Every mouthful we ate, and every fragrant we smelt reminded us of our journey and visit to Egypt. It was akin to eating our way through memories of taste and smell.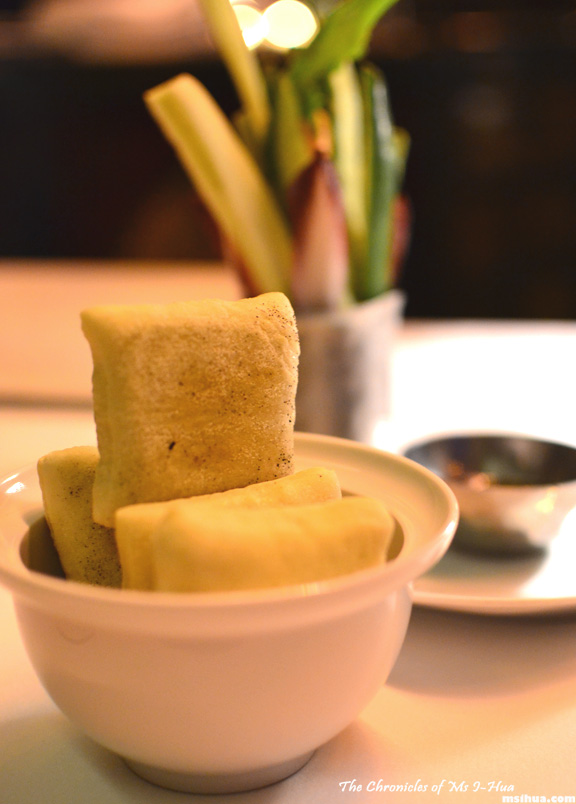 To start us off, we had some Jou Jou Bread, Seasonal Vegetables (with Za'atar Spice) and Australian Olive Oil with Pomegranate Molasses.
There were two things which I will sing highly about and would love to see more at other similar fine dining establishments.
Firstly, the pomegranate molasses was decadently rich and sweet, partnering really well with the olive oil, providing a great substitute to the usual aged balsamic vinegar.
The second aspect to this, was the amazingly soft pillowy jou jou bread. Seriously, if it was a pillow, I'd use it and hug it and it'd be my favourite pillow in bed.
It was so fresh and warm. Everything bread should be *sigh*. T'was good bread 😛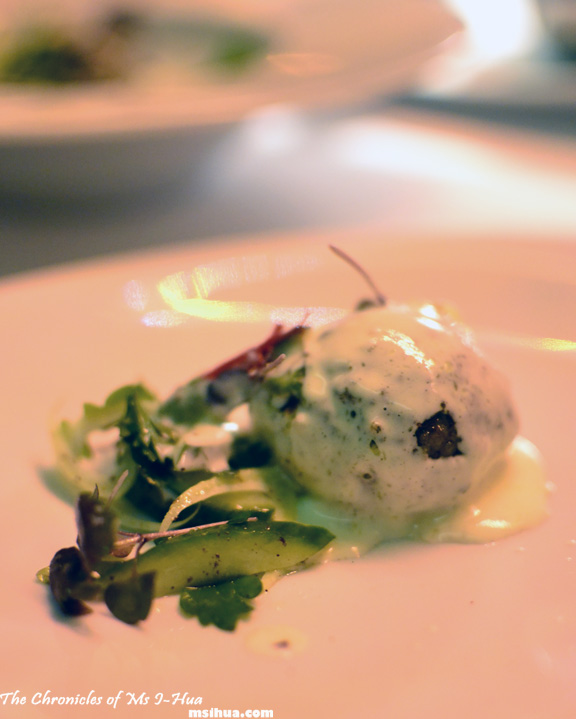 We decided to share an entree from the specials menu, Lamb Kibbeh in a Preserved Lemon Butter and Whipped Feta Sauce ($28.00). The kibbeh was nicely done and still quite crumbly when put to the fork.
The whipped feta sauce and preserved lemon butter again provided a slightly different take to the usual minted yoghurt that kibbeh is traditionally served with.
It was lip-smackingly good, and I used a whole jou jou bread to wipe up the remainder of the sauce.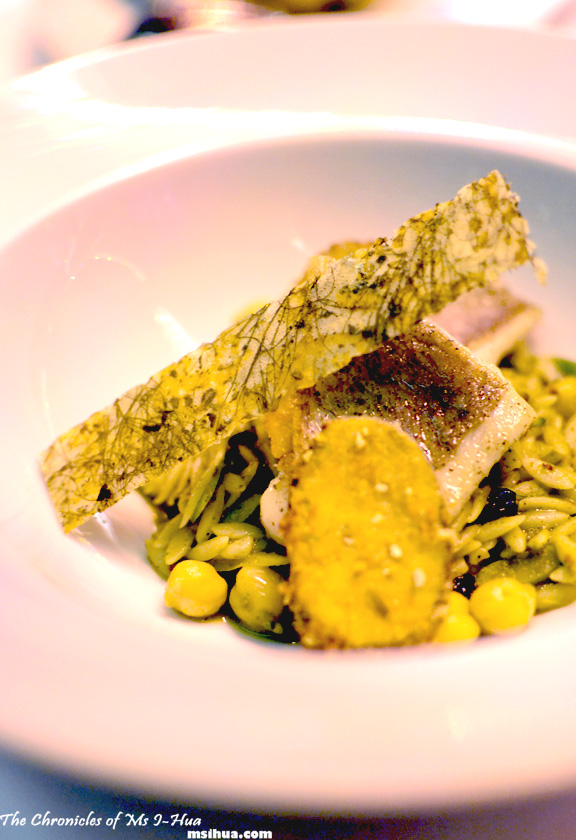 The Boy had the Baby Snapper Fillets, Orzo Pasta, Zhoung, Brocolini and Eggplant in Parmesan – Pepita Crumbs ($48.00) which he absolutely loved.
Snappers were perfectly cooked and went extremely well with the barley-like orzo pasta and chick peas.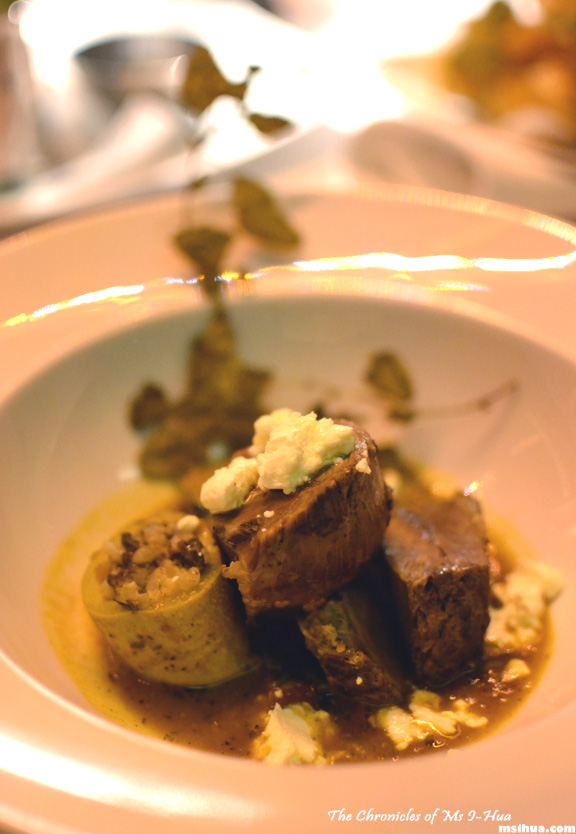 I think I ate too much jou jou bread, as for when my main arrived, I gasped in dismay! The serving was humongous, I was going to have a tough time finishing my meal!
I had the Slow Roasted Lamb with Middle Eastern Sweet Spices, Stuffed White Zucchini Cooked in Tomato and Feta ($49.00). The meat was so tender and full of flavour.
I especially love the little bits of melted feta nesting under the tender lamb in this dish.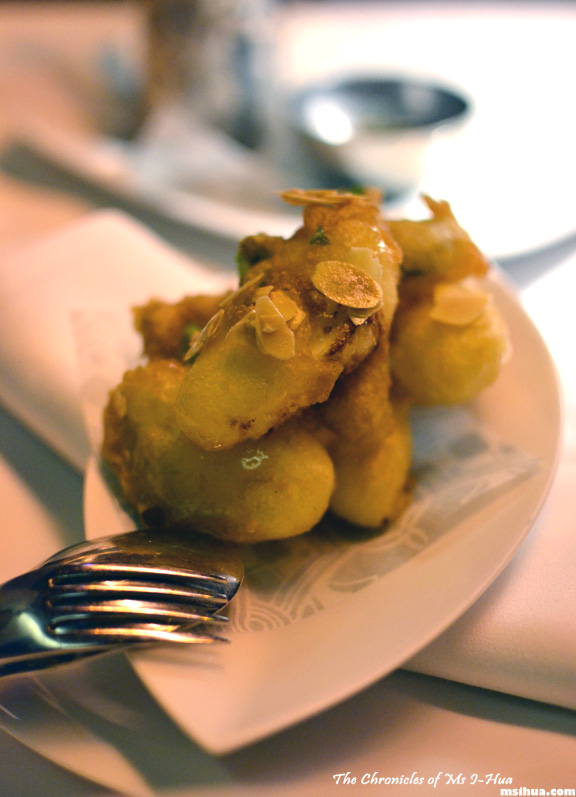 Ever since I saw this on the menu, I knew I had to order it. So for our sides, the Boy and I shared the Goat's Milk Haloumy Fritters, Almonds and Leatherwood Honey ($19.00).
The fritters were gratifyingly good. Creamy, thick pieces of haloumy, with superbly crispy batter drizzled with honey. So satisfying and sinful.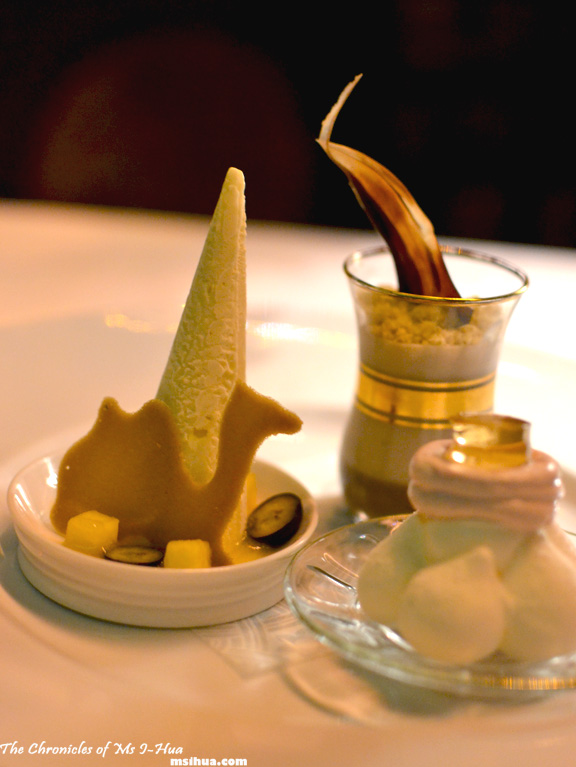 As you can imagine, by this stage we were both ready to pop! It probably was a good thing that we didn't end up with the tasting menu idea. We wouldn't have made it out of there.
But it was also amazing how quickly I was able to feel the need for dessert, once I saw the waiter bringing it to the table.
MoMo Dessert Mezza ($37.00) of Chocolate Mahallabia – Lebanese styled milk chocolate pudding, Arabic coffee cream, barazak biscuits; Pavlova stuffed with Turkish apple tea jelly, vanilla bean labneh and crushed raspberries; and Frozen Orange Turkish Delight Parfait, peaches and puree, leatherwood honey wafer.
My favourite of the lot was definitely the Lebanese chocolate pudding. So good!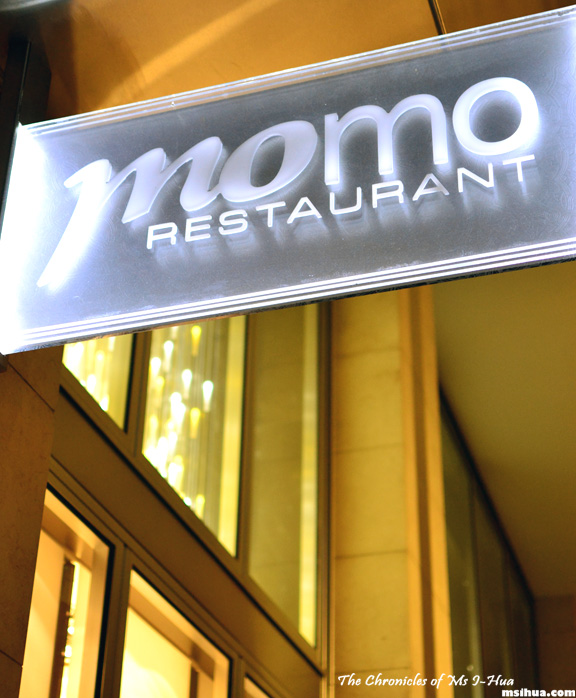 As we groaned our way through the last rich mouthful of dessert, we thanked our waiter for his service that night, and proudly told him, "See, we made it in time!"
To which he smiled and replied, "It's okay, we could have put them somewhere else and entertained them whilst you finished up".
And so you have it, folks! We made it to MoMo just before they closed their doors to Melburnians.
We walked out of the restaurant, tremendously gratified, but also feeling a tad sad in saying goodbye.
*Disclaimer: All food ratings & review are purely based on my own experiences and how I feel about the service, food and quality at the time of visit
Food/ Cuisine: Modern Middle Eastern
Dining Style: Fine Dining
Overall Food Rating (Based on the Dining style): 8/10
Restaurant ambiance: 8/10
Service/ Attitude: 8/10
Value for money: 7.5/10
Opening Hours: [Restaurant now closed]
Dinner: Tuesday to Saturday, from 6:00pm
Address:
Lower Plaza Level
123 Collins Street
Melbourne VIC 3000
Tel: (03) 9650 0660
Website: http://www.momorestaurant.com.au/
How to get there: