I come from a culture where sharing food around the table is the norm. Sometimes, we would often share and eat around the floor, sitting on mats. Cutlery would be optional as we delved into rich curries and chilli paste with rice using only our God given utensils.
When I first moved to Australia, I stayed at the little community of Churchill in Gippsland (uhuh, country town!) and was surrounded by so many beautiful local Aussies who were so keen to show me that they too loved Chinese food. Imagine my shock and horror when we went out to the local Chinese restaurant and everyone ordered a dish each and ate the dish in its entirety (one person to one sweet and sour pork, lemon chicken, salt and pepper tofu) without sharing.
I remember once when my Malaysian housemate and I were making Chrysanthemum tea in the communal kitchen over a big pot, when two of our Aussie housemates came in and looked at us and promptly ran out to the lounge room shouting, "Come See! Come See! I-Hua is boiling flowers! SHE'S GONNA MAKE US DRINK IT!". I had to give it to them though, those boys would try anything we cooked up in the kitchen. Even eating pan fried SPAM as well as green bean soup (a Chinese dessert – mung bean soup) before promptly declaring if they liked it or disliked it.
I wonder where they are now? (Hello Tom and Andy! *waves*)
It's so nice to see that these days, "food sharing" is now a norm at a lot of restaurants. Indeed, it has become a trendy thing for most to dine out and have tapas styled dining.
When we first visited South Wharf Promenade for our progressive dinner and The Sharing House was brought to our attention, the Boy and I just knew we had to make a return trip to try their savoury items.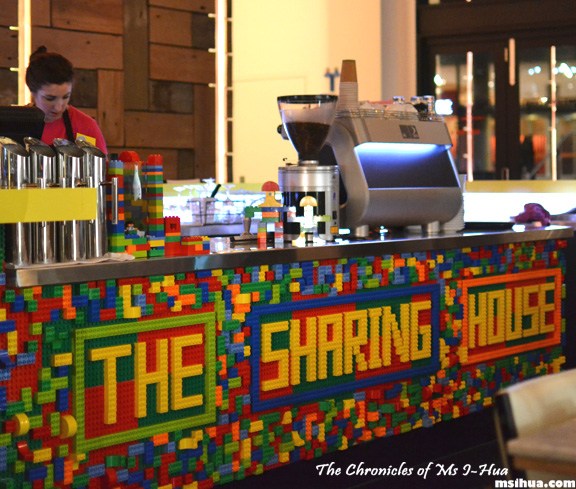 The last time we were here, it was cold, wet and windy. The Sharing House was the last stop of our progressive dinner and we only managed to try their desserts.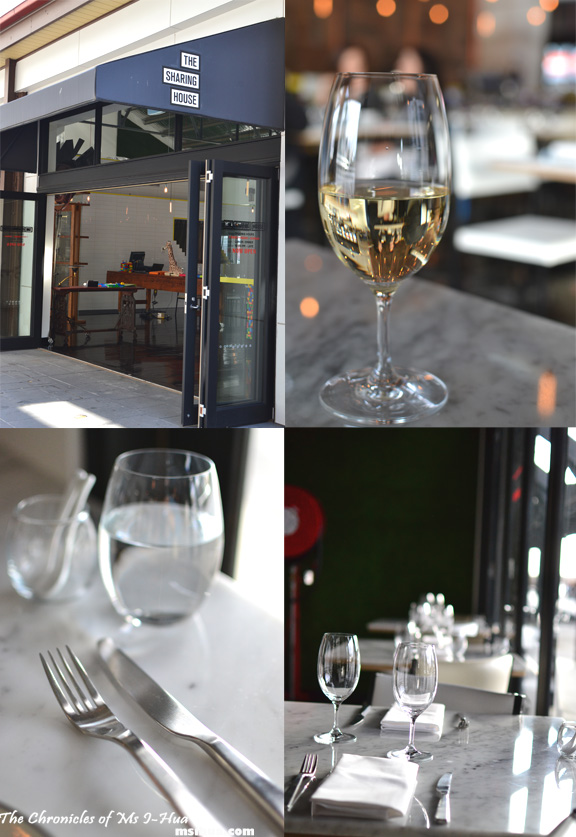 On our return visit, it was as though the seasons had changed, from winter to late spring. In truth, only a week had passed us by. Such is the insane Melbourne weather.
With the sun out and an entire Sunday laid out free to us, the Boy and I returned to Akachochin for lunch (to be blogged about soon) and The Sharing House for dinner.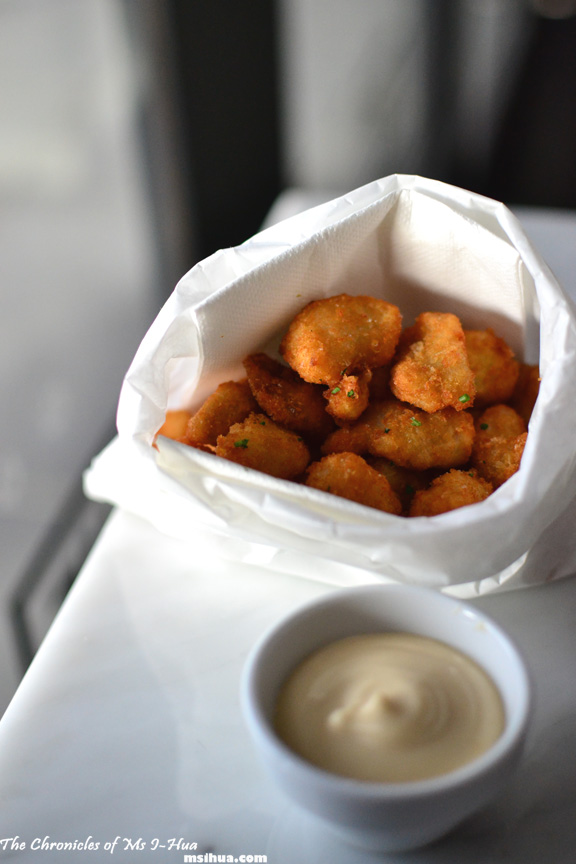 Having heard from Thanh that this was a dish not to be missed, I had to order the Rabbit & Cauliflower Popcorn ($12.00) – Confit rabbit and cauliflower in Parmesan breadcrumb served with a roasted garlic aioli.
Indeed, this dish was so addictive I could just picture myself sitting on the couch, PJ's on and a whole bag of these beautiful "popcorn". Just me and the popcorn, no one else.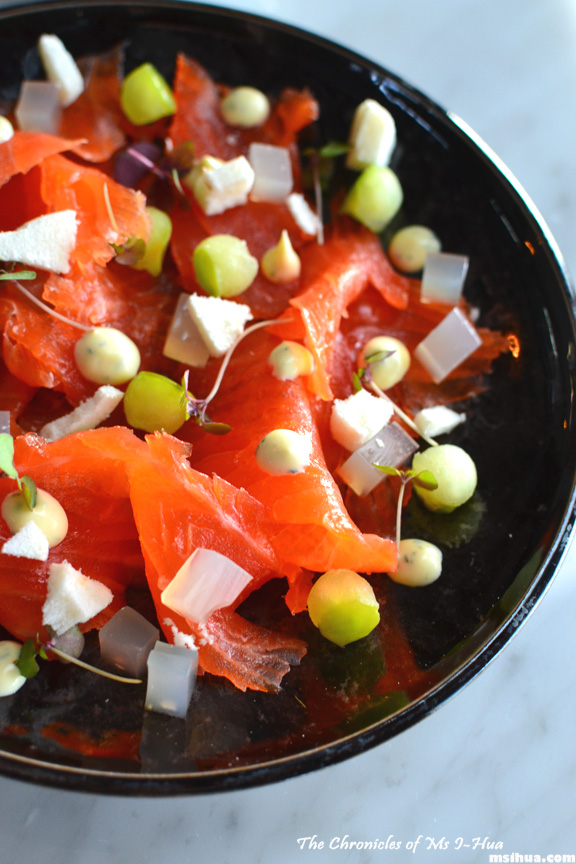 We next ordered the Gravlax ($12.00) – Ocean trout cured with apple vodka, various textures of apple and mustard creme fraiche. The Boy particularly loved this dish for all the different elements and textures of the humble apple.
The salty ocean trout when paired with the sweetness of the dehydrated apple, apple jelly and apple spheres made a perfect match.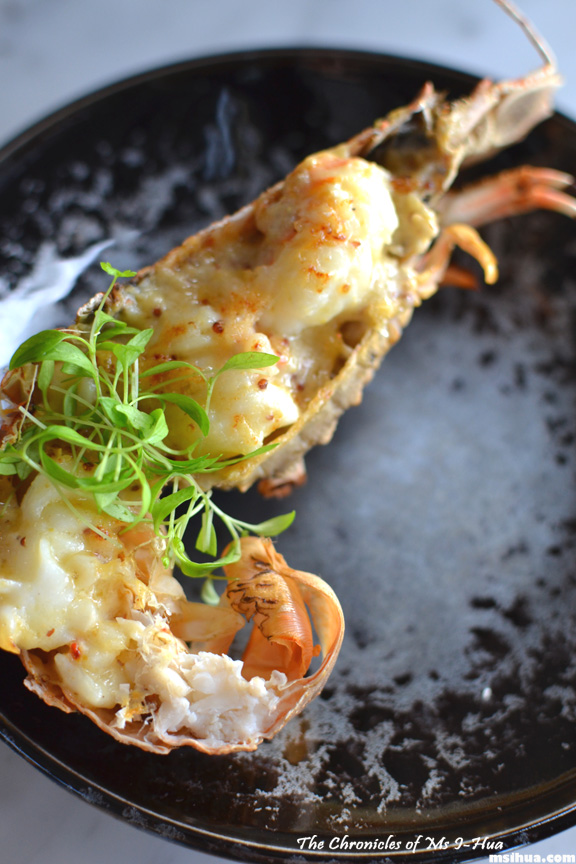 Okay, let's be honest. The main reason we ordered this was because I wanted to say THERMIDOR!!!!! What is it? The Thermidor ($19.00) is a single Morton Bay Bug tail roasted in the shell with dijon mustard and gruyere cheese.
The second reason we ordered it, was that the Boy likes his sea bugs very much. He is very much a big fan of lobster-like sea creatures and will when the opportunity present itself order them.
At this point, I was filling up (I know it doesn't seem like a lot of food, but we'd only finished our brunch 3 and a half hours ago).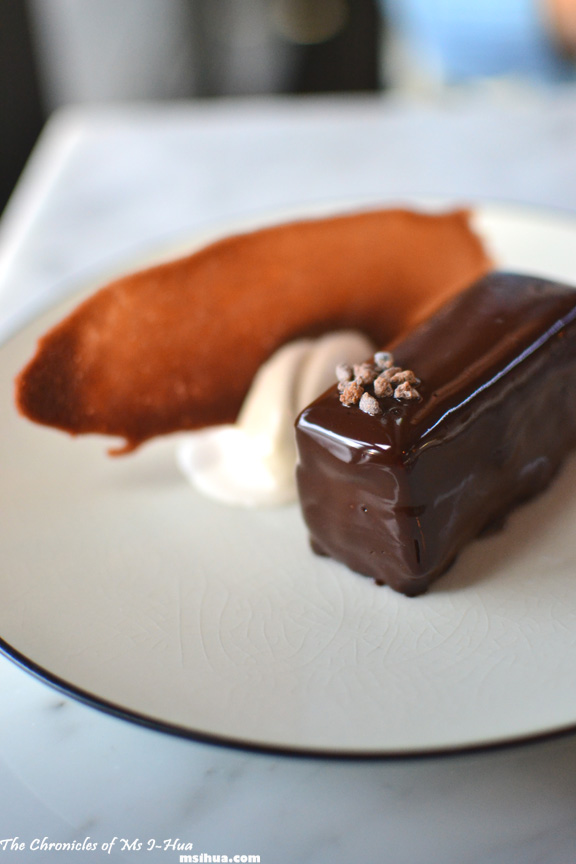 We perused the menu for the dessert items. Scouring it for the ones we missed the last time we were here.
Obviously, I had to order the Chocolate Delice ($14.00) – Chocolate mousse, salted caramel, vanilla ice cream which was amazing!
Don't be fooled by its humble appearance. The chocolate delice is anything but. If you do have the chance to taste this dessert at The Sharing House, make sure you watch out for the surprise encased within.
I'm not going to give it away 🙂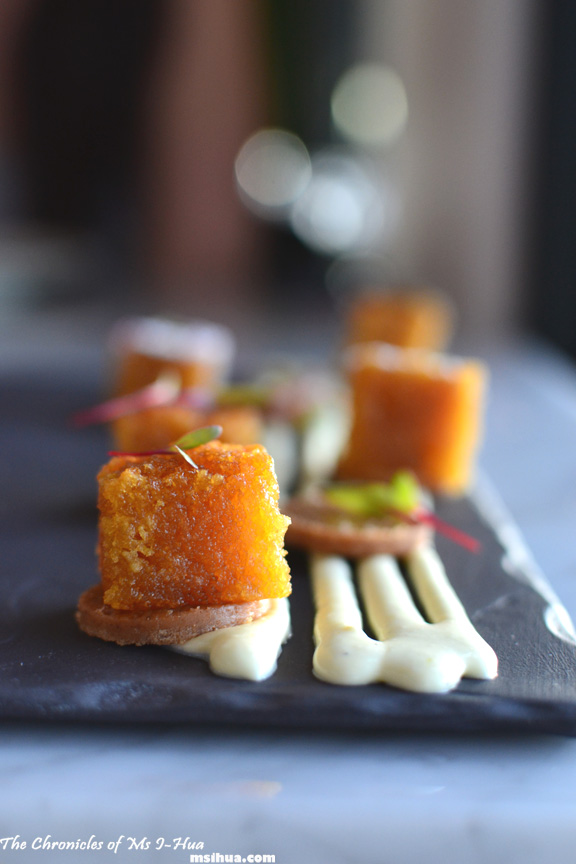 Having had nearly all the items on the dessert menu, we had to order the last one to make it a complete set.
So we did. Just for you my dear readers (oh the things I do for my blog *heavens*!). We ordered the Classic Treacle Tart ($12.00) – with Meander Valley clotted cream, which we both decided as far as tarts go at The Sharing House, this wins hands down.
It was rich, with the texture quite akin to a thick fruit jam (think the pineapple filling of a pineapple tart). So so so good and sweet.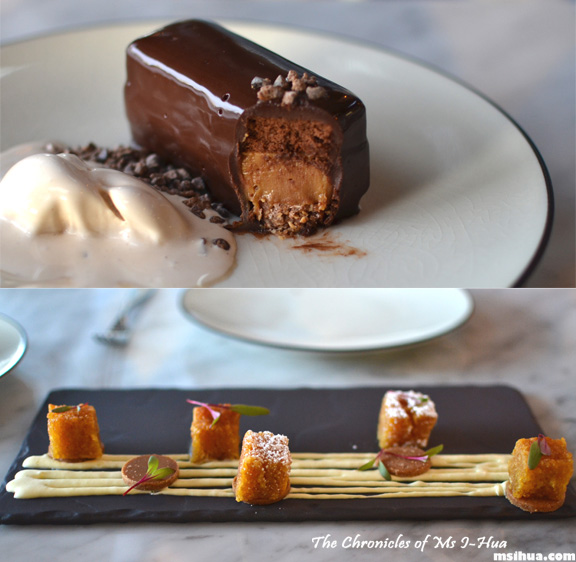 Again, I couldn't help as I spooned the last treacle tart into my mouth, on planning my next visit back to The Sharing House.
We did try two weeks later, but the place was full and packed to the brim! They are getting very popular (good for them, bad for me ;( )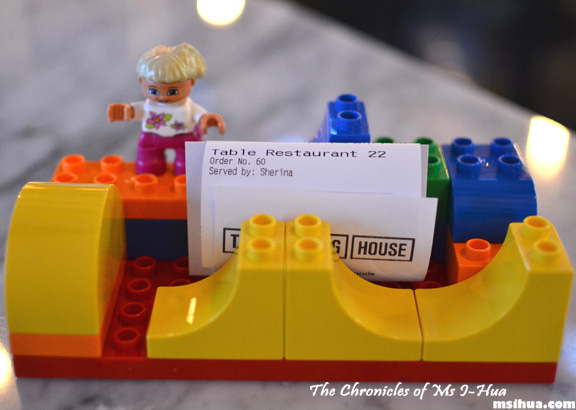 I can't stop gushing about how much I love this place. I think a lot of it has to do with the quality of the food (ex-VdM chef, c'mon) and the bright and fun colours of the Duplo blocks that makes you just want to have a good time!
Top Tip!
Make sure you book, as I've heard that majority of their weekends are fully booked out at this stage!
I can't wait to head back soon!
*Disclaimer: All food ratings & review are purely based on my own experiences and how I feel about the service, food and quality at the time of visit
Food/ Cuisine: Modern European
Dining Style: Restaurant
Overall Food Rating (Based on the Dining style): 8/10
Restaurant ambiance: 8.25/10
Service/ Attitude: 8/10
Value for money: 8/10
Opening Hours:
Monday to Sunday, 12:00pm till late

Address:
Shed 6
35 South Wharf Promenade
South Wharf VIC 3006
Tel: (03) 9245 9800
Twitter: @TheSharingHouse
Website: http://www.thesharinghouse.com.au/
How to get there: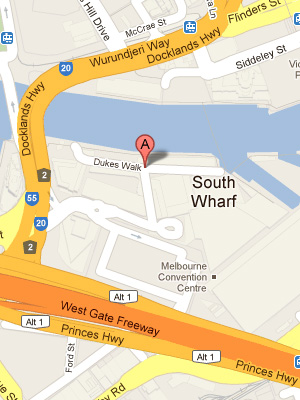 Parking (*prices correct at the time of publishing):
Tram: Take trams 109, 96 or 112 and get off at stop 124A (Melbourne Convention & Exhibition Centre / Crown Casino) on Clarendon Street. Walk along the riverside, past the Melbourne Convention & Exhibition Centre until you see South Wharf.
Train: Stop at Southern Cross Station and catch any of the trams above.