I was recently invited along to a media and blogger dinner at the new-ish Paul Mathis establishment in Melbourne CBD. Paul Mathis has been a busy bee, opening up 6 new dining places in the last 6 months (two of which I've been to, The Sharing House and Akachochin).
The name "Henry & The Fox" was not named just after the famed children's story as most would conclude, but rather, after Paul's PA and the head chef running this restaurant as well.
Henry is the last name of Paul's PA and Fox belongs to Michael Fox's last name, The Age Good Food Guide's Young Chef of the year for 2011.
With all that in mind, my expectations as I arrived were definitely very high.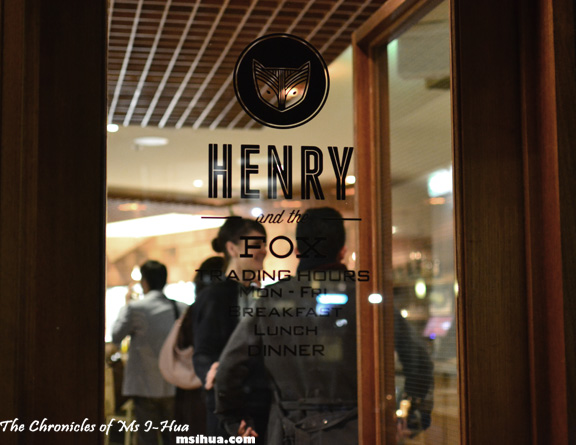 Tucked away at the back of 500 Collins Street (or the Saxons Training facility), lies this Fantastic Mr. Fox (see what I did there?) establishment.
Getting there wasn't too difficult for me, as I work at that end of town, but if you are thinking of driving, parking can be quite a bummer. My advice would be to take public transport, it's much easier and more affordable, a better option if you were thinking of having a few drinks as well.
Henry & the Fox does a Happy Hour at their Bar Aperitivo from 4pm-6pm every weeknight with complimentary canapés and hors d'oeuvres served with any alcoholic beverage purchased 🙂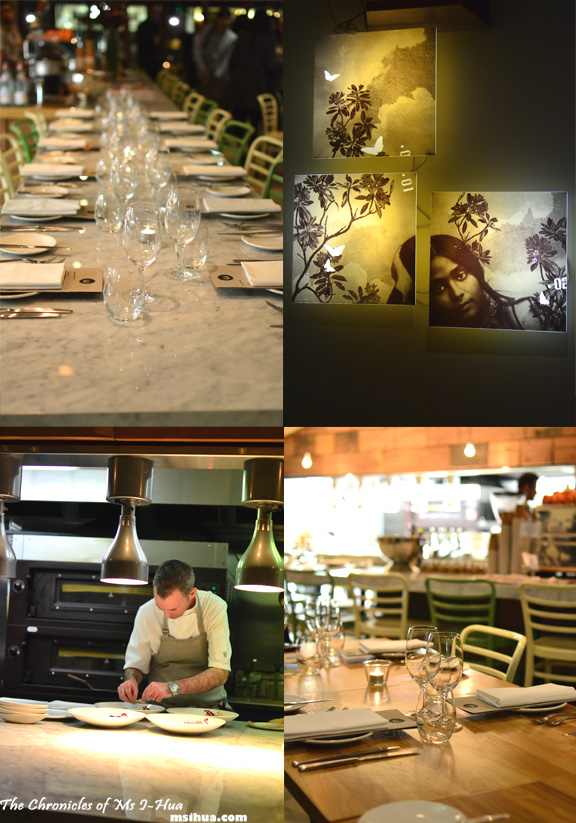 The decor at this place is modern and chic, with wide open spaces and large paneled glass windows for natural lighting.
It is located at a very quiet end of Melbourne CBD, so I'm hoping business picks up for it, as the food was generally good and the environment very pleasant.
As we walked through the doors of the establishment, sommelier Sophie Johnston greeted us with smiles and a glass of bubbles.
We could see Michael busily plating up in the open planned kitchen as well.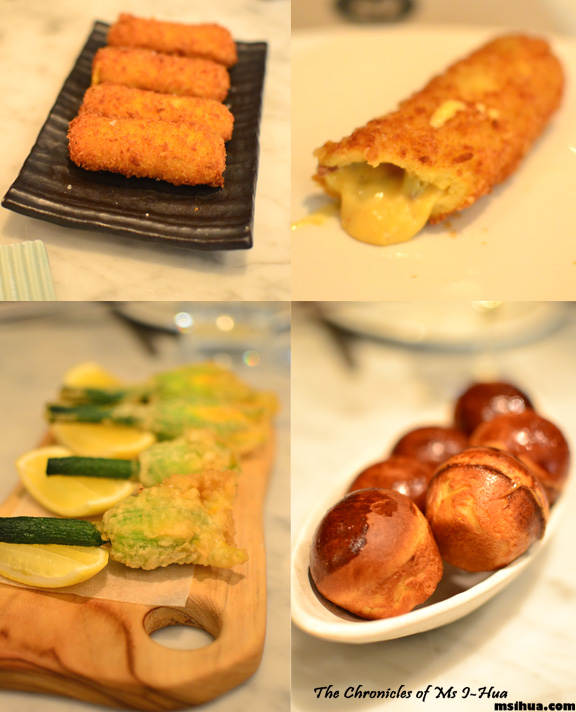 Entrees: Jamon & Manchego Croquettes; Fried Zucchini Flowers; and Toasted Brioche (for Rabbit Terrine)
For entrees, we were spoilt for choice with the sharing plates that were flying out of the kitchen. The croquettes were one of my favourites. It was crumbed beautifully with the cheese oozing out of the encased shell. So good.
The zucchini flowers, when cut open revealed ricotta cheese, peas and fresh mint.
The little cute brioche balls you see pictured (above) at the bottom left, was to go with the Rabbit Terrine pictured below. It was soft, fluffy and pillowy.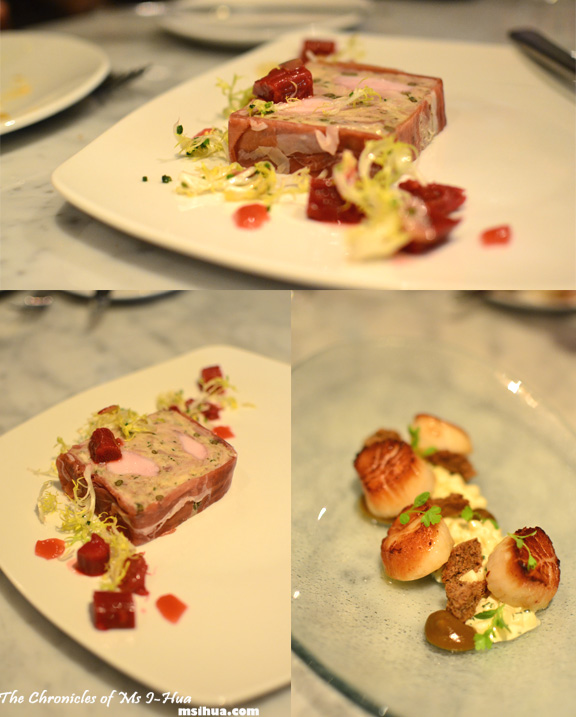 Entrees: Rabbit Terrine, Rhubarb Compote, Salad and Toasted Brioche and Seared Scallops, Apple & Celeriac Remoulade, Caper & Raisin Puree, Toasted Pumpernickel
The terrine wrapped in jamon was a thing of beauty. I've always wanted to make a terrine, but it requires far too much effort and patience which I do not have.
The scallops arrived with homemade pumpernickel and I particularly liked the interplay of textures between the puree and remoulade.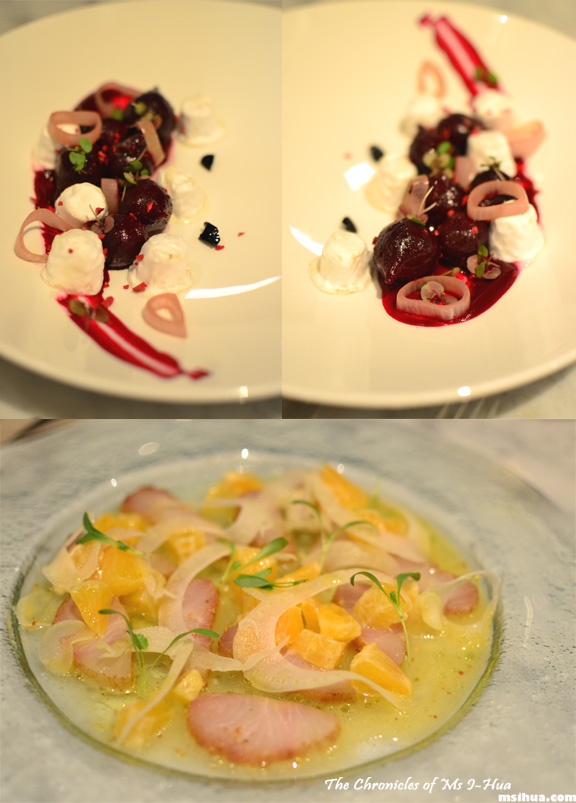 Entrees: Goats Cheese, Roasted Baby Beets, Pickled Shallots, Shiso, Raspberry Vinegar and Cured Kingfish, Coriander & Fennel Seeds, Mandarin, Coriander Shoots
One of the most unique dishes (to me) was the way the goats cheese was presented, in meringue forms. It was just too cool and had me planning my next dinner party immediately with thoughts of all food items I could turn into meringues to trick my guests!
I was quite intrigued with the combination of the ingredients that came with the cured kingfish. It was a bit Middle Eastern and a bit Asian, but with a western take on it, leaving my palate a tad confused.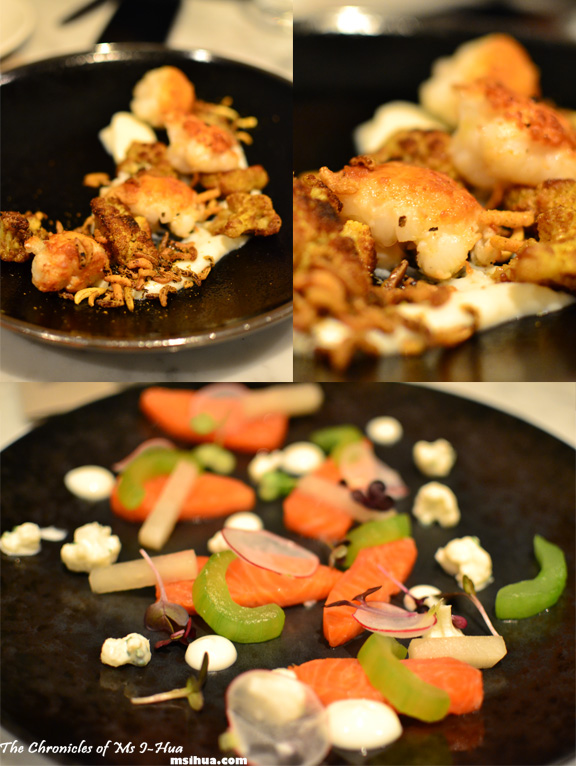 Entrees: Roasted Moreton Bay Bug Tails, Cauliflower Puree, Spiced Cauliflower and Confit Ocean Trout, Salted Cucumber, Radish, Horseradish Cream
The bug was beautifully cooked, but was let down with the over-seasoned cauliflower pureé and I found it a bit too salty for my taste. But I do find a lot of things very salty these days as I've all but wiped out salt from my cooking (or to a very minimal level)!
The ocean trout however, was beautiful and I couldn't help but compare it to the gravlax dish at The Sharing House.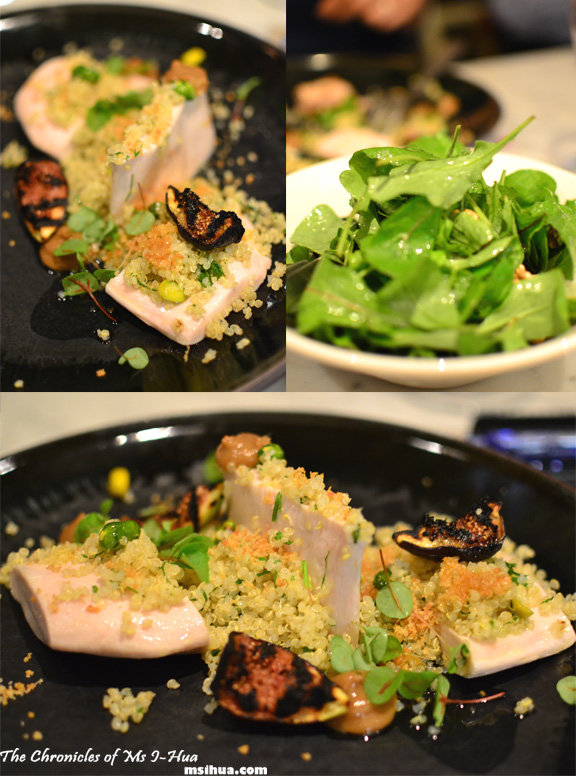 Mains: Poached Chicken Breast, Quinoa, Pistachio, Fig, Sorrel and a side of Salad of Rocket, Pear, Roasted Walnuts
Although the mains were alternately dropped, food lovers being food lovers, I divvied up my portion of the chicken with the two people next to me and exchanged through barter for some pork belly and fish. Winning arrangement! *high fives*
The poached chicken was cooked beautifully, maintaining a tender and juicy flesh. However, it was after all only poached chicken and I didn't find it too exciting.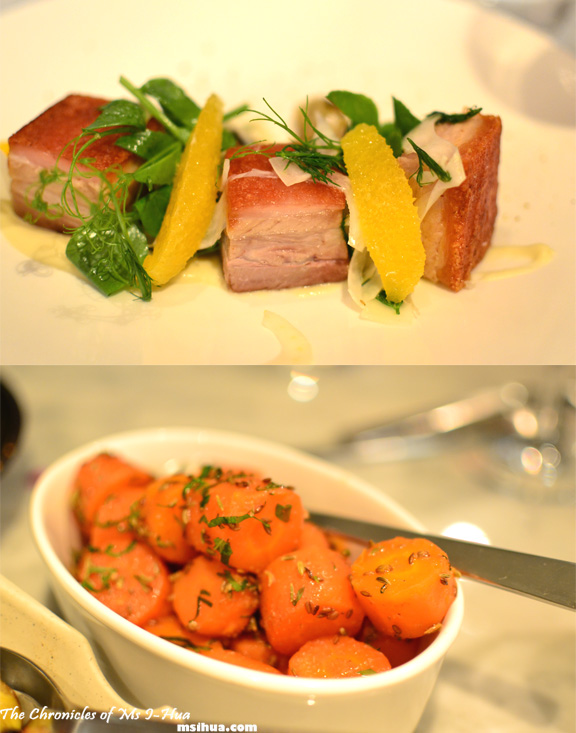 Mains: Crispy Pork Belly, Fennel, Dill, Orange and a side of Spiced Carrots
I tried some of Michael's pork belly and although I loved the crispy crackling it came with, I found it too salty! (What is happening to me?)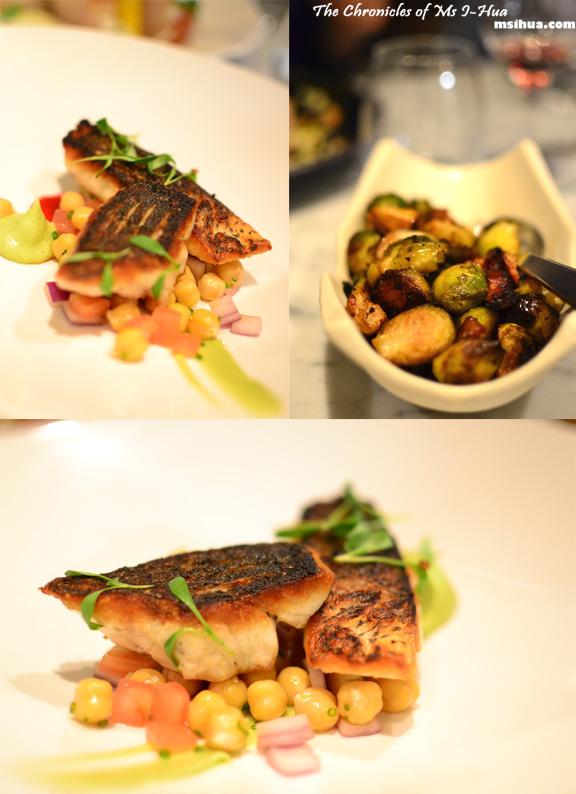 Mains: Mulloway, Avocado, Chickpea, Chorizo, Red Pepper and a side of Brussel Sprouts, Smoked Bacon, Chestnuts
But all was not lost with the mains, as I tried some of Allan's fish. Heck, I all but swiped the fish out of his plate to replace with my chicken *ninja skills*.
The fish was cooked brilliantly and was so well marinated it didn't really need any other flavours to go along with it. It's a winner for me.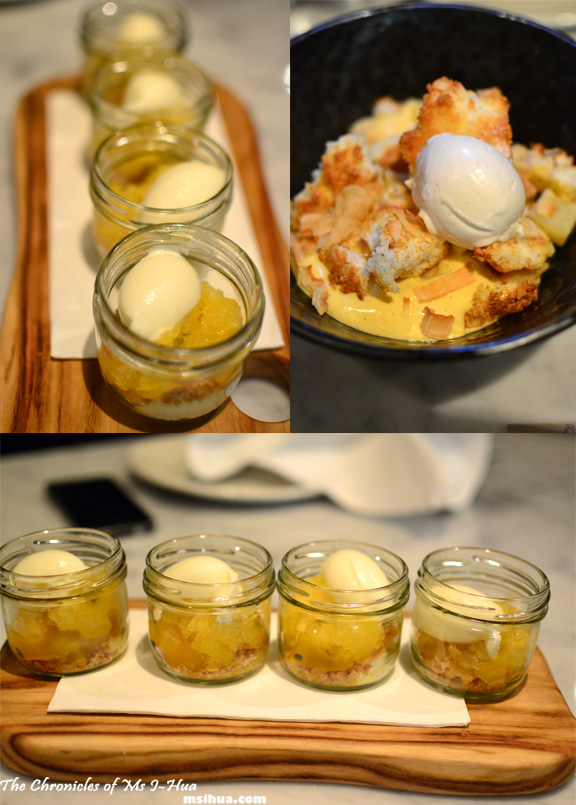 Desserts: Passionfruit Cheesecake, Passionfruit Mousse, Jelly, Granita, Yoghurt Sorbet and Quince, Pear, Custard, Coconut Crumble, Coconut Ice Cream
Then, it came time for desserts! What? You didn't think we have had enough to eat yet, did you?
My favourite dessert of the night (and dish) hands down went to the delicious deconstructed passionfruit cheesecake in a jar.
I am not usually a fan of cheesecakes (too rich) or passionfruits (too many seeds) in general, but I couldn't get enough of this dessert. Everything yelled "Delicious", the flavours were very well balanced and thought of.
The custard dessert didn't excite me as such, but certainly got Bryan ooh-ing and ahh-ing with every spoonful (to each its own!).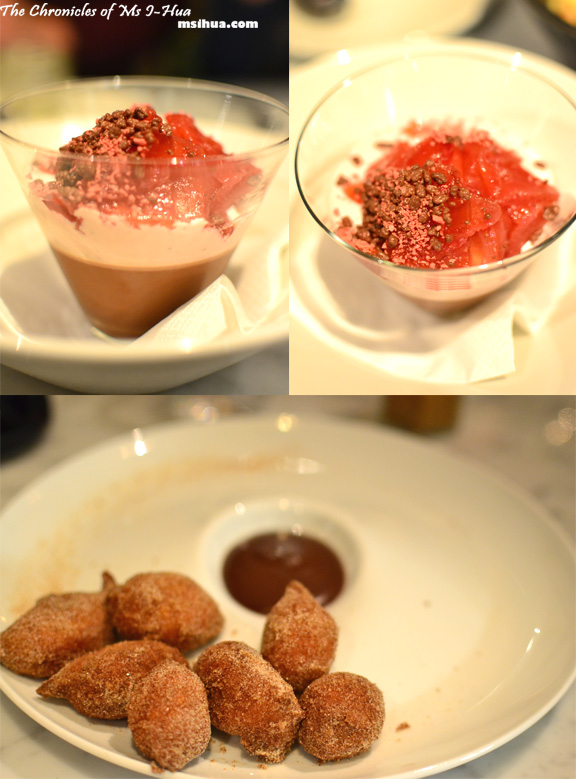 Desserts: Chocolate Panna Cotta, Strawberry Cream, Strawberry Sorbet and Doughnuts with Chocolate Sauce
I was hoping that there would be some chocolate desserts to end the night with a bang. I even lamented sadly to the staff, "Oh, let there be chocolate!" but they played coy with me and indicated that it wasn't going to be my lucky night.
Ooooh the sly foxes, didn't they grin in delight as I squealed in excitement when not one, but two chocolate desserts appeared in front of me!
I very nearly stole the entire chocolate panna cotta right from under my companions' noses but common courtesy prevailed in the end. But I almost crooned with pleasure when the rest were distracted by the fluffy Spanish doughnuts and the pear and quince custard as I quietly scooped a few more spoonfuls of the chocolate panna cotta into my mouth 🙂
Despite the rather lacklustre main dishes, Henry & the Fox came out with flying colours with the entreés and desserts.
As this was only a snapshot of what the kitchen does, I can't wait to go back to try out more of their menu!
Henry & the Fox also serves breakfast from Monday to Friday from 7.30am to 11am, so head on down for a good breakfast before your start your day slaving away at your desk 🙂
[Ms I-Hua dined courtesy of Henry & The Fox and Gun Communications]
*Disclaimer: All food ratings & review are purely based on my own experiences and how I feel about the service, food and quality at the time of visit
For other recaps of that night, please visit:
Iron Chef Shellie
Off The Spork
Nouveau Potato 
Food/ Cuisine: Modern Australian
Dining Style: Restaurant

Opening Hours:
Monday to Friday, 7:30am to 10:00pm
Closed on Saturday & Sunday
Address:
525 Little Collins Street
Melbourne VIC 3000
Tel: (03) 9614 3277
Website: http://www.henryandthefox.com.au/
Twitter: @HenryandtheFox
How to get there: