If you've been to Spotswood, you've presumably paid a humble visit to the great Duchess of Spotswood.
If you haven't, why have you not?
No longer is she the hot young mistress come to claim her right to the duchy, but rather, she is now a lady of distinction and class. I'm likening her to the one with the name of Middleton. Elegant and sophisticated (can you tell I am a fan?). Although I'm sure no duke would mind if her younger party sister came in for a visit 😛
One long forgotten weekend, when Crazed Disney Angle Babe was down for a visit, we made a quick pit stop at the Duchess together with Adrian for breakfast.
Breakfast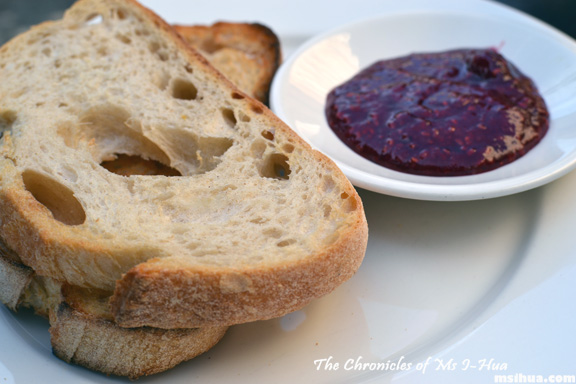 For some reason, Adrian was on some apparent diet and decided to keep it simple with an order of Toast N' Jam ($7.50) – Zeally Bay Sourdough or Fruit Toast with House-made Jam.
What the? I know, it was very odd behaviour. But there was a reason behind this which had something to do with the cat, plumber and dog *tee hee* 😛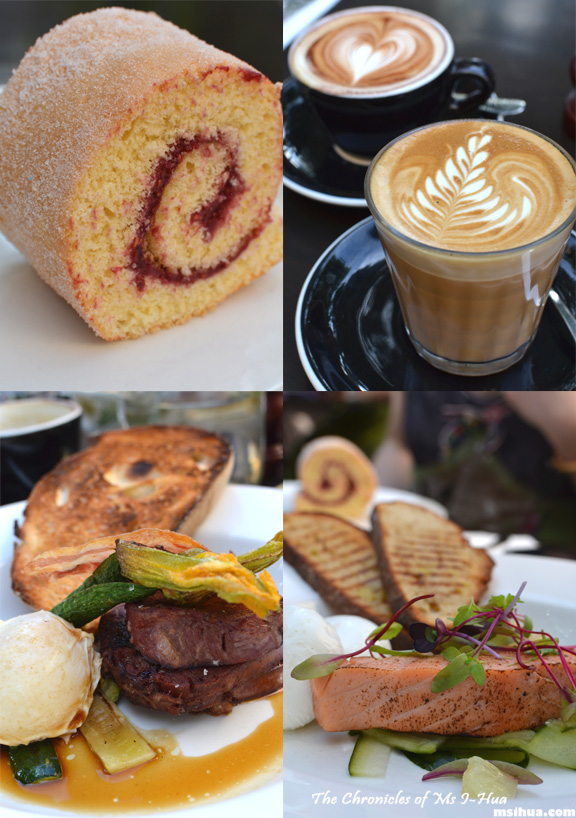 My darling Angle babe was distracted as we walked through the cafe and she would not settle until she tried the Swiss Roll, aptly named the  Rolly Polly, prominently displayed on the counter. I think she quite enjoyed it and said it was light and a "perfect kick-start to a Sunny Saturday in Melbourne" 🙂
Whilst the Boy stared at us three chattering at top speed (I swear it had nothing to do with the sugar which Adrian puts into his coffee nor the dessert that Hannah was eating for breakfast), he enjoyed the Idle Tongues ($17.50) – Seared Ox Tongue with Poached Duck Eggs, Fried Zucchini Flowers and Toast.
Not wanting to leave the Boy all alone to enjoy his full breakfast meal (I am so thoughtful like that), I ordered the Prince of Wales ($19.50) – Cured Salmon served warm with Avocado Puree, Pickled Cucumber, Poached Eggs and Grilled Potato Bread which was amazing!
But enough about our beautiful breakfast, it is time to introduce you to the 3 course set dinner which Duchess launched somewhere in March (I never said I was a speedy blogger :P)
We eagerly made Adrian book us a table when we heard this announcement and during the Easter long weekend, Adrian, Chris, Azzie, Al, the Boy and I returned with high expectations.
We did spend a good hour playing with Cookie the dog and trying to find Creamy to terrorise before turning up for our booking at 6pm sharp 🙂
Dinner (3 Course Set Menu – $55.00)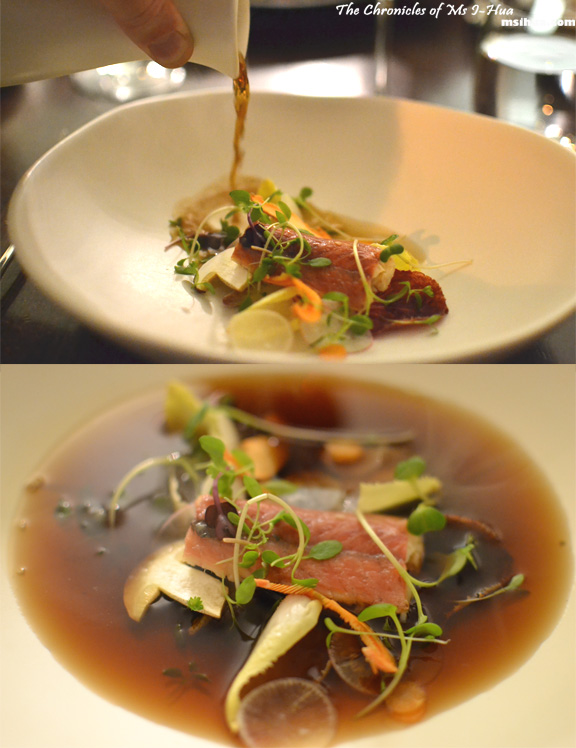 Entree (Option 2): Mushroom Broth with Shaved Vegetables and Smoked Eel
I had the rather impressive smoky clear, yet rich mushroom broth. It was definitely the perfect tribute to both mushroom and eel. Flavours were delicate and well balanced.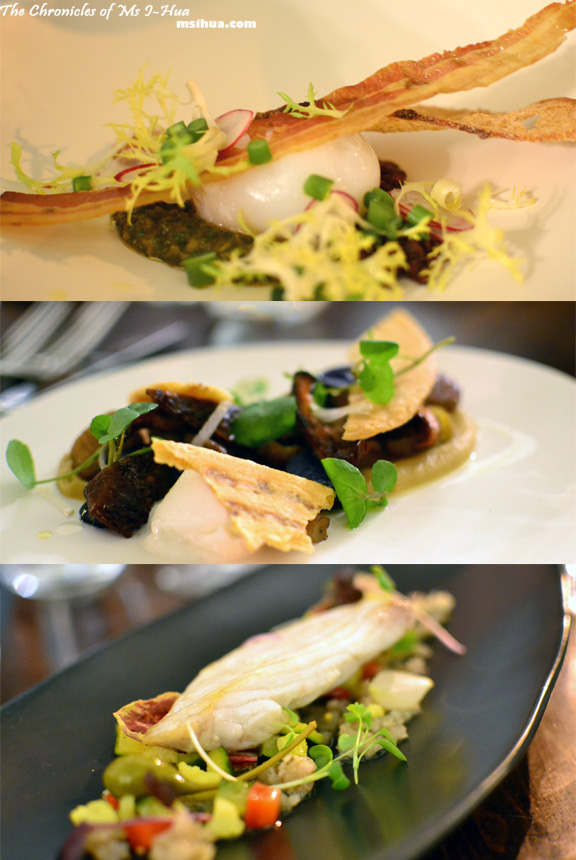 Entrees (from Top): (Option 1) Slow Cooked Egg, Streaky Bacon and Gentlemen's Relish; (Option 4) Roasted Chestnuts with Congo Potatoes, Goats Curd and Wild Mushrooms; (Option 3) Blue Mackerel with Cardamom, Pickled Vegetables
Whilst Adrian and I mmmm-ed and aaaaah-ed over our broth, refusing to share with anyone else, the others enjoyed their entrees. I must make special mention of the amazing wafer-thin crispy bacon.
I could eat that all day long sitting on a couch. So addictive and good!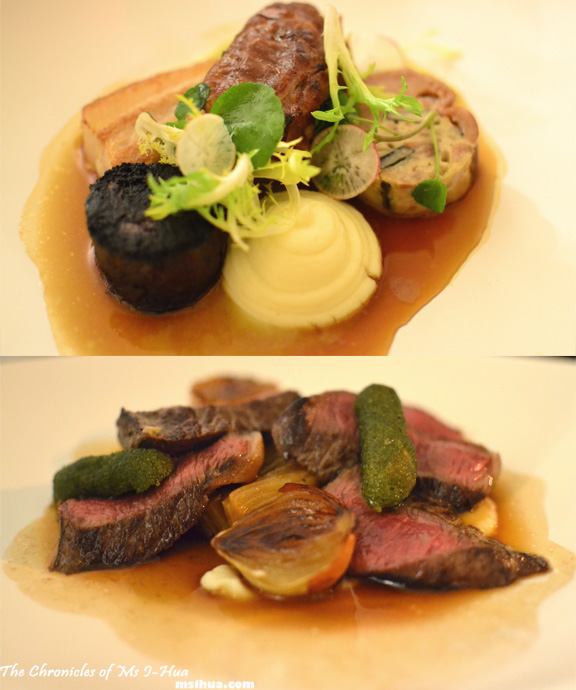 Mains: (Option 2) Belly, Cheek and Trotter of Pork with Black Pudding, Soft Semolina & Apple Puree; and (Option 3) 200g Rump Cap with Hot Pot Potatoes & Bone Marrow
Azzie and I went with the pork option (of course!), whilst Al had the rump option. After a few disastrous steak dishes (places shall not be named), he claimed triumph with this dish at the Duchess 🙂
I couldn't get enough of everything on my dish and only stopped short of licking the plate when I spied the waiter looking at me. I think he dared me with a gleam in his eye, but I resisted 😛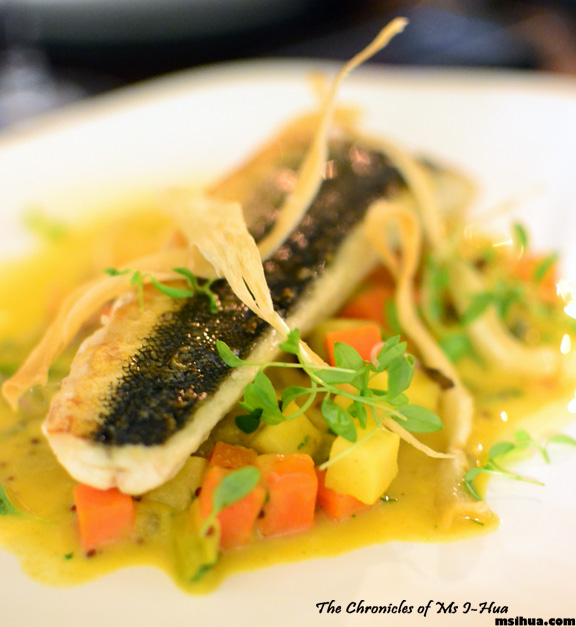 Mains (Option 4): Roast Flathead with Mussels, Coriander and Fragrant Curry Sauce
Because it was Easter, the Boy decided to behave and went with the fish which he quite liked, saying the fish was perfectly cooked. The curry sauce added a nice depth of flavour to the dish.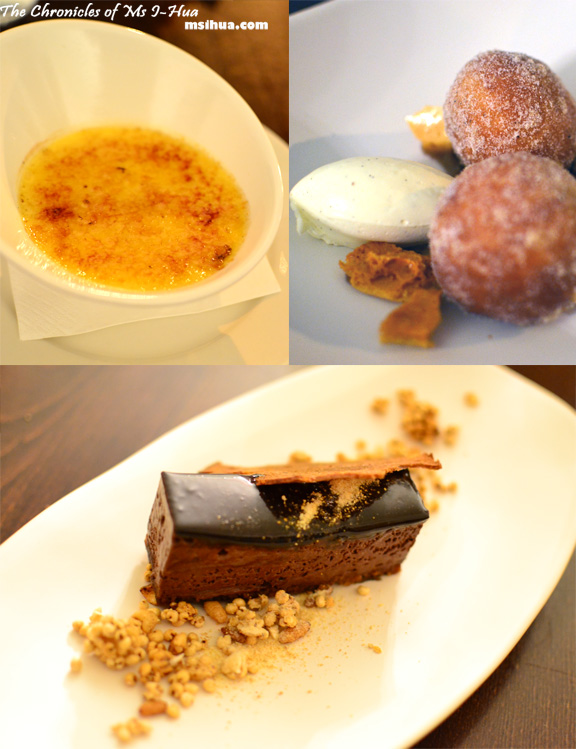 Desserts: (Option 2) Cambridge Burnt Pudding; (Option 3) Brioche Doughnuts with Fig Jam & Honeycomb; and (Option 1) Chocolate Cake with Puffed Grains
Dinner ended on a high note, there was pudding, there were doughnuts and there was a chocolate cake which was supremely rich and dense.
The Duchess has done it again, toil the bells and get the angels to start singing as we had a really wonderful and astounding revisit to the realm of Spotswood.
*Disclaimer: All food ratings & review are purely based on my own experiences and how I feel about the service, food and quality at the time of visit
Food/ Cuisine: Breakfast, British
Dining Style: Cafe
Overall Food Rating (Based on the Dining style): 8/10
Restaurant ambiance: 7.5/10
Service/ Attitude: 8/10
Value for money: 7.5/10
Opening Hours:
Monday to Friday, 7:00am to 3:00pm
Saturday and Sunday, 8:00am to 4:00pm
Dinner: Thursday to Saturday, 6:00pm onwards
Address:
87 Hudsons Road
Spotswood VIC 3015
Tel: (03) 9391 6016
Website: http://duchessofspotswood.com.au/
Twitter: @duchesscafe
How to get there: