I have a secret Japanese cafe to share with you all my dear readers. It involves a Gypsy and a few pigs *oink * *oink*
Tucked away at the top end of Hardware Street (yes, the same lane as cafe royalty, Hardware Societe) and diagonally across from Don Too lies an obscure and new Japanese eatery.
When Agnes mentioned that a reader recently suggested to her to try it out, I exclaim, "Gypsy and the what? Is it a pub? IS IT RELATED TO THE ELEPHANT AND THE WHEELBARROW?"
Agnes also mentioned that if I in any way sniped her to the post, I would be dead to her and our Dastardly Duo relationship will end 🙁 So here's mine! One day after hers! Wuhoo!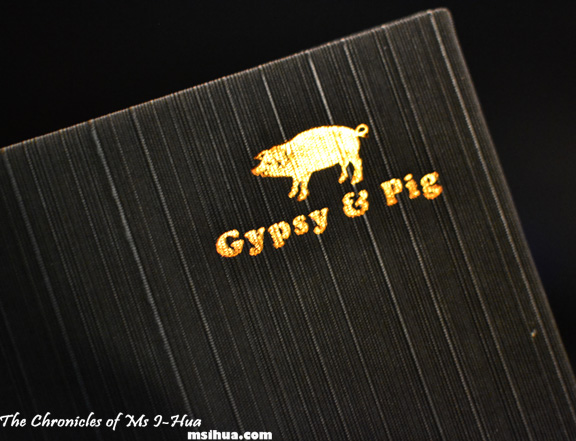 Newly opened and only in operation for a month, Gypsy & Pig is already causing waves in the food scene.
Firstly, it's super tiny. Like super. Ashley and I counted the seats in the restaurant and decided that it could fit a maximum of 22 people. TWENTY TWO PEOPLE! I could organise a blogger gathering here and book the place out. Easy peasy.
As we had no booking, we were asked if we minded that our little group be split up. None of us minded and Agnes and Al took the corner seats of the bar, whilst Ash and I took the other corner at the opposite end. So began a night of impromptu dating filled with much giggling, laughter and kawaii finger poses to each other.
The lone chef must have thought we were high on drugs.
Specialising in Kurobuta pork, it is not a surprise that 8 out of the 10 dishes have Kurobuta pork in them.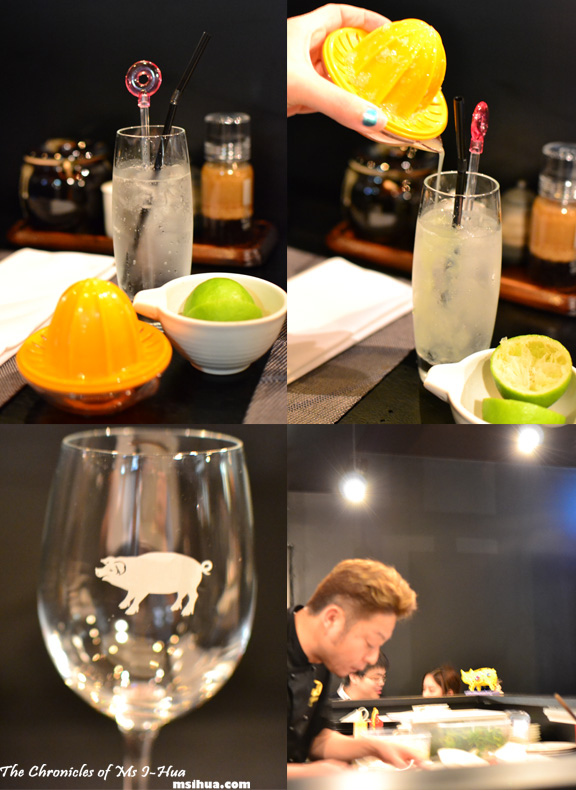 From the drinks menu, Ashley and I decided to try two different versions of essentially the same drink. We each chose the Shou-Chu with lime, the only differences being my lime was a soda and her lime was from the fruit. We had a lot of fun giggling to ourselves and making inappropriate lime jokes. We are so mature 😛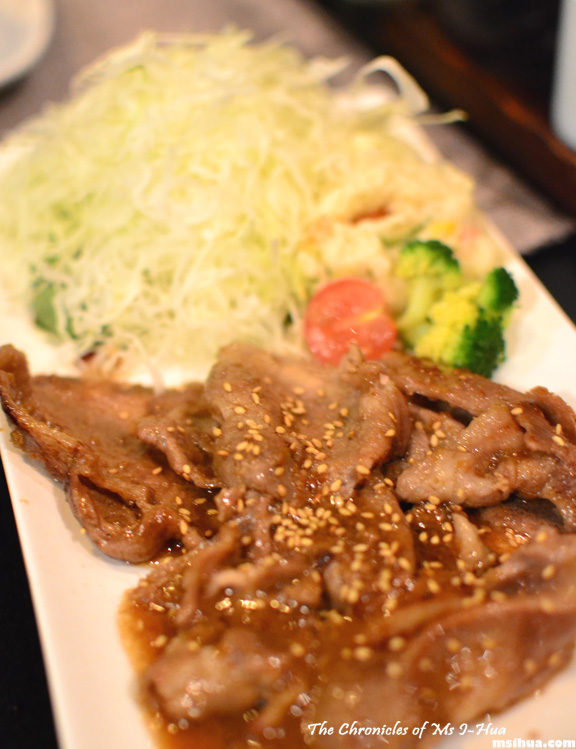 Having just come from a blogger pasta class, we weren't too keen to go crazy with the menu. Ashley was worried that we had ordered too little until I pointed out that there were desserts on the menu! That quickly decided for us, that we would have some space for desserts.
We shared the Pan Grilled Sliced Kurobuta with Special Ginger Soy ($19.00) and giggled at the spelling on the menu (specail!). Yes, once again, very mature of us. It took a while for the dish to be served but we were like meerkats peering up at the chef and oohed and aahed as we monitored him slicing into our Kurobuta piggy for the grill.
The dish reminded me of a Chinese dish, but I had no complaints there. It was so so good.
On the plate was a huge pile of salad with no dressing. After a while of seeing the both of us poking at the veggies, the waitress came back and apologised for not notifying us that the salad dressing was on the table itself! With a quick shake, Ash and I drowned the salad with the amazing roasted sesame dressing *dreamy sigh*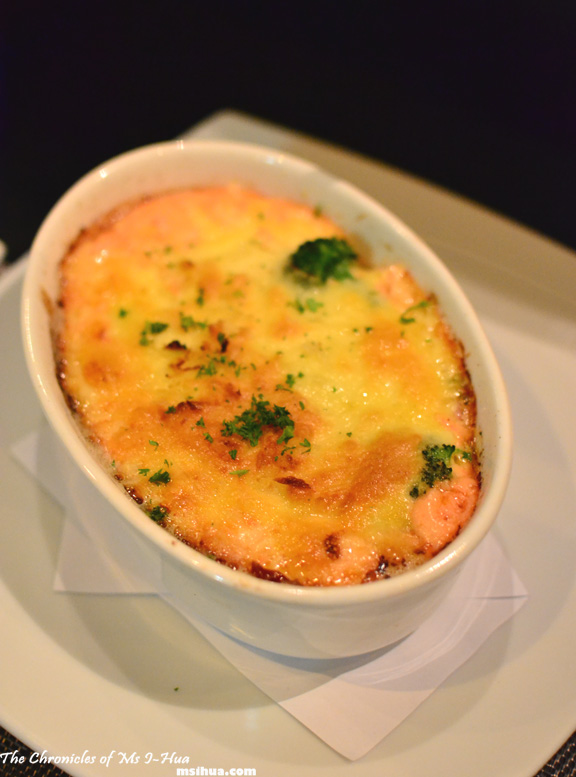 For our second dish, we went with the Oven-baked Potato and Pancetta Gratin with Creamy Spicy Cod Roe Sauce and Melted Cheese ($16.00).
If that didn't sound sinful enough in the description, it most certainly caused us to hyperventilate a bit as the dish was brought to our table. The smell was amazing.
With the first scoop, we swooned. The spicy cod roe should not have worked with the pancetta. It shouldn't but it did. Slightly on the salty side, the cheese and potato levelled and balanced the dish out.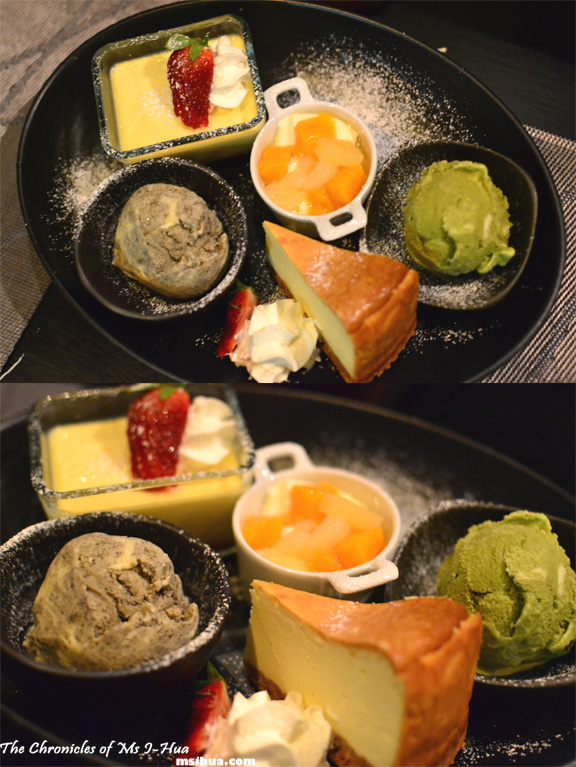 Too soon it was time for dessert! With eye signals and enthusiastic nods from across the kitchen bar/bench, Agnes agreed that she and Al were having desserts too.
We waved our waitress over and asked what was in the Assorted Desserts ($18.00) option on the dessert menu. When she replied, "one of each", Ash and I exchanged one look and locked in our order.
Containing a miraculous platter of 5 dessert items – Creme Caramel, Almond Jelly, NY Styled Cheesecake, Green Tea Ice-Cream and Black Sesame Ice-Cream, we couldn't believe how generous the serve was (each item here ranges from $3.50 to $8 each).
Our favourites were definitely the ice-creams, followed by the creme caramel, almond jelly and the cheesecake. If you are a fan of rich, smooth, strong flavoured Japanese ice-creams, I can honestly say that you won't be disappointed.
Top tip: Definitely BOOK your seats ahead. We witnessed a few patrons being turned away, but they returned as we were leaving. With a venue that small, you are almost guaranteed good quality food that has been paid full attention to.
For other reviews on Gypsy & Pig, read:
Off The Spork
Eat and be Merry for Tomorrow we Die(t)
*Disclaimer: All food ratings & review are purely based on my own experiences and how I feel about the service, food and quality at the time of visit
Food/ Cuisine: Japanese
Dining Style: Restaurant
Overall Food Rating (Based on the Dining style): 7.75/10 (Just as good as the Akachochin lunch special!)
Restaurant ambiance: 7.75/10 (very cosy and intimate)
Service/ Attitude: 7.75/10
Value for money: 8/10 (we paid $35 each for two drinks, two main serves and a huge serve of dessert)
Opening Hours:
Lunch: Monday to Friday, 11.30am – 2.30pm
Dinner: Tuesday to Saturday, 5.30pm – 10.00pm
Closed on Sundays and Public Holidays
Address:
Shop 3
391 Little Lonsdale Street
Melbourne VIC 3000
Tel: (03) 9640 0731
How to get there: