The last time I was at Bottega, I was there to celebrate the launch of their new Express Lunch menu as part of their 10 year anniversary.
I couldn't stop gushing about how much I loved their strozzapreti (which loosely translates to "Strangled Priest" or "Priest Choker") dish and how much I would love to eat it again.
So when an invite came through asking if I'd be interested in attending a quick and easy pasta class with the head chef Gabriele Olivieri with a promise that we would learn how to make the strozzapreti, I was in.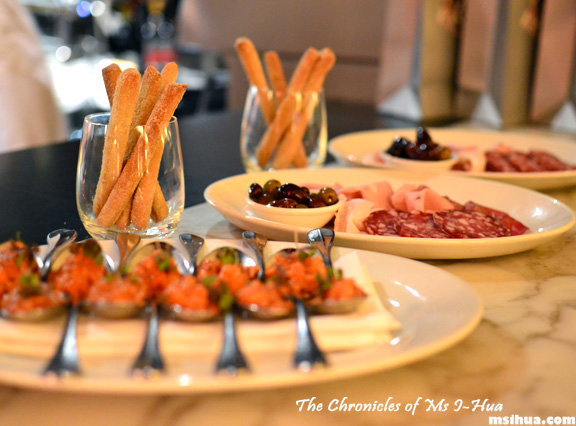 Our small intimate group arrived to some lovely canapés (Salumi, marinated olives and grissini and tuna carpaccio) and wines. I was excited to know that it'd be a sweet intimate class with just the few of us and the chef. Makes it much easier to pay attention and take notes!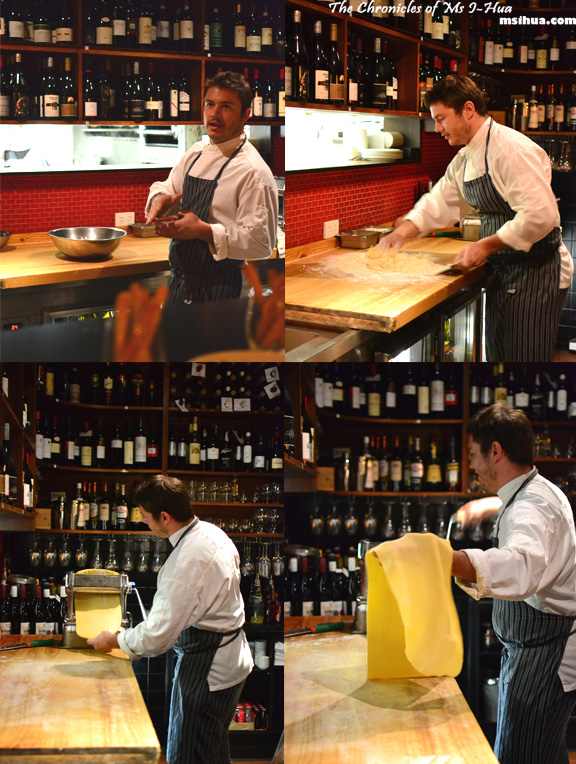 Gabriele laughed when we asked him to slow down for us poor sods with our bulky cameras. He tried, but he was pretty much on super-pasta-making-speed! He said he learnt to make pasta from his Nonna and if his Nonna saw him using a commercial pasta machine to make his pasta, he would be in a lot of trouble! She made everything by hand.
When asked about the quantity of pasta he would roughly make in a day, he jovially told us that he no longer has to make pasta now that he is the head chef. He does estimate that whilst as an apprentice, he would have made roughly 5kgs of pasta on any given day.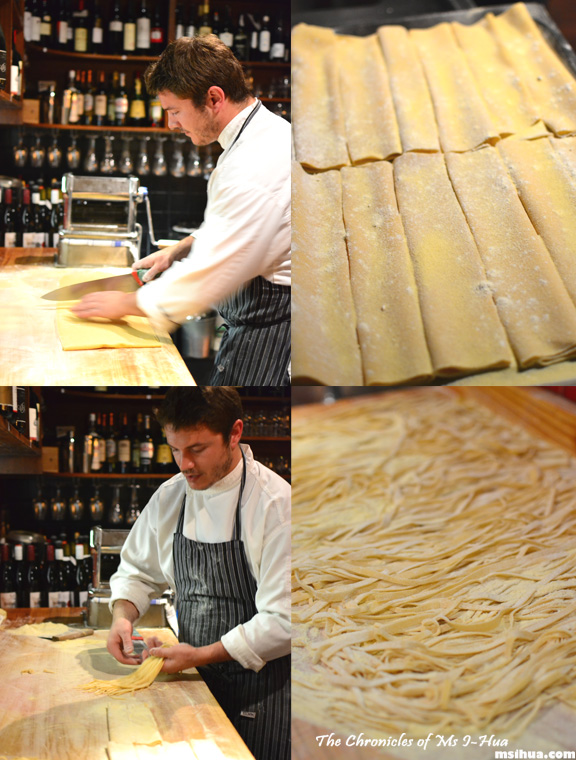 The first pasta which Gabriele showed us how to make was a Tagliolini. Watching him combine the flour and semolina, and continuing to work on kneading the dough was really really amazing.
We jested that he probably gained strong biceps in rolling the dough through the pasta machine over and over again.
At which point, his pasta machine fell apart amidst our giggles. He said that it was because he was too strong for the pasta machine 😛
A good tip which Gabriele imparted on us, is that if you are stretched for time when drying out the pasta, you can just dust the pasta with more flour and semolina whilst letting it rest on the bench for around 20 minutes (as opposed to laying it out to dry on pasta racks).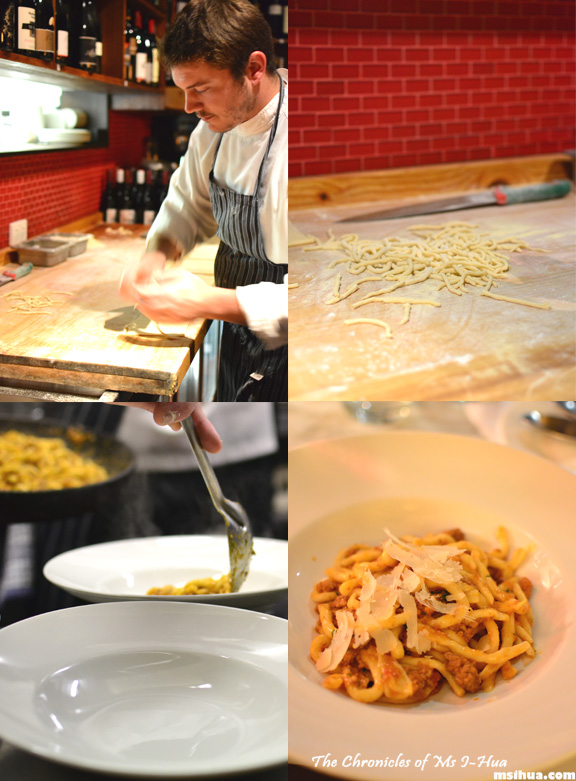 Whilst the Tagliolini was drying in the corner, Gabriele got to work on the strozzapreti.
In making the strozzapreti, all he used was flour and water (2:1 ratio). No eggs and no semolina.
I didn't quite realise how easy it was to make the strozzapreti. Once the dough has been rolled out, all you will need to do is to fold it in half and cut into pappardelle shapes. Then picking each pappardelle to roll in the palm of your hands to form the spiral shape!
When Gabriele asked if we would like to try some of the strozzapreti that was made, the answer was a resounding yes!
Fresh pasta doesn't take long to cook at all and taste so much better than the packet stuff you get at the supermarket.
It definitely is well worthwhile learning how to make your own pasta. This may just be the motivation I need to get my pasta/noodle making machine out of its box and start rolling!
If you are interested in attending one of these limited pasta making classes, please find the details below 🙂
Event Info:
Bottega's Pasta Making Class with Chef Gabriele Olivieri
Date: Saturday, 4th August 2012 or Saturday, 11th August 2012
Time: 11:00am – 1:00pm
Price: $70 per person (pasta making class followed by 2 course lunch with matched wines)
Bookings: Call Courtney on 03-9654 2252
[Ms I-Hua attended this class courtesy of Bottega and AMPR]
Address:
74 Bourke Street
Melbourne VIC 3000
Tel: (03) 9654 2252
Website: http://www.bottega.com.au/
Twitter: @BottegaMelb
How to get there: