This winter is cold. It's extremely cold. The other day, I woke to 0.3 degrees Celsius.
That is freezing for Melbourne. What makes it colder is the wind and the rain. What makes it depressing is the gloomy cloudy dark skies.
The more I thought about it the more morose I got.
So that's when I figured, we needed a good pick-me-up dinner.
Something so heart warming and heat inducing that you would forget that it is winter.
What better way to do that, than to have a Steamboat Partaaaay!!!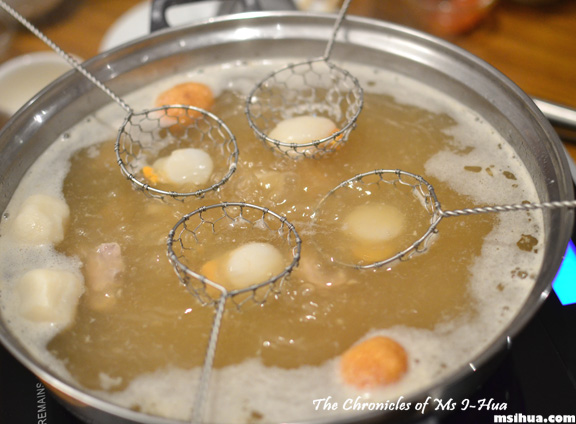 The Boy and I woke early one Sunday and traipsed over to Victoria Market after church. I rubbed my hands in glee in anticipation of the dinner ahead and the fact that I was visiting a market! I love markets 🙂
First stop was to get a few food items and the cute little individual Steamboat/Hot Pot strainers for our guests at Minh Phat the Asian Grocery. We bought heaps of noodles, fried tofu puffs, fish paste and fish balls whilst we were there as well. Next, we headed over to the butchers for some poultry, pork and seafood. We also bought 2kgs of pork bones to make our soup stock for only $4! Bargain!!!
From there, we rushed home and got to work. I started prepping the ingredients, the Boy started the soup stock going. He also started fiddling around with our new toy (specs below).
Brad at Kitchenware Direct provided us with a New Wave Portable Induction Cooker and we decided to use it for our little Steamboat/Hot Pot party. It was our first time using a portable induction cooker for Steamboat and I must say, it was a brilliant idea.
Using induction cooking, heat is generated directly in the pot or pan used and is faster and more energy efficient than traditional electric stoves. It is also safer as it only operates when the surface comes in contact with an induction compatible pan or pot.
Some functions available are the 10 heat setting levels, temperature settings ranging from 60 degrees Celsius to 240 degrees Celsius, and a timer up to 3 hours.
It also comes with a free cooking pot (induction compatible) which we've used in this recipe.
Dimension: 28cm x 34cm x 6cm
Power: 240V – 2000W
Warranty: 12 months full replacement
**Scroll down to the end for the Giveaway (open to Australian Residents and delivery to Australian addresses only)**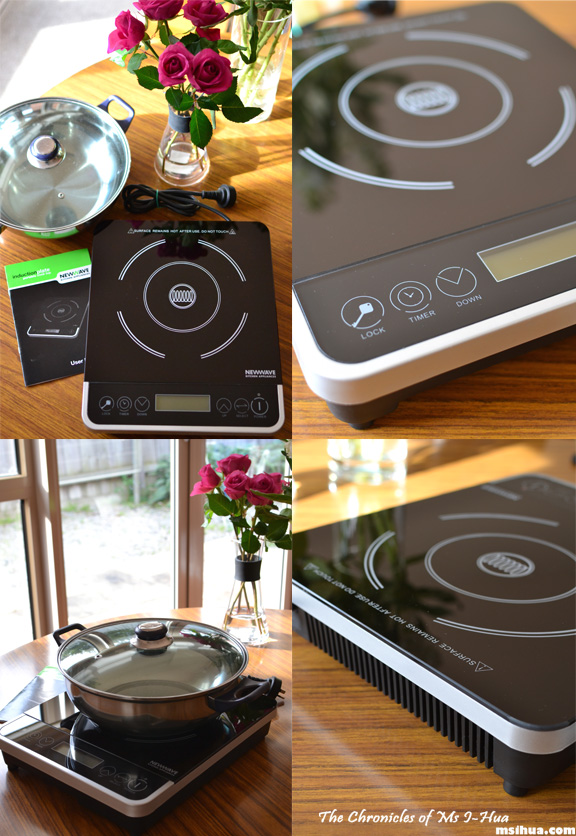 We found it easy to operate (it doesn't hurt to spend a few minutes reading the user manual). There is a Suggested guide to cooking table in the manual which we found to be useful and based our cooking temperatures and heat settings for this Steamboat/Hot Pot recipe on it.
This portable induction cooker heats really quickly and controlling the heat for our Steamboat was easy. We had our temperature ranging from 120 – 140 degrees Celsius (when ingredients were cooked or to keep soup warm) to 160 degrees Celsius (when new ingredients or additional soup was added).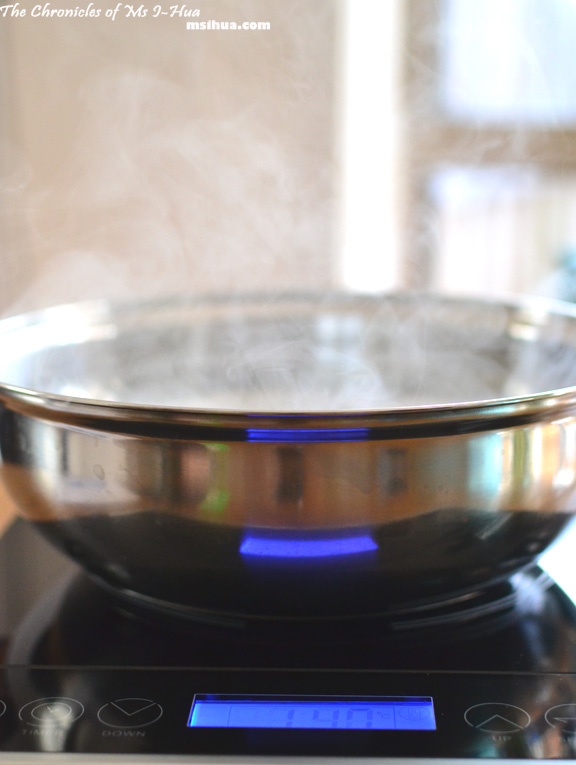 Steamboat / Hot Pot Recipe
Soup/Stock Ingredients:
1.3 to 1.5kg of Pork Bones
8 Litres of Water
40g of Dried Anchovies (Ikan Bilis), wash and dried with paper towels
Ingredients (Meat & Marinade):
325g of Chicken Breast (thinly sliced)
325g of Chicken Thigh (deboned and thinly sliced)
325g of Pork Fillet (thinly sliced)
325g of Snapper (or other white fish fillets, thinly sliced)
1/2 dozen of Scallops (de-shelled)
*other ingredients such as prawns, calamari, abalone and beef can also be used.
Oyster Sauce
Sweet Soy Sauce
Fish Sauce
Shao Xing Wine
Sesame Oil
Salt
White Ground Pepper
Sugar
Stuffed Snowpeas & Taupok Ingredients:
Ready-made Fish Paste (we used a packet of the Hakka brand Fish Paste)
20 – 25 Snowpeas (quantity depends on the size of your snowpeas)
6 pieces of Taupok (Fried Beancurd Puffs), sliced diagonally in half
Ingredients (Other):
1 dozen Fish Balls
1 dozen Fried Fish Balls
150g of Oyster Mushrooms
4-6 Eggs (usually it's a ratio of an egg per person)
1 whole Lettuce
Rice Vermicelli (Bee Hoon), soaked in water
Glass Noodles (Cellophane noodles), soaked in water
*many other ingredients can also be added such as fried fish cakes, wanton dumplings, surimi (imitation crab meat/ seafood sticks), other Asian greens, Chinese mushrooms, instant noodles, etc…
Choice of Dipping Sauces:
Sriracha Hot Chilli Sauce
Hoisin Sauce
Chilli & Ginger Sauce
Sliced Bird's Eye Chillies in Soy Sauce

Soup/Stock Procedure:
Wash pork bones and place them in a 16L stockpot. Pour in water to fill 1/2 of the pot (about 8 litres) and ensure the water covers the bones. Switch the heat on and wait till the water boils.
Leave it to boil for 5 minutes to rid of any scum.
Take pork bones out and place in another bowl. Pour the water from the pot away. Wash the pot and fill it with 8 litres of water.
Put pork bones back into the pot. Switch the heat back on.
When the water starts to boil, put in the dried anchovies (ikan bilis).
Reduce heat and simmer for 2-3 hours, covered. If you are using a smaller stockpot, watch the water levels as it may bubble up and overflow. Skim any foam that rises to keep your stock clear.
When stock is ready, transfer some into the portable induction cooker's pot (avoid picking up any bones or dried anchovies).
You should fill up to 3/4 of the induction pot to prevent stock from overflowing when ingredients are added later.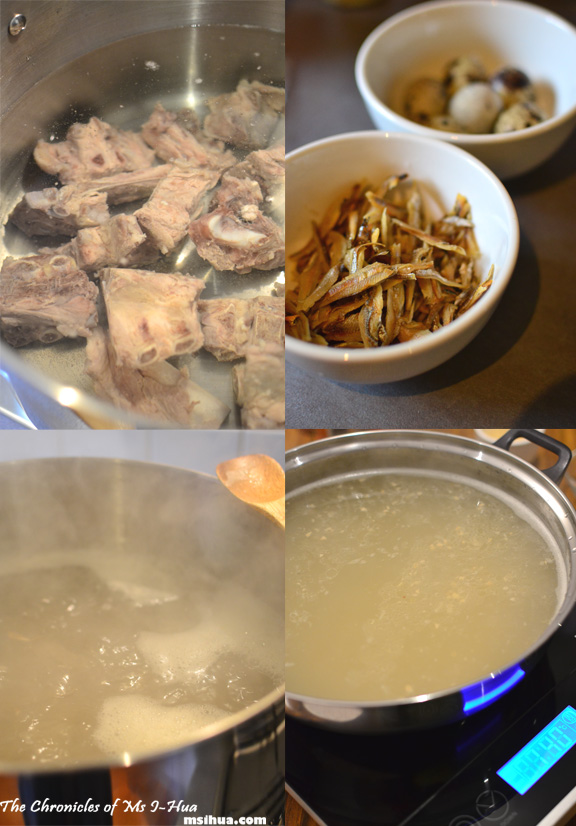 Marinating the Meats:
Marinate the following meats:
Chicken Breast: 1 Tbsp of Oyster Sauce, 1 tsp of Sweet Soy Sauce, 1 tsp of Fish Sauce, 1 Tbsp of Shao Xing Wine, dash of Sesame Oil and dash of White Ground Pepper
Chicken Thigh: 1 Tbsp of Oyster Sauce, 1 tsp of Sweet Soy Sauce, 1 tsp of Fish Sauce, 1 Tbsp of Shao Xing Wine, dash of Sesame Oil and dash of White Ground Pepper
Pork Fillet: 1 Tbsp of Oyster Sauce, 1 tsp of Sweet Soy Sauce, 1 tsp of Fish Sauce, 1 Tbsp of Shao Xing Wine, dash of Sesame Oil and dash of White Ground Pepper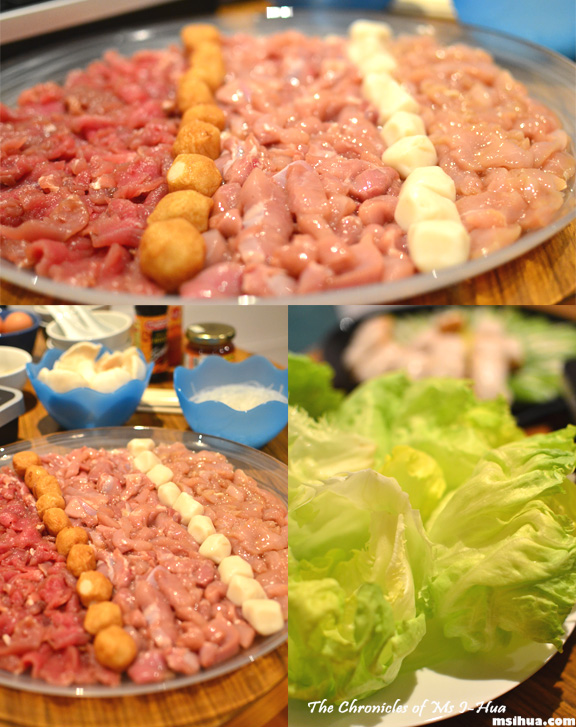 Marinate the snapper (or other white fish) with 1.5 tsp of Salt, 1 tsp of Sugar and a dash of White Ground Pepper.
Soak the scallops in water and add a pinch of salt.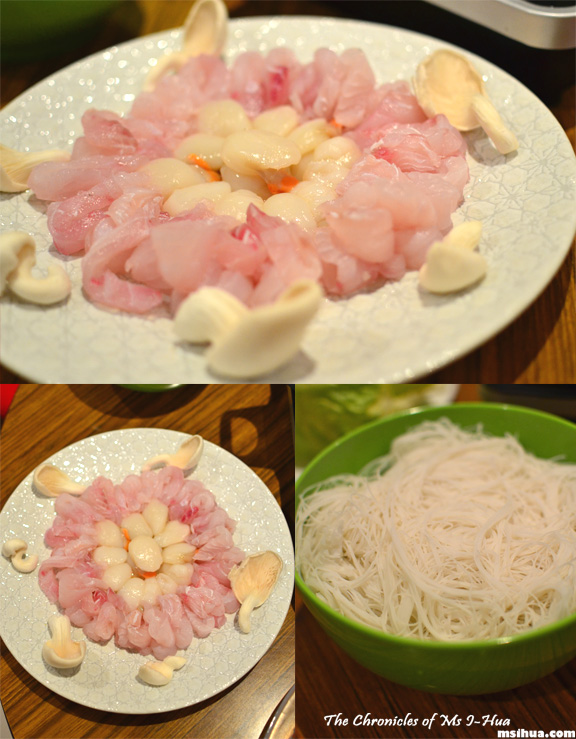 Whilst the meat marinates, you can move on to stuffing the snowpeas and taupok with fish paste.
Stuffed Snowpeas & Taupok Procedure:
Remove the stem on the snowpea. With a sharp paring knife, make a slit across the top of the snowpea. Fill the snowpea with fish paste using a small spoon. Smooth out the fish paste with the back of your spoon.
Arrange the stuffed snowpeas on a platter.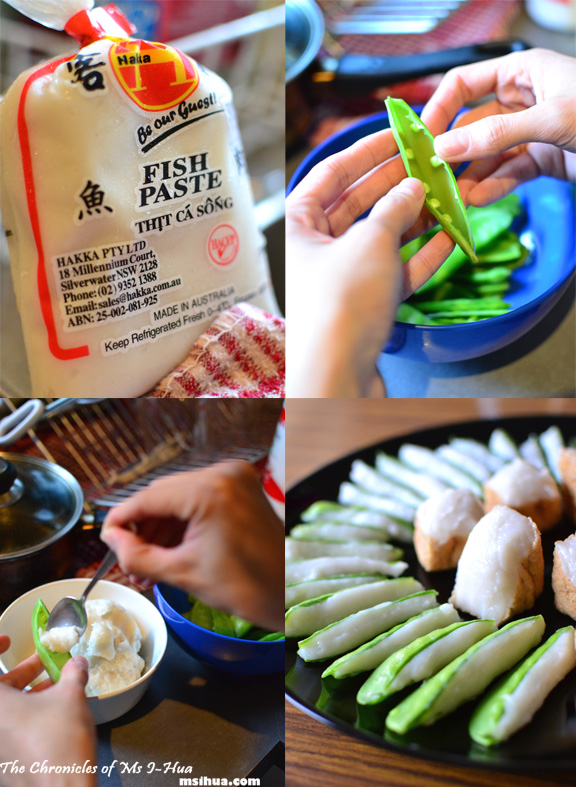 Grab a spoonful of fish paste and smooth it out on the white-side (exposed side) of the taupok. The fish paste should be sticky enough to adhere to the puffs. Arrange stuffed taupok on the same platter.
You can also use the fish paste to stuff other vegetables such as okra (lady finger), bitter gourd, chillies, sugar snap peas, or even other types of beancurd. This is very similar to Yong Tau Foo.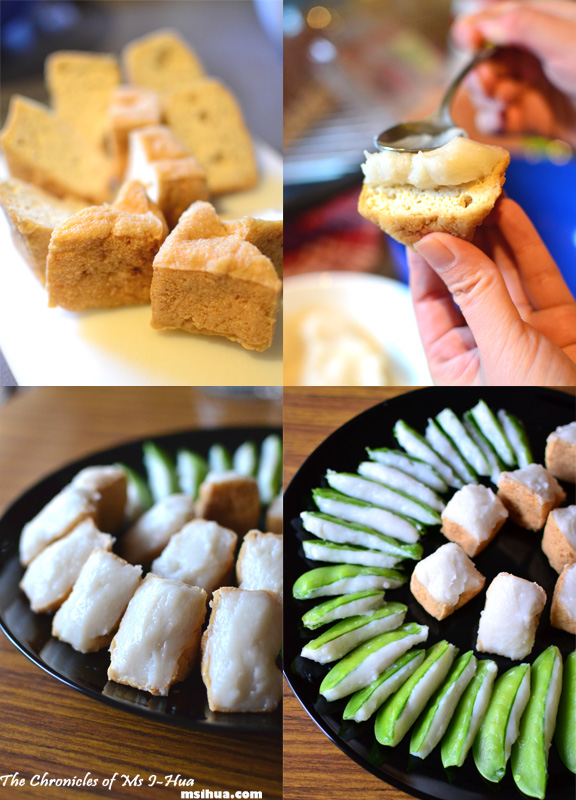 Prepare soup bowls with chopsticks, soup spoons and steamboat/hot pot strainers. These steamboat/hot pot strainers can be found is most Asian groceries store. Alternatively, you could use perforated soup spoons.
Individual dipping bowls can also come in handy, allowing each person to select their preferred dipping sauce.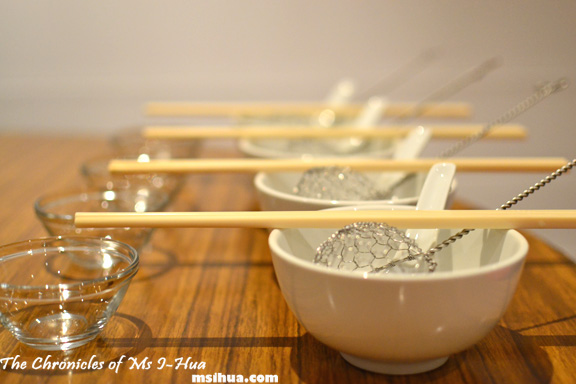 Plate up the chicken breast, chicken thigh and pork fillet on a large platter. You can decorate them with the fish balls.
Plate up the seafood (scallops and snapper) on another platter. Decorate with oyster mushrooms.
Your stuffed snowpeas and taupok should already be on a platter.
Drain the rice vermicelli and glass noodles and place in separate bowls.
Arrange lettuce leaves on a plate.
Place eggs in a bowl.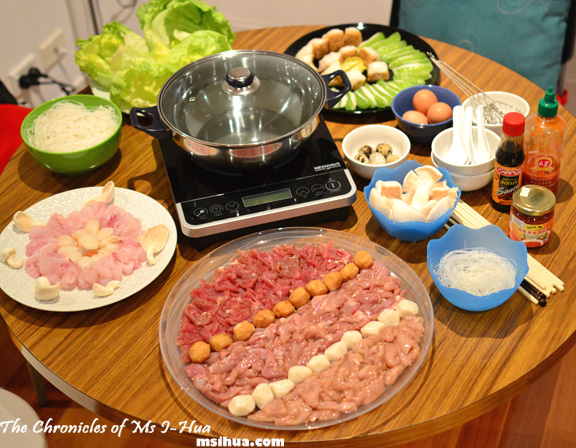 Using the portable induction cooker, reheat your stock (we set it at 160 degrees Celsius) till it starts boiling. You need to make sure the stock is hot enough to cook your ingredients.
We started with the fish balls, stuffed snowpeas, stuffed taupok and oyster mushrooms as they don't take long to cook. About 2 – 3 minutes in a boiling stock is all it takes. And there's always the theory of "if it floats, it's cooked". This theory obviously doesn't apply to the beancurd puffs as they float in the stock anyway.
Reduce the heat to 140 degrees Celsius when all ingredients are cooked or 120 degrees Celsius when there's nothing in the Steamboat and everyone's busy enjoying their food.
Next in is the seafood – snapper and scallops. Followed by the chicken and pork. Increase the heat whenever new ingredients are added (usually 160 degrees Celsius) to get the stock boiling again. Covering the pot always helps quicken the heating process but remove the cover when stock starts to boil.
Lettuce leaves can go in anytime as they cook in no time at all.
You may need to top up the stock a couple of times during the cooking process.
We always end with the noodles and egg as the stock is full-flavoured by this time. For the noodles, they take about a minute to cook (less for glass noodles). For the egg, crack it open into the stock and wait till it cooks.
I'm not a 100% sure about the general rule when it comes to the sequence of ingredients to be added into the Steamboat. But this is how we've been doing it.
Fish Balls/Fish Paste items –> Seafood –> Chicken/Pork –> Noodles & Egg
Please note that the temperature levels used are based on this Portable Induction Cooker and the induction compatible pot given. They may differ with the use of other cookers and pot. But you should already get the general idea of having the heat up when new ingredients are added and the heat down when not in use.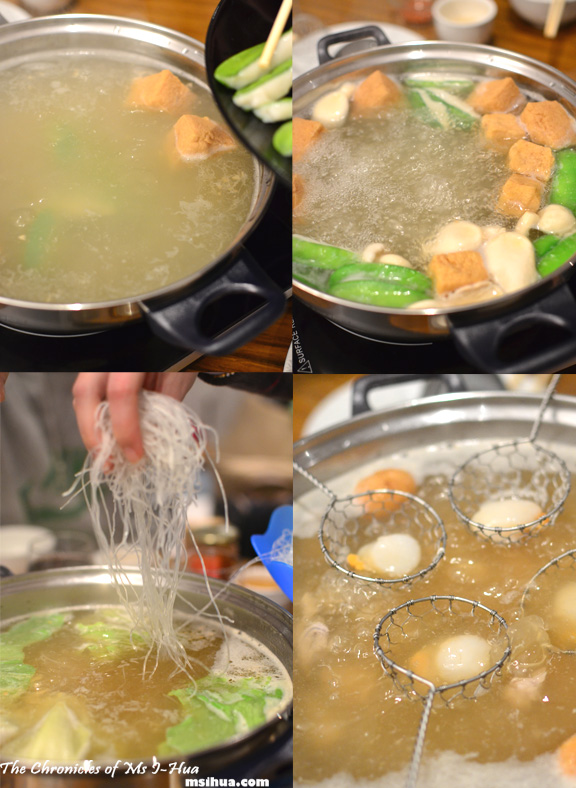 We had an amazing time and the house heated up with all the cooking we were doing out in the dining area.
I still can't believe that between the four of us, we managed to finish three quarters of the food. We are amazing eaters!!! They should have an Olympic event just for this 🙂
__________________________________________________________________
New Wave Portable Induction Cooker Giveaway
The lovely folks at Kitchenware Direct have decided to let one of my dear readers win a brand new New Wave Portable Induction Cooker which comes with a free compatible induction pot.
It's not really fun when all you get to do is read about it! So now's your chance to try and win one and host your own little Steamboat party.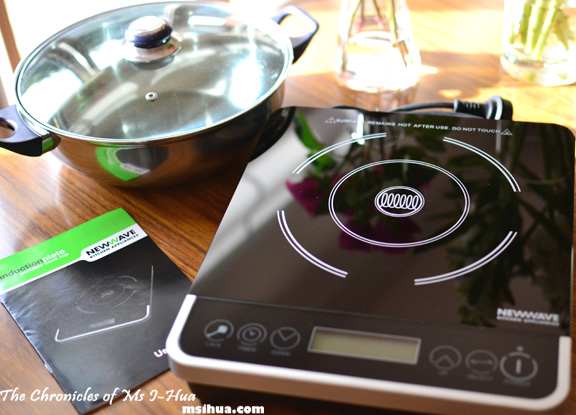 All you have to do is:
'Like' my Facebook page (if you haven't done so already), if you have (you are amazing!), skip this step
Leave a comment here telling me "what you will use the New Wave Portable Induction Cooker for when you receive it?"
*Please leave a valid email address in the email box (emails won't be published) as a contact point. Competition is open to Australian Residents only. Delivery to Australian addresses only.
The competition closes Monday, 23rd July 2012 at 6:00pm (AEST). The winner will be drawn randomly on Monday Night, the 23rd July 2012! Results will be published on this post.
So what are you waiting for??
Get your thinking cap on and keep your lucky horse shoe with you at all times!!
********************************************************************************
[23/07/2012] Announcement: Winner of the New Wave Portable Induction Cooker Giveaway
Thank you to everyone who signed up, liked my Facebook page and left a comment here.
With no further ado, the competition winner selected by the Random Number Generator is…
*DRUM ROLL*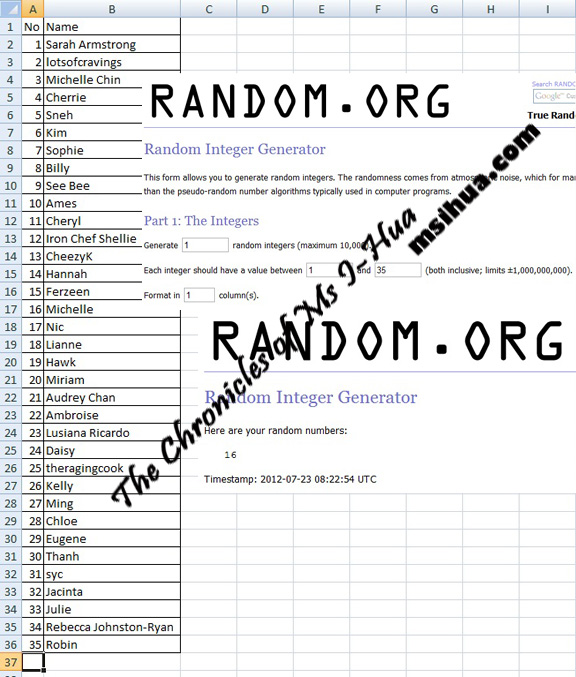 Congratulations to Michelle @ The Bake-a-nista
I will be in contact shortly for more details.
COMPETITION CLOSED
********************************************************************************