And so we bring you the final chapter in our epic Melbourne Food & Wine Festival 2012 journey. We saved the best for last. The Boy and I have been keeping this post close to our hearts, and have finally decided to share one of our best meals of the year so far with the rest of you 🙂
One sunny day in March, 2 starred Michelin chef, Sang Hoon Degeimbre, owner and chef of L'Air Du Temps in Belgium decided to cook for us.
Okay, that's not quite true 😛 Sang Hoon Degeimbre was one of 8 internationally renown chefs chosen to cook in Crown Melbourne (for the other 7 chefs, see the end of the post). Sang Hoon took over the dominion of Number 8 Restaurant for 8 days to showcase his signature dishes (is it me, or are there a lot of eights here?).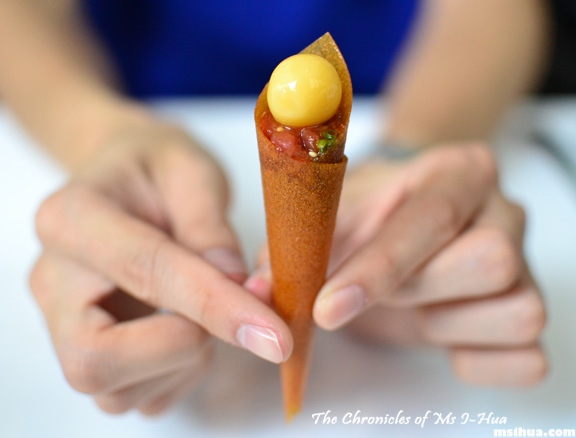 On the day that the Boy and I were there, we were excited to see him in the kitchen in action. In 2002, he met with Hervé This to learn more about molecular cooking and as they say, the rest is a gastronomical history.
This one time sommelier turned head chef and owner is also one of the worlds most famous Molecular Gastronomy chefs choosing to use unconventional methods to cook, earning himself the moniker of "Father of Ultrasound Cooking"!
It's not surprising to note that before he went into the hospitality industry, Sang Hoon had dreams of becoming a pharmacist.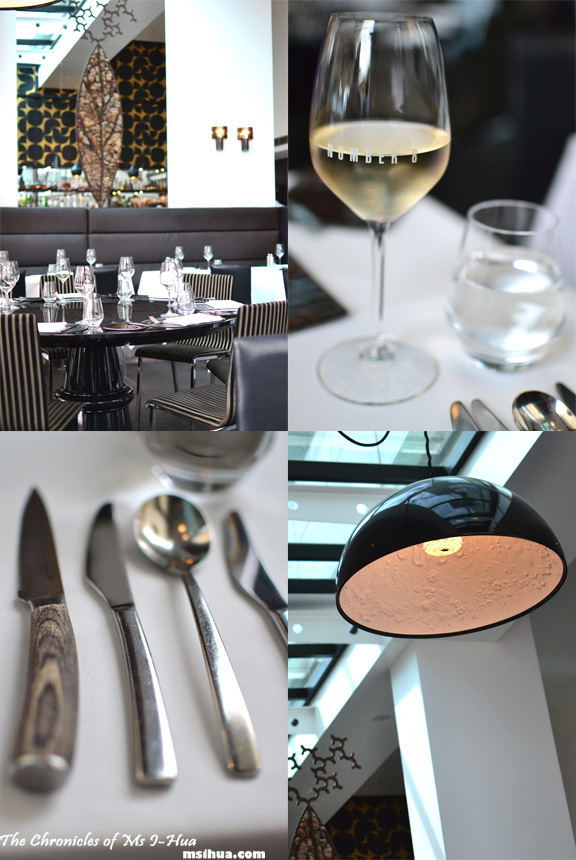 When the Boy and I visited Number 8, we were slightly dismayed that it was fairly empty despite it being lunch hour on a Sunday.
Undeterred, we were excited and were curious to see what we would be served up by someone of this calibre.
We wanted to see the man who once cooked this famed dish, Le Saint-Pierre aux senteurs de Bourgogne, which simulates all the distinct notes of Pinot Noir without actually using a single drop!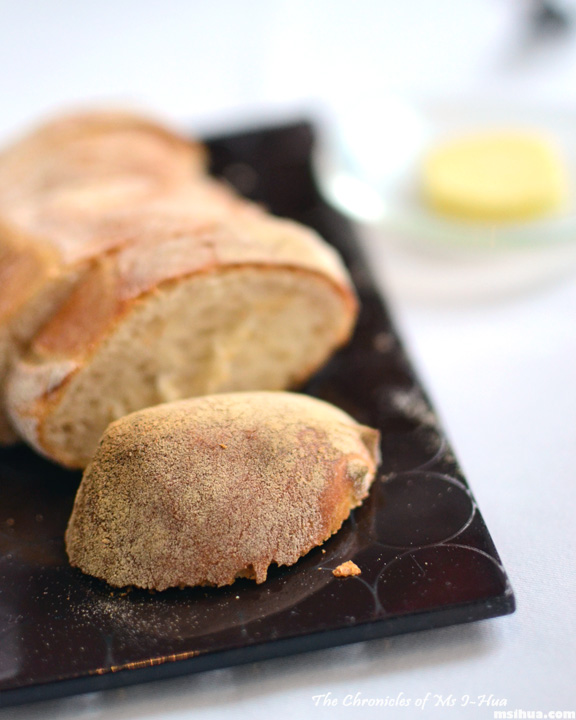 As I don't eat beef, the kitchen and Sang Hoon were happy to cater to my dietary requirement and made no fuss of it.
We were told that we were to have a 4 course meal which entailed a canapé, entree, main and dessert.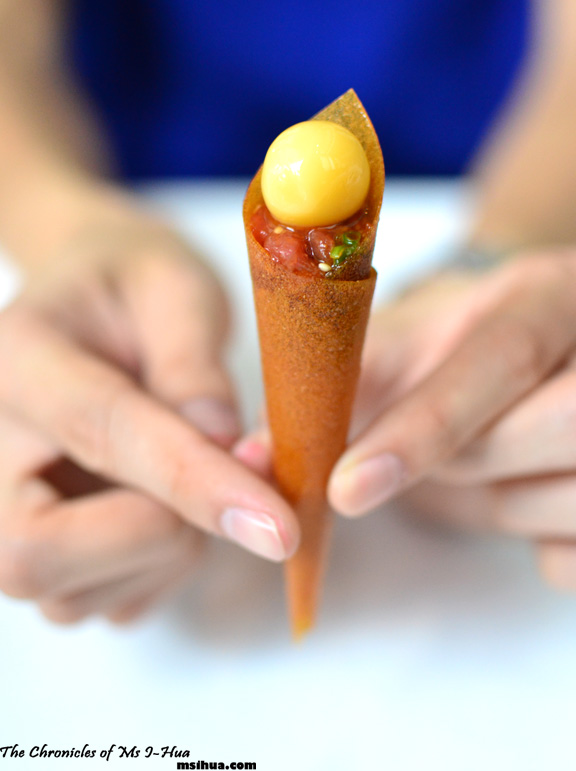 "Yukhoe" – Korean Beef Tartare
The Boy's first course was a delicate serve of quail egg, beef tartare, sesame oil, ssamjang sauce in a cornet made from pear pastry and my first response was jealousy and my second was resentment.
The Boy loved the pear pastry which was sweet and crunchy, and went absolutely well with the beef tartare as it provided a crunch factor whilst eating the soft and smooth tartare.
I was suffering from a bad case of food envy and strongly wanted to disperse of all my beliefs just so that I could have a taste of this beautiful cone. Instead, I swallowed my feelings and gave in to my artistic side as I saw a good photo which needed to be taken 🙂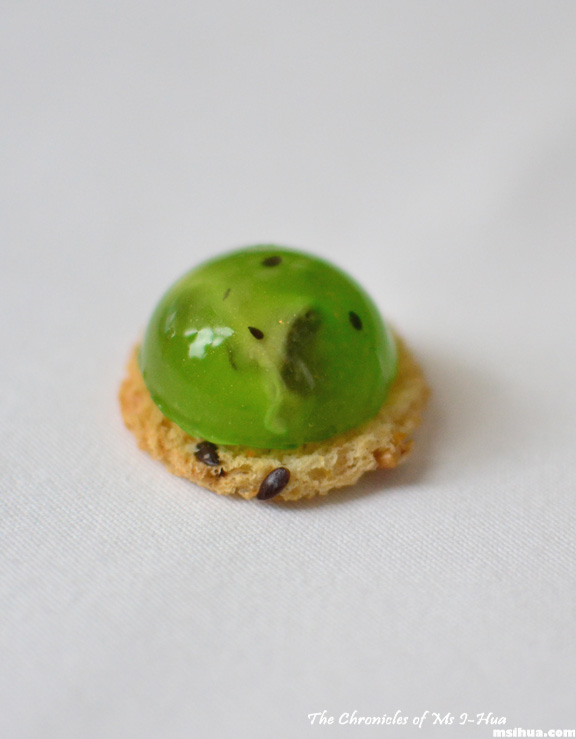 "Kiwi Oyster"
Which was just as well, as the universe answered and I was rewarded with this beautiful oyster encased in a kiwi spherification on a sesame cracker. It was a thing of marvel and beauty and this time the Boy was suffering from food envy as he was the bigger fan of molecular gastronomy.
When I popped the kiwi oyster into my mouth and bit into it, I felt as if I was biting into a tidal wave of kiwi juice as it exploded in my mouth revealing the jewelled oyster encased within. Such brilliance!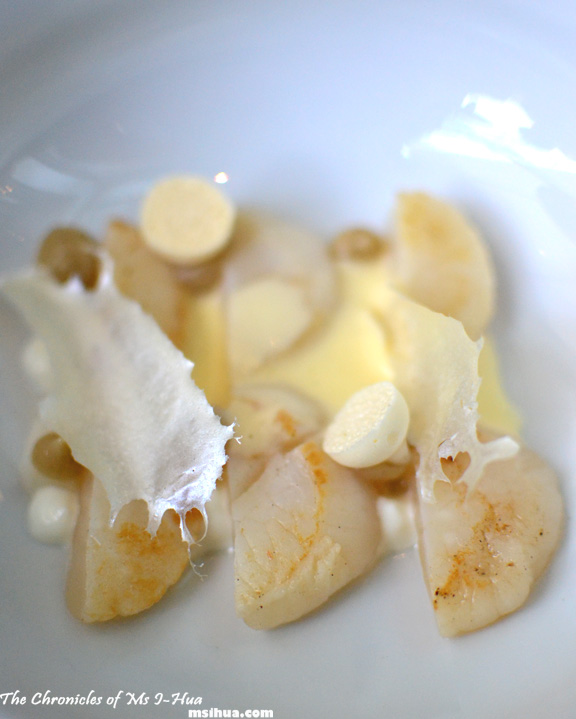 "White" – Scallops, Tangy Daikon, Jerusalem Artichoke, Lemon Meringue
This dish came served with potato starch chips and daikon mayo. We were told that this scallop dish incorporated sous-vide to create a Korean kimchi of daikon.
It was another brilliant dish with a nice balance of flavours coming from the sweetness of the scallops and sourness of the daikon and lemon meringue.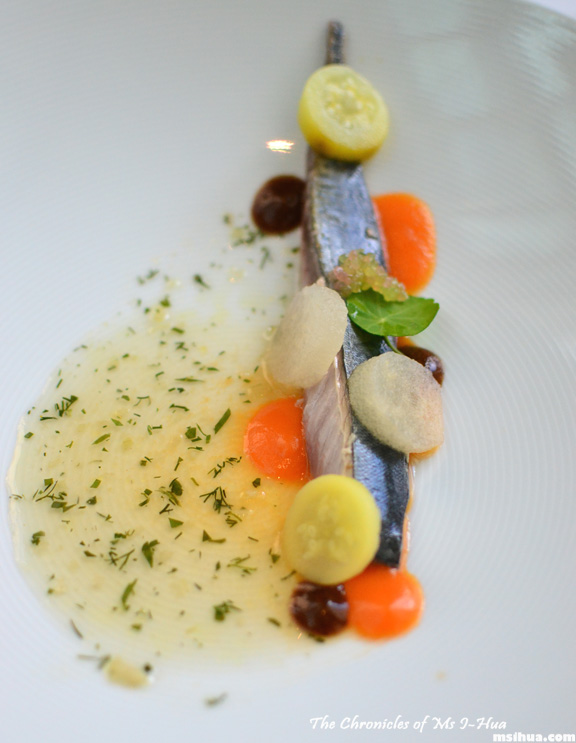 "Impregnation" – Mackerel, Courgette, Pear, Carrot, Black Garlic
Served with nasturtium leaf, finger lime, yellow zucchini, chicken broth and herbs, this dish looked simple and elegant but it certainly packed a punch in the flavours department.
The mackerel tasted as if it was pickled which went really well with the sweetness from the black garlic puree and mellowness of the chicken broth.
The use of different colours was another highlight when the dish was served to us.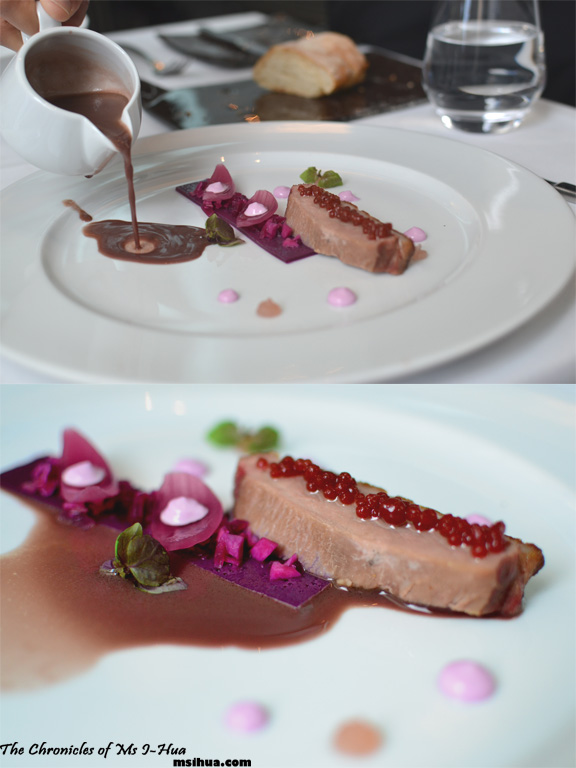 "Plum" – Duck, Red Cabbage, Beetroot
My alternate dish to beef was an ode to duck served with red cabbage sauce, red cabbage, red cabbage jelly, plum sauce caviar, onion, beetroot. I was in awe struck by how pretty everything on the plate looked but wasn't too happy when the waiter decided to pour the red cabbage sauce messily onto my plate!
Such irrational behaviour but it ruined the picture perfect dish! Luckily the red cabbage sauce was absolutely delicious. The duck was cooked beautifully as well. It was seriously an art on a plate.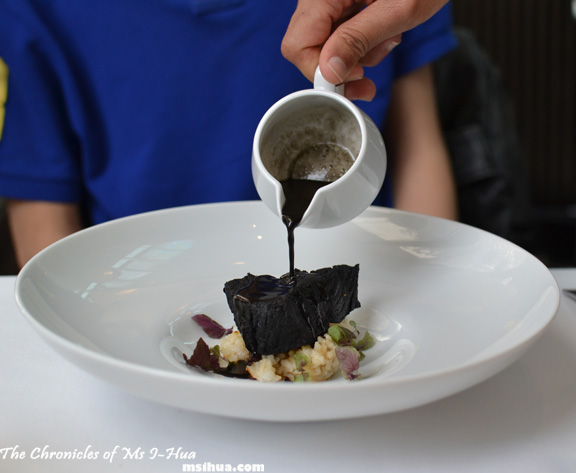 "Charcoal" – Wagyu Beef, Furikake, Koshi i Kari
Served with a dried tuna and eggplant furikake on a bed of koshi i kari (one of the highest quality and most expensive sushi rice), it came dressed with squid ink sauce served at the table.
My man was absolutely captivated and smitten with this dish and couldn't speak as he was savouring each and every mouthful. Delicious, was the only thing he could utter.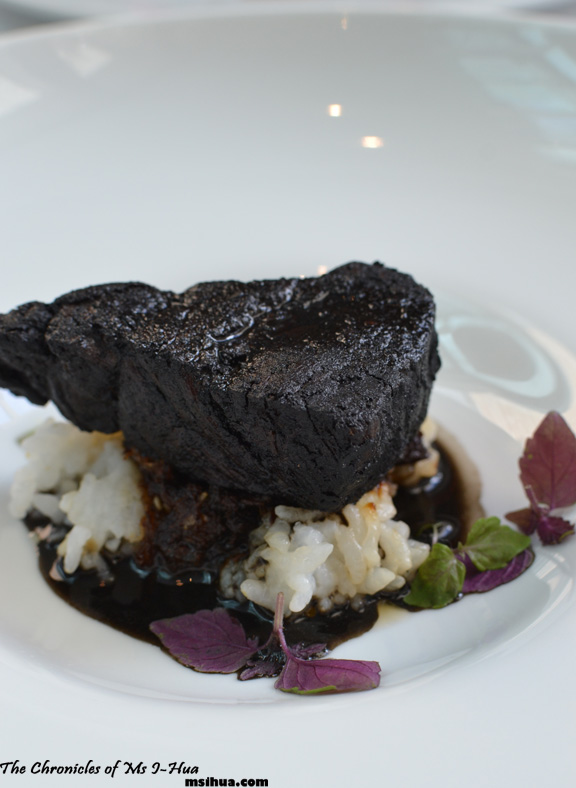 He was so taken with the fact that the wagyu looked remarkably like charcoal on the outside whilst maintaining a perfectly cooked interior. The squid ink sauce was also very palatable.
He called it an ingenious dish and has not stopped talking about it until today. It has been 6 months and he still talks about it whenever the occasion presents itself.
Recently, he attempted a recreation of this dish and although I assured him that it tasted fantastic, he said that it was nowhere close to the "real thing" he had on that one beautiful afternoon!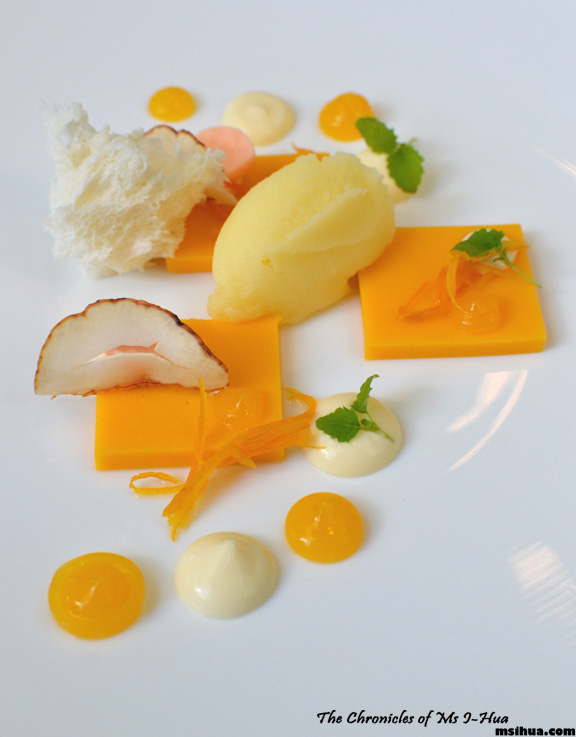 "Orange" – Pumpkin, Carrot, Mandarin, Orange, Chestnut
All too soon dessert was served. On first impressions, we thought it was a straight up orange or mandarin dessert. We were soon told that what we had on the plate included pumpkin jelly, mandarin sponge, cheese mousse, carrot meringue, chestnut, orange sorbet. 
The mandarin sponge in particular grabbed my attention on this plate as it was so light and airy, quite like eating tough cotton candy. It reminded me of the 30 second chocolate cake (using a microwave) The Boy attempted last year.
I loved the incorporation of normally savoury vegetables into this dish as well and approved of the carrot and pumpkin elements of the dish.
The plating was absolutely beautiful with great precision in technique worthy of Michelin standards.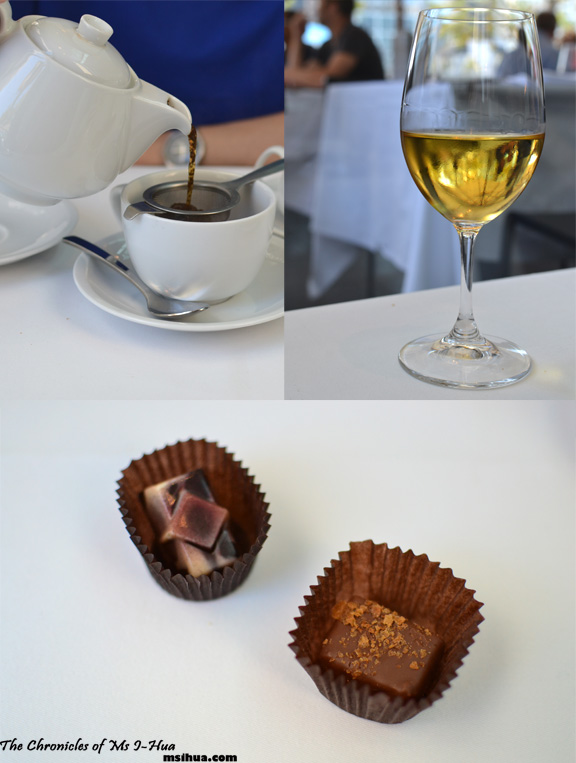 As we weren't quite ready to leave, the Boy ordered tea whilst I enjoyed a delicious glass of sticky as I couldn't go pass the Cloudy Bay Late Harvest Riesling 2006 (Marlborough, New Zealand) $17.50 🙂 Whilst we sipped our drinks, we were given some complimentary chocolates from the restaurant.
We definitely had one of the best lunches of our lives. The Boy and I are really big (he more so than I) on molecular/modern gastronomy and love trying to attempt some of the techniques at home. Keyword there being attempt 🙂
We are always in awe of the great people of the kitchen who do it so well and so successfully and take our hats off to them. Now, to save enough money to fly over to Belgium and pay a proper visit to Sang Hoon Degeimbre's restaurant!
*Disclaimer: All food ratings & review are purely based on my own experiences and how I feel about the service, food and quality at the time of visit
Event: Lunch by Sang Hoon Degeimbre at Crown Casino's Number 8 Restaurant, Melbourne.
Date: This event took place from the 6th to the 18th of March 2012, as part of the Melbourne Food & Wine Festival 2012's "Stars of Stars" Michelin series. The other 7 chefs in this event are Italy's Luisa Valazza; France's Thierry Marx; Serge Vieira; Stephane Bour and Jacques Marcon; Tokyo's Jun Yukimura and Hong Kong's Mok Kit Keung
Price: 4 Course Set Menu – $90.00 per person (drinks not included)
Number 8 Restaurant and Wine Bar Details:
Opening Hours:
LUNCH: Monday to Sunday, 12:00pm to 3:00pm
DINNER: Sunday to Thursday 6:00pm-10:00pm; Friday and Saturday 5:30pm to 10:30pm
Address:
The Riverside at Crown
Crown Complex
Southbank VIC 3006
Tel: (03) 9292 7899
Website: http://www.crownmelbourne.com.au/number-8/
How to get there: