What is the best way to compliment your lazy Sunday's and make
them even more perfect? A hot cup of frothed coffee of course!
Devondale Barista's Own is made to deliver a consistent smooth
creamy froth to your favourite style of coffee at home.
______________________________________________________________________
The Boy and I go out to eat quite a bit on the weekends especially for brunches. However, occasionally we do like to chill out at home and not have to leave the bed especially in this cold wintry season.
"Oh Spring, where art thou?"
On weekends like these, especially on Sundays when the thought of the dreadful Monday blues threatens to demoralise us, we opt for a good home cooked lazy Sunday recipe 🙂
On days like these, you want to get up, make a cup of coffee, throw something on the pan and pop it into the oven and crawl back under the warm sheets.
*ding* *ding* Sip, relax and read up on the latest news or catch up on the latest gossip via your phone and voilá!
Before you know it, breakfast is done 🙂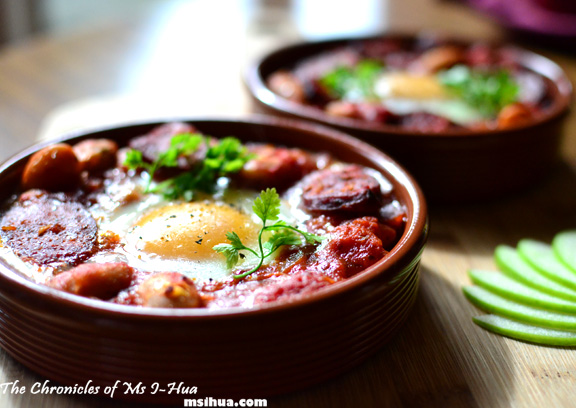 So, which lazy cooking recipe would be perfect for the relaxing lazy Sunday laid out above?
It involves eggs (oozy ones), chorizo, beans, tomato and corn!
Spanish Baked Eggs & Chorizo with Steamed Sweet Corn Recipe
Ingredients:
2 large Eggs (room temperature)
1 mid-sized Chorizo (sliced diagonally)
1 can (400g) of Diced Tomatoes
1 can (400g) of Cannellini Beans or Butter Beans (washed and drained)
1 French Shallot (diced)
2 Garlic Cloves (diced)
1/2 tsp of Smoked Paprika
1/4 tsp of Ground Cumin
1/4 tsp of Cayenne Pepper
1 tsp of Parsley Flakes
1 Tbsp of Ketchup
Salt & Pepper to taste
1 Tbsp of Olive Oil
2 Sweet Corns (washed and peeled)
Butter
Salt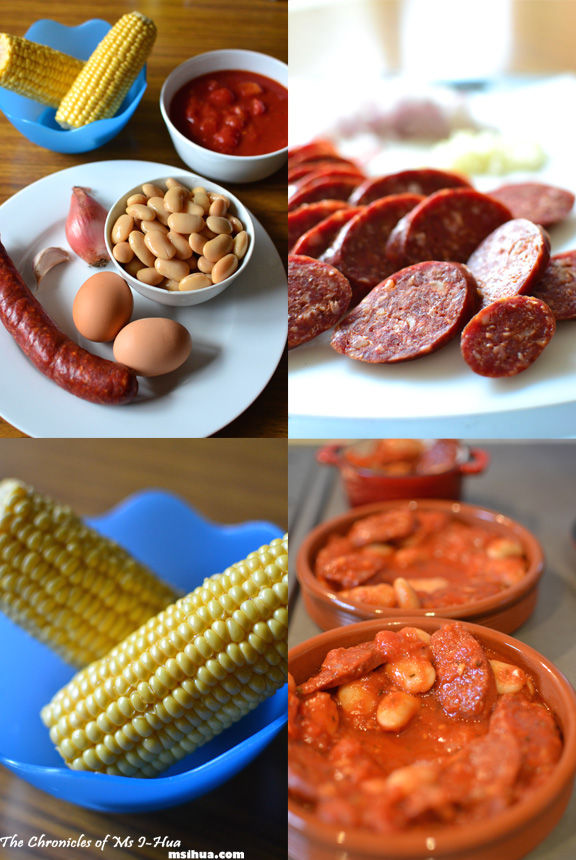 Procedure:
Preheat your oven to 200°C (degrees Celsius).
In a pan, heat olive oil on medium heat and add in diced garlic and French shallots. Cook until fragrant but careful not to burn them.
Add diced tomatoes, cannellini/butter beans, chorizo slices, smoked paprika, ground cumin, cayenne pepper and ketchup. Cook for about 6-8 minutes till it reduces slightly.
(Note: I'm adding the chorizo slices now rather than later because I prefer them to be cooked through but you can always add them just before placing the dish in the oven)
Turn heat off and add in parsley flakes with salt and pepper to taste.
Transfer into individual cazuelas (terracotta dish) or baking dishes. Make a well in the middle and break an egg into each dish.
Place each dish into the oven and cook for 8-12 minutes depending on how you want the yolk (oozy or solid). It will take longer to cook if the eggs are straight from the fridge.
(Note: It's best to keep an eye out on the yolk as different ovens and baking dishes/cazuelas (flat or tall) may vary in cooking time)
Place sweet corn in a steamer and steam for 10-15 minutes. It should change to a slightly darker yellow and looking "plump" when cooked.
Once the baked eggs are done, take them out of the oven carefully (it's hot!) and sprinkle with a little more salt and pepper. Garnish with fresh chervil or parsley.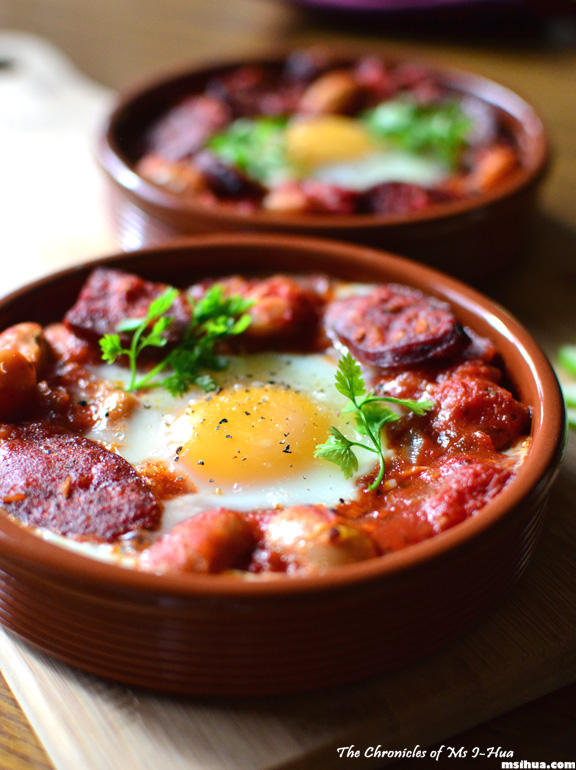 Once the sweet corns are done, take them out of the steamer and brush all sides with butter. Do this while they are still hot and the butter should just melt through.
Season with salt.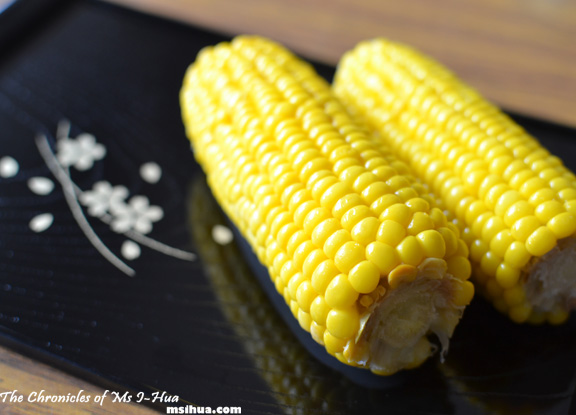 And there you have it, a lazy Sunday breakfast recipe. Quick and easy. Eat them while they're still hot.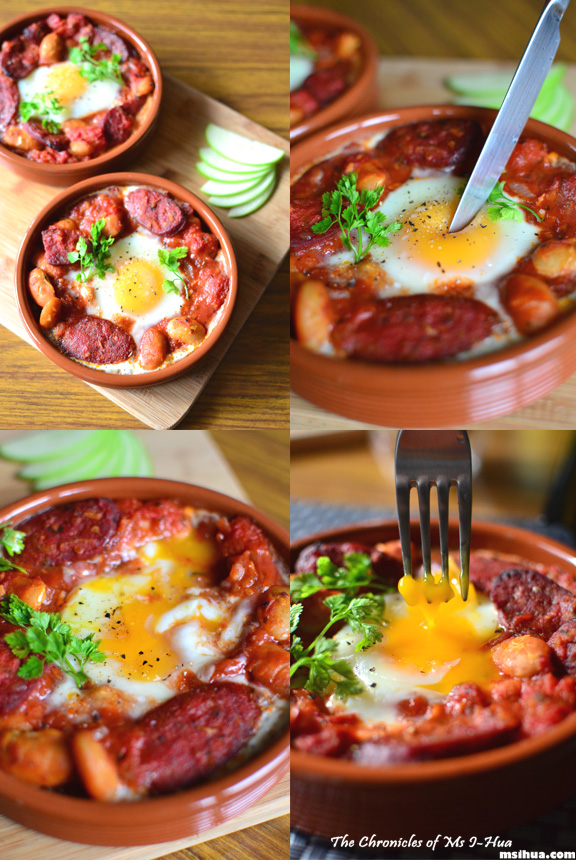 **********************************************************************************
To celebrate the launch of Devondale's new product, the lovely people at Nuffnang Australia are giving away a weekly prize of One Set (6 pieces) of Orange Espresso Cups and Saucers from Espresso Italia (RRP$40).
All you need to do, is to:
Like my Facebook Page (if you have done so, you are awesome! If you haven't, what are you waiting for?)
Tell me "What is your ideal lazy Sunday breakfast meal and who would you like to spend it with?"
*Please leave a valid email address in the email box (emails won't be published) as a contact point. Competition is open to all Australian residents, aged 14 years and over, other than management, employees or contractors of the Promoter and other agencies, firms or companies associated with the Promotion (including suppliers of prize), and their immediate families ("Eligible Entrants").
The competition closes Monday 3rd September 2012 at 6:00pm (AEST). The top three entries will be chosen by me (so be creative!) and the winner will be drawn by Nuffnang Australia. Results will be published on this post.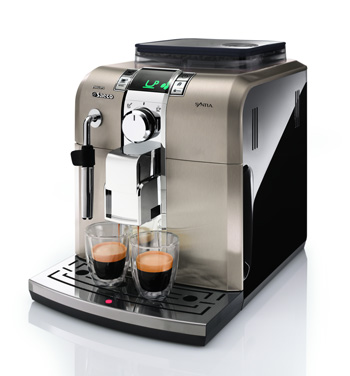 In addition to the weekly giveaway, one of you lucky things will win a PHILIPS Saeco Syntia Class Automatic Espresso Machine worth $1,499!!! (I'm so jealous!)
The most creative answer overall** across the 5 blogs for the weekly competitions will win (leave a creative comment each week to better your chances) this awesome giveaway!
Competition for the major giveaway will run from the 14th August 2012 until 11.59pm Friday 7th September 2012. The winner will be announced and contacted on Monday 10th September 2012.
Terms and Conditions for the Giveaways:
********************************************************************************
[04/09/2012] Announcement: Winner of the Espresso Cup Giveaway for this week:
Thank you to everyone who signed up, liked my Facebook page and left a comment here.
My top 3 picks were:
Thanh @ I Eat Therefore I Am
Cherrie @ Sweet Cherrie Pie
Cheezy K @ Uno Caggee Latte
With no further ado, the competition winner selected by Nuffnang is:
*DRUM ROLL*
Cheezy K! Congratulations Cheezy. I'll be in touch via email soon

COMPETITION IS NOW CLOSED
********************************************************************************
______________________________________________________________________
What is the best way to compliment your lazy Sunday's and
make them even more perfect? A hot cup of frothed coffee of course!
Devondale Barista's Own is made to deliver a consistent smooth
creamy froth to your favourite style of coffee at home. Check out some
of the fantastic breakfast recipes in the Lazy Sunday Series thanks to
Devondale Barista's Own