How do people stay motivated in an industry where the hours are long, the days are tiring and the pay doesn't really justify working hard at all?
I constantly take my hat off to those that work hard in the hospitality industry. Celebrity chefs are the ones who have made it. But where were they before they were famous? Slogging away on 12-15 hour shifts most days, that's where.
What about the front of house staff who constantly have to deal with customers (good and bad) whilst maintaining decorum and a bright smile on their face? Or the sommelier who not only recommends but convinces you that the drop they nudge your way matches perfectly each time with your meal?
It's a tough industry and a dog eat dog world. How often have we heard about bullying cases rampant and rife in the hospitality world where most colleagues just turn a blind eye as they are trained to think that it is part of the initiation process?
How do we attract young people to enter this industry with so much negativity to it?
In 2005, the Appetite for Excellence program was founded by Luke Mangan and Lucy Allon to reward and recognise the young passionate individuals who worked within this tough industry.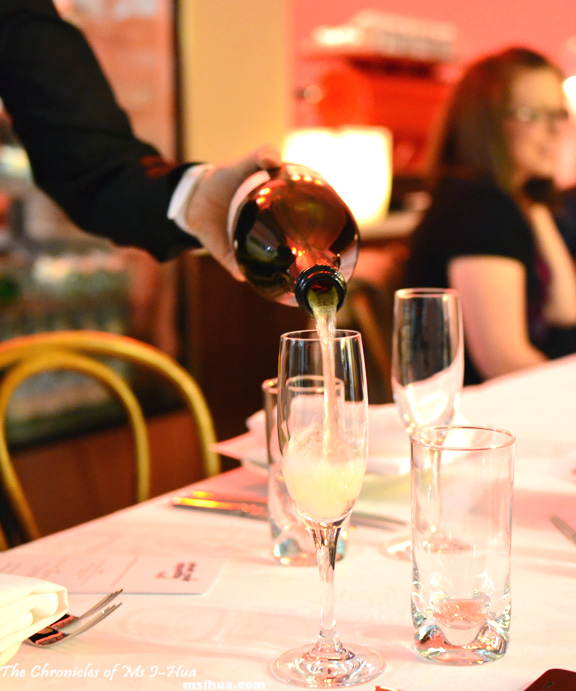 2012 marks the 7th year since inception, the program, a national awards competition geared towards young hospitality professionals is overseen and judged by 24 of Australia's most recognisable chefs, restaurateurs and industry leaders. The program provides an amazing opportunity for participants to enhance their skills and build their profile and networks whilst creating a sustainable industry for young professionals and the community.
This year's judges include Guy Grossi, Chris Taylor, Peter Gilmore, Mark Best, Christine Manfield, Philip Johnson and Luke Mangan.
The purpose of the competition is to inspire and support future industry leaders through unique educational elements, providing career opportunities as well as jealousy inducing prizes.
The 2012 Electrolux Appetite for Excellence nominations for the country can be found on the website. The winners were announced on the 20th of August 2012 (see end of post for list):
Serving us that night, were the 2012 Victorian nominees.
2012 Electrolux Young Chef Finalists:
2012 Electrolux Young Waiter Finalists:
Damien Byrne, LOT 7 (Sommelier)
Pieere- Etienne Geoffroy, Jacques Reymond (Assistant Manager)
Simone Spicer, Pei Modern (Senior Waiter)
2012 Electrolux Young Restauranteur Finalist: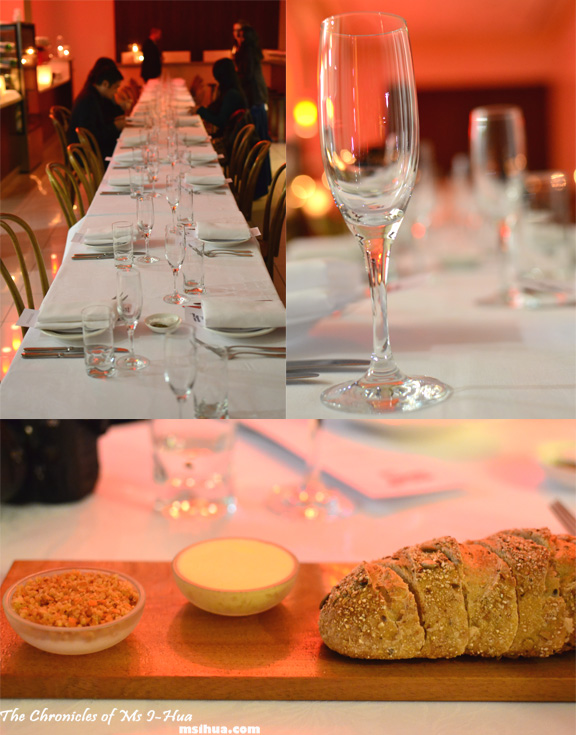 To celebrate this year's 2012 Victorian finalists in Electrolux Appetite for Excellence, a dinner was held at the grounds of Careers Australia.
As we arrived, we were served a sparkling 2005 Kreglinger Vintage Brut (Tasmania) whilst guests mingled with the finalists and each other.
The theme for the night's dinner was Spanning Through the Ages going through primitive (raw), classical (cooked mains) and modern (desserts) brought to us in a sharing style form.
When the bread was brought out, a wave of excitement and anticipation greeted us as we readied ourselves for a good night of eating and drinking ahead.
I would like to point out that the Peasant Sourdough we had was served with cultured butter and pork fat. Yup. Crackling in butter with dehydrated potato and onions. It was so so good.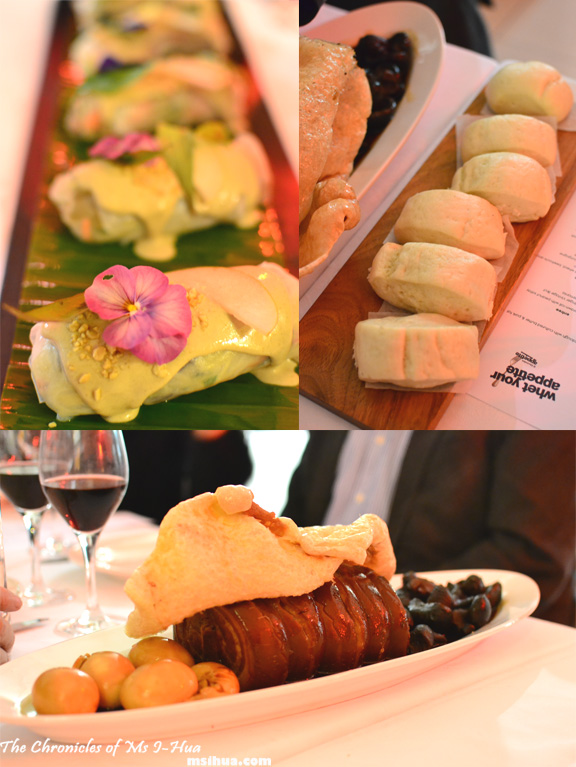 The first course was a delicious Mud Crab and Prawn roll served with Peanut Satay sauce from Jake Nicolson (Circa). We were thrilled to taste test the ingredients in the roll and Laik identified phò jelly (which April, Agnes and I pooh-poohed his active imagination). Undeterred, we hailed Simone (Pei Modern) to help us identify the ingredients and she came back with a "Yes, there is jelly in there! As well as Vietnamese mint, basil, lime juice and pear!". The roll certainly reminded me of the noodle dish we had at Matteo's earlier this year.
For our first main, Kah-Wai Lo (Hare & Grace) brought out an amazing Chinese dish inspired from his father. He told us his parents still ran a Chinese restaurant in Port Douglas serving this amazing dish he brought to our table.
Classic Chinese Emperor's Pork served with peasant bread, Chinese mushrooms, hard boiled eggs and a large piece of crackling. The reason why this dish was so amazing? He used the same masterstock from his father's restaurant which is 25 years old! WINNING! The pork was so amazingly tender and soft and literally pulled away at our touch.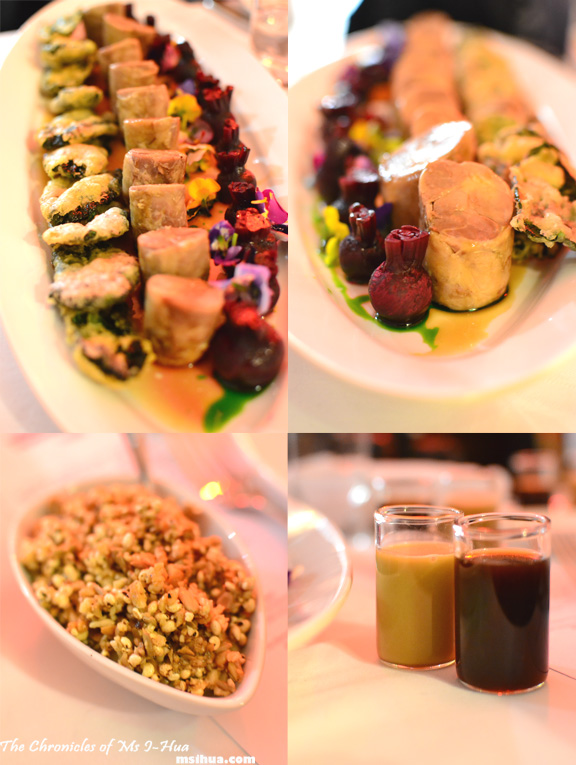 The next main, brought to us by Michael Demagistris (Sorrento Golf Club) was a delicious Confit Duck served with Celeriac, Cracked Wheat, Beetroots and Cavalo Nero.
It also came with two shot glasses of concentrated duck jus and mushroom gravy to be drizzled over the duck.
The mushroom sauce was so good, that a few of us took to drinking it straight from the serving glass. DELICIOUS! Agnes also could not stop eating the deep fried cavalo nero, claiming she was having a moment 🙂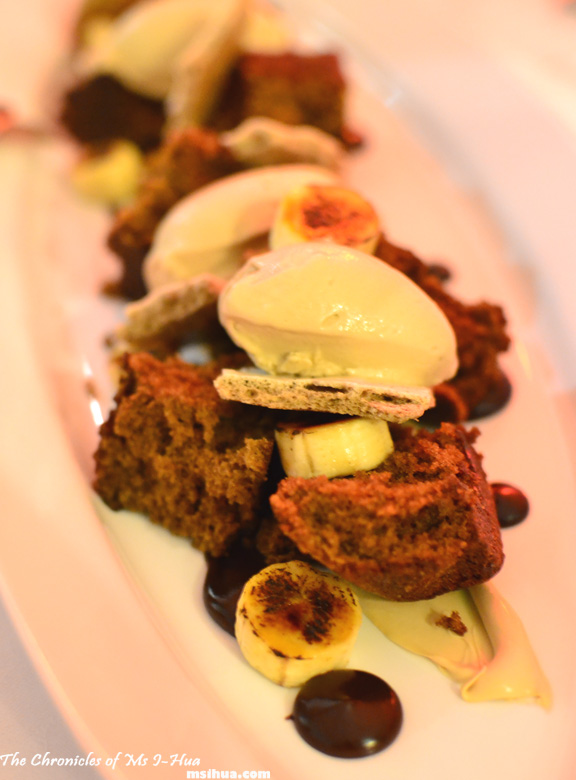 For dessert, we were graced by Michael Fox's (Henry & the Fox) dessert of Gingerbread Cake, Caramelised Banana, Coffee Ice-Cream and Dark Chocolate. With a slight hint of nutmeg in the gingerbread cake, the coffee meringue and ice-cream matched the spiciness of the gingerbread really well. I also liked the added touch of espresso mascarpone and charred caramelised banana. So much good sweetness in one hit!
Throughout the night, we had a different young chef and waiter sit with us to dine, and to serve us. It certainly was a night for them to showcase their skill and also to celebrate with them. It was such a delight listening to their passion and their love for the hospitality industry.
One notable moment, was when Simone asked if we were food bloggers, and when I told her my name, she exclaimed, "You're the "no beef" girl!".
I was gobsmacked as it had been months since I dined at Pei Modern, and yet she remembered me! I blushed and apologised profusely again for making her first night at Pei such a memorable one 😛 If you want to know why, read my Pei Modern post!
I take my hat off again to all the young finalists and clap my hands on the night for a job well done!
Congratulations to the winners of the 2012 program:
Electrolux Australian Young Chef 2012
Winner: Stewart Wesson (Bridgewater Mill, Adelaide Hills)
Runner Up: Michael Fox (Henry & the Fox, Melbourne)
Electrolux Australian Young Waiter 2012
Winner: James Audas (Black by Ezard, Sydney)
Runner Up: Alexander Tuckett (Pilu at Freshwater, Sydney)
Electrolux Australian Young Restaurateur 2012
Winner: Katrina Birchmeier (Garagistes, Hobart)
Runner Up: Daniel Wilson (Huxtable, Melbourne)
Read other recaps of that night here:
Off The Spork
I'm So Hungree
[Ms I-Hua attended as a guest of SMPR and Electrolux]