Y'all know how much I love me some good South East Asian food (sorry, I've been watching too much Everybody Dance Now and am mesmerised by Kelly Rowland's speech).
Thai cuisine is one of my favourite things to eat whenever I feel particularly lonesome and homesick. The balance of sweet and sour gets me every single time.
I recently did a suburban Thai post of my favourite local joints to visit and I thought I would share with you some of my Melbourne CBD faves as it's more convenient for most of you to visit 🙂
So sit back, tie a bib around your neck and prepare for the drool fest below 🙂
Cookie – Swanston St, Melbourne CBD
Cookie has been around for as long as I remember and I still go there for after work drinks on Fridays. During uni days, Cookie was the very first place I was introduced to Lemon, Lime and Bitters. Strange what memories are evoked by some places 🙂
Whilst Cookie Bar is a really cool place to hang out with your friends and workmates, it also serves a pretty mean modern Thai cuisine.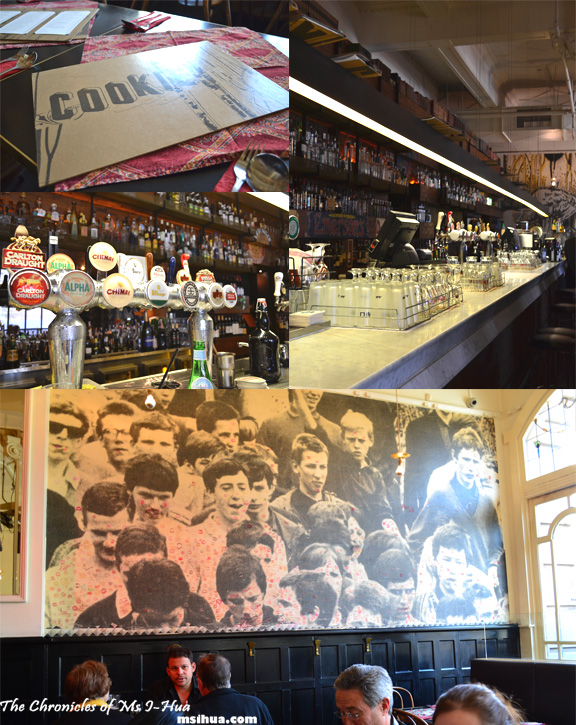 Portions are smaller than most places and prices are steeper as well, but the flavour of the food sure packs a punch.
A while ago, we went there for a farewell lunch and this was what we ordered 🙂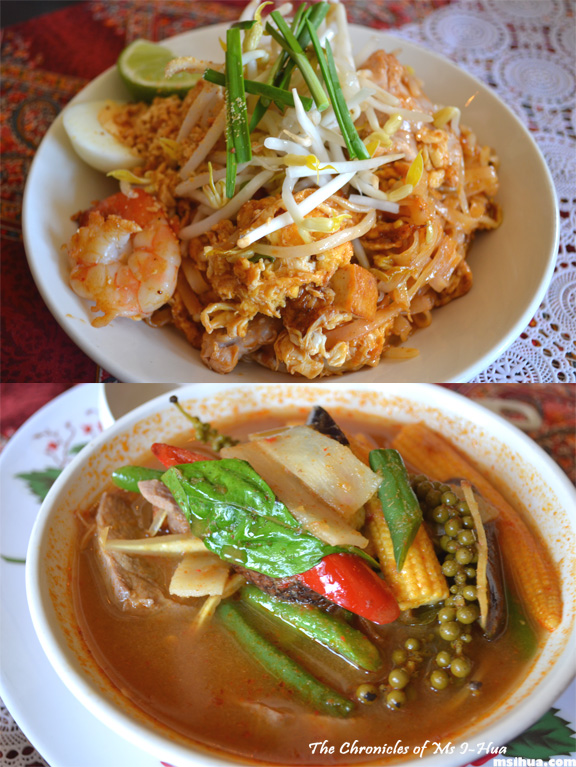 Being the resident food blogger at work certainly has its perks as everyone around the table insisted I try a spoonful of their dishes so that I could get the authentic review experience. Too cute *Winks*
Pad Thai – Rice Noodles with Egg, Beancurd, Prawns & Beansprouts ($17.50)
Duck Jungle Curry with Eggplant & Bamboo Shoots ($23.50)
Egg Net Salad with Minced Chicken, Spinach & Cashews ($22.00)
Stir Fried Sweet Potato, Eggplant with Coconut & Kaffir Lime ($19.50)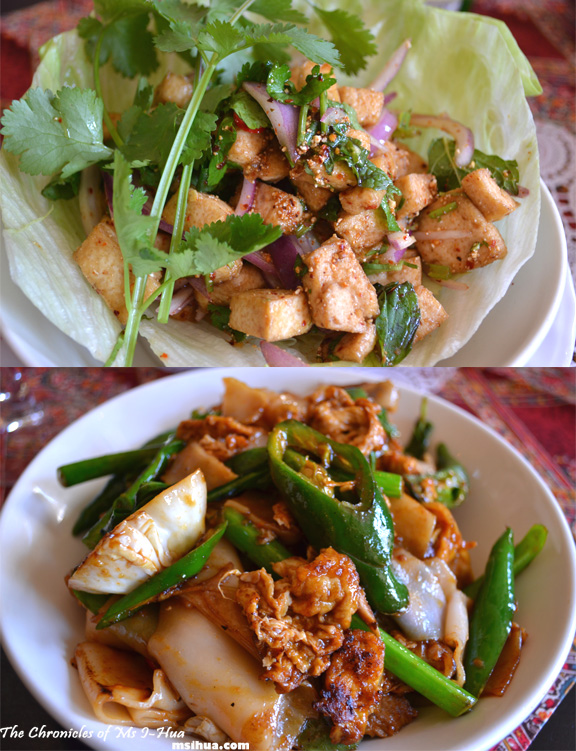 Lettuce Cup Salad with Minced Tofu, Tomato, Chilli & Kaffir Lime ($12.50)
I had the aromatic charred Fat Rice Noodle with Duck, Cabbage Green, Peppercorn and Basil ($22.00)
One of my favourite dish there was definitely the lettuce cup salad which was quite similar to a Chinese styled salt and pepper tofu dish with a Thai kick to it from the chilli and kaffir lime addition.
I liked my duck noodles as well and thought the egg net salad and pad thai was full of flavour.
It is like I mentioned quite pricey given the portion that is served.
My recommendation? Get yourself booking a team lunch there and charge it back or if you can get a client to take you out. I'm not quite sure I'd be willing to pay that kind of price despite how good the quality of the food is there.
*Disclaimer: All food ratings & review are purely based on my own experiences and how I feel about the service, food and quality at the time of visit
Food/ Cuisine: Thai
Dining Style: Restaurant & Bar
Overall Food Rating (Based on the Dining style): 7.75/10
Restaurant ambiance: 7/10 (it does get pretty noisy)
Service/ Attitude: 7/10
Value for money: 6/10
Opening Hours:
Monday to Thursday & Sunday, 12:00pm to 2:ooam
Friday & Saturday, 12:00pm to 3:00am
Address:
Level 1, Curtin House
252 Swanston Street
Melbourne VIC 3000
Tel: (03) 9663 7660
Website: http://www.cookie.net.au/
Twitter: @Cookiebeerhall
How to get there: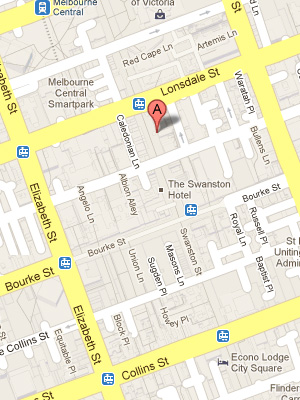 _______________________________________________________________________
Chin Chin – Flinders Lane, Melbourne CBD
One of the most talked about places in the last two years with no signs of declining popularity has got to be the double Chin.
Thinking about the lines forming around Chin Chin with a minimum 2 hour wait most nights gives me nightmares.
The only option to get a table there with no waiting time is if you turn up at 5.30pm for dinner or 11.00am on Sunday for lunch (that's my secret quiet time and I think I've killed that by putting it up here).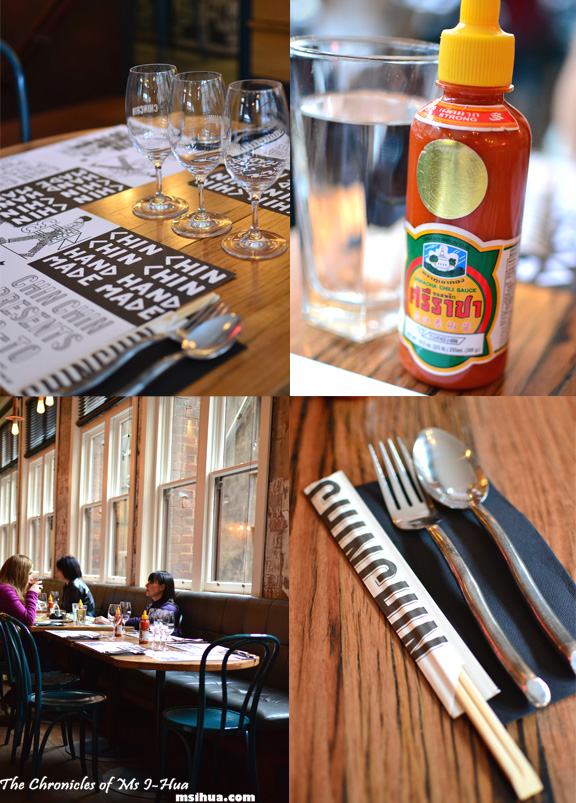 What's the lure of Chin Chin, I hear you ask?
It's cool, funky and the food that comes out of its kitchen is fast, fresh and bursting with flavour.
It was also nice to note that the wow factor of the food and the enjoyment of the ambience we had on our very first visit was still encapsulated, not an easy feat to maintain its popularity given that a new funky restaurant opens up around the corner every other month.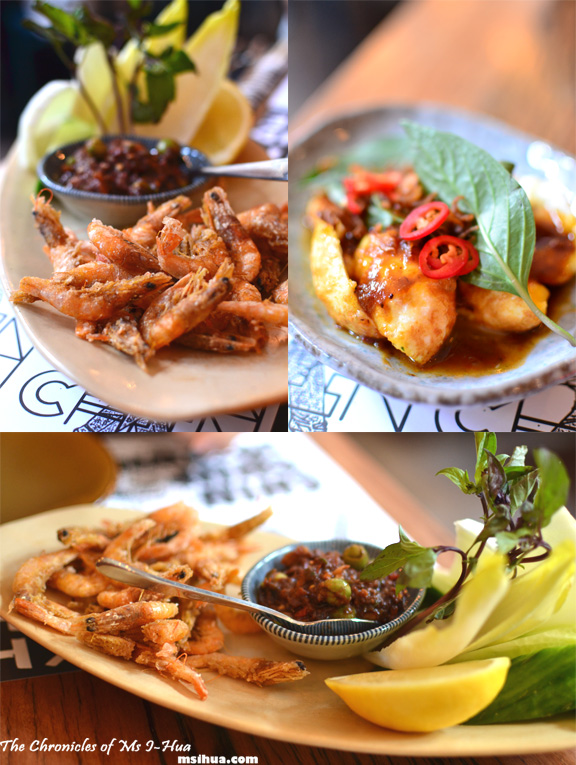 On our revisit, the Boy and I ordered the Crunchy School Prawns with Nahm Prik Pla Gapi, Herbs & Crudites ($12.00) as I remembered them as one of the best I've had. What I really loved from this dish was the spicy chilli paste! I couldn't get enough of it and ate it with my bowl of rice! Noms!
We also ordered the "Son in Law" Eggs with Chilli Jam ($8.00) but couldn't get what was so exciting about this dish (Sh*t Foodies Say :P). It was still nice nevertheless.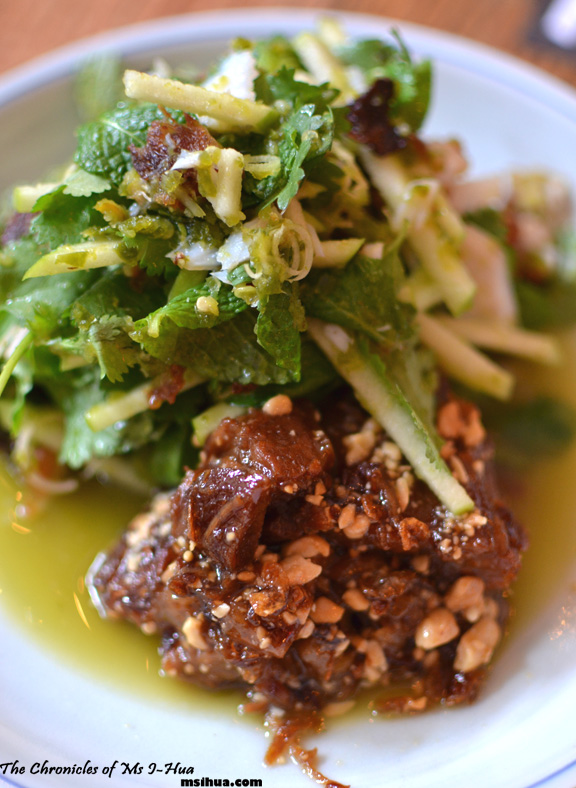 And then the best dish of all times came out! Crispy Barramundi and Green Apple Salad with Caramelised Pork, Chilli & Lemongrass ($26.00).
It was sticky, it had pork, it was sweet, it had pork, it was sour, it had pork, it was fresh, it had pork.
That's pretty much all that went through my head as I ate spoonful after spoonful of it. The barramundi was also very crispy on the outside but tender on the inside.
Such balance in flavours makes you wanting to come back for more after each spoonful.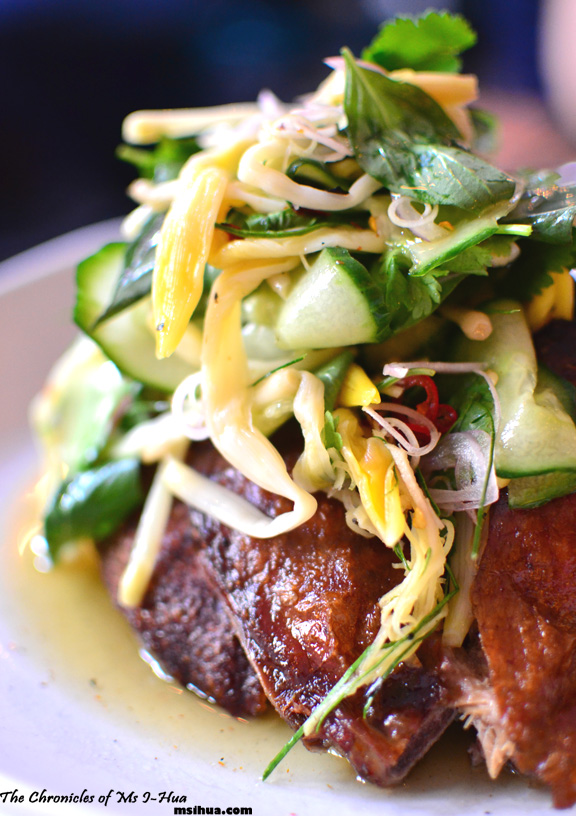 We also had the Crispy Skinned Duck, Pickled Cucumber & Ginger Salad with Sesame Salt & Fresh Lemon ($33.00) which was delicious but couldn't match up to the dish we had before. The salad was much the same as the barramundi and pork dish so it didn't provide us with the wow factor but it was good nevertheless.
All I'm saying is, if you go to Chin Chin and can't decide what to order, make the crispy barramundi and sticky pork dish the one thing you MUST order 🙂
*Disclaimer: All food ratings & review are purely based on my own experiences and how I feel about the service, food and quality at the time of visit
Food/ Cuisine: South-East Asian (mainly Thai)
Dining Style: Restaurant
Overall Food Rating (Based on the Dining style): 8/10
Restaurant ambiance: 8/10
Service/ Attitude: 7.5/10
Value for money: 7/10
Opening Hours:
Monday to Sunday, 11:00am to late
Address:
125 Flinders Lane
Melbourne VIC 3000
Tel: (03) 8663 2000
Website: http://chinchinrestaurant.com.au/
Twitter: @chinchinmelb
How to get there: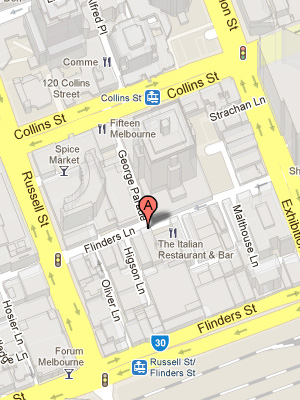 _______________________________________________________________________
Red Spice Road – McKillop St, Melbourne CBD
If you are looking for Asian food which is good and affordable in a cool funky Melbourne establishment, look no further. Red Spice Road (RSR) is definitely the place to visit.
I will suggest that you go for their banquet options and you'd be rolling out the door by the end of the meal.
Food portion is not only generous, the flavours infused in the cuisine served is amazingly delicious and will most definitely whet your appetite.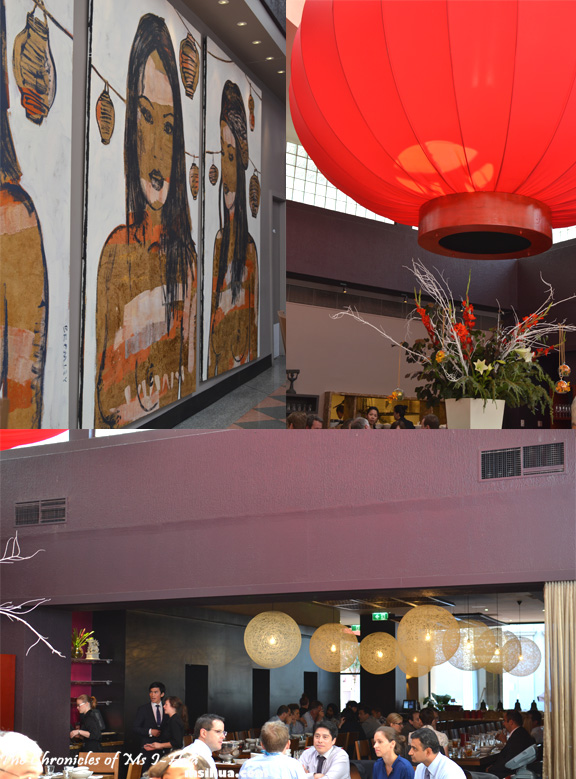 I've had their lunch banquets a couple of times now and each visit did not disappoint. The whole table would be having their own private "moments" before finally admitting defeat to the portions of the food and rolling out the door. But somehow we always have room for desserts!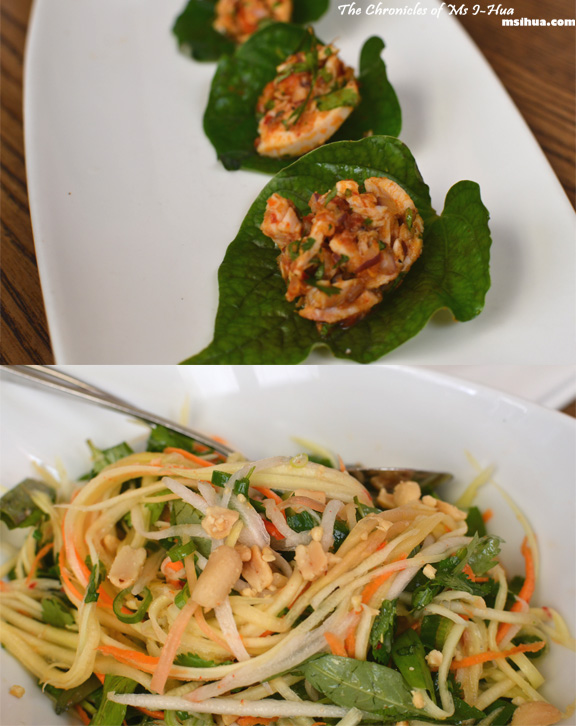 On our first visit, we had the Betel Leaf topped with Smoked Chicken, Prawn, Chilli, Coriander and Lemongrass as our appetiser. The second time, we had a lovely cup of Tom Kha, a Spicy Coconut Broth with Prawn and Chicken.
I've also had the Som Tam – Spicy Green Papaya, Tomato, Snake Bean, Peanut and Dried Shrimp Salad, which would have been better if it was spicier, but all the main elements of a good Som Tam was there.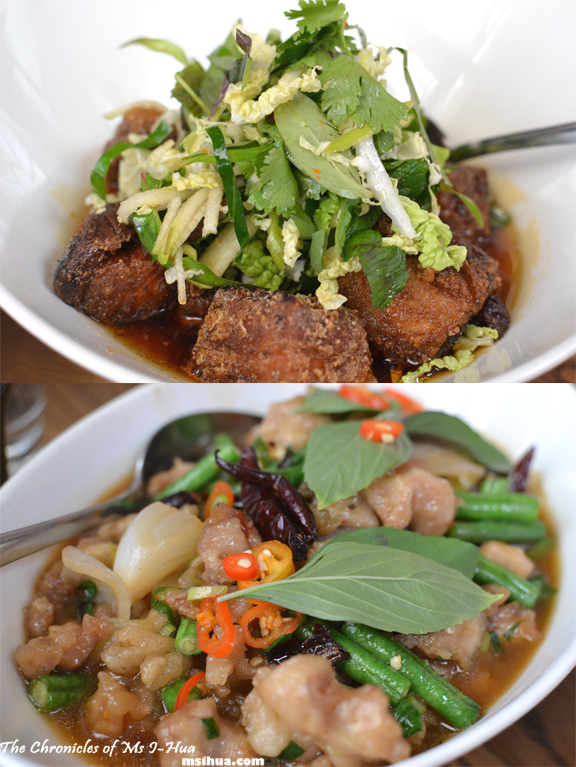 On to the mains!
Pork Belly with Chilli Caramel, Apple Slaw and Black Vinegar and the Chicken with Cashews, Green Onion, Chilli, Soy and Sichuan Pepper
My favourite dish of all times would definitely be the pork belly dish and I've been torn to admit that I can't choose between the pork belly dish at RSR and Double Chin.
Don't choose, have both!!!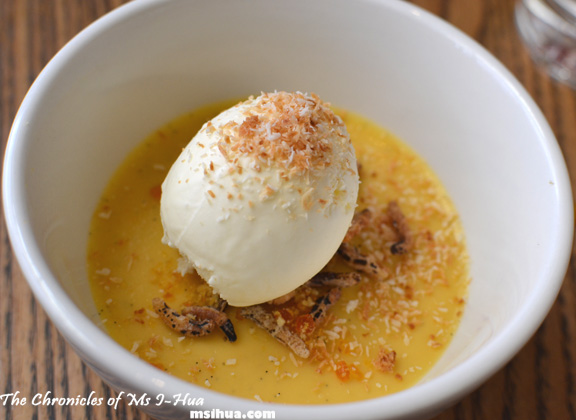 For dessert, we had the Passionfruit Brulee with Puffed Wild Rice and Coconut Ice-Cream.
The menu changes quite often for the lunch banquet but it all comes from their ala carte menu. I've also had the Massaman Curry Chicken and Squid Salad (Yum Talay) which were delicious as well. For desserts I've had the Lychee Filled Jam Doughnuts with Cinnamon Ice-Cream and the Choc, Chilli, Mint Parfait with Salted Peanut Caramel, Rice Puffs and Pineapple Sorbet. They are as good as they sound on the menu.
I've been there twice now to do their Lunch Banquets and each time I've come away extremely pleased, happy and rolling out the door. For the quality and quantity of the food, the lunch banquet option is definitely value for money!
Lunch Banquet options are as follows:
Choose 3 mains and entree $25 per person (minimum of 2 pax) or all 5 mains and an entree $30 per person (minimum of 6 pax).
Banquets are for the entire group only and if you have 12 or more guests, you must participate in a banquet.
They will cater to dietary requirements if you ask and they will allow 5 people to do the 5 main banquet if required.
*Disclaimer: All food ratings & review are purely based on my own experiences and how I feel about the service, food and quality at the time of visit
Food/ Cuisine: South-East Asian (mainly Thai)
Dining Style: Restaurant
Overall Food Rating (Based on the Dining style): 7.75/10
Restaurant ambiance: 7/10
Service/ Attitude: 6.5/10 (wait staff here can get quite snarky at times, but it does get crazy busy in here)
Value for money: 8.5/10
Opening Hours:
Monday to Friday, 12:00pm to 3:00pm & 5:00pm to late
Saturday, 12:00pm to 3:00pm & 6:00pm to late
Closed Sundays
Address:
27 McKillop Street
Melbourne VIC 3000
Tel: (03) 9603 1601
Website: http://www.redspiceroad.com
Twitter: @redspiceroad
How to get there: