Chin Chin Chirree Chin Chin Cheroo.
Yes sirrah! I know sirrah! That was supposed to have been Chim Chim Chim-me-ny… but Sirrah!
Thinking of Chin Chin just makes me want to jump up and dance around and sing on the rooftops!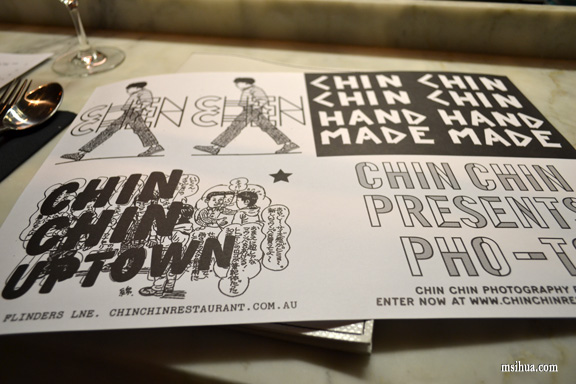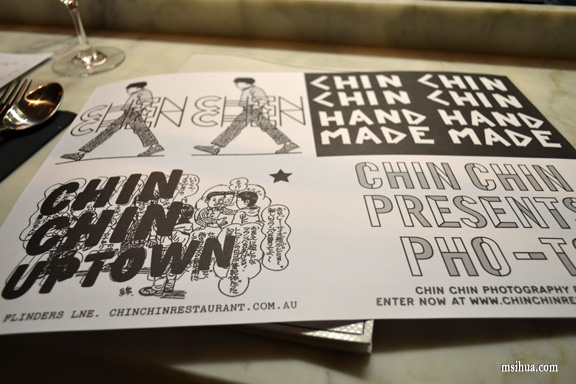 Chin Chin opened to tremendous support from the social media and food bloggers, and have only been around for just over two months. Everyone that has been, has fallen in love with its charm.
Chin Chin has a strict no reservation policy, unless you are in a big group of 12 (or more), and as such, once it goes past 6.00pm the crowds surging through this establishment is on the CRAZY HUGE side.
As it were, we found ourselves there at 5.45pm on Friday and it was pretty much full to the brim (bar a couple of tables). We were greeted at the doorway and offered bench seats facing the window or the kitchen.
Without hesitation, I said, "Kitchen, please (are you crazy?) *cough*".
And that ladies and gentlemen, is how we scored the best lit spot in the restaurant 🙂
The later it got, the more crowded it became, so I was pretty happy to be in my kitchen corner!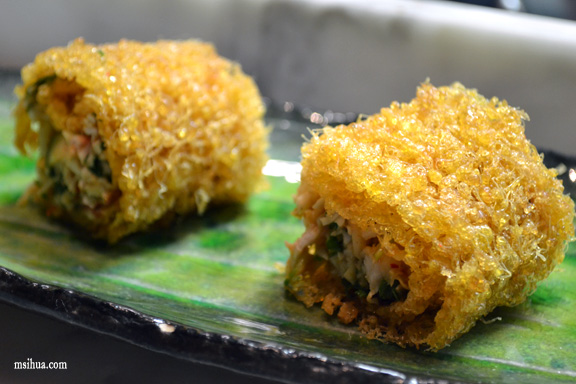 From reading various recommendations and having had assistance from Billy (who was there yet again on his umpteenth time), we decided to order a few of the must haves and branch out adventurously on the other dishes.
We went with the Spicy Eggnet Rolls (2 pieces) – with Spanner Crab and Chilli Jam ($12.00) which despite looking extremely crispy, was not. However we weren't disappointed as we were told that, that would be the case with this eggnet. The spanner crab and chilli jam filling was delicious and went really well with the eggnet.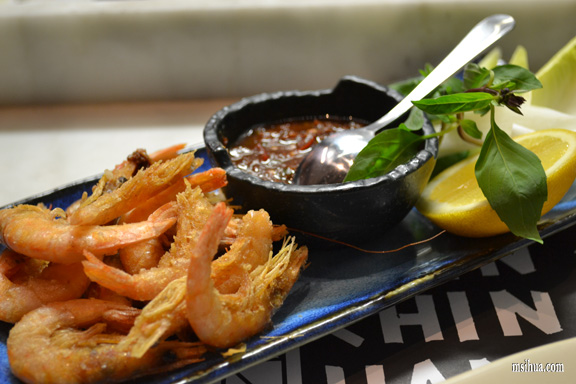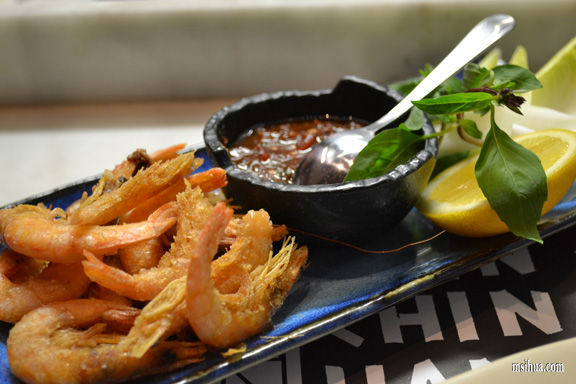 The next item on the must have list were the Crunchy School Prawns – with Nahm Prik Pla Gapi, Herbs & Crudites ($11.00). The prawns were slightly on the bigger side and when it arrived, I was a bit worried that due to the size, they may not be as crunchy as I'd like. However, when I bit into my first giant juicy prawn (I chose the biggest prawn on the platter), it was delightfully crispy!
For those who have never had this before, you're meant to eat the whole prawn (including shell, tail and head). No peeling.
The chilli dipping that came with it reminded me of the Malaysian sambal, as it had bits of anchovies in it. So good!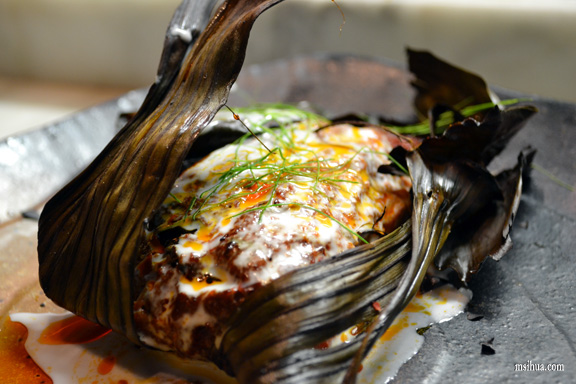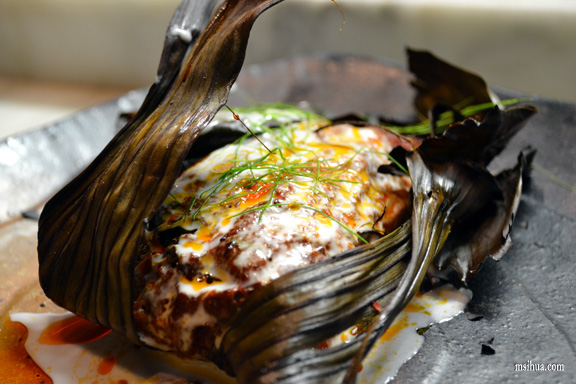 For our mains, we ordered a Wild Barramundi Wrapped in Banana Leaf – with Coconut Red Curry, Lime & Thai Basil ($22.00). On that night, I described this as a Malaysian Otak-Otak (which literally translates to brain-brain, go figure!).
I just loved how wonderfully reminiscent this dish was. It literally brought me back to my grandmother's house in Malaysia. Yes, literally. I have mastered the art of time travelling.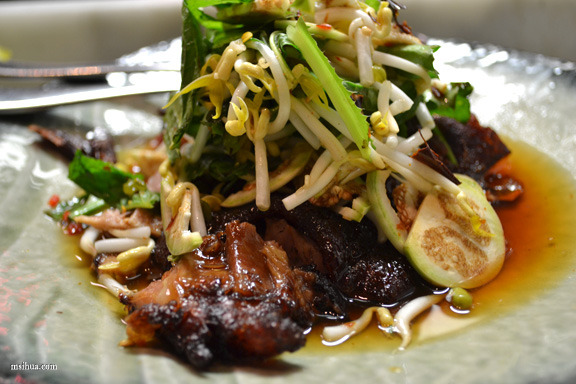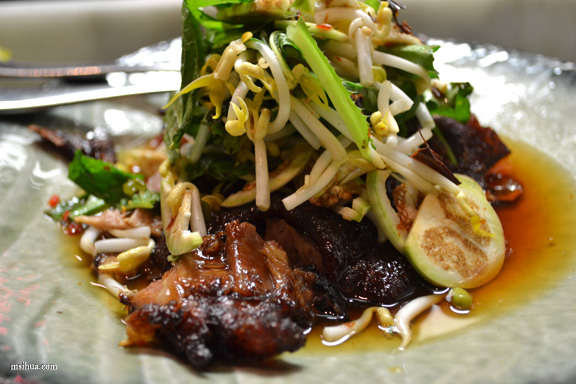 Next up was a recommendation from Billy, the Caramelised Sticky Pork – with Sour Herb Salad & Chilli Vinegar ($24.00).
This was the hands down winner of the night for the both of us. The Boy was impressed with the balance of sweet, sour and salty elements of this dish.
It was just beautiful. I came close to draining the sauce.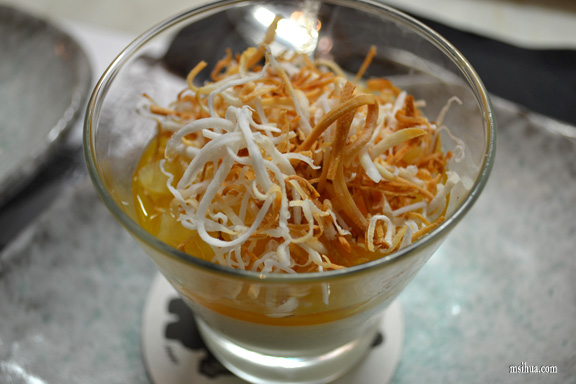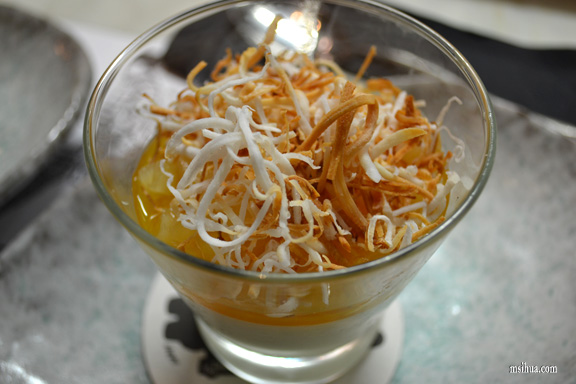 At this point, the Boy and I were tossing if we should order another entrée or have a dessert each. The latter won as we were definitely quite full by then.
So, despite bursting through the seams of our clothing, we soldiered on and ordered the Layered Jellies of Coconut Milk, Passionfruit with Slow Poached Pineapple & Toasted Coconut ($12.00) [pictured above] and the Palm Sugar Ice Cream Sundae – with Salted Honeycomb & Lime Syrup ($14.00) [pictured below].
We started by dipping our spoons into the highly anticipated palm sugar ice-cream. It was extremely sweet and everything we expected it to be. Partnered together with the salted honeycomb, I felt that it needed to have a higher salt content and more lime syrup to cut through the sweetness. We still managed to finish it 🙂
When we tried the next dessert, we both smacked ourselves on the head. We should have started with this instead! The creaminess of the coconut milk and the tangy flavour of the fruits were just so well balanced! However, as we had started out with the ice-cream, all we tasted with that first spoon was the tartness of the passionfruit.
Quickly drinking copious amounts of water to cleanse our palate, we finished the layered jellies dessert with delight.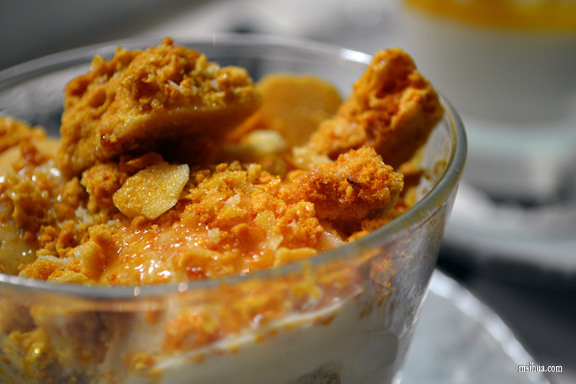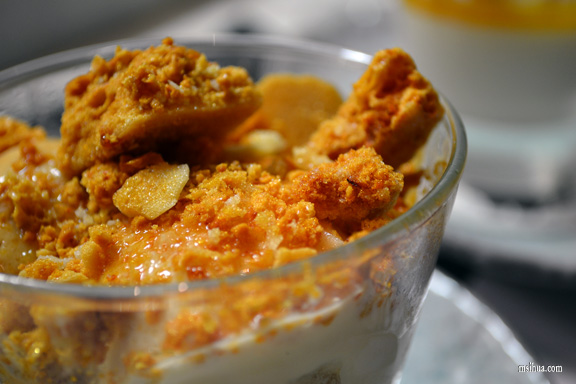 For the meal that night, I had ordered a rather fine tasting Riesling aptly named, Some Young Punks 'Monsters Monsters Attack' 2011 from Clare Valley, SA $9/ $ 41.
It reminded me more of a light tasting moscato, than a riesling though, which was a bonus, as I love sweet wines 🙂
So what did I think of the establishment? Was it worth the hype? Would I ever return?
Loved it! Yes and YES!
I like the fact that the cuisine encompasses elements from different parts of South-East Asia rather than keeping to the one area. I also liked the fact that it served up unpretentious straight up interpretations of South-East Asian suited for the Melburnian taste buds.
Having dined from the front row seats that night, we got to see how quickly a busy kitchen should operate. The dishes chosen to appear on the menu were simple, flavour busting and quick to prepare.
Nothing overly complicated, Chin Chin is eager to please and man were we pleased 🙂
*Disclaimer: All food ratings are purely based on my own experiences and how I feel about the service, food and quality at the time of visit
Food/ Cuisine: South-East Asian (mainly Thai)
Dining Style: Restaurant
Overall Food Rating (Based on the Dining style): 8.25/10 (I really couldn't fault the taste, apart from the almost too sweet palm sugar ice-cream, everything we ordered that night was a win!)
Restaurant ambiance: 7/10 (It was modern and rustic at the same time, encompassing a modern restaurant lay-out with hawker-esque elements in the vicinity. Although, noise levels can be on the high side during peak times and sharing meals between more than 2 people on the bench seats can be quite a challenge)
Service/ Attitude: 8/10 (Despite how crowded it was, the wait staff made a concerted effort to try and get to everyone. And if they couldn't, they explained that they would be right with them, and reappeared in 5 minutes. However, saying that, our water was only topped up twice in the two hours we were there)
Value for money: 7.5/10 (Typical Melbourne pricing for tasty quality food)
Address:
125 Flinders Lane
Melbourne VIC 3000
Tel: (03) 8663 2000
Website: http://www.chinchinrestaurant.com.au/
Chin Chin is open
Monday to Sunday, for Lunch and Dinner

How to get there: