I'm not big on traditions and I don't like to follow rules.
Society norm? *pfffftttt*
This lack of regard for conventional behaviour is what usually makes me stand out above the crowd, but it is also what gets me in trouble most of the time. This also carries over to my love of food.
Thus, it shouldn't be a surprise to know that I'm not a fan of traditional cakes or desserts from Malaysia.
Yep. Don't shoot me. It's like a sin being Malaysian.
I don't like kuehs (kuihs) and I don't like soupy desserts (except Pulut Hitam). I don't hate them. I just don't like them enough in the food category sense to love them 😛
I'll go to great lengths to not eat them. There was this one time, when I was visiting a friend's home, where I had to politely accept a piece of kueh as her mother looked on. I took a bite into the kueh, exclaimed how lovely it was before she moved away. I next subtly hid it in my handbag to discard it later at home. The trick was to bide my time about it to avoid looking as if I wanted another piece.
It's not all bad though and there is some semblance of hope, as I do love deep-fried things.
I'm a firm believer that once anything is deep-fried, it'll be delicious!
Hence why I like curry puffs, deep-fried banana fritters, deep-fried prawn fritters and deep-fried sesame balls. These are probably the only type of traditional Malaysian kuehs which I love dearly.
The non-conventional type, because I'm a non-conventional type of girl.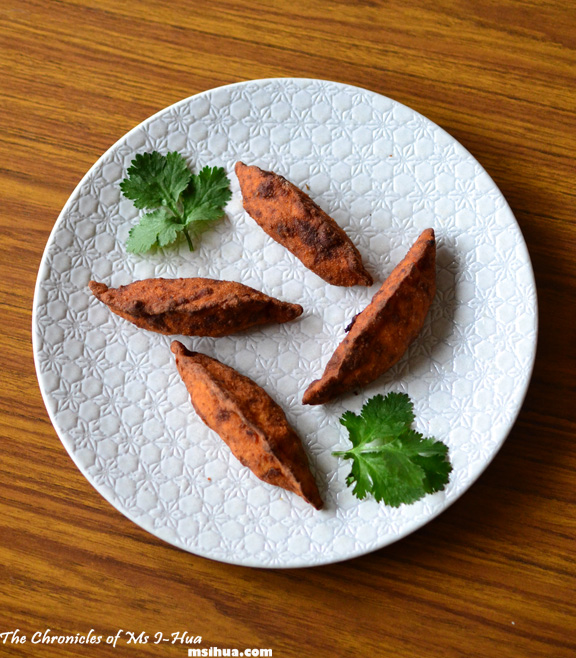 The Boy knowing this has tried to force feed me kuehs by buying them and cooking them.
He'll coax me and he'll demand that I try a bite. In the end, it always has the same result. If it's not deep-fried, there's no making me eat it.
Which is why, he made me a modified version of the traditional Malay kueh known as blotok and he had to pull the hand brake on me before I finished the whole plate on my own 🙂
Sweet Potato Puffs with Minced Lamb Recipe
(a modified version of Norzailina Nordin's Blotok Recipe from the "Bite Size: A Collection of Traditional Malay Treats" cookbook)
Ingredients (Dough):
500g of Sweet Potatoes
250g (or more) of Plain Flour
Pinch of Salt
Ingredients (Filling):
250g of Minced Lamb
1 Brown Onion (finely diced)
2 Egg Yolks
1 tsp of Ground Cumin
1/4 tsp of Ground Black Pepper
Pinch of Salt
Canola Oil
Procedure:
Peel and cut sweet potatoes into chunks. Heat a pot of water and place sweet potatoes into the boiling water. Cook until tender.
Once cooked, drain and finely mash the sweet potatoes. Pass them through a fine mesh sieve to rid of any lumps. Place sweet potatoes aside to cool and dry out.
Heat a frying pan with 2 tablespoons of canola oil and add your onions. Lower the heat and let the onions sweat for 5-7 minutes. Cooking the onions on low heat helps to release its "sweetness".
Increase to medium heat and add your minced lamb and ground cumin. Stir meat until it is cooked through.
Add the egg yolks, salt and pepper into the pan and cook for another 2-3 minutes.
Remove filling from the pan and set aside to cool.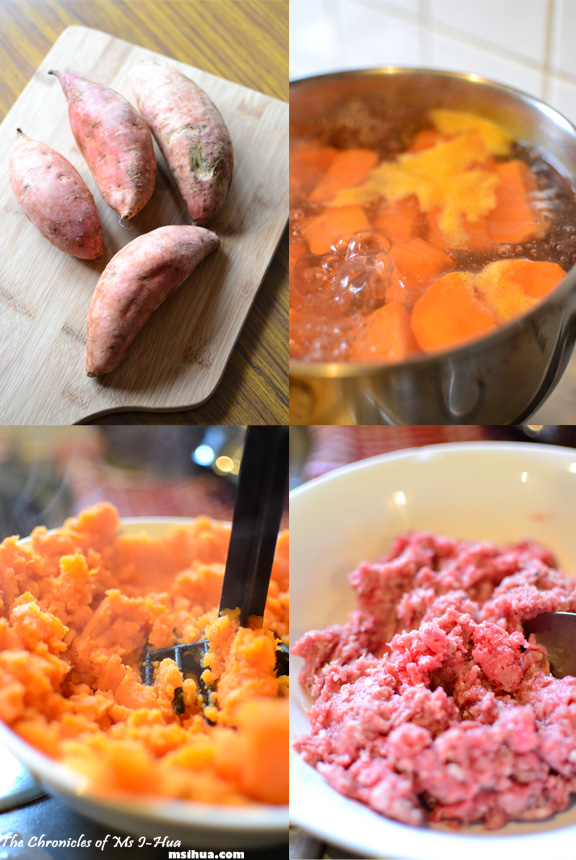 Make sure that your mashed sweet potatoes are dry to touch and completely cooled down. I find that the dough tends to be too "sticky" if the sweet potatoes are still warm and "wet".
To prepare the dough, knead mashed sweet potatoes, plain flour and salt until you get a soft and smooth dough. Add a little more flour if needed, to get it to the right consistency.
Take a small portion (size of a small egg) of the dough and flatten it with a rolling pin.
Take a spoon of your filling and place it in the middle of the dough. Fold it into half and pinch the seams to close it. Similar to how you would shape a curry puff.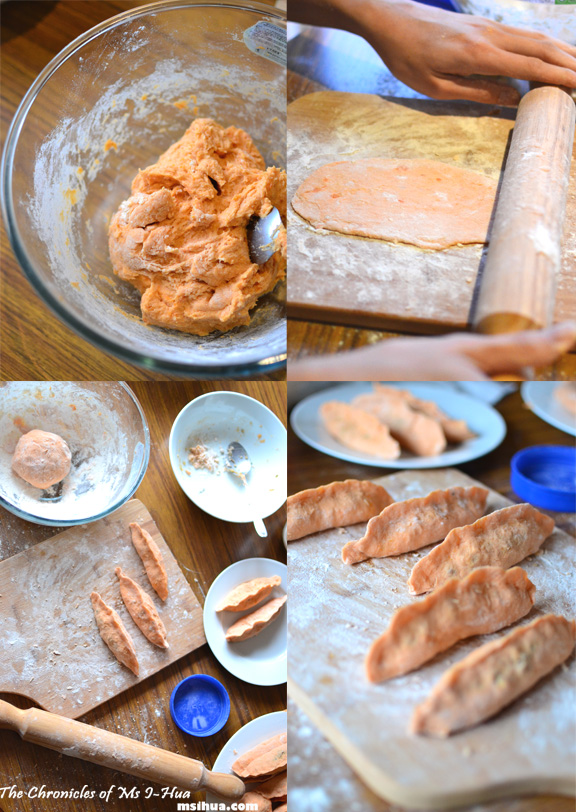 Heat a pot of cooking oil (or use a deep fryer) at 180 °C (Celsius). Gently lower the puffs into the oil and deep fry them until it reaches a golden brown colour.
Drain on a wire rack or kitchen towel.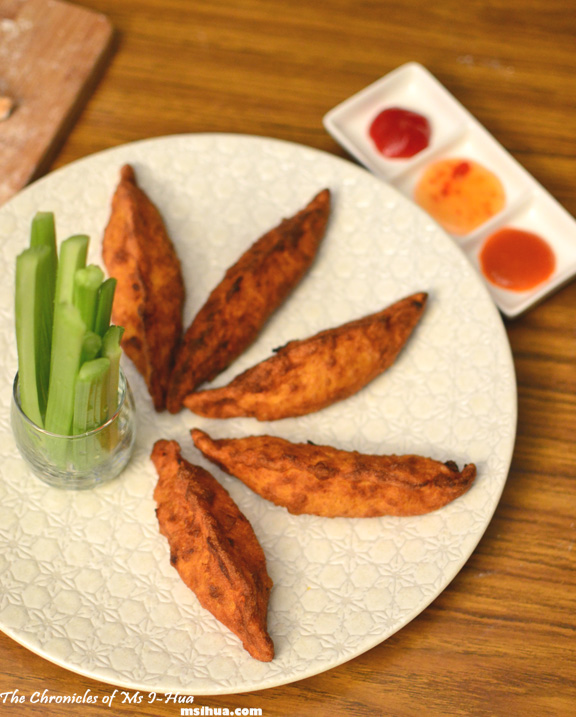 Serve while they are still hot. Dip them in ketchup, sweet chilli or hot chilli sauce. Sublime!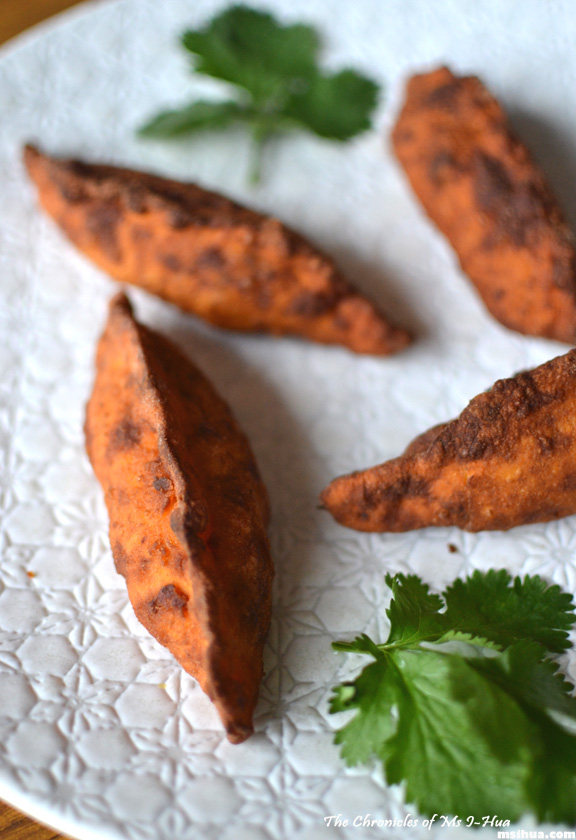 So what do you think my friends? Has he done well?
Also, do share with me your food dislikes and how you've circumvented eating it!