I think by now, everyone knows that I'm in love with Docklands South Wharf Promenade. I've blogged about it enough on previously (Boatbuilders Yard, Akachochin, The Bohemian and The Sharing House) with further un-blogged tales on a wine dinner at The Bohemian and lunch at The Meat Market.
Now there's a new place to talk about on the sheds.
Shed 5 to be exact.
With this restaurant precinct covering nearly all of Melbourne's diverse culture and thus cuisines, all that was needed was a restaurant to cater Modern European cuisine to the masses. In particular, Shed 5 caters Mediterranean cuisine.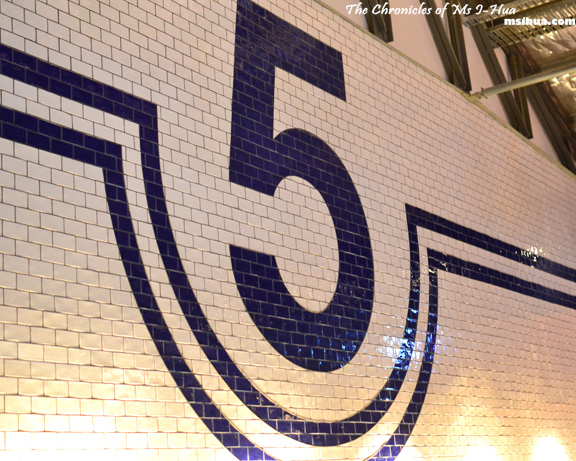 Finding it was not difficult at all as it is located right next to The Sharing House and Akachochin and at the riverside entrance to the Hilton Hotel.
With Sydney restaurateur Stan Sarris and Head Chef, Vasilios Donoudis (ex-Church Street Enoteca) on the scene, you can rest assured that you will be well taken care of.
Shed 5 is also a proud owner of a wood fired oven which Vas seems to be delighted in using for most of the cooking. Using gas, the wood fired oven utilises red gum wood to add the wonderful smoky flavour to food as they cook in the oven.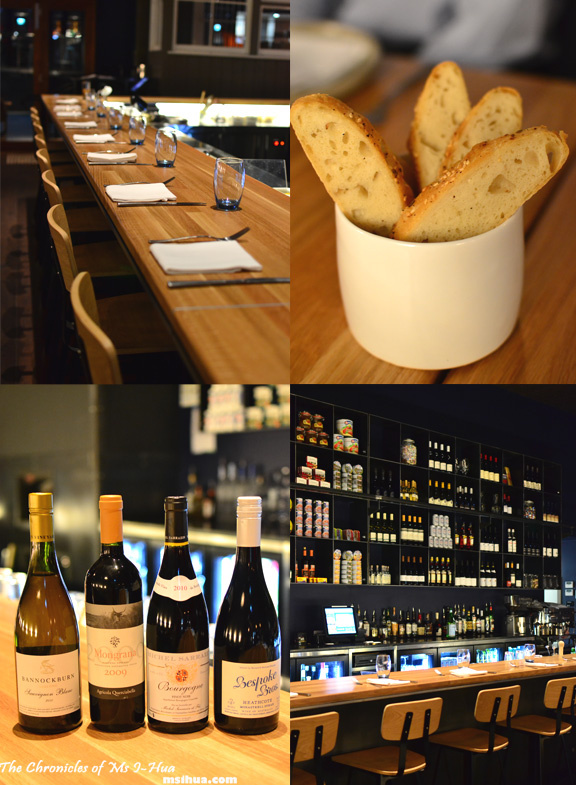 On the night of the food bloggers dinner, we were provided with several wine choices or as one staff told us, take a trip to Italy, France and Australia.
We sampled wines from Mongrana Maremma Toscana IGT Agricola Querciabella (Tuscany, 2010); Bannockburn Sauvignon Blanc (Geelong, 2011); Bespoke Bros. Monastrell Syrah (Heathcote, 2010) and the Michel Sarrazin Bourgogne Rouge (Burgundy, 2010).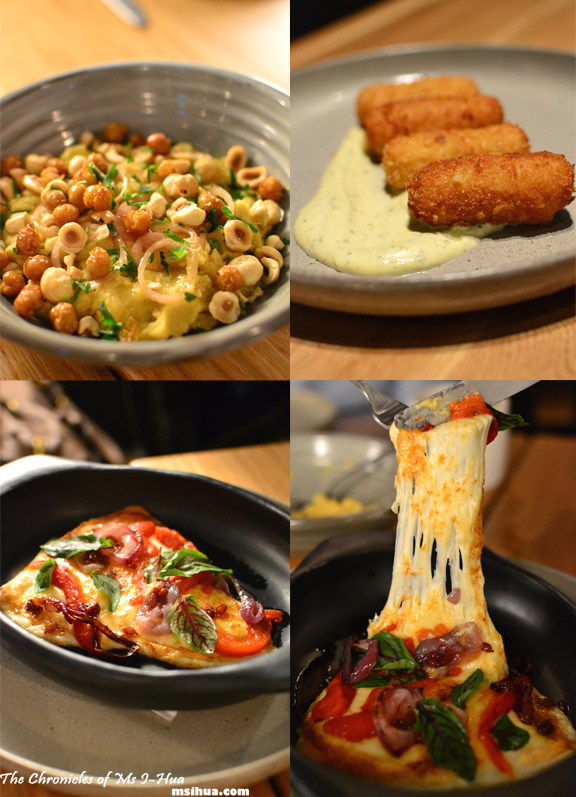 [Clockwise from top left to bottom: Flatbread & Fava Pureé (Fried Chickpeas, Shallots, Hazelnuts, Fava  Pureé); N'Duja & Mozarella Croquettes (Salmoriglio aioli); Saganaki]
All the entrees were delicious vegetarian fare (except the N'Duja as pointed out by Agnes). Say what? I like vegetarian? Uhuh! Someone had to stop me from finishing up the whole serve of the fava pureé  as it was so crunchy and lovely to eat!
The N'duja & mozzarella croquettes were creamy with the sauce quite tart and spicy. The saganaki, as with all saganaki was like cheese on pizza without the pizza! MMmmmm! Cooked using the wood fired oven, the saganaki is sweetened only by the grilled onions, roasted peppers and barberry which garnishes it.
Despite not being an entirely greek menu, Vas being Greek himself, can't help but impart some of his heritage and knowledge of his culture through his cooking into the food served at Shed 5.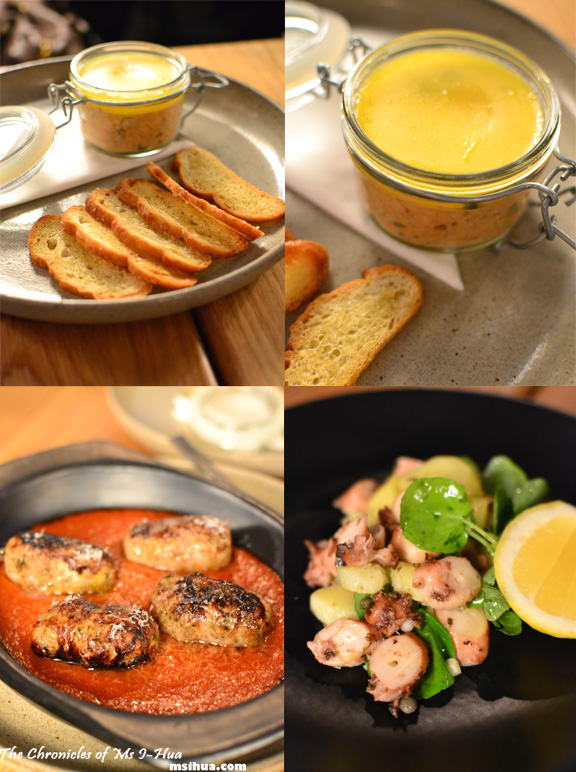 [Clockwise from top to bottom left: Smoked Eel (ocean trout, sherry rillettes); Slow Cooked WA Octopus (saffron, kipfler potatoes, capers, sorrel mayo); Cyprian Lamb Shetalies (tomato, cinnamon saltsa, truffled pecorino)]
The smoked eel was rich and smoky, the octopus (not on the menu) was very tender with the sorrel mayo adding a very light and lemony touch to the smoky depths of imparted red gum. The meatballs were another highlight with the sauce really rich and thick (my notes for that night only had, "Yum!")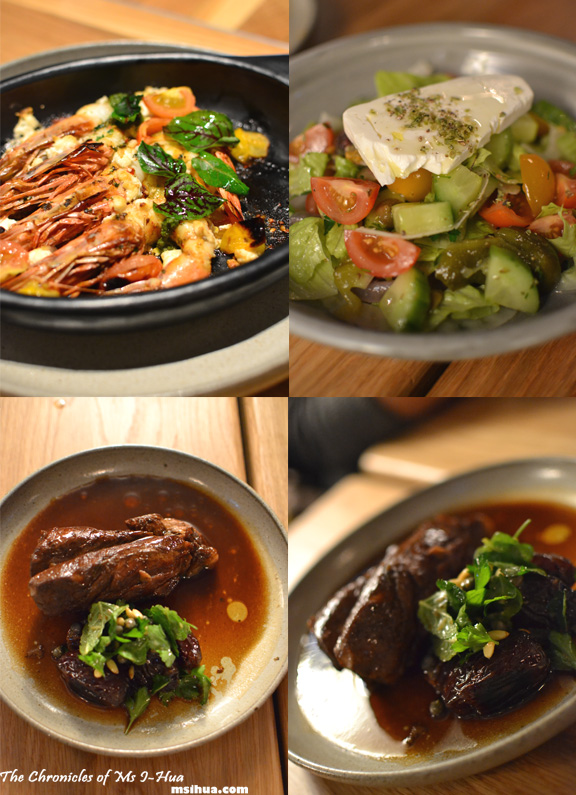 [Clockwise from top left to bottom: King Green Prawns (salsa trapanese); Simple Greek Salad;  Slow Roasted Lamb Neck (dates, pinenuts, capers)]
On to the mains and we shared the King Green Prawns (which came topped with delicious barrel aged feta, tomatoes and sorrel).
What had me drooling was the 14-hour slow roasted lamb neck (at 100 degrees). The meat was so tender and literally fell apart as we prodded it.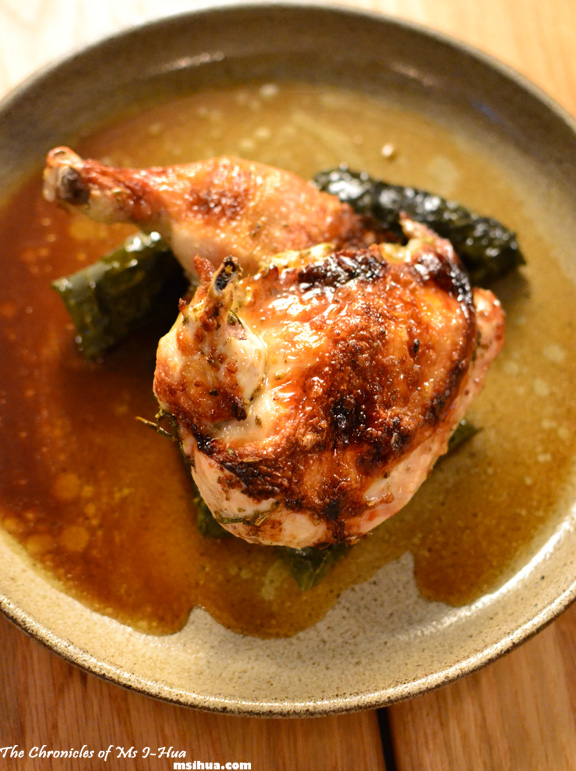 But the wining dish of the night (as agreed by all at my table) was the Bannockburn Half Chicken, Green Raisins, Pinenuts, Roasted Chestnut Dolmades. Vas came out to tell us that it had been in the brine for a few hours before roasting at a very high temperature).
Looking at my notes, I had written nothing down, as I was much too busy savouring every mouthful and bite of the glorious chicken!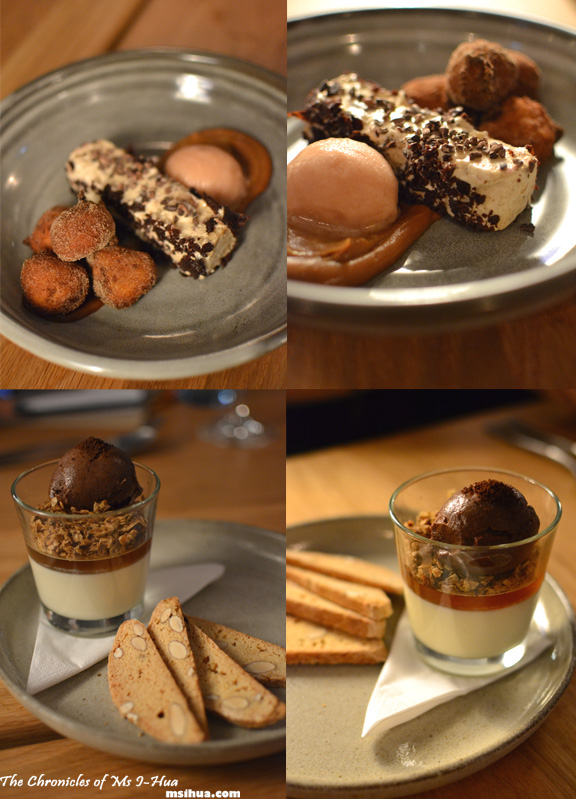 For desserts, we had the Spiced Halva Semifreddo, Quince Sorbet, Salted Caramel, Ricotta Doughnut and the Goats Milk Crema, Walnut Baklava, Chocolate & Coffee Sorbet, Metaxa Jelly.
Needless to say, I absolutely loved the Chocolate and Coffee dessert and scrapped sadly at the bottom of the glass at the end of the night! Boo-hoo :'(
All in all, we had a really wonderful showcase and snapshot of the food served at Shed 5 with Vas and his team producing an amazing array of Mediterranean cuisine.
I'll be back for more soon! I can't stay away from South Wharf Promenade!
[Ms I-Hua and the Boy dined courtesy of Shed 5 and Gun Communications PR]
For other recaps of Shed 5:
Gourmet Chick
Iron Chef Shellie
Nouveau Potato
Popcorn & Toast
The Hungry Hungry Caterpillar
*Disclaimer: All food ratings & review are purely based on my own experiences and how I feel about the service, food and quality at the time of visit
Food/ Cuisine: Greek
Dining Style: Restaurant
Opening Hours:
Tuesday, 5:30pm – 11:00pm
Wednesday to Saturday, 12:00pm – 11:00pm
Sunday, 12:00pm – 3:00pm
Address:
Shed 5
37 South Wharf Promenade
South Wharf VIC 3006
Tel: (03) 9686 1122
Twitter: @shed5melbourne
Website: http://www.shed5.com.au
How to get there: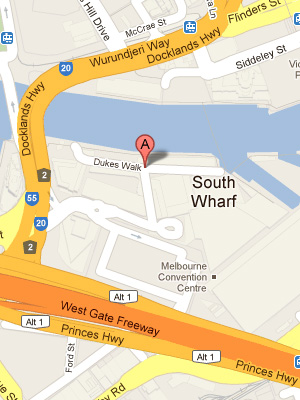 Parking (*prices correct at the time of publishing):
Tram: Take trams 109, 96 or 112 and get off at stop 124A (Melbourne Convention & Exhibition Centre / Crown Casino) on Clarendon Street. Walk along the riverside, past the Melbourne Convention & Exhibition Centre until you see South Wharf.
Train: Stop at Southern Cross Station and catch any of the trams above.