I've often thought about birthday celebrations.
I've never had massive big parties growing up and really I could only afford to have my very own McDonald's birthday bash (this was a really big thing growing up where every kid had at least one birthday celebration at a fast food joint) was when I saved up enough pocket-money when I was 13.
Sad I know.
When I turned 16, my BFF organised a surprised sweet 16th birthday party at an American diner. It was fun, it was loud and it was every teenage girl's dream 😛
When I turned 21, one of my best guy friends and I had a joint birthday party at a restaurant/bar. Needless to say, that was a very messy affair 😛
When I turned 25… actually I can't remember much of what happened that year or the years before and after 😛
However, this year, was a big year. I turned 29 on the 29th of January!
To celebrate, the Boy decided to book in a much deserved holiday for the both of us to head over to Thailand to relax and to celebrate my birthday.
As it would be no surprise to you, we decided to pay a visit to David Thompson's Nahm in Bangkok on my big day.
Just the two of us and good food. That's all I ever really needed. My soul mate and great food!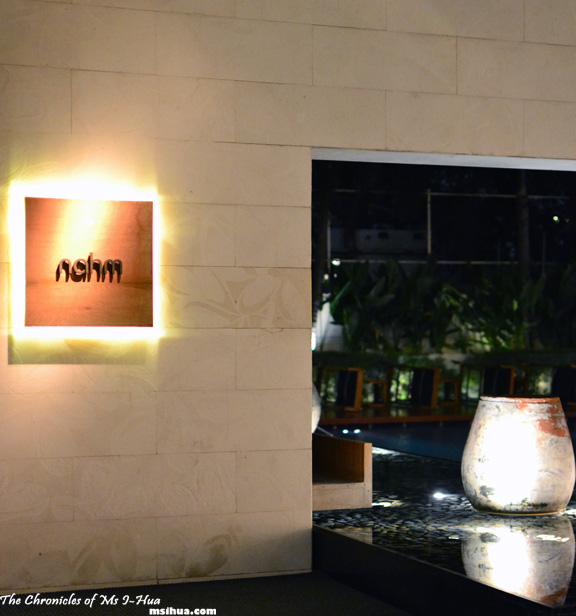 To get to Nahm, we contemplated taking the BTS sky train, a tut tut or hailing the non traditional modern cab.
Common sense prevailed and as neither of us wanted to put dining at Nahm at a risk, we opted for the cab.
As we arrived, I couldn't help but admire the beauty of the Metropolitan Hotel where Nahm is based.
As we sat down and the waiter brought us our water, we decided to go with the Nahm Set Menu of 1700 baht per person (roughly works out to be $53 per person!).
Included in the Nahm set menu is canapés, soups, salads, curries all served with rice and dessert!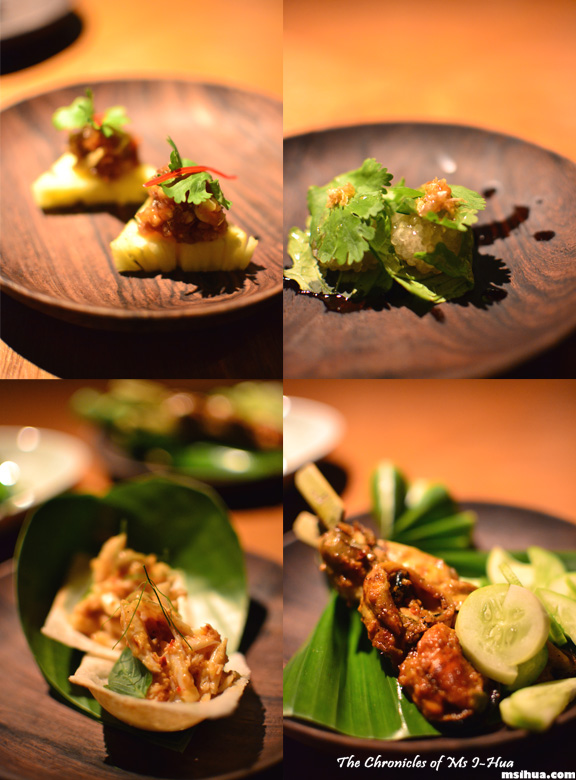 [Top left to bottom left: Amuse Bouche: Spicy Pork with Mint (cooked in Palm sugar), Peanuts & Freeze Dried Pineapples; Canapes: Smoked Fish, Peanut & Tapioca Dumplings; Southern Grilled Mussels and Coconut Cup Cakes with Red Curry of Crab]
These little canapés were enough to get me salivating. Each of these courses were packed full of flavour. The intensity of spicy heat also gave hint that no expense would be spared even if this place was owned by a Westerner.
Hooray!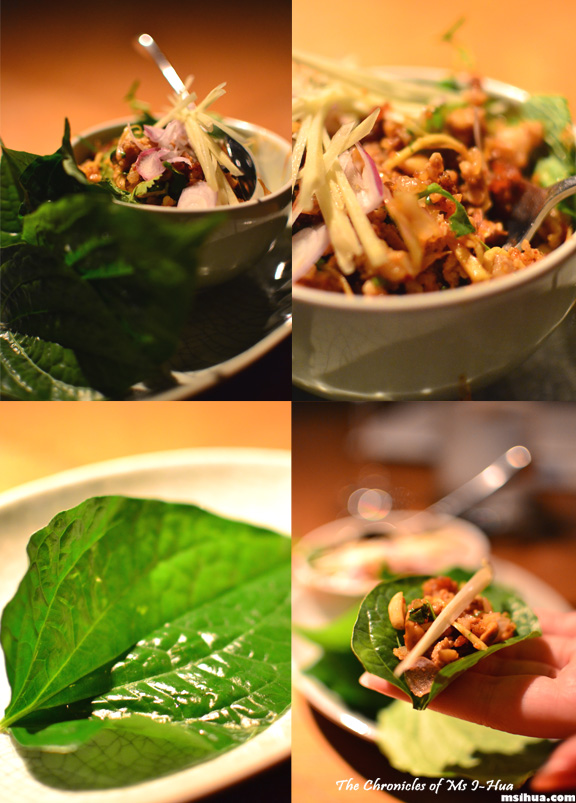 The last canapé we had was the Spicy Pork with Mint, Peanuts & Crunchy Rice on Betel Leaves. I loved this so much. Despite the huge amount of betel leaves that came adorning the plate, we sent the waiter back for more as I wanted to prolong the dish as much as I could with the filling 🙂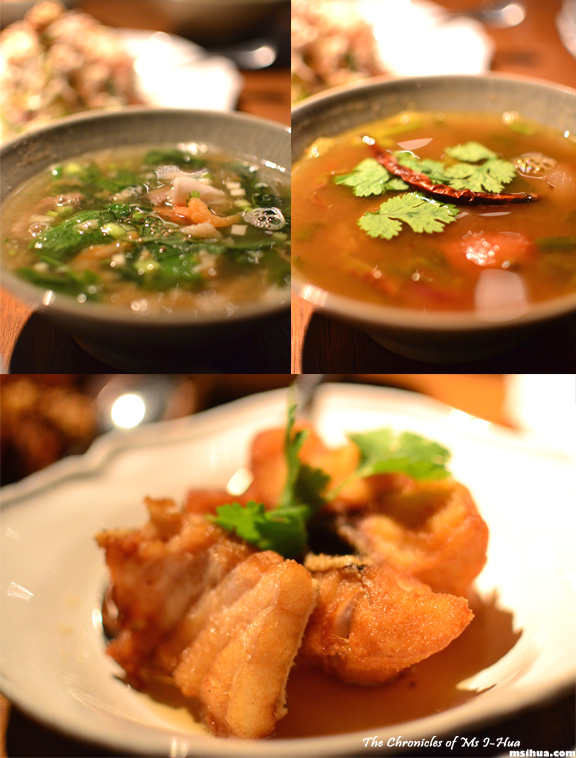 [Soup section: Clear Soup of Minced Pork & Prawns with 'Kajorn' Flowers and Squid and Smoked Fish and Shredded Prawn Soup with Sour Leaves]
Because each soup would be individually served, we were allowed to go our separate ways. This suited the Boy and I fine as he can't handle spicy whereas I was crying out for more heat! Luckily for me, my smoked fish soup delivered on the heat factor.
We also had the very homesickness dish from the Stir Fried, Steamed & Grilled section of Deep Fried Grouper with Fish Sauce. Homesickness because it reminded me very much of the way Madam Mummy would cook this dish. Mmmmm…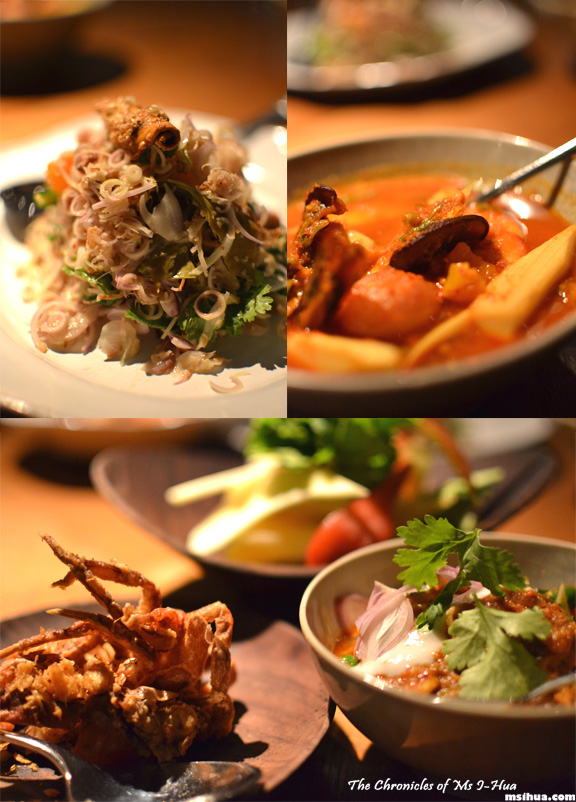 [From top left: Salad section: Lemongrass Salad of Prawns, Crispy Squid and Pork with Toasted Coconut; Curry section: Yellow Curry of King Prawns & Palm Tips; Relish section: Shrimp Paste and Grilled Catfish Simmered in Coconut Cream with Deep Fried Soft Shell Crab and Fresh Vegetables (Banana blossom, Starfruit, Champoo (Wax Apple), Longbeans & Green Mango)]
At this stage of the night, the only sounds from our table were the slurping and gasps of breath as the heat factor was switched over to full blast.
The Yellow Curry was so intense that the Boy gave up and surrendered the dish in its entirety to me. Not wanting to let the local Thai's down, I consumed with renewed gusto!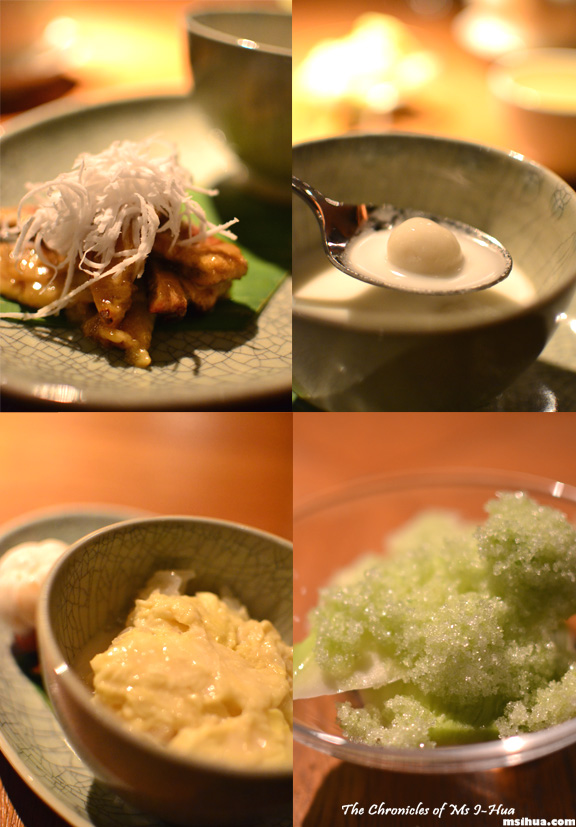 [Dessert: Sugar Cane Dumplings Simmered in Perfumed Coconut Cream with Grilled Bananas and Durian & White Sticky Rice]
 By this stage, our bellies were bursting. Mine from exertion and the Boy's from filling up on rice (to vet out the spiciness of the food).
To cleanse our palate, we were provided with the most sour of green mango served with salt and sugar. The sour and salt notes were really intense and calm my senses back to some semblance of normality.
After a rest, desserts were served. We were eagerly anticipating desserts as the much acclaimed durian with white sticky rice would be served. I needed to see if it was up to my beloved Popo's version which she used to serve whilst we were growing up.
Nahm's version, although good just couldn't compare with my grandma's *sigh*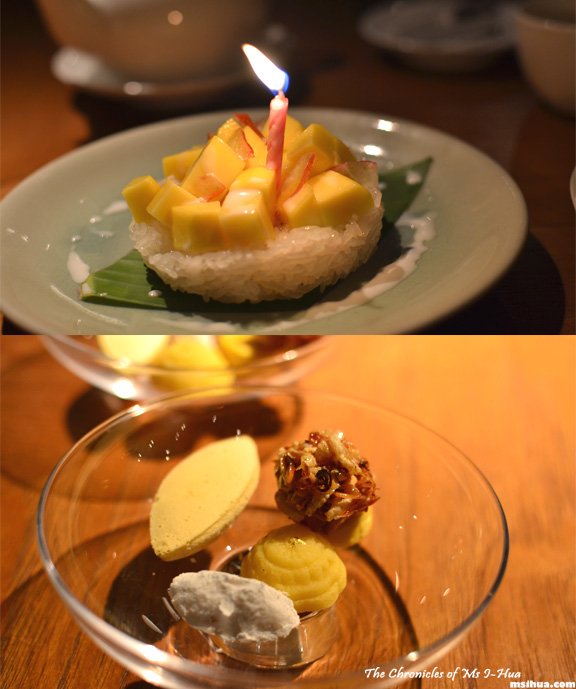 Thinking that we had accomplished a major task, we sat back whilst I thought of the exact moment when I could undo my belt buckle.
Out of nowhere, a surprise of Mango with White Sticky Rice complete with candle made its way to our table where the waiter greeted me with a "Happy Birthday" (no singing, thank Goodness) and this little treat.
Both the mango and durian (having tasted both) were good in taste, but I think what it lacked was the sweetness of the fruits itself, which in truth is out of the hands of the chefs. I also like my sticky rice to be literally drowning in coconut milk (which this wasn't).
After some delightful petit fours of Palm Sugar Biscuit, Coconut Biscuit (tasted like Kueh Bangkit), Banana with Palm Sugar & Roasted Rice, Peanut & Coconut Biscuit, we gently rolled ourselves out the door.
Nahm excited me as the flavours and dishes were very well balanced and did not incorporate any Western influence into its cooking. Well balanced, well executed and well delivered.
The food served was very much what I would think of when someone asks me to describe Thai cuisine to them. Writing this now is making me salivate and crave for some well balanced sweet, sour, salty and spicy Thai dishes!
The night we were there, I can say that David Thompson was in the house. So indirectly, I can now say that David has cooked for me! Double Hooray!
*Disclaimer: All food ratings & review are purely based on my own experiences and how I feel about the service, food and quality at the time of visit
Food/ Cuisine: Thai
Dining Style: Fine Dining
Overall Food Rating (Based on the Dining style): 8.25/10
Restaurant ambiance: 7/10 (The surroundings and ambiance were lovely apart from the annoying mosquitos which weren't kept out of the restaurant 🙁 It made my night slightly uncomfortable with the constant stings and itch from the dark restaurant)
Service/ Attitude: 8.5/10
Value for money: 8.5/10
Opening Hours: 
Lunch: Monday to Friday, 12:00pm – 2:00pm
Dinner: Monday to Sunday, 7:00pm – 10:30pm
Address:
Metropolitan by Como
27 South Sathorn Road
Tungmahamek, Sathorn
Bangkok 10120
Thailand
Tel: (+66) 2 625 3388
Email: [email protected]
Website: http://www.comohotels.com/metropolitanbangkok/dining/nahm
How to get there: