So, as you all know, the Boy and I are getting married.
Yes, we finally are. This weekend 🙂 Everyone pray for awesome weather please as it'll be outdoors 🙂
This is a quick snapshot of the wedding invites we both created. Yup, the Boy and I painstakingly drew them together to send out to our close relatives and friends.
I spent countless of hours trawling the web for ideas, templates, font designs, colours etc.
Finally, the Boy said one day, "I have chosen the wedding theme colour, and it shall be Tiffany Blue".
Just like that.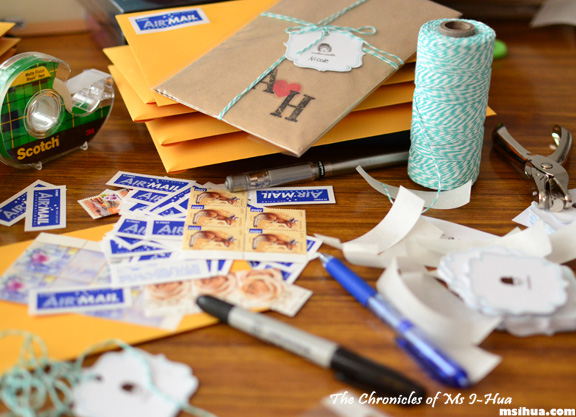 With the colour chosen and set in stone, I got underway with the creative design, feel and look of what I wanted to capture in our wedding, the theme (dreamy vintage) and elements of both the Boy and I.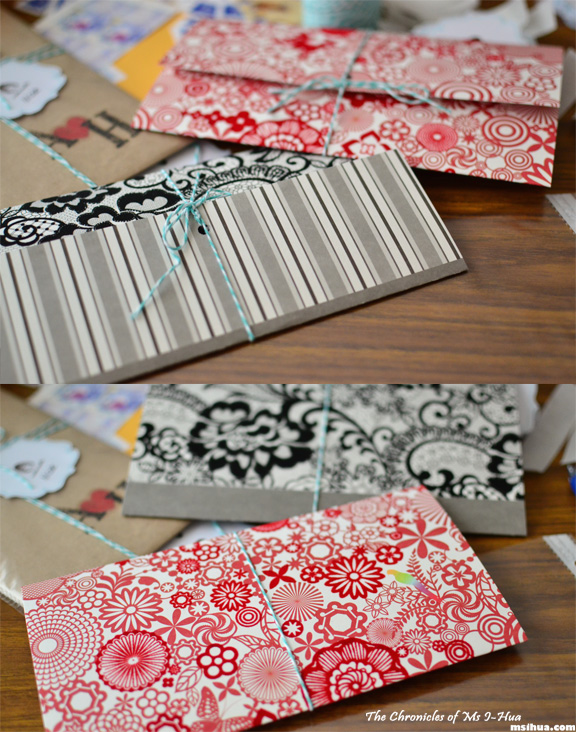 We had to work with beautiful paper I bought whilst I was travelling back to Malaysia. I came across paper designs from Moof (hand made cards & paper products) whilst I was traversing bookstores (as you do) and decided with the Boy that we would get a stack of papers in two sets. Unfortunately for us, they had a limited number of papers whilst we bought them and panicking, I got my BFF to help me scour all other bookshops in Malaysia whilst I returned to Melbourne.
Luckily for us both, her clever husband said to us, "Why don't you just call the paper manufacturer directly and place an order?" BRILLIANT IDEA WATSON!
She did, and they arrived in perfect condition a few weeks later 🙂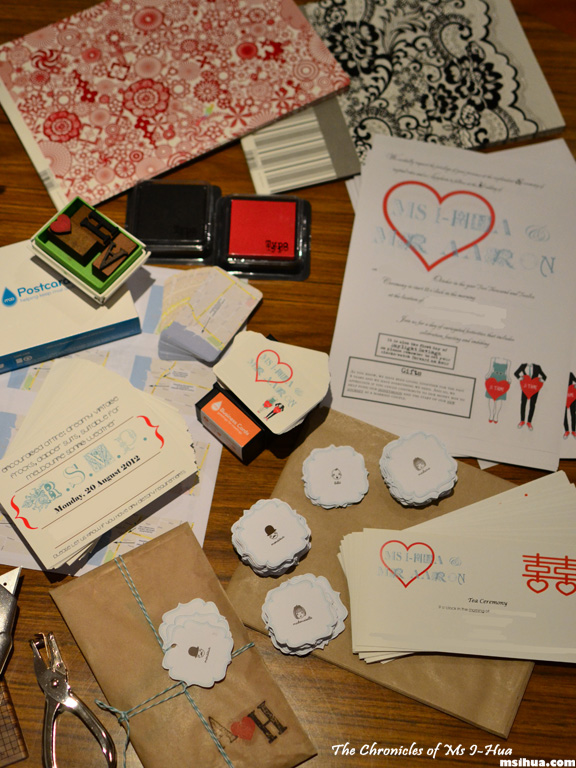 For the insides of the invitation, I always knew I wanted our guests to receive not just a plain old invitation of a card or letter, but I wanted them to receive a package. So arguing consistently with the Boy, we finally decided to let me draft up the words and for him to find the font designs and draw up the invitations. Yup! He's probably the most involved groom I know (I've taken to calling him Groomzilla :P)
What he came up with was better than I had imagined and I couldn't have been happier! Don't you agree?
We printed the 'postcards' RSVP and Venue Map mini cards via Moo Cards. Really easy to use by uploading template designs, placing your orders and hitting it all up. The prints via Moo Cards are a bit dearer than say Snap Printing, Vistaprint or Big W for instance, but they offer much better quality cards, the ability to have different images on one side of the cards and rounded edges. I use them all the time for my blog business cards!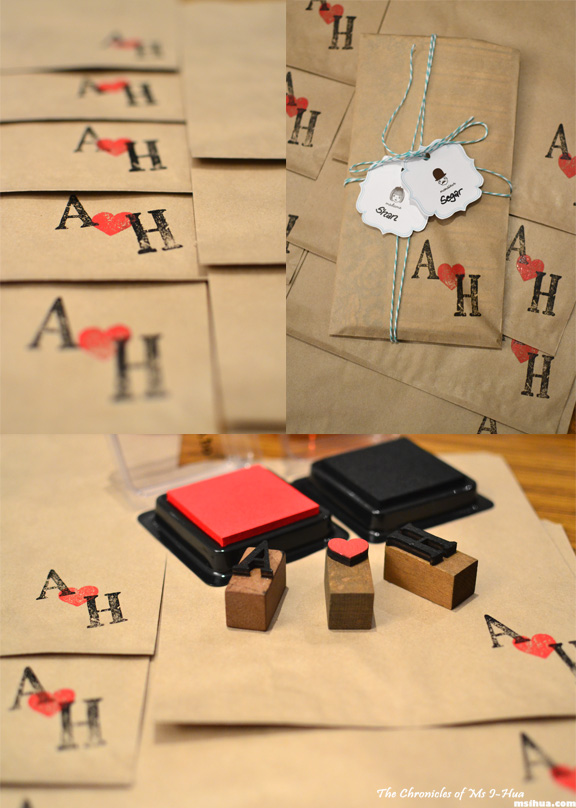 The next part was to incorporate some elements of food into the invites. Instantly an idea came into my head that we would have to use kraft paper bags or sandwich lunch bags as envelopes. I tossed around with Tiffany blue paper bags but they cost quite a bit and I didn't want to spend too much money (we were on a tight budget as it is for the wedding).
So after a trip to the local Woolies for a bag of 100 lunch bags, we were ready to rock n'roll.
A chance visit to Typo during sale time got me to come out with ink pads, wooden stamps of our initials and heart stamp! (ink pads cost $4.95 each and wooden stamps cost $0.50 for the press gang letter and $1.50 for press gang heart).
I did splurge a bit on baking twine. I couldn't help it. I found the perfect coloured twine via TheTwinery.com and placed an order for it ($14 for 240 yards and a further $6 for postage to Australia).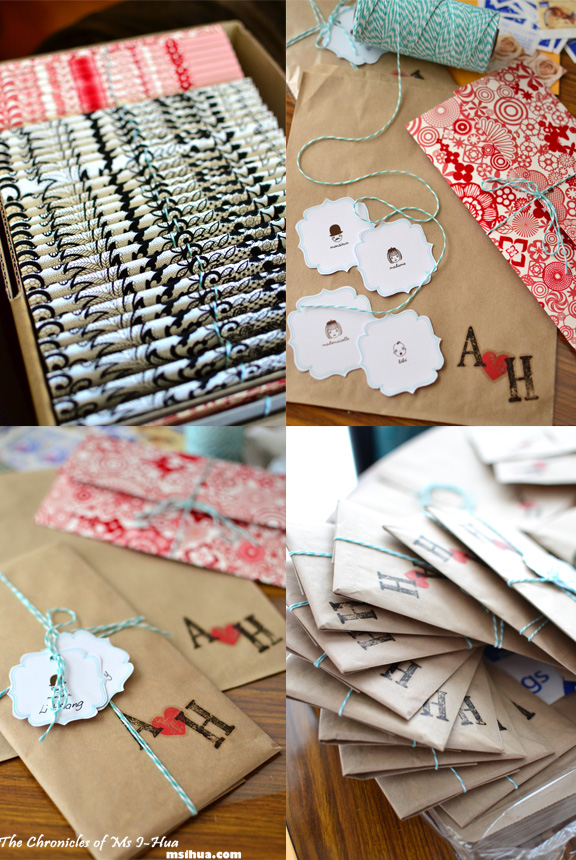 I knew I didn't want to write people's names onto the kraft bags itself but wanted to do something completely different (for a wedding invitation) and went with swing tags.
For that, I used the free template design on Eat Drink Chic (who has been an amazing guidance with articles on her blog and generous free template and designs in the creation of our wedding!).
Aren't they just so amazing and gorgeous?
We also used her Je t'aime mini card designs of the girl and boy as a running theme in all our wedding designs.
Thank you so much Eat Drink Chic for your generosity and amazing blog!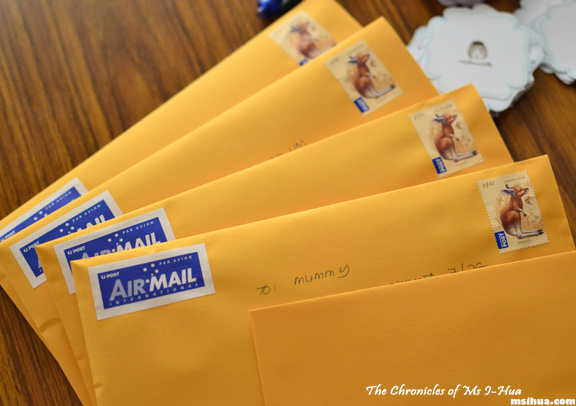 So there you have it. Our cute crafty little invitations with several bits and bobs of information, love, splashes of personality and colour.
We hoped that everyone who received them had as much fun opening the invitation 'packages' as we did in making them.
What do the rest of you think?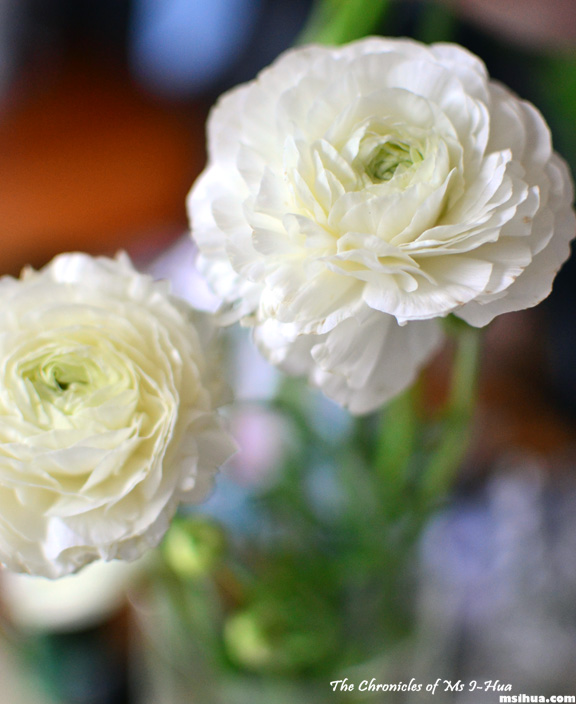 We can't wait to share more of the behind-the-scenes wedding actions and stories with you. But first, we have to leave you here for a bit whilst we run along hand in hand for now 🙂