I have news for all of you.
Christmas is coming.
WHAAAATTTT??!!!
Yes, I have already attended my first Christmas function of 2012 and it's not even December yet.
Oh my gewdness! 0_0
Have you started Christmas shopping yet? If you're wondering what to buy and thinking slightly out of the box, have we got an idea for you!
When I was recently contacted by the good folks at Kitchenware Direct and asked if I would like to review an item, the Boy and I scratched our heads in earnest as we just couldn't decide what we could write and review about in time for Christmas.
And then, just like the Angels were singing to us, "Hark! Hark! Get a knife! We are singing, get a knife!"
And thus, we decided to review the Global 20cm Cooks Knife with Sharpener Set from Kitchenware Direct.
The set contains a 20cm Global cooks knife and Minosharp 2 stage ceramic water sharpener. The knife is made of CROMOVA 18 stainless steel that is tempered twice with sharp and resilient edges. Futhermore, Global guarantees all their product for life.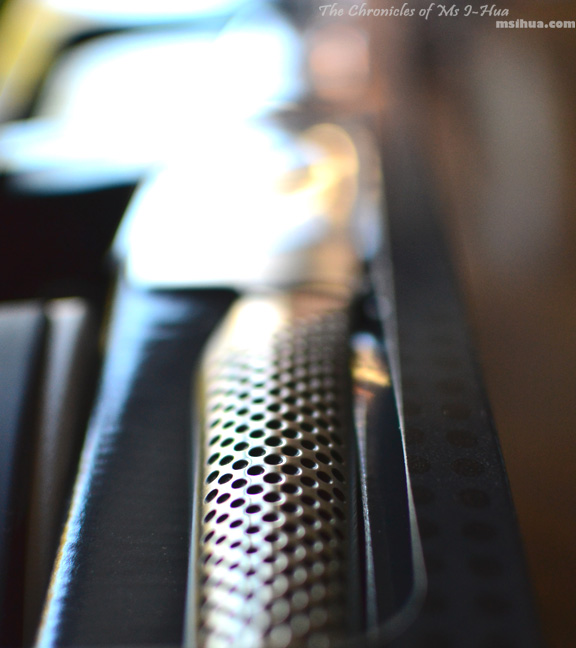 Just look at that iconic handle. It makes me feel like a samurai welding a katana when I brandish this knife in the kitchen 😛
The distinctive feature of Global's knives are their handles with its dimple pattern grip which according to the Global website, make these babies "virtually unbreakable yet providing a comfortable and secure grip in any hand".
Since we got the knife, we have both fought over to use it. You would probably laugh at us if you saw us in action fighting over who gets to slice and dice the onion and garlic or slice the chicken.
The knife itself has a really good balance & weight, and we can certainly vouch that it has a nice grip.
As lovely as it is to use the knife, we admit that it certainly can't beat a mandolin for paper thin slicing or compare with a specialist sashimi knife when slicing fish.
The Boy also notes that there is no need to apply much pressure when using the knife, but rather a "guiding" approach with the knife when cutting meats such as fish (we used ocean trout), slicing whole prawns in half with its shell intact, and chicken by slicing in one direction and not back & forth (sawing motion).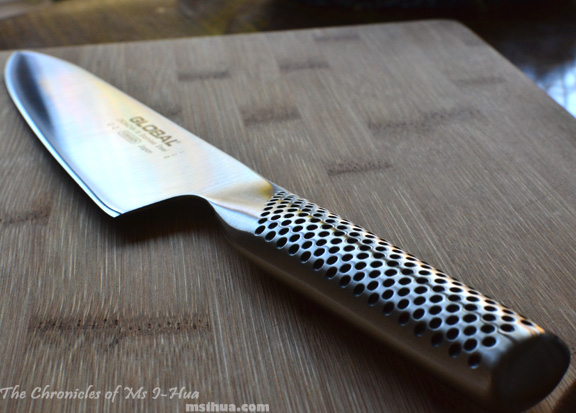 Here are the Knife Specs:
Blade type: Tempered stamped steel
Blade material: CROMOVA 18 Stainless Steel
Blade hardness: Hardened to Rockwell C56-58
Country of origin: Japan
Warranty: Lifetime
We've also decided to show you just how cool the knife is by sharing with you a recipe which pretty much relies on the sharpness and keeness of the blade rather than the prowess of cooking in the kitchen!
Enjoy 🙂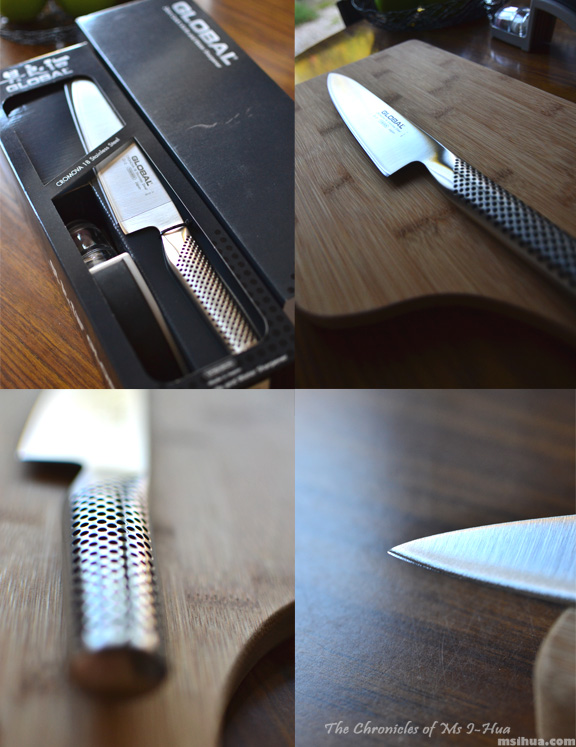 Cured Ocean Trout Carpaccio, Beetroot & Fennel Recipe
Curing Ingredients:
700g Ocean Trout fillet (preferably sashimi grade), pin-boned
100g Caster Sugar
80g  Sea Salt
1/2 Tbsp of grated Lemon rind
1/2 Tbsp of grated Orange rind
1 Tbsp of finely chopped Dill
1 tsp of Ground White Peppercorns
Other Ingredients:
Canned Beetroot (preferably whole beetroot as they are easier to slice. You only need 1 beetroot for this recipe)
1 Baby Fennel Bulb (discard dark green stalks)
1 Tbsp of Capers
Juice from 1/2 Lemon
Salt & Pepper to taste
Extra Virgin Olive Oil (to serve)
Sprigs of Dill (for garnish)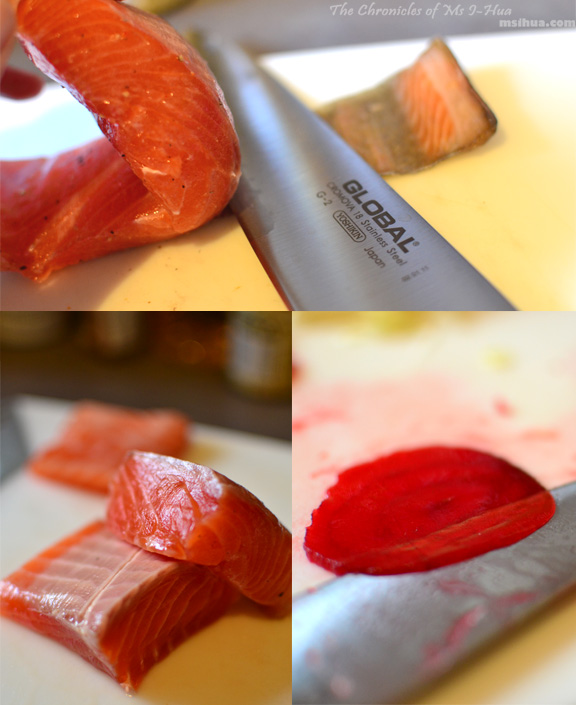 Procedure:
Combine all curing ingredients for the ocean trout together in a bowl and mix thoroughly. Rub curing mixture all over the ocean trout and wrap tightly in a plastic wrap.
Place wrapped ocean trout on a tray and refrigerate for 24 hours.
Remove ocean trout and wipe away any excess curing mixture. Use a kitchen towel to absorb any excess liquid.
Remove the skin (if any) and slice the ocean trout into thin slices. I find it easier to slice while the fish is still cold.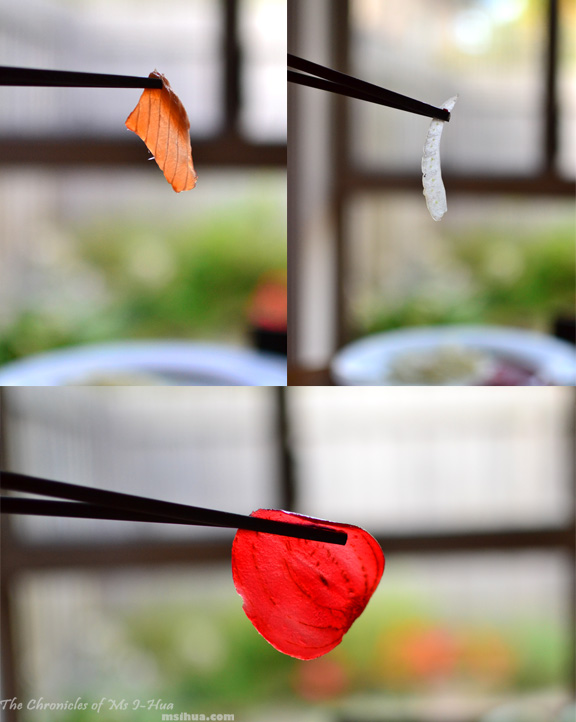 Slice the beetroot and baby fennel bulb into thin slices.
To plate up, arrange cured ocean trout slices on the plate followed by the fennel and beetroot slices. If you are brave enough, you can gently roll (careful not to tear it) the beetroot to give it another dimension. If your beetroot slices are wafer thin, they have less chances of tearing when rolled.
Place sprigs of dill and capers around the plate.
Finish up with a drizzle of good extra virgin olive oil, lemon juice and salt and pepper to taste.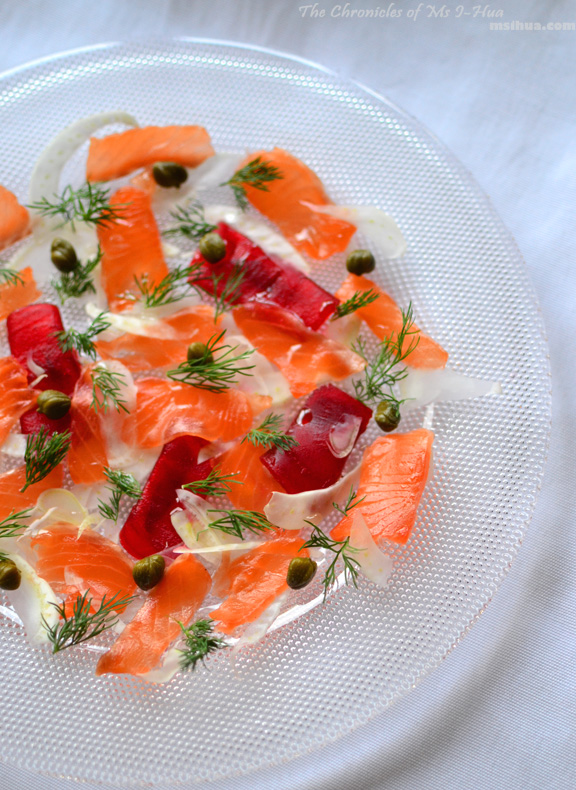 Doesn't it look just quite like a Christmas decoration?
All the pretty colours make a rather festive picture, does it not?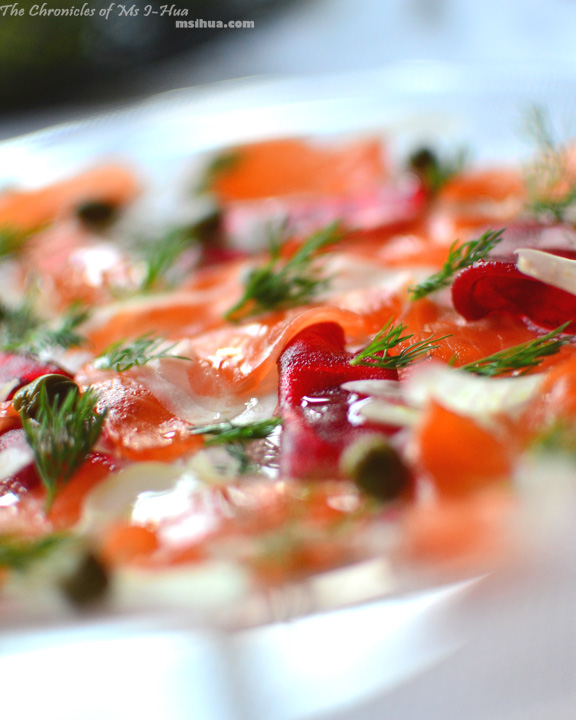 The knife did such an amazing job by cleanly slicing each and every ingredient we put our mind to.
I have no idea why we have not invested in a 'real' kitchen knife sooner! I sound like an infomercial when I say this, but really, "NO MORE BRUISING OF TOMATOES!" or sawing of meat.
In one fell swoop, you can pretty much decimate any ingredient you put your mind to with this knife.
Just be very very careful, as with all things sharp, beware of the pointy end 😛