Eggs, glorious eggs!
Don't care what it looks like,
Fried,
Baked,
Poached!
Don't care what the cook's like,
That's all that we live for,
Why should we be fated to beg,
On eggs,
Magical eggs,
Wonderful eggs,
Marvellous eggs,
Fabulous eggs!!
(Can you hazard a guess where I took that lyrical inspiration from?**)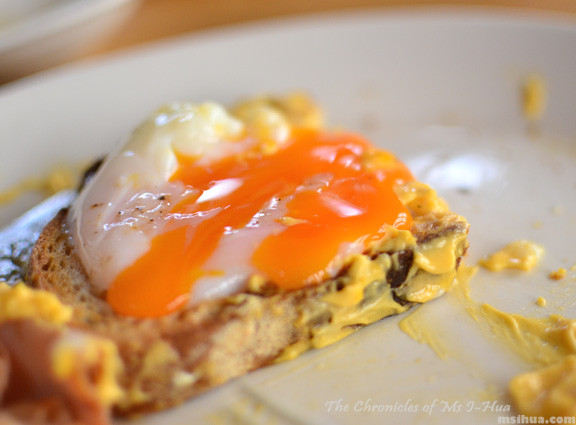 If you're as mad about eggs as both the Boy and I, you are sure to enjoy some of the delicious runny #yolkporn and #eggporn we'll be showcasing from these two lovely cafes we have found for you!
Located in adjoining suburbs, both the Maling Room and Goldilocks have proven to be a bit of a delight!
_______________________________________________________________________
Maling Room – Canterbury, Vic
There hasn't been much caused for us to pay a visit to the Eastern suburbs in any given time. However in the last few months leading up to the wedding and after, we found ourselves there more and more.
One reason for that is, is that our wedding photographer's (Hai Allan!) studio Finessence is located right across Maling Room.
Strategic and convenient.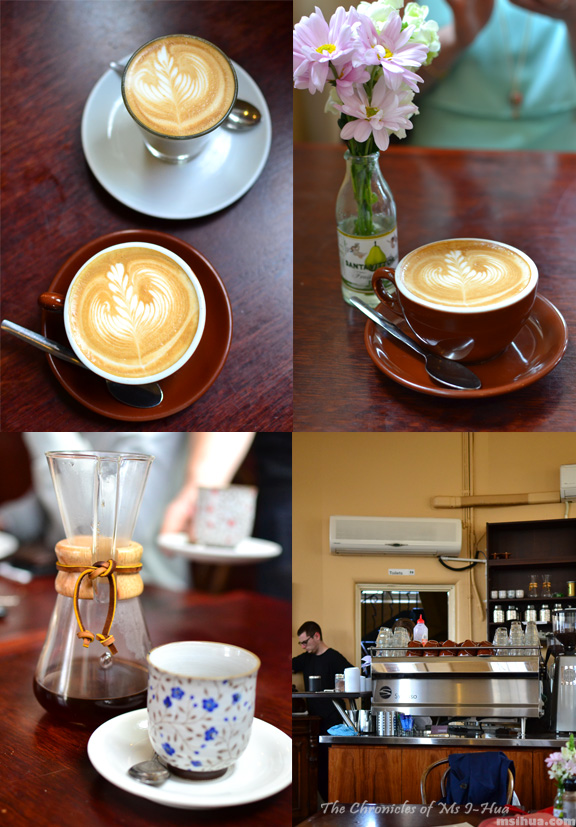 I have had a few coffees from the Maling Room as we've waited for our meetings and pictures to be shared with us. I've had their Lattes ($3.60) and their Piccolos ($3.60) and loved it.
Maling Room has its own roastery and uses its own coffee blends in the cafe. Despite visiting a few times for coffees, we have only ever eaten there once!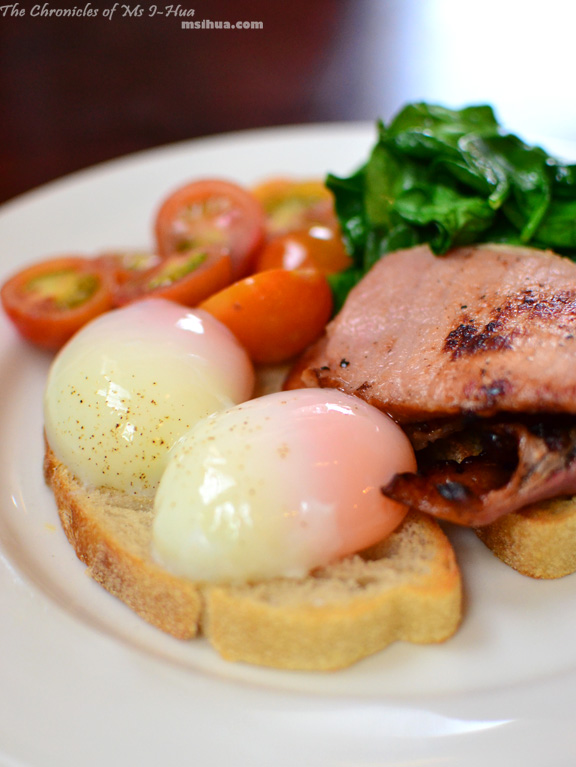 It probably comes as no surprise that the Boy ordered the Traditional Breakfast ($16.50) of Smoked Bacon served with Spinach, Tomato & 63 degrees Eggs.
Having 62.5-63 degree eggs seems to be all the rage these days, but I don't think the Boy is complaining at all as he loves his eggs done this way 🙂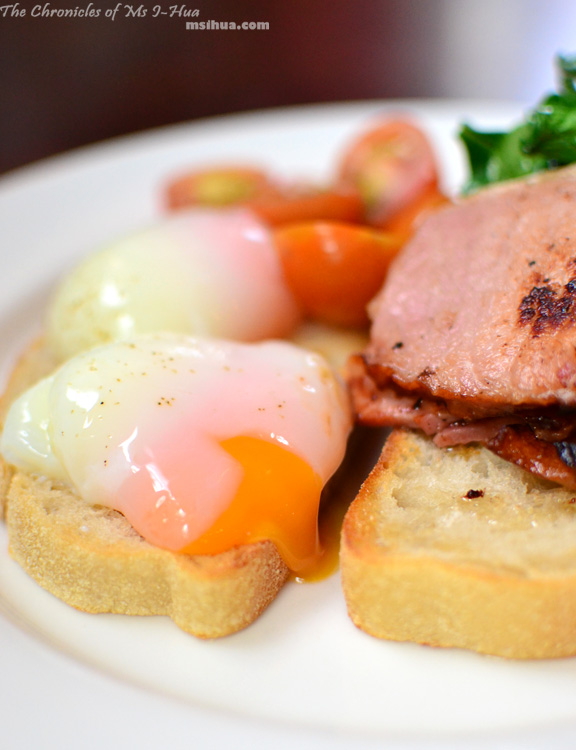 Look at that! Perfection!
The perfect "embryo of a flightless bird"*** don't you think?
I knew I had to order the Banjo Eggs ($10.50) as I read the description which consisted of Smoked Bacon, Fried Eggs & HP Sauce on a Turkish Bread.
There was a bit of a confusion when the order arrived, as it looked like nothing the description said it was. Which was right, when I pointed this out to the waitress who confirmed that I was given the wrong order (which had avocado).
However, all was corrected at the end and my order arrived!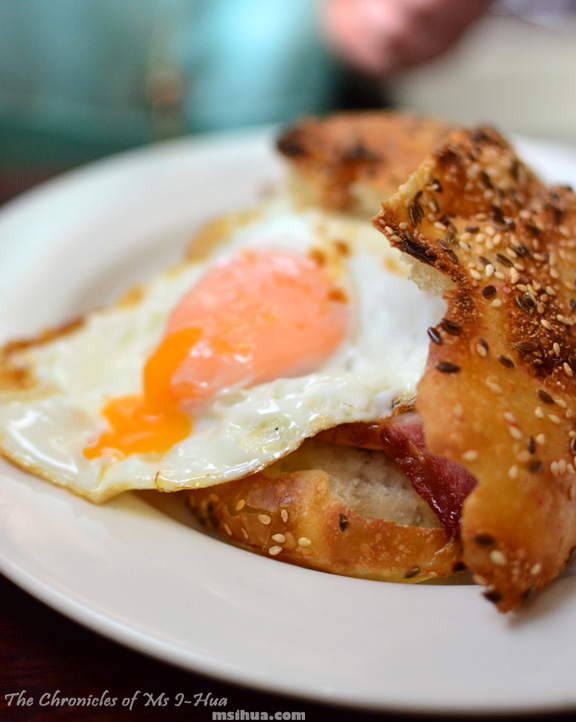 I love the beautiful Victorian era post office that houses Maling Room. It's bright, airy and cosy at the same time, making you feel as if you have stepped into your grandmother's lounge room and she has prepared tea and cakes for you to nibble as you regale her with your youthful tales and exuberance for life.
Coffees are good, staff are friendly and food was tasty. All the important things in life really 🙂
*Disclaimer: All food ratings & review are purely based on my own experiences and how I feel about the service, food and quality at the time of visit
Food/ Cuisine: Breakfast, Lunch & Coffee
Dining Style: Cafe
Opening Hours:
Monday to Saturday, 7:00am – 4:30pm
Sunday, 8:00am – 4:30pm
Address:
206 Canterbury Rd
Canterbury VIC 3126
Tel: (03) 9836 9889
Website: http://www.malingroom.com.au
Twitter: @TheMalingRoom
How to get there: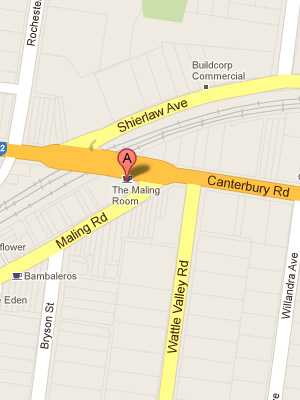 _______________________________________________________________________
Goldilocks – Hawthorn East, Vic
Finding Goldilocks took a little bit of 'I spy with my little eye!' to be honest.
Google Maps pointed that we were at the right place, but try as I might, I could for the life of me, see the cafe.
It wasn't until we took a walk around the corner that we saw the sign that pointed us down the lane-way (next to Firechief) to where she might be.
Probably a strategic and tactical plan to bamboozle the three bears that would be after dear old Goldilocks.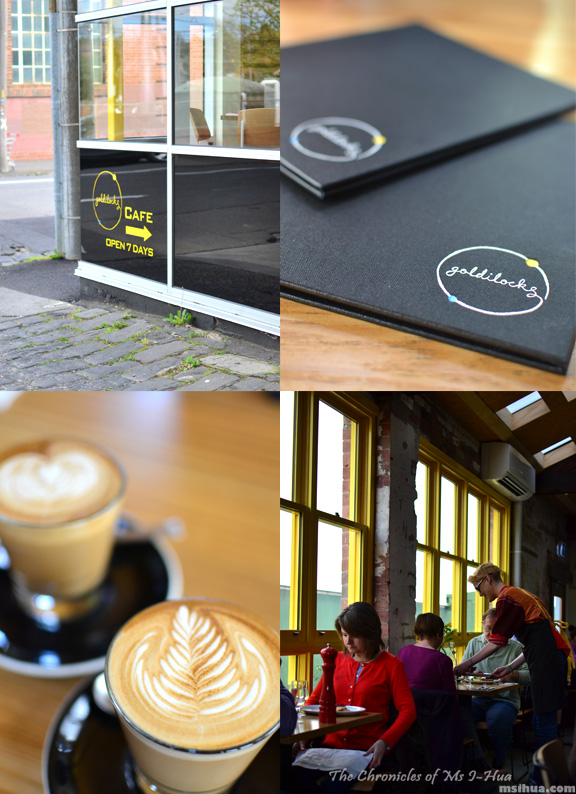 One of Paul Mathis's many chain of restaurants and cafes, Goldilocks looks to be another success for the man with the vision.
Upon walking in, I noted the high ceilings, wide open spaces and the communal tables taking up most of the cafe.
Lately, I have been quite addicted to crumbed and fried poached eggs. So when I saw that there was a Panko Crumbed Poached Eggs ($13.90) with shaved asparagus and miso puree listed on the menu, I knew I had to pounce!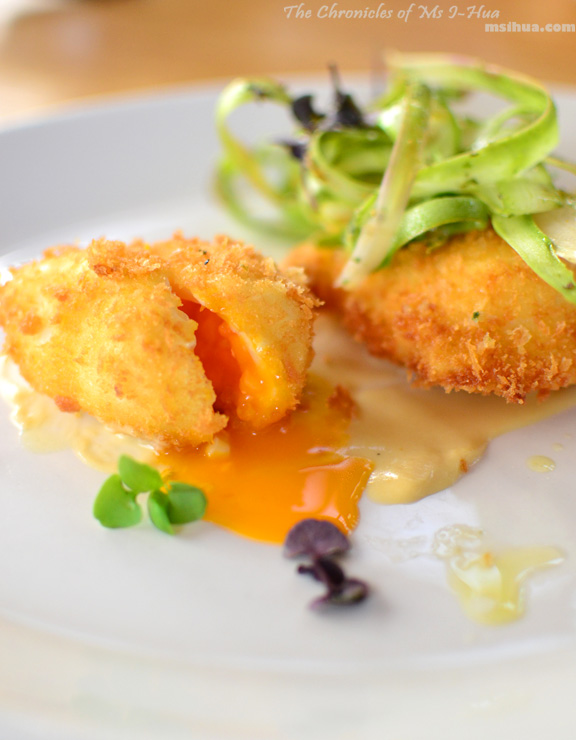 It looked so beautiful when it arrive that I almost didn't want to touch it!
I couldn't get enough of the light tangy salty miso puree that came adorning the plate.
If you pay close enough attention to the pictures, you will note that I had a side of bacon to go with my eggs as well.
You'd be mad to think that I was going down the vegetarian route willingly 😛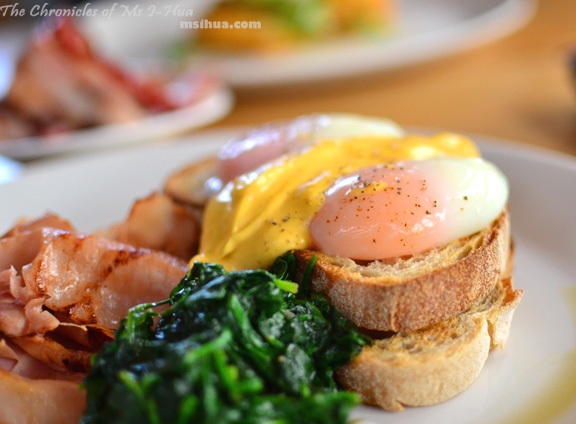 As I mentioned before, the Boy being hooked on slow cooked eggs couldn't resist when he saw the 62.5 °C Sous Vide Eggs Benedict ($13.90) on sourdough toast with double smoked ham, spinach & brown butter hollandaise.
We are so easily impressed and pleased when it comes to eggs.
He is also quite proud of the above picture and couldn't stop himself from gloating over and over about the 'waterfall' effect of his #yolkporn #eggporn.
Begrudgingly, I admit that the effect was quite amazing 😛 I'm sure his Instragram followers would agree.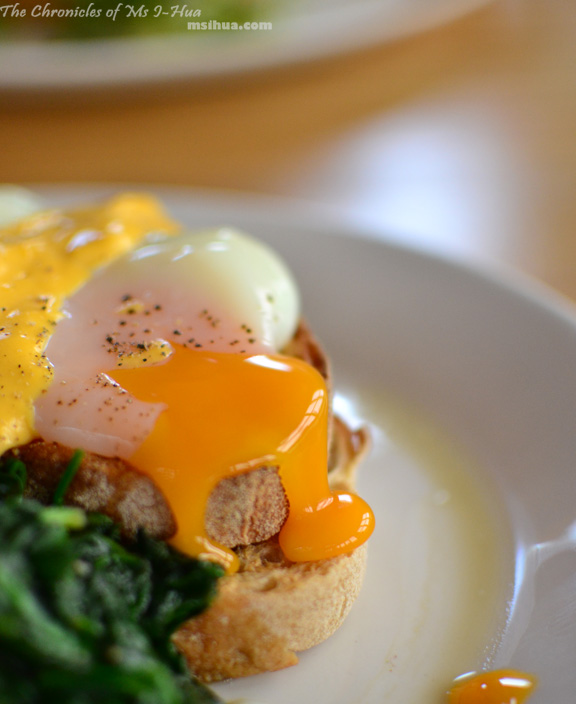 Goldilocks is a lovely find and definitely has the Melbourne vibe in terms of its location (even though it's in the 'burbs) and food.
I couldn't quite remember how the coffees here fared, but I sure would return for dem eggs 🙂
*Disclaimer: All food ratings & review are purely based on my own experiences and how I feel about the service, food and quality at the time of visit
Food/ Cuisine: Breakfast, Lunch & Coffee
Dining Style: Cafe
Opening Hours:
Monday to Sunday, 8:00am – 4:00pm
Address:
169 Camberwell Road
(Stanley Place, rear of Firechief Pizzeria)
Hawthorn East VIC 3123
Tel: (03) 9831 1799
Website: http://www.goldilockscafe.com.au/
Twitter: @GoldilocksCafe
How to get there:
**Yes, inspired by Oliver's 'Food Glorious Food!'
***My favourite quote from both Terry Pratchett and PG Wodehouse