Now we all know that I am no stranger to pork.
I'd give up most things to have pork belly, pork crackling and bacon.
Yup, I'd give up chocolate! And all types of sweets!
Alright, for those that do know me well enough, they know that sacrificing chocolate or sweets aint' a big deal.
What can I say? I'm not your typical kinda gal 😛
Luckily for me, I married a man *Awww* who would do more than his fair share of cooking up some ridonkulus recipes that involve pork knowing that I would almost certainly do anything and behave when there is a little piggy being cooked in the kithchen for me.
I'll clean, wash and mop the entire house just for it 🙂 *DAMN MY WEAKNESS!*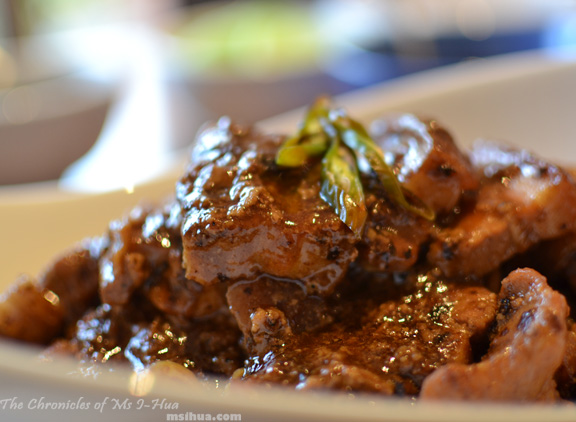 This recipe however not only brings the drool factor for me, it also pulls and tugs at my heart strings.
It brings me back to when I was a little girl. Even as recent as to the start of the year, my beautiful grandmother (po po) would ask me what I would want her to cook for me when I paid her a visit.
I always said, "PoPo, please don't stress out, I'll take you out instead, okay?" But she would always insist.
Now I just wished that she could cook this for me one more time.
But the Boy has done a fabulous job in cooking this delicious Hakka inspired recipe for me <3
Chinese Style Braised Pork Belly with Fermented Black Beans Recipe
Ingredients:
1kg Pork Belly (Sliced)
1 Tbsp Five Spice Powder (available in most Asian grocers)
1 Tbsp of Plain Flour
4-5 pieces of Dried Chestnuts (rehydrated in hot water)
1 1/2 cup of Water
Peanut Oil (for frying)
Sliced Chillies for garnish
Sauce Ingredients:
1 Tbsp Fermented Black Beans (available in most Asian grocers), washed and drained
1 Tbsp Light Soy Sauce
1 Tbsp Oyster Sauce
1 tsp Sesame Oil
1 tsp Garlic (diced)
1 tsp Shallots (diced)
1 tsp Ginger (diced)
Procedure:
Marinate pork belly slices with Five Spice Powder for a few hours (or overnight in the refrigerator). Remove from refrigerator and let the pork reach room temperature.
Heat some peanut oil in an enameled pan. Dust the pork belly slices with plain flour and add them into the hot pan. Fry until golden brown on each side.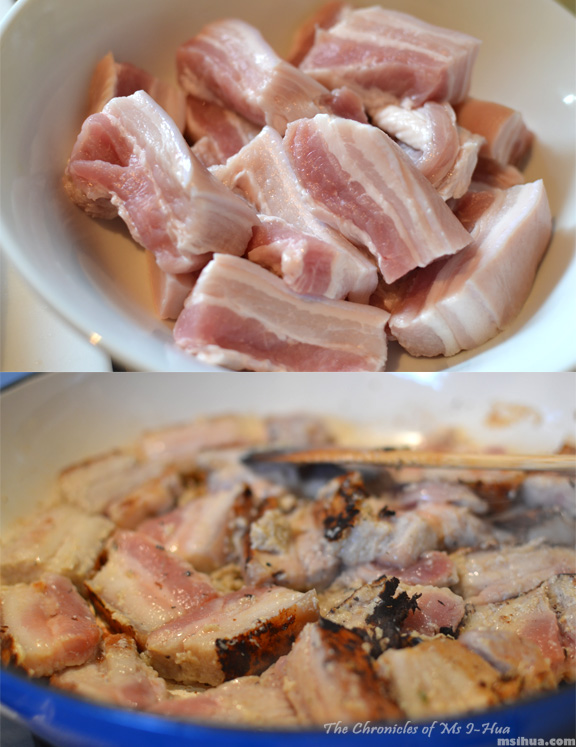 Add in the sauce ingredients and rehydrated chestnuts. Fry for a few minutes.
Add in 1 1/2 cups of water and bring it to a boil.
Reduce heat and let it simmer for 30-45 minutes (covered) until the sauce thickens and meat is tender.
Serve with a garnish of sliced chillies.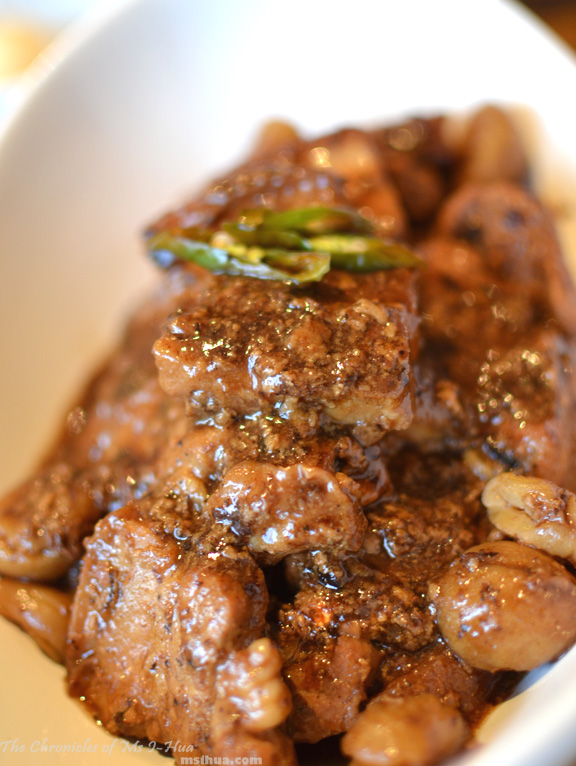 Have this with rice or congee with a serve of veggies and even salted egg and you'd be in for a lovely homecooked treat!
This dish is similar to that as classic hakka dishes of Char Yuk and Kau Yuk which on occasion can include cloud ear (or wood ear) fungus or even yam!
As a final note, just remember, if your old folks are still around, spend as much time with them as possible and let them spoil you. You never know when it'll end.