I said to the Boy today, "I think I love noodles more than I love rice! I can't stop eating noodles!"
He just looked at me as if I had finally come to my senses.
You see we had only been arguing about my lack of love for rice (I do love rice) over noodles and why it was so easy to give it up when I was doing my Paleo diet. I was disagreeing with him and said that I eat and crave for less rice because of discipline.
Between you and I, I think he's right. I don't love rice as much as I love noodles.
As we were walking around the city last weekend, the Boy and I happen to chance upon Koko Yee. A newish establishment which opened about 2 months ago and is located right next to Melbourne Central (Lonsdale Street).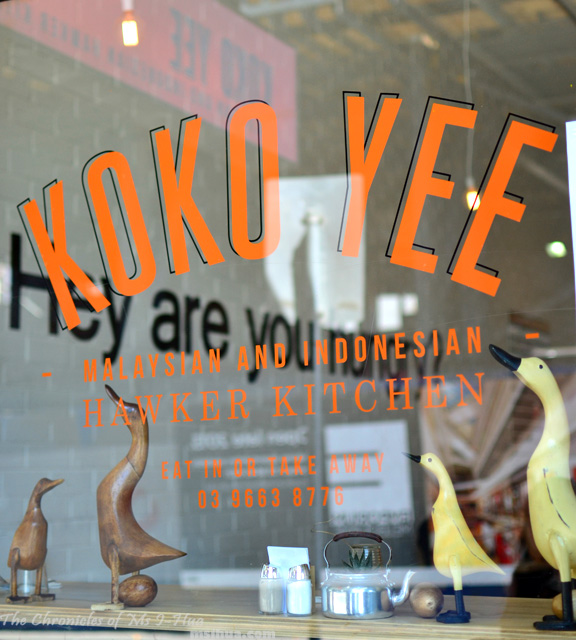 What grabbed our attention at first was the sparse decor inside and the multitude of duck figurines at the front of the shop. Looking at the menu, we were keen to give it a go as it was Malaysian and Indonesian.
Having just returned from our epic honeycation in that region, we couldn't help but feel a little homesick and desperate to try 'home' hawker styled food.
We have since returned this weekend to try other items on the menu! I think I've just found a new favourite lunch place to visit!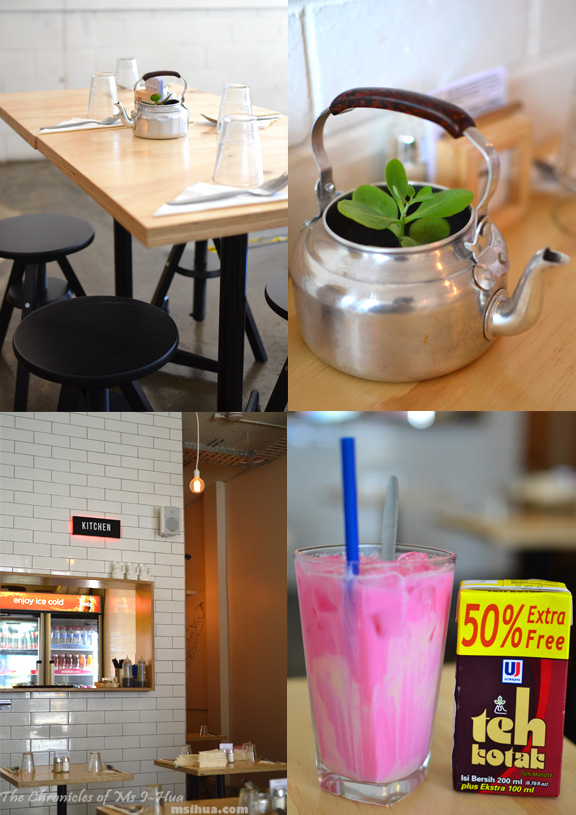 The only thing I will say in regards to the decor would be the teeny tiny tables and the little 'hawker' style stools which Koko Yee uses.
When I first saw them, I said to the Boy, "I hope the plates used aren't massive as we won't have space to manoeuvre the dishes". Unfortunately, I was right.  Koko Yee like so many new cafes and restaurants use large plates which don't really work with the tiny table space they offer *le sigh*.
For drinks, I couldn't help but grin when I saw that a Soda Gembira (Happy Soda) $4.00 (Raspberry Soda & Condensed Milk) was on the menu. I couldn't help but feel it would be like a sparkling Air Bandung so popular in Indonesia and Malaysia, and I was right! Hooray!
The Boy went with the boring staple of Teh Kotak ($1.50) (Jasmine Tea Packet Drink) which can be found at almost all Indonesian restaurants/cafes in Melbourne.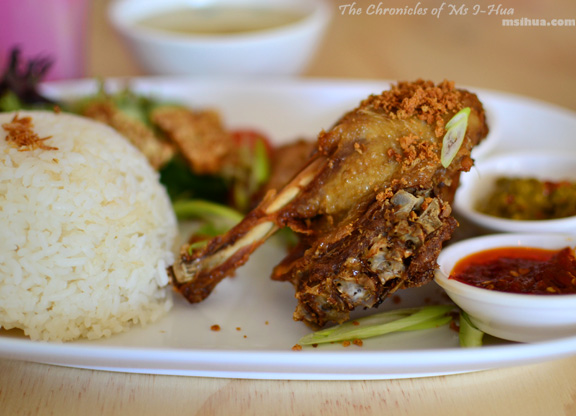 Looking through the menu, we were both impressed with the different range of dishes on offer as opposed to all the Malaysian and Indonesian chains out there. Included in the menu were the common items such as Satay, Roti, Char Kway Teow, Laksa and Hainanese Chicken Rice (I guess it's hard to avoid these dishes in a hawker place).
What Koko Yee's menu had on instead were a variety of duck and chicken dishes (rice and noodles). Not knowing what to order as it was our first time there, the Boy went with the Koko's Fried Bebek ($12.00) a Fried Balinese style duck infused with ginger served with rice and 3 condiment sauces.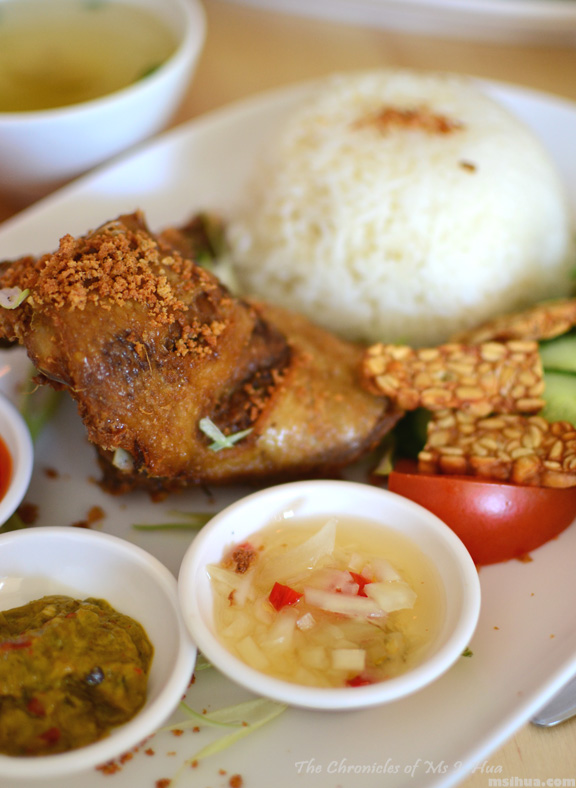 I did like his dish apart from the fried duck. It wasn't because the duck tasted bad or anything, it was just that it was a tad over-fried, and with duck, when it is over-cooked it gets super tough. So it was really hard for him to get the flesh off the bone. It would have worked better if the kitchen had served the duck in chopped pieces instead of whole.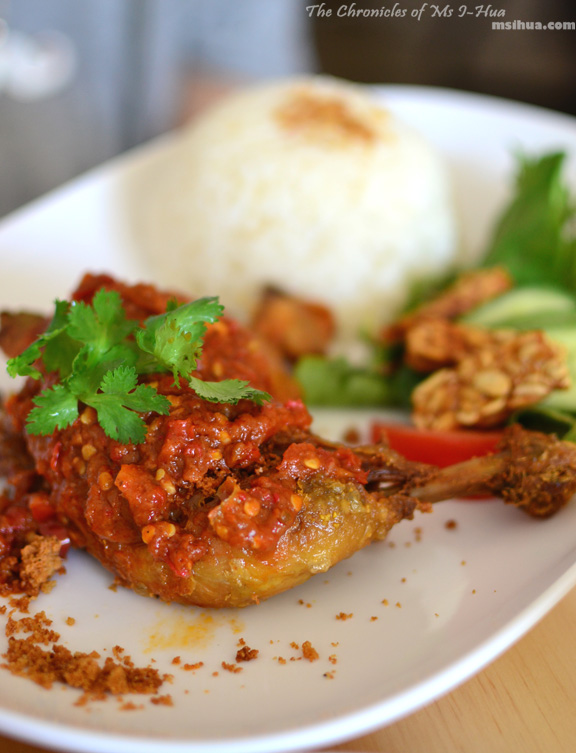 Whilst the Boy had a tough *snigger* time with his duck, I had a lovely time with my beautifully cooked and tender Indonesia Ayam Pengyet (Smashed Chicken) $10.00  which is basically mashed deep fried chicken thigh topped with chunky sambal terasi sauce and served with rice.
Having never tried this dish before in Malaysia or Indonesia, I had nothing to compare it with. I did think the chicken wasn't as smashed as I had been led to believe.
I will say that the dish was very similar to that of Nasi Uduk (Indonesian version of Nasi Lemak). I will definitely order this again and I think this ranks highly on my top 3 Indonesian Fried Chicken and Rice dishes 🙂 (the other two being from Esteller and Blok M).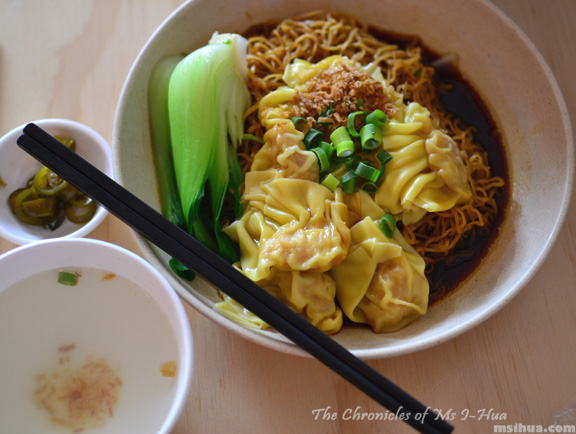 Having returned this weekend, the Boy and I concentrated on the noodles on offer.
So the Boy tried Dumpling Kon Lo Mee ($9.00) a steamed prawn & chicken dumplings with dried egg noodle tossed lightly in a dark sauce and garnished with spring onions & dried shallots.
The noodles itself were lovely and springy, but the dumplings lacked flavour. We both felt that it needed a little bit more seasoning to be perfect.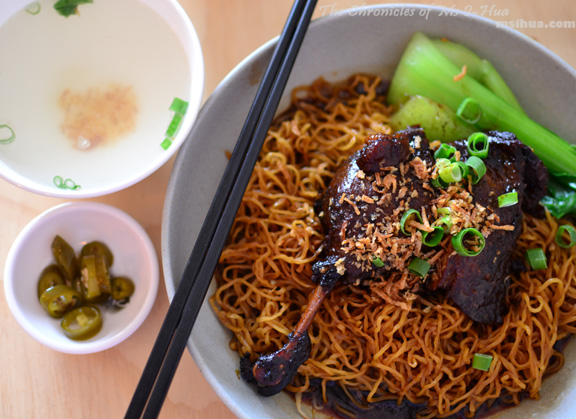 Once again, I had the winning dish of the day with my Duck Kon Lo Mee ($9.50) a Soy braised duck with dried egg noodle tossed lightly in a dark sauce and garnished with spring onions & dried shallots.
The duck was incredibly tender and fell-off-the-bone from prying with my chopsticks! I didn't even have to do much with it! It was delicious.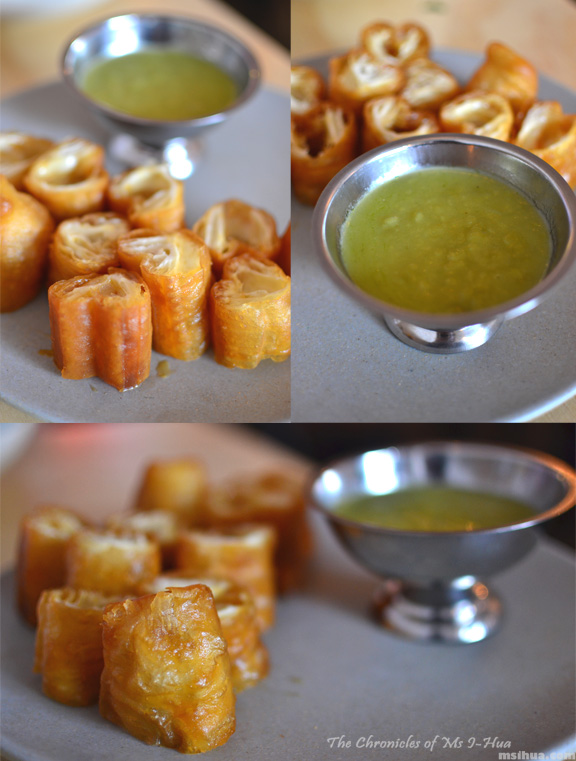 For dessert, we couldn't help but order the only thing on the dessert section and it wasn't ais kacang or es teller! It was Chinese Crullers with Coconut Creamed Pandan Dipping Sauce ($6.50). Essentially chopped up Chinese Donuts (Yau Char Kway) deep-fried and served with hot kaya.
Now the pandan dipping sauce in itself was delicious, but I wouldn't recommend the yau char kway as it was dripping in oil. Let's just say when we were done with this dish, my serviette had changed colour from white to gold as I was using it to absorb the oil from each piece of the yau char kway.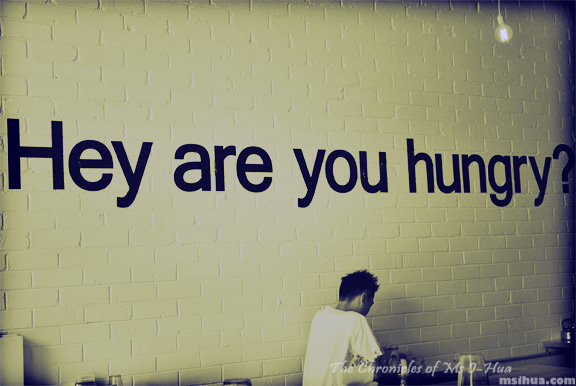 Service was good both times which wasn't too surprising as we were one of the only patrons around. I didn't quite understand the ordering concept here as Koko Yee uses the "fill in your own order sheet" before passing it on to your wait staff, which works really well in extremely busy places like PappaRich.
It is such a small environment that the concept seems more of a novelty than an actual need as the wait staff still go through the menu to repeat each order after you.
I can see this place doing well if they modify some of the 'start-up' issues which we faced.
Food in general was good and the prices were reasonable as well.
It was quiet on both weekends we visited, but I can see that once the uni semester starts, it should do fairly well considering its location.
*Disclaimer: All food ratings & review are purely based on my own experiences and how I feel about the service, food and quality at the time of visit
Food/ Cuisine: Malaysian & Indonesian Cuisine
Dining Style: Casual Dining
Overall Food Rating (Based on the Dining style): 7/10
Restaurant ambiance: 7/10
Service/ Attitude: 7.5/10
Value for money: 8/10
Opening Hours:
Monday to Thursday, 11:00am to 9:30pm
Friday to Saturday, 11:00am to 10:00pm
Sunday, 11:00am to 9:00pm
Address:
282 Lonsdale Street
Melbourne VIC 3000
Tel: (03) 9663 8776
Website: http://www.kokoyee.com.au/
How to get there: